If you love exploring and being on the coast, MidCoast Maine can be your own personal paradise.
From the breathtaking views of the sea to the proud lighthouses standing tall, to the mouthwatering fresh seafood, MidCoast Maine offers so much to those who visit. The only question you'll ask yourself is, 'Where do I begin?'
There's something so comforting about exploring and visiting a quaint seaside town and many of the best things to do in MidCoast Maine can be found in inviting towns like Camden, Rockport, Rockland, Belfast, and Brunswick.
You really can't appreciate just how amazing MidCoast Maine is until you've been there, so make plans to see and enjoy all that MidCoast Maine can offer.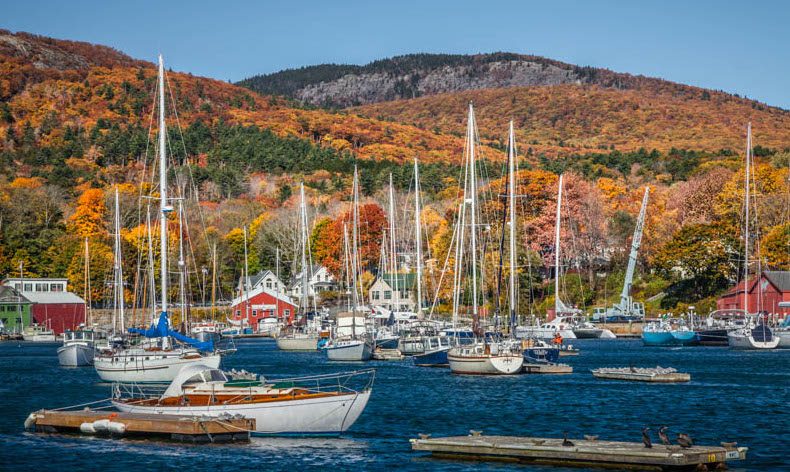 Camden is thought to be a jewel of Maine's coast and it's not hard to see why. For those who love fresh seafood, outdoor adventures, being by the water, and even downtown shipping, Camden offers great views and so much to do.
Enjoy a Camden Harbor Boat Tour
If you love spending time on the water, Camden is an absolute dream for boaters. Since it's right on Penobscot Bay, Camden Harbor is home to all kinds of schooners and tall ships that offer excellent excursions and tours.
Whether you want to take a sailing day trip or sail for several days, you can do it all in Camden. Relax on deck and let the ocean breeze blow through your hair or learn a thing or two about how majestic Maine ships work.
Being able to ship til you drop isn't limited to just the big city. In Camden, you can explore general stores, upscale groups, antique shops and so much more.
With stores like The Smiling Cow, Uncle Willy's Candy Shoppe, Owl and Turtle Bookshop, you can find just about anything you're looking for in Camden. When you're done, you can visit the park by Camden Public Library for an outdoor picnic.
There's nothing quite so scenic as looking out and seeing a Maine lighthouse standing majestically along the coastline. Fortunately, Camden has many outlying islands, many with picturesque lighthouses. Within a 40-mile radius of Camden, there are more than a dozen lighthouses.
Curtis Island Lighthouse is a good place to start since it's right at the entrance to Camden Harbor. Isle au Haut Light offers the experience of staying at the original innkeeper's house. A trip to Vinalhaven offers a chance to see both the Heron Neck Light and the Brown's Head Light.
No trip to Maine (or any town in MidCoast Maine) is complete without a trip to the beach. Whether you're looking to go for a dip or just lay out in the sun, a day at the beach is a day well spent!
Barrett's Cove is a great place to escape the hustle and bustle of Camden. Lake Memorial Beach offers great views of Camden and is a great spot to look for beach treasures like shells.
See a Show at the Camden Opera House
The historic Camden Opera House is a lot of things rolled into one — namely history, culture, and music. This venue is more than 100 years old and is beloved by Camden residents for its history and architecture.
Whether you're a fan of opera, a fan of historic buildings, or just looking for unique experiences, catching a performance here is something special. The Opera House hosts a variety of entertainment, including concerts, film screenings, comedians, musicals, and more.
Camden is a popular place all year long and one way to really experience the town is at one of its annual festivals.
In February, the Camden Snow Bowl hosts the US National Toboggan Championships. Competitors don festive costumes and slide down an icy track to try and be crowned champion.
In September during Labor Day Weekend, Camden hosts its annual windjammer festival. Visitors can watch in awe as majestic windjammers make their way through Camden Harbor.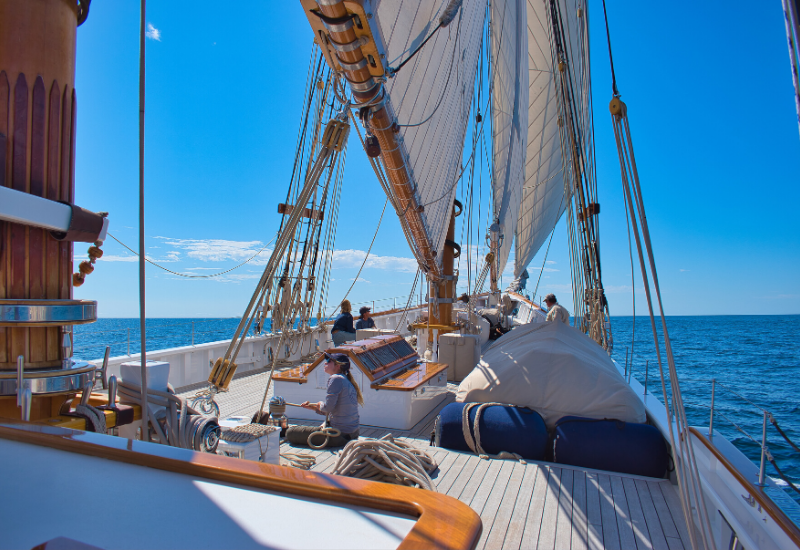 With scenic waterfront, pristine beaches, great art galleries and so much more, the possibilities for fun are endless in Rockport. No matter if you want to spend time inside or outside, there is no shortage of great things to do.
Enjoy the Outdoors at Goodie's Beach and Marine Park
If you're a first-time visitor to Rockport, this is one quintessential Rockport spot you don't want to miss. Why, because it affords families the chance to enjoy excellent views, go swimming, enjoy a picnic, or just have fun being outside.
Marine Park is a go-to place for a picnic and for catching views of sailboats, lobster boats, and fishermen. Be sure to grab a picture with the famous Andre the Seal statue too! Goodie's Beach is a small beach that's perfect for families looking to have some seaside fun.
Explore a Working Farm at Aldemere Farm
Visiting a working farm may just be among the most unique things you can do in MidCoast Maine.
Aldemere is a Belted Galloway cattle farm and visitors can visit the cattle and get pictures. There are also special events held here throughout the year and farm tours are offered when the weather warms up.
Enjoy a Round of Golf (or Mini Golf)
Rockport is a beautiful seaside town, so it only makes sense that its golf courses are beautiful too! The Goose River Golf Club is nearly 60 years old and is a perfect nine-hole course for golfers of all ages. Rockland Golf Club offers 18 holes of play and some great views.
If you're looking for a more low-key golfing experience, try playing a round at Golfer's Crossing Miniature Golf. It's fun for players of all abilities and is really a one-of-a-kind experience.
Visit an Amazing Art Gallery
The art galleries in Rockport are amazing and, if you love art, each one offers something a little different.
The Michael Good Gallery houses wares that Michael Good made himself, including handmade jewelry made with a metal-forming anticlastic technique.
The Ralston Gallery showcases the photography work of Peter Ralston, who has worked for decades to photograph the very best of Maine. The gallery also features work by Andrew and Jamie Wyeth.
See a Show at the Rockport Opera House
Much like neighboring Camden, Rockport also has a historic opera house that's worth a visit. The Rockport Opera House dates back to the late 1800s and is known around town for hosting shows, concerts, reunions, and even some wedding ceremonies.
One of the best times to visit the opera house is during the summer. At Mary Lea Park next door, there is a summer concert series and performances tend to vary by season. Still, it's a great way to enjoy some live entertainment and enjoy Rockland outdoors.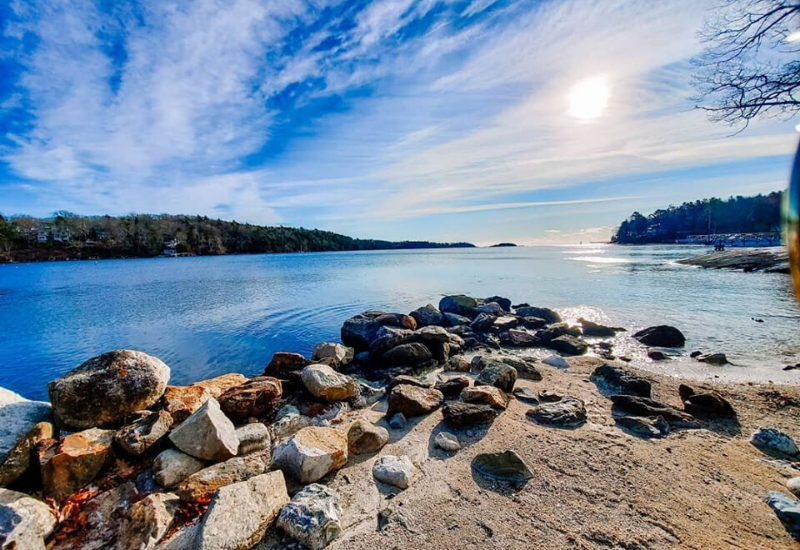 Rockland is a classic coastal Maine town with so much to see and do. Rockland has been recognized at different times as a top foodie town in Maine, a top adventure town in Maine, the lobster capital of the world, and one of the best small towns in the nation, so it can be whatever you want it to be.
Nothing's better than a festival and Rockland hosts some fun annual events.
In July. Rockland hosts the two-day North Atlantic Blues Festival at Public Landing, which overlooks Rockland Harbor. The festival usually features some of the top performers from up and down the east coast.
In August, visitors can enjoy the Maine Lobster Festival. In a town known for lobster, cooks prepare thousands of pounds of it to serve in a variety of ways. There's also live entertainment, arts and crafts vendors, and much more.
Maine has a lot of lighthouses and one of the best places to learn about them is in Rockland at the Maine Lighthouse Museum. The museum is open every day and is a great place to learn just how important lighthouses are to Maine.
It's home to lighthouse artifacts, Coast Guard memorabilia, and a large collection of Fresnel lighthouse lenses.
The nationally known Farnsworth Art Museum is home to more than 10,000 works from some of the greatest artists the nation has ever known.
The Center for Maine Contemporary Art is a real treat and features exhibitions and educational programs all geared toward advancing contemporary art.
If being on the water sounds like your idea of a good time on your visit to Maine, then you have to visit Rockland Harbor for a windjammer tour. These exquisite tall ships offer a one-of-a-kind experience where you can learn a bit about sailing, meet the crew, and even enjoy a lobster bake.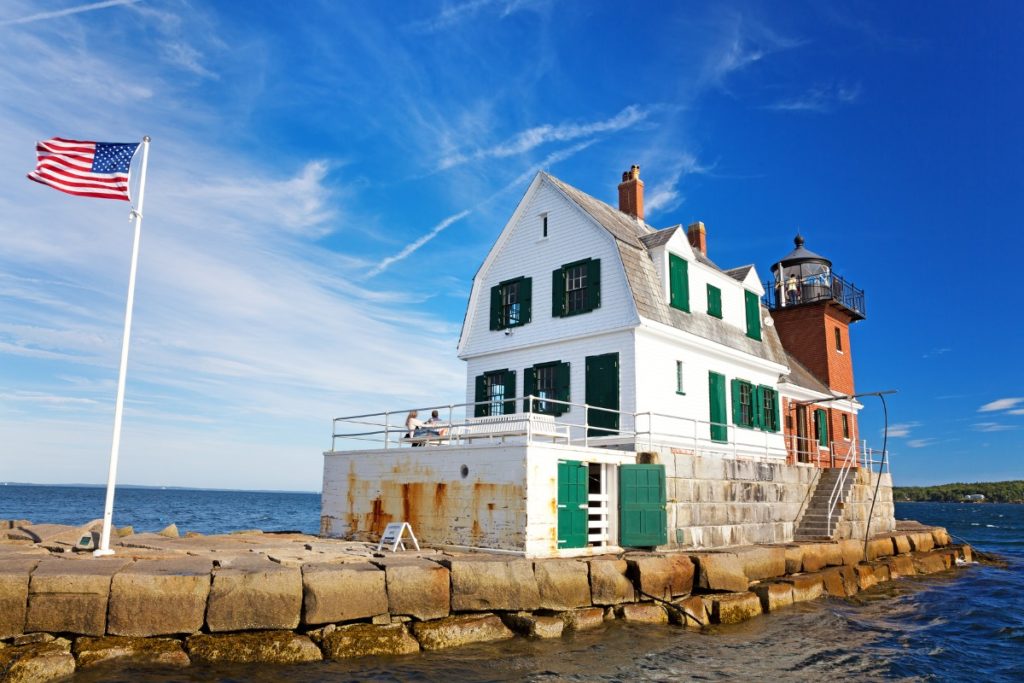 Additional MidCoast Maine Things to Do
Soak in the Awesomeness of Boothbay Harbor
Boothbay Harbor offers something for everyone: Delicious dining, quaint shops to visit, boating excursions, and excellent views.
If you like scenic drives, take a drive to Ocean Point to soak in a sunrise or sunset. You can bring a picnic lunch with you, view lighthouses in the distance, or watch passing sailboats.
Of course, Boothbay Harbor also offers a variety of great boating excursions and is often referred to as New England's Boating Capital. Visitors can take sunset cruises, wildlife excursions, and even speeding windjammer rides.
Explore Christmas Cove on the Damariscotta River
MidCoast Maine offers so much picturesque and unforgettable oceanside scenery. One of the truly hidden gems of the region is Christmas Cove on the Damariscotta River.
If you're sailing around Boothbay Harbor, this is one spot you don't want to miss. It offers wonderful views and a few things to do. You can dock at the Coveside Marina for a bite to eat. You can explore more of Boothbay Harbor. You can even take a trip (and maybe even have a picnic lunch) to see Pemaquid Point Lighthouse Park.
Attend Other Great MidCoast Maine Festivals
Maine has great festivals all year long and some of the most fun can be found throughout MidCoast Maine.
In June, Boothbay Harbor hosts its two-day Windjammer Days with plenty of amazing events. The event schedule usually includes an antique boat parade, live entertainment, a visiting fleet of majestic windjammers, a pancake breakfast, and more.'
In August, Belfast hosts its annual Harbor Fest, which includes a lobster gala, a cardboard boat race, a rowing regatta, and more.
In November, Bath hosts its annual Old Fashioned Christmas. This is fun for the whole family and Jolly Ol' St. Nick joins the festivities for the children's tree lighting. The event also includes live music, caroling, and more.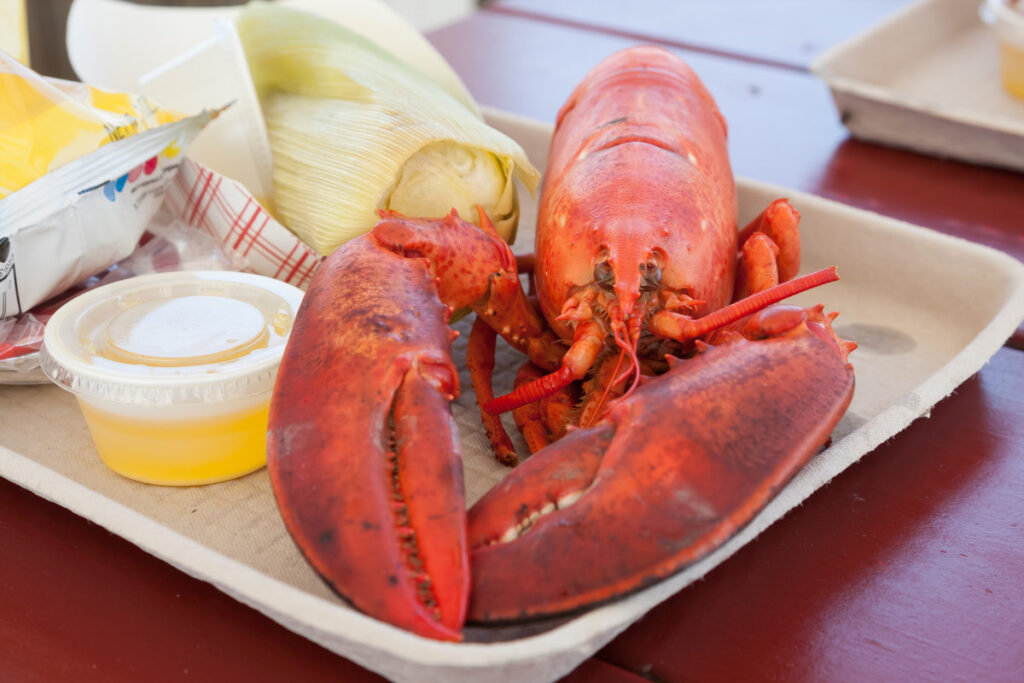 Great MidCoast Maine Restaurants
Whether you're just starting out your MidCoast Maine adventure or you're hungry after a busy day of exploring, the region has some of the best restaurants on the east coast, and arguably, the nation.
Casual Restaurants in MidCoast Maine
Franny's Bistro in Camden gives off a warm, cozy vibe as you sit down to a meal. The bistro is open for dinner only, but the menu features everything from French classics to Italian specialties to Southern favorites.
For more than three decades, The Great Impasta has been an institution in Brunswick. It's perfect for families because it's a good spot to keep everyone fed at an affordable price. The menus are big and so are the portions, so make sure to come hungry.
Darby's Restaurant in Belfast offers delicious made-from-scratch menu options including mac 'n cheese, sandwiches, seafood, fish and chips, and delicious desserts.
Upscale Restaurants in MidCoast Maine
Wolfpeach is a downtown Camden chophouse that features a menu that changes weekly, depending on what ingredients are available. Visitors love its drink selection as well as the fresh seafood and inviting atmosphere.
40 Paper is located in the Knox Woolen Building in downtown Camden and is a great place for a date with its large bar and intimate dining. It serves Italian food with some Mediterranean twists, so you're in for a great night and a great meal.
Natalie's Restaurant is an award-winning eatery located in the Camden Harbor Inn. Plan on dressing nice if you eat here and get ready to enjoy a four-course menu that features fresh, local ingredients.
Fans of Japanese cuisine can visit Little Tokyo in Brunswick for a Bento box meal. This is a great lunchtime option that allows customers to try a lot of different foods in one meal, including amazing sushi, noodles, and tempura.
River Ducks Ice Cream in Camden is a spot you don't want to miss if you're looking for a sweet treat. The building is bright green and pink and the menu features cones, shakes, milkshakes, and 20 flavors of hard-serve ice cream.
If you love pairing good coffee with a good book, the Owl and Turtle Bookshop Cafe is the perfect spot to visit. Located right in downtown Camden, you can treat yourself to a specialty coffee or tea, a fresh basked pastry, and a good read.
The Little Dog Coffee Shop in Brunswick is a great spot to get the boost you need to get your day started. The menu features hot and cold drinks as well as organic drink options and plenty of options if you need a bite to eat.
The Only Doughnut in Belfast offers a variety of doughnut options, including the Maine potato doughnut. These are very popular and sell quickly. Grab doughnuts to go and enjoy them with a great seaside view.
Wild Cow Creamery in Belfast offers homemade, delicious ice cream made from natural ingredients. Choose from classic flavors as well as special offerings like blueberry crumble, and the flying cookie nutter.
Cellardoor Winery has brought a lot of fame to Maine for wine and has a tasting room near Camden in a restored barn from the 1790s where visitors can sample many of their great wines.
A visit to Brunswick offers no shortage of breweries, each with its own lineup of delicious craft beers. If you're in Brunswick, consider visiting Black Pug Beer, Flight Deck Brewing, Seadog Brewing, and Trinken Brewing Co.
The Savage Oakes Vineyard and Winery in Union, Maine has 10 varieties of hybrid grapes and offers blueberry wine made from berries grown in Maine fields. The winery's tasting room is open from May-Christmas and seasonal guided tours are also offered.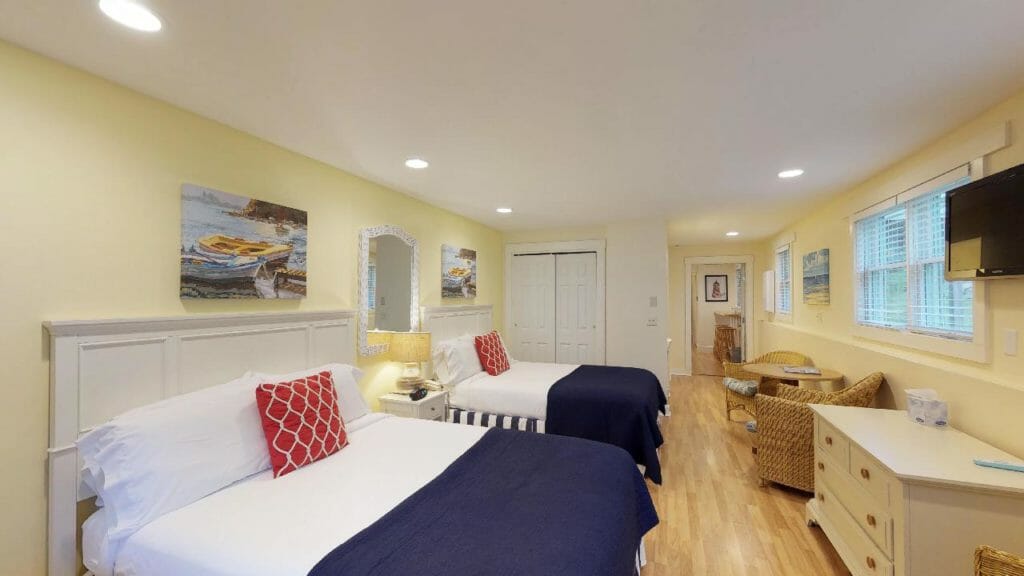 Where to Stay in MidCoast Maine
Country Inn in Rockport is just a short jaunt away from Rockport Marine Park as well as the Andre the Seal statue. It's comfortable, and you don't have to travel far to get to your favorite sites.
This a family-friendly spot with amenities like a spa tub, an indoor pool, a health club, a lobby fireplace, and more. The whole family will enjoy themselves and be comfortable to boot.
If you want to be close to the action, Glen Cove Inn in Rockport is the perfect spot. It's located just five minutes from the Rockland Ferry Terminal and the Rockland Breakwater Lighthouse.
As if that wasn't enough, it's also close to Camden Hills State Park and offers comfortable, air-conditioned rooms and great amenities like a seasonal pool, a garden, and great terrace views.
Plan Your Trip to MidCoast Maine Today
As you can see, you can do just about anything your heart desires in MidCoast Maine!
Whether you're craving the freshest seafood, unforgettable oceanside views, a windjammer cruise, a trip to a lighthouse, excellent shopping opportunities, and more, then start planning your trip to MidCoast Maine today!
One of the best things about MidCoast Maine is that it offers fantastic year-round fun. So you can visit during the height of winter to enjoy winter festivities, or you can visit during the warmer months to soak up the sun, the views, the salt air, and, of course, the food.
No matter if you've been to Maine a dozen times or you've never been, there's just something about Maine's MidCoast that's downright magical. It's a region you just need to see and experience for yourself and once you visit, you may find that you never want to leave.