From sailing cruises to lobster fishing, there are numerous opportunities to enjoy the water along MidCoast Maine. In fact, several companies and windjammers offer Rockport and Camden Maine boat tours. You can even take advantage of boat rentals to explore Penobscot Bay and the area's lakes on your own. When you want an adventure in this region, consider the following Camden Maine boat tours and rentals near Rockport Maine.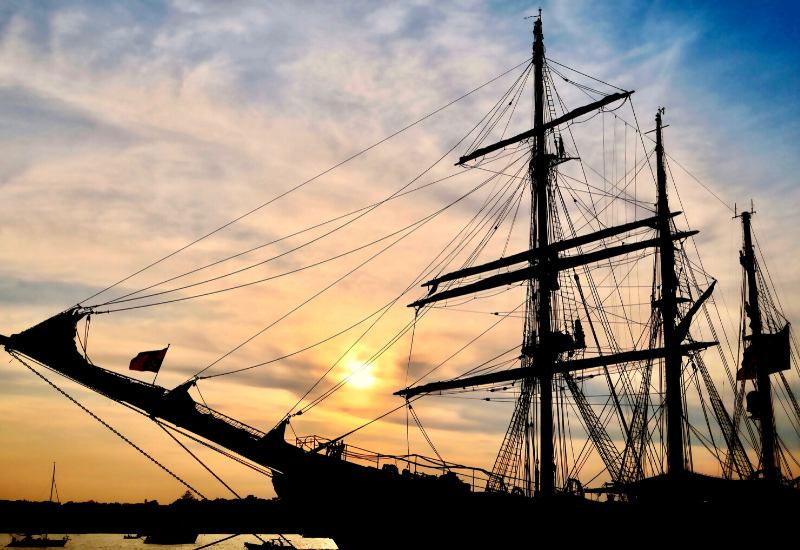 Best Boat Tours in Rockport Maine
Despite being a small town, Rockport has its own working harbor. A couple of boats offer sailing tours and cruises of Rockport Harbor and beyond.
Schooner Yacht Heron
The 65-foot Schooner Yacht Heron was launched in 2003 and has been used as a movie prop and family home in the past. Now, it proudly operates schooner tours of Rockport Harbor, Camden Harbor, Penobscot Bay, and more. Along with daily tours, including a sunset sail, it offers boat charters that allow you to customize your trip.
Lobster Cruiser Harvest Moon
Also departing from Rockport Harbor, the Lobster Cruiser Harvest Moon operates 2-hour to 6-hour tours throughout Penobscot Bay. The cruises offer a variety of activities, including lobster fishing, bird watching, and wildlife viewing. You can arrange boat charters for onboard and island lobster cookouts as well.
Request our full vacation guide to Mid-Coast Maine. All the amazing things to do in Mid-Coast Maine in one free guide.
Get the Vacation Guide
Best Camden Maine Boat Tours
As a larger town, Camden has many more opportunities to cruise the area's harbors, Penobscot Bay, and neighboring islands. The following eight windjammers, schooners, and cruise companies offer the best Camden Maine boat tours.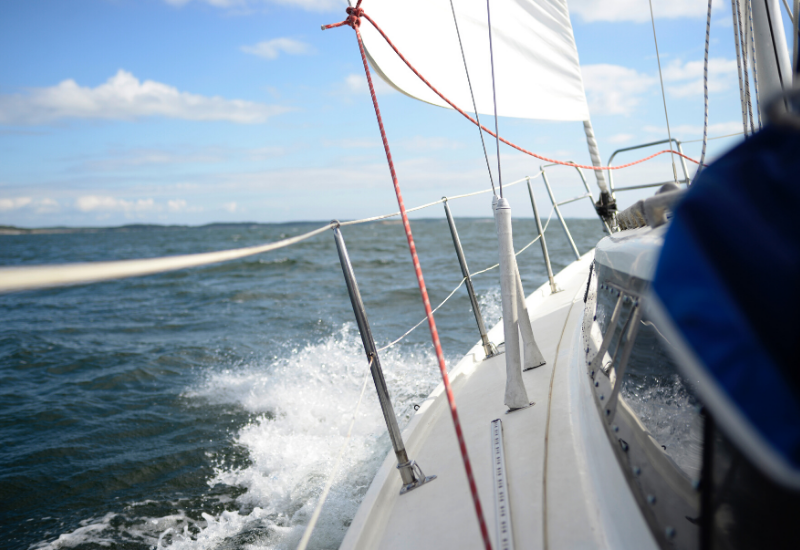 Camden Harbor Cruises
Offering a relaxing venture on a classic wooden motor vessel, Camden Harbor Cruises operates the Lively Lady. Built in 1971, this boat has had many names and continues to bring joy to couples and families. You can book daily cruises and boat charters to see famous windjammers, the best lighthouses in Camden Maine, and many types of marine wildlife.
Schooner Surprise
Out of Camden Harbor, the 57-foot Schooner Surprise operates day cruises and private boat charters. Two-hour schooner tours take you on Penobscot Bay to see lighthouses, summer estates, and wildlife. You can also enjoy sunset sails, full moon sails, and fireworks sails. The private charters are available for two-hour, half-day, or full-day events, such as weddings, family reunions, and company retreats.
Sloop Anjacaa
As the sister ship to the Schooner Surprise, the 54-foot Sloop Anjacaa offers day sails and boat charters as well. Built for cruising and racing, this windjammer has sailed only on Penobscot Bay. Whether you book one of the two-hour daytime schooner tours or private charters, you're welcome to help the crew sail during your adventure.
Schooner Lazy Jack II
With two-hour sailing tours and boat charters, the 58-foot Schooner Lazy Jack II welcomes families with children and friendly, well-behaved dogs. You can enjoy a hands-on experience helping with the sails and taking the helm. During the schooner tours and charters, you'll likely see bald eagles, seals, porpoises, lighthouses, and working lobster boats around the many islands of Penobscot Bay.
Be sure to check out these additional pet-friendly things to do in Camden Maine for more fun with your favorite four-legged friend.
Schooner Appledore II
Operating day sails, sunset sails, boat charters, and eco-adventures, the 86-foot Schooner Appledore II was built in 1978. On its first journey, this windjammer became famous for sailing around the globe. Its Camden schooner tours offer sightseeing throughout Penobscot Bay during summer and fall, including sunset and fireworks sails.
Maine Windjammer Cruises
Using the original windjammer fleet, Maine Windjammer Cruises has sailed from Camden Harbor since 1936. At the time of its founding, it was the first fleet to offer Maine coastal sails on former cargo schooners. You're encouraged to participate in sailing the historic vessels during its schooner tours. Also, you can enjoy lobster bakes and homestyle cooking from a wood-fired stove.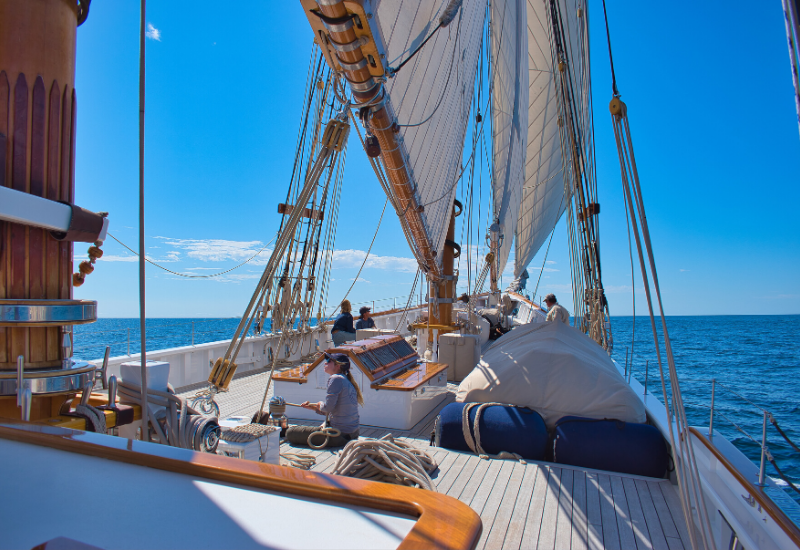 Sail Camden
On a wooden classic windjammer, Sail Camden offers crowd-free day sails on Penobscot Bay. Its sailing charters create an intimate atmosphere for you to share an adventure with your friends or family. You could even book a sunset sail, customize a boat tour, or arrange an event aboard the Heritage windjammer for a half or full day. Island adventures, extended sails, and more are available, too.
Schooner Olad and Cutter Owl
Providing sailing cruises and charters from Camden, the Schooner Olad and Cutter Owl offer a variety of day sails and sailing charters. From two hours to a full day, the 57-foot Schooner Olad offers historic tours of Penobscot Bay and the beautiful rocky coastline of MidCoast Maine. The Cutter Owl offers more intimate tours. Aside from seeing wildlife and lighthouses, you'll learn about the area's history and the schooner trade.
Request our full vacation guide to Mid-Coast Maine. All the amazing things to do in Mid-Coast Maine in one free guide.
Get the Vacation Guide
Best Rockport and Camden Maine Boat Rentals
Within Rockport and Camden, there are two main places with boat rentals: Maine Sport Outfitters and Maine Sport Camden. Part of the same company, these retailers allow you to rent canoes, kayaks, and standup paddleboards to explore the harbors, Penobscot Bay, and more.
Along with rentals, these shops offer guided tours on the water. For example, the Camden Harbor Tour provides basic instruction before you paddle to Curtis Island. You can book one of several sea kayaking day tours as well:
Rockport to Camden
Birch Point State Park
Bremen Long Island
Friendship Harbor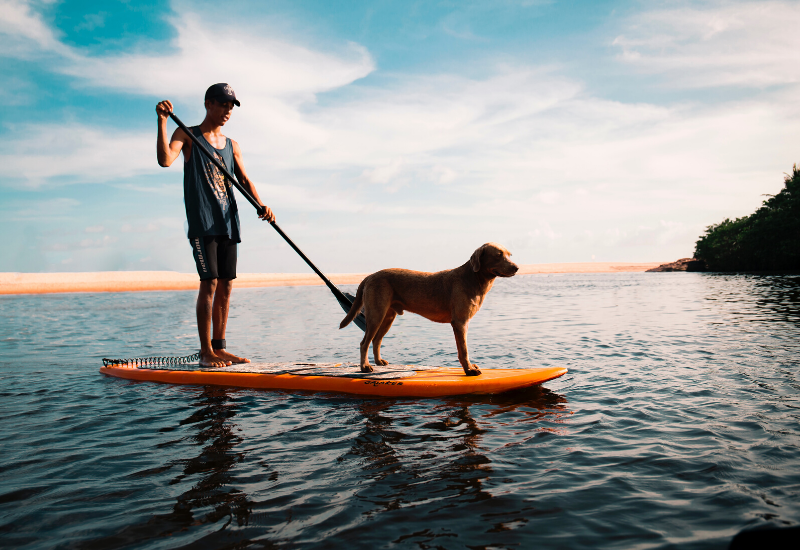 Other Boat Tours and Rentals Near Rockport and Camden
In addition to the boat rentals and tours available in Rockport and Camden, many others are available in nearby towns. The following options are some of the best available boat tours and rentals near Rockport and Camden Maine.
Downeast Windjammer Cruise Lines LLC
Located in Bar Harbor, Downeast Windjammer Cruise Lines LLC uses a variety of historic vessels for its sailing tours. The 151-foot Schooner Margaret Todd and 91-foot Schooner Bailey Louise Todd offer morning, afternoon, and sunset schooner tours for one to two hours. The Lobster Sloop Chrissy is one of the last original working lobster boats in Maine and offers two-hour sails.
Ducktrap Kayak & SUP
In Lincolnville, Ducktrap Kayak & SUP has provided boat rentals for more than 25 years. You can book a variety of single and tandem kayaks and standup paddleboards. The company will even deliver your rentals to you and then pick them up later.
Maine Outdoors
Offering guided canoe and fishing trips, Maine Outdoors is located in Union. It provides everything that you need for each trip and specializes in guiding beginners and families. Aside from the standard fishing trips and canoe tours, you can customize your nature adventure.
Best Camden-Rockport Hotel Near Boat Tours and Rentals
When you plan to explore the water or take a boat tour, you need somewhere nearby to stay. The Country Inn is in a great location near the best Camden Maine boat tours and rentals near Rockport.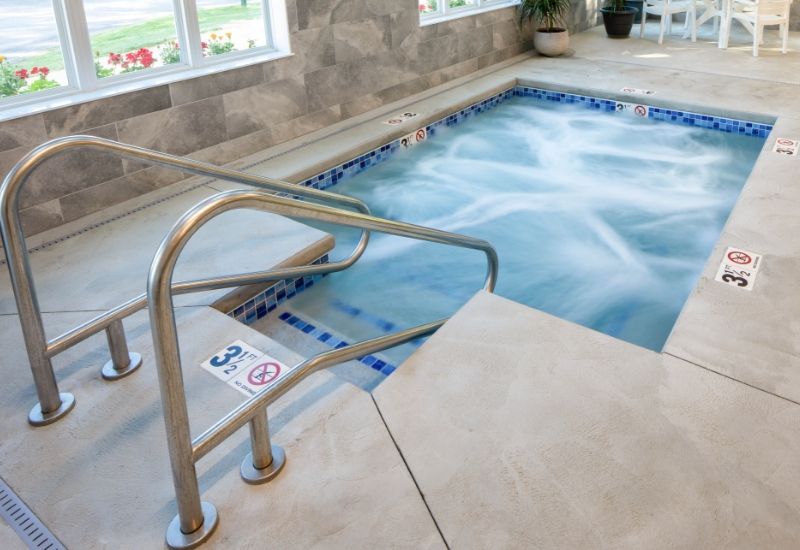 After your adventure, you can visit our spa and massage facilities to treat your muscles and relax. Also, we're just a short drive to the Camden Windjammer Festival in September.
Request our full vacation guide to Mid-Coast Maine. All the amazing things to do in Mid-Coast Maine in one free guide.
Get the Vacation Guide