The scenic coast of Maine is best explored on the water and the best way to do that exploring is on one of the many Maine windjammer cruises offered in coastal towns such as Camden and Rockland.
What is a windjammer you ask? It's a tall ship, so named because the sails are so big that they almost seem to "jam" the wind. In years past, windjammers were designed to ship cargo over long distances.
Maine windjammer cruises are fun, exciting, and memorable for so many reasons. On a windjammer cruise, you can see lighthouses, seabirds, other boats, sea life, and so much more.
To put it simply, cruises on Maine windjammers are equal parts adventurous and relaxing and there are many to choose from in mid-coast Maine.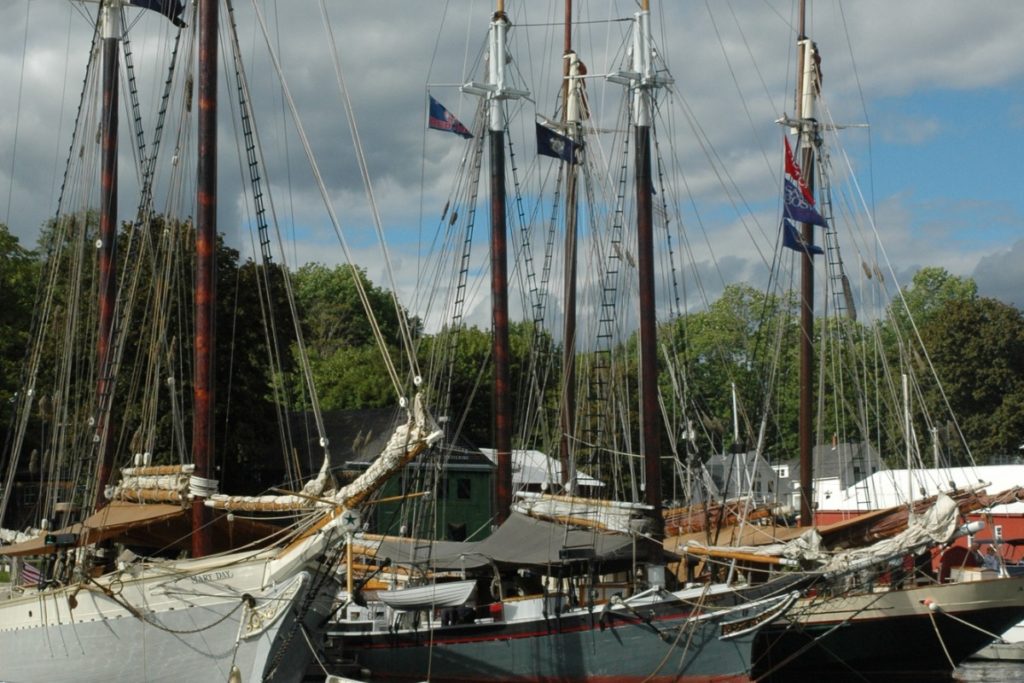 Windjammer Cruises in Camden & Rockport
Join Captain Dennis and his wife Candace for one of the most authentic experiences in Maine, offered in three, four, or 6-day cruises.
Kick back and let this experienced team do the driving. The cruise (which is eco-friendly FYI) can be as low-key or as jam-packed as you want.
No matter what you choose to do or where you go, you'll get the authentic Maine experience you crave: scenic coastlines, locally sourced seafood, Maine sunsets, and plenty of wildlife.
Operating in Camden Harbor, visitors have the chance to take weekend cruises and 5-day cruises of Penobscot Bay.
The Grace Bailey was built in 1882 and, believe it or not, it's listed as a national landmark. If you're looking for a truly authentic sailing experience, this is the ship to pick. It's got plenty of room to spread out, its original, restored cabin from 1882, and even a piano.
America's oldest windjammer offers its passengers an amazing Maine experience. Not only will you see the majesty of the Maine coast, but you'll also chow down on delicious Maine cuisine, including mouthwatering lobster.
This is the perfect opportunity to unplug from the rigors of daily life, breathe in the sea air, and just have fun. The Lewis French offers 3, 4, and 6-day cruises.
It's been a mainstay in Maine's windjammer fleet for more than 140 years, so sailing on it is a treat.
This majestic ship has been sailing the waters of Maine since the 1960s and was the first Mid-Coast Maine windjammer built with comfort, performance, and safety in mind.
The Mary Day offers 3, 4, and 6 cruises and always keeps safety in mind. It has the ability to tour in shallower waters other boats can't enter, which means passengers can get an even closer look at some of Maine's islands as well as the coastline.
Offering weekend cruises as well as 3, 4, and 5 days cruises, the Mistress offers the experience of a windjammer and the comfort of a private yacht.
The Mistress can accommodate just six passengers, which makes it the perfect choice for visitors looking for a more private windjamming experience.
With delicious meals onboard and modern accommodations, you'll feel like you're on board your own yacht.
Visitors to Camden can choose from one of two options in Camden Harbor. You can do it all here, whether you want to see lobster boats, hidden mansions, islands, lighthouses, eagles, seals, and more.
The Olad is a classic yacht that's been restored to its former glory. The Olad sails from mid-May to mid-October and offers a two-hour sail as well as half-day, and full-day cruises.
The Owl offers comfortable sailing and more intimate sailing trips with accommodations for just six passengers. The Owl typically does two- and three-hour day trips, but is also available for customizable trips.
This well-known and well-loved Maine windjammer is sometimes referred to as the "prettiest coaster on the Bay." It's a familiar site around Rockland Harbor and has spent much of its life sailing local waters.
It began sailing out of Camden in 1945 as part of Frank Swift's fleet of windjammers and underwent a restoration in 1989 to offer modern accommodations. It now offers 3- and 4-day cruises.
The Heron offers three daily trips from Rockport Harbor, including the Educational Eco Tour, a private morning sail, and a Happy Hour Sunset Sail, as well as custom charters.
This is a great way to see the rugged Maine coastline around Penobscot Bay as well as stunning wildlife. Sit back and take a load off as you see the vibrant Maine scenery all around you.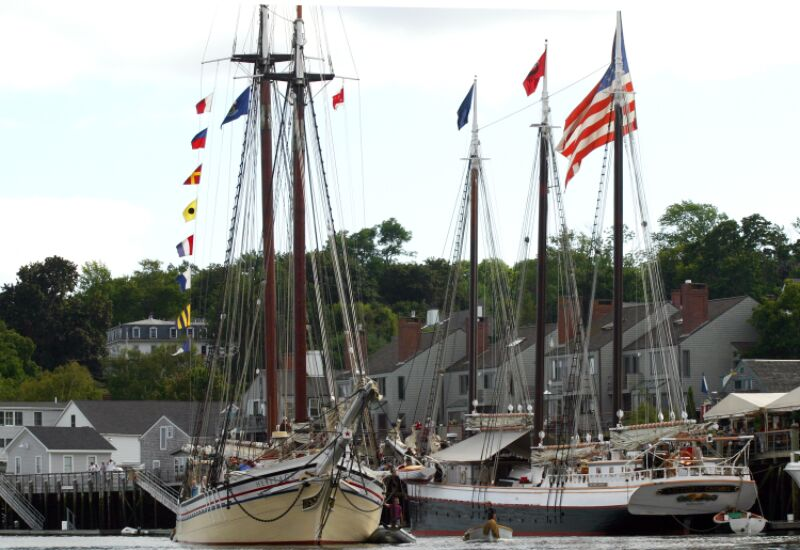 Rockland Maine Windjammer Cruises
Taking a windjammer cruise on this schooner offers good company, delicious food, adventure, and relaxation.
Visitors have a chance to explore the wonderous waters of Penobscot Bay over three to six days. One day may take you to lighthouses, another day may take you to one of Maine's many secluded islands.
You can even take longer trips aboard the American Eagle to sail north to the Canadian border or south into the lobster-rich waters of Gloucester, Massachusetts.
Operating out of Rockland Harbor, the Isaac H. Evans offers single-day cruises as well as 3, 4, and 6-day cruises of scenic Penobscot Bay.
This is another beloved Maine vessel that's been designated as a National Historic Landmark. It can easily accommodate nearly two dozen guests and is perfect for taking in the scenery of Maine's coast.
The J. & E. Riggin offers cruises spanning 3, 4, 5, and 6 days, so you'll have plenty of time to check out Maine's many sparse islands, rocky coastline, and legendary lighthouses of Penobscot Bay.
The Stephen Taber is nearly 150 years old, but it's still just as magnificent as when it first set sail. Seasonal cruises are offered from May to October, spanning 3 to 8 days.
The Stephen Taber aims to please and offers all the amenities for a memorable experience. Visitors can enjoy classic Maine scenery, enjoy smooth sailing, excellent food, and fun activities both onboard and off.
As a Maine windjammer cruise goes, you can't do much better than sailing on a ship called Summertime.
This classic New England pinky schooner offers day sails as well as multi-day cruises that are perfect for families or small groups.
Private charters can also be arranged for special interests such as Maine history or boat building.
This ship has quite the history on the eastern seaboard and was christened in 1922. For a time, it was known as the Nathaniel Bowditch and served as a sail-training ship.
Under the eye of Captain Noah Barnes, the Ladona was returned to its former glory and now, from June through October, visitors can have exciting excursions that last from 3 to 7 days.
This vintage sailing experience offers its guests an all-inclusive, intimate, comfortable time with plenty to do onboard and ashore.
Your adventure begins with a made-to-order breakfast in the morning and includes picturesque sunsets, trips by New England fishing villages, and around hundreds of islands.
Owned by Doug and Linda Lee, the Heritage offers 3, 4, 5, and 6-day cruises of Penobscot Bay. The boat was built in the style of a 19th-century coasting schooner and is designed for comfort to offer visitors a memorable experience.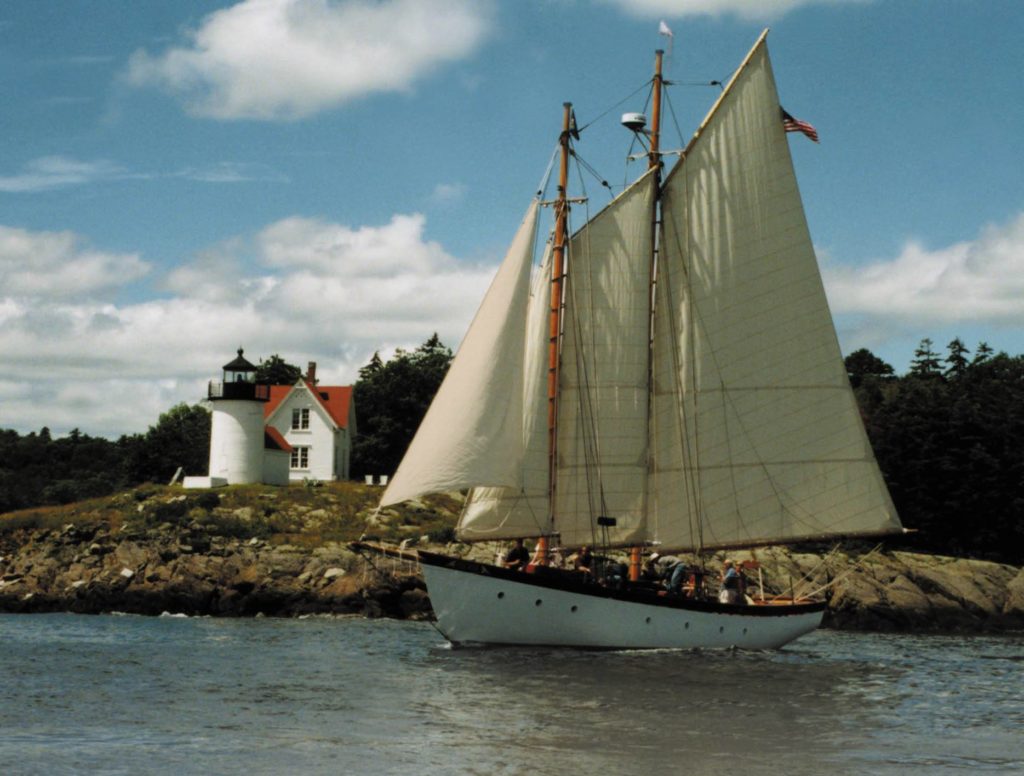 More Mid-Coast Maine Windjammer Cruises in Boothbay Harbor
Your Maine adventure starts in Boothbay on the oldest windjammer in Boothbay Harbor.
You can hoist the sails or even take a turn at the wheel as you sail past Burnt Island Light, Rain Island Light, Squirrel Island, and other islands around Boothbay Harbor.
Lazy Jack offers two-hour cruises or private charters, so you can sail as much or as little as you want to.
Maine's wonderous seascape dotted by lighthouses, wildlife, lobster boats, and more awaits you as you enjoy a two-hour voyage.
From late May to mid-October, the Eastwind offers up to four trips every day as well as private charters.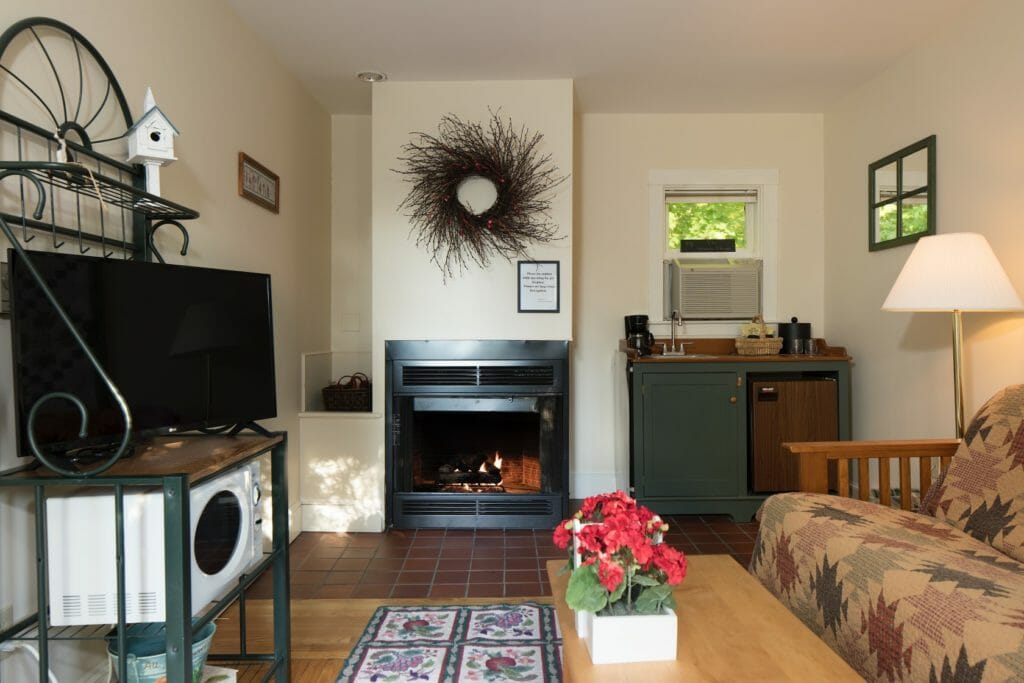 Best Mid-Coast Maine Lodging Near Windjammer Cruises
A sailing vacation to Camden Maine or Rockland Maine will undoubtedly be one of the most memorable experiences of your life, so book your Maine windjammer cruise today!
Whether you're a veteran of the mid-coast Maine seas or you've never been on a traditional schooner before, there's so much to see and do that you'll never want your journey to end.
Between digging into a fresh lobster bake, breathing in the sea air, seeing wildlife, cruising past historic lighthouses, fishing, swimming, and so much more, the only question you'll ask is, "What do I want to do first?"
If you're looking for lodging during your stay, the Country Inn Camden Rockport and the Glen Cove Inn and Suites in Rockland offer the affordable accommodations and amenities you need to make your stay comfortable and enjoyable.