Are you planning a trip to Camden Maine? On the shores of Penobscot Bay and the Atlantic Ocean, this small town has plenty of opportunities to explore the water. From freshwater to saltwater retreats, several Camden Maine beaches and others nearby are worth visiting.
Whether you visit in summer or winter, any time is a good time to walk on the beach. Of course, swimming is a fun activity during the summer. But no matter the season, you can always search for seashells and various marine life while enjoying the peaceful views.
Request our full vacation guide to Mid-Coast Maine. All the amazing things to do in Mid-Coast Maine in one free guide.
Get the Vacation Guide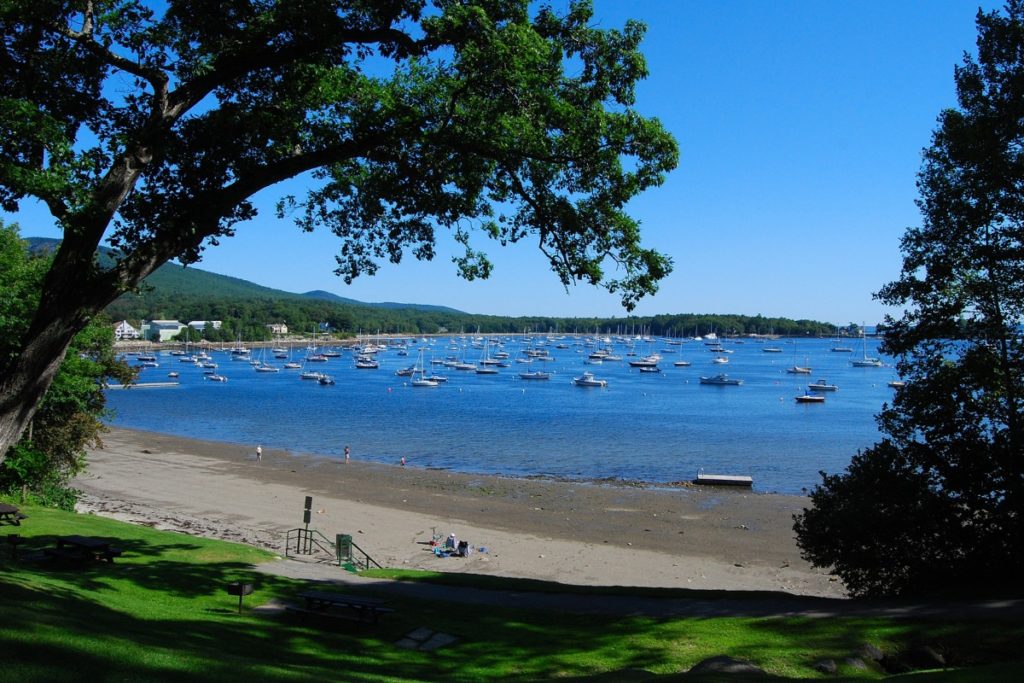 Best Camden Maine Beaches
Despite its size, Camden is home to lakeside, pondside, and oceanside beaches. Below are six fantastic Camden Maine beaches that we recommend to Mid-Coast visitors.
Curtis Island Lighthouse Overlook
On Bay View Street, the Curtis Island Lighthouse Overlook is as the name suggests, a lookout point with a view of Curtis Island Lighthouse in the east. You can walk to the end of the pier, which is located on one side of a beach, to get a slightly closer view of the tower.
The small Camden Maine beach here has a mix of sand and rocks. It's a decent place for a quick dip in the water, and some people anchor small boats on the shoreline and just enjoy the scenery.
Laite Memorial Beach
North of the outlook and also located on Bay View Street, Laite Memorial Beach is just past Camden City Park. This harbor area is a pebble beach at the bottom of a grassy hill where you can go swimming or take a walk.
Outdoor grills and picnic tables are available for anyone to use, and there's a playground for kids. As you relax or play, you get an awesome view of the boats in Camden Harbor.
Hosmer Pond
Moving inland to the Ragged Mountain Recreation Area, which is home to the Camden Snow Bowl, you'll find Hosmer Pond. This 55-acre body of water has a multipurpose site for swimming, fishing, and launching small boats.
The pond water is clear, and you can fish at many other points around the pond. Motorboat traffic is minimal because of the pond's size. Keep in mind that there's only a portable toilet nearby, but you can take advantage of the picnic tables.
Shirttail Point Park
On Washington Street, Shirttail Point Park is located on the Megunticook River with a grassy area that extends to the edge of the water. It's a sandy and shallow freshwater beach nook where children can safely play.
While you're here, take advantage of the barbecue grills and picnic tables. You can also launch canoes and kayaks from this beach and paddle the river down to Seabright Mill Dam. Depending on the season, Canada geese like to wander around this public park and beach.
Hodson Park
North of Shirttail Point, Hodson Park rests on the Megunticook River, just south of the outlets for Megunticook Lake. It's located at the intersection of Molyneaux Rd and Beaucaire Ave.
Although it doesn't specifically have a Camden Maine beach, there's a shallow area where you can swim. Just keep in mind that the current can be strong when the dams are open. It's the reason the area is more popular among fishermen.
There are a few picnic tables under large pine trees where you can take a break from all your fun. Also, it's a great place to take your dog when the other Camden Maine beaches and waterfront parks don't allow pets at midday.
Barrett's Cove Public Beach
Northeast of Hodson Park, Barrett's Cove Public Beach is something of a hidden gem at the end of a cove on Megunticook Lake. Somehow, this small lakefront beach avoids crowds when the other waterfronts are busy.
There are designated swimming and picnic areas. The swimming area is marked off and has a swimming platform with a ladder on the deeper side. The picnic area is equipped with tables and outdoor grills.
On top of that Barrett's Cove has public restrooms and changing areas, free parking, and children's playgrounds. A boat ramp provides easy access for motorboating and paddleboating. No matter what you do at this Camden Maine beach, you have a spectacular view of Camden Hills State Park and Mt. Battie.
Request our full vacation guide to Mid-Coast Maine. All the amazing things to do in Mid-Coast Maine in one free guide.
Get the Vacation Guide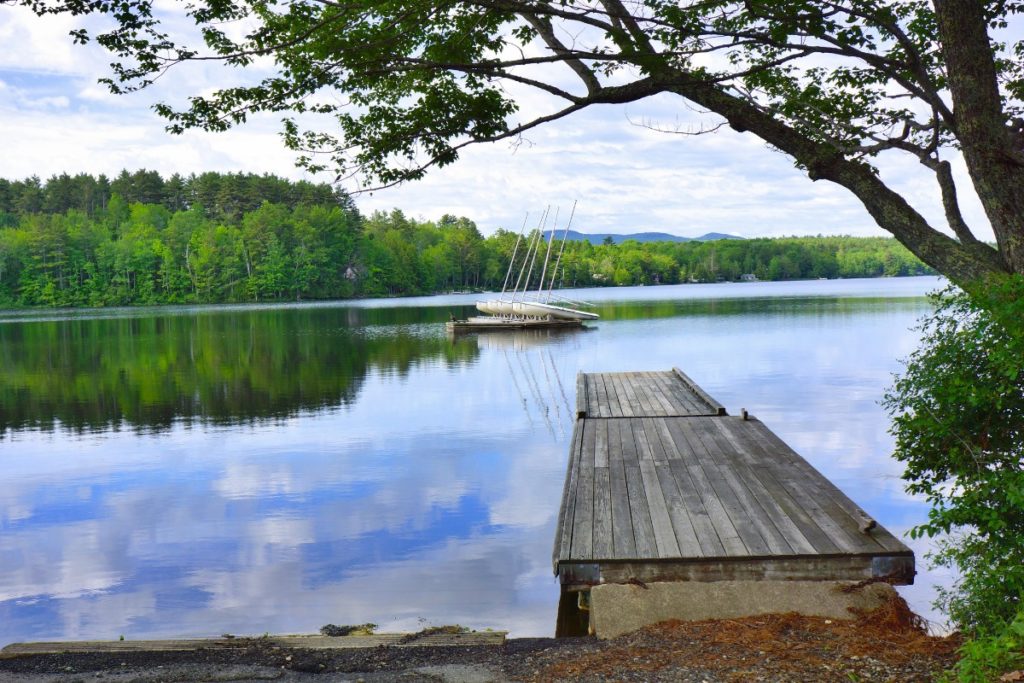 Fantastic Beaches in Maine North of Camden
There's more to the Mid-Coast than just Camden Maine beaches. Here's a look at more beach options north of the town.
Lincolnville Beach
On Penobscot Bay, Lincolnville Beach is located in Lincolnville on Route 1 about a 10-minute drive from downtown Camden. You can see Isleboro to the east — which is a short ride across the bay on the Islesboro State of Maine Ferry — and mountains to the west of the beach.
It has a gradual slope to the edge of the water, and it's quite sandy. This beach doesn't get a lot of big waves, so it's ideal for kids. Along with sunbathing and swimming, you can use the beach as a launch point for kayaks. It's a great spot for fishing too.
Murray Preserve
Also in Lincolnville, Murray Preserve is located just 1 mile north of Lincolnville Beach at the end of Howe Point Rd. This 10-acre grassy park has a cobblestone beach on Penobscot Bay. There's no marked trail, but the beach isn't too hard to find if you just head toward the coast.
Cals Beach
About a 20-minute drive north of Camden, you'll come to Cals Beach in Northport. It's an ideal spot for couples and adults traveling together. You might not want to leave because the views of Penobscot Bay are so amazing.
More Beaches North of Camden Maine
There are a couple more beaches north of Camden that are worth mentioning. Wales Beach in Northport is a sandy, open beach. It's about a 15-minute drive from Camden.
Also, Wyman Park on Knight Pond is located in Northport. It has a sandy beach and a spot for launching canoes and kayaks. The park is about a 30-minute drive from Camden and at the end of Knights Pond Rd, which passes through St. Clair Preserve.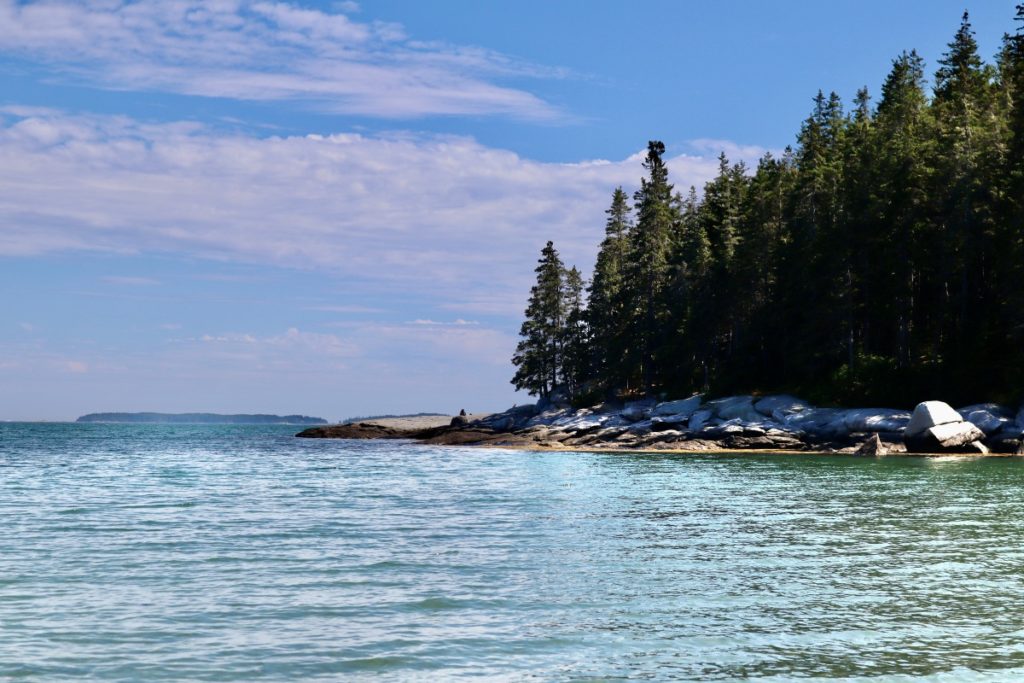 Best Beaches in Maine South of Camden
In addition to the Camden Maine beaches and those north of the town, there are even more beach spots south of town. Check out some of our favorites.
Walker Park
The sandy beach at Walker Park in Rockport is located at the confluence of Elm St and Sea St. It's only about a 5-minute drive from downtown Camden.
This harbor park is ideal for wading and looking for seashells at low tide. There's a playground for kids to enjoy, a grassy hillside knoll, barbecue grills and fire pits, and picnic tables as well.
Glen Cove Beach
For oceanfront swimming, consider heading to Glen Cove Beach in Rockport. This small beach is located right next to the rest area on Route 1.
It looks out over Glen Cove and doesn't get big waves at high tide. Also, the mud flats are a great place to look for crabs, sand dollars, seashells, snails, urchins, and more at low tide. Plus, it's only about ½ mile from Glen Cove Inn & Suites.
Johnson Memorial Park
Just after crossing into Rockland, you can find Johnson Memorial Park on Lake View Drive. From Camden Maine, it takes less than a 15-minute drive to get there.
The small park has a freshwater beach on Chickawaukie Lake, making it perfect for lake swimming. The park also has a public boat launch, public bathrooms, outdoor grills, and picnic tables.
South End Beach
Near downtown Rockland, South End Beach is a small area off Scott St and next to the Rockland Harbor Trail. A set of stairs leads down to the sand, which is a wonderful place to take a walk and search for seashells.
After spending time on the beach, you can walk the 3.5-mile boardwalk, which connects the working waterfront to the commercial downtown. Along the way, you get scenic views of Rockland Harbor and the chance to experience the city's arts and culture.
Owls Head State Park
About a 25-minute drive from Camden, Owls Head State Park is located on the end of a peninsula with a bluff that towers 100 feet over Penobscot Bay. Below the bluff is a small rocky beach, from which you get a beautiful view of Rockland.
The main attraction at the park, though, is Owls Head Light, which was built in 1852. You can visit the keeper's house museum and gift shop and possibly climb the tower. While you're here, you can have a picnic and watch the wildlife too.
Crescent Beach
Not far from Owls Head State Park, you can explore Crescent Beach, the biggest saltwater beach around. The rocky area is shaped like a crescent moon, hence the name.
Many locals consider this beach to be the best place for sunbathing, relaxing, and swimming. From here, you get panoramic views of small islands and Penobscot Bay.
Birch Point Beach State Park
Also in Owls Head, Birch Point Beach State Park is about a 30-minute drive from downtown Camden. It's a great place to go if you want to spend the entire day at the beach. The 220-yard, crescent-shaped beach features gentle water that's perfect for swimming.
Keep in mind that the state park is only open from Memorial Day to Labor Day. During your visit, you can enjoy fishing and kayaking as well.
More Beaches South of Camden Maine
There are plenty more beaches within a 30-minute drive south of Camden Maine. For instance, sandy Crocket's Beach is about 25 minutes away in Owls Head, and Lucia Beach is located nearby. Another option is Lobster Buoy Beach & Docks in South Thomaston.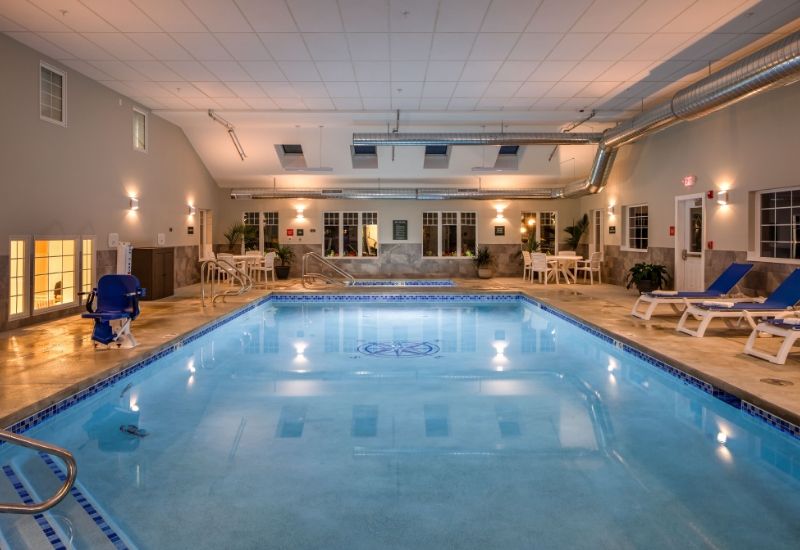 Stay in Cozy Accommodations Near Camden Maine Beaches
No matter which Camden Maine beaches and waterfronts you want to visit in the Mid-Coast, The Country Inn at Camden Rockport has the most convenient accommodations. Our quaint rooms, suites, and cottages offer a comfortable place for you to rest after a fun-filled day… plus our indoor pool is a great substitute if the weather didn't cooperate for playing in the water at your Camden beach of choice.
Along with being central to more than a dozen gorgeous beaches, The Country Inn is close to many great things to do in Camden, Rockport, and Rockland, as well as attractions and activities in Lincolnville.
When you start planning your Mid-Coast Maine getaway, check our availability at The Country Inn. You could also check the availability of our sister property during the summer months — Glen Cove Inn & Suites.
Request our full vacation guide to Mid-Coast Maine. All the amazing things to do in Mid-Coast Maine in one free guide.
Get the Vacation Guide