Rest. Relaxation. Great sights. Beautiful views. Delicious food. Slower pace. Wonderful memories. That's what a vacation is all about.
And when it comes to delicious food, we've got you covered with the best Camden Maine restaurants throughout this sleepy coastal town. From fresh seafood and farm-to-table fare to walk-up windows and upscale dining, you'll find the restaurant that fits your needs, your palette, and your wallet with these recommendations. There is truly something for everyone on this list and all dietary preferences.
All the best restaurants in Camden Maine are locally owned and operated and you won't find a nationwide chain on this list. Choose one or more to enjoy during your next trip to mid-coast Maine.
Here are some of the best Camden Maine restaurants you should visit on your next trip…
Fresh & Co
Fresh & Co has a focus on sustainable roots. Emphasis is on ingredients, flavors, and building an atmosphere where diners feel comfortable. Housed in a building that was originally a schooner slip, the family-owned business showcases local artists inside and there's also an outdoor eating area to enjoy the fresh sea air. Fresh & Co is open year-round and offers a menu with seasonal fare.
Peter Ott's on the Water
Peter Ott's on the Water is located directly on the Camden Harbor with a beautiful panoramic view and has been a staple in Camden for over 40 years. Owner and chef Peter Masin-Peters can be found in the restaurant every night, both behind the line and visiting with the guests. Fresh, quality food is paired with the amazing view to up the dining experience at Peter Ott's. Besides the signature seafood, Peter Ott's offers amazing comfort foods in pot pies and risotto.
Request our full vacation guide to Mid-Coast Maine. All the amazing things to do in Mid-Coast Maine in one free guide.
Get the Vacation Guide
40 Paper
40 Paper prides itself on being a cozy meeting of differences – a traditional Italian eatery, also serving dishes with French, Spanish, and Mediterranean influences; a cozy dining room and a hopping bar – all located in a civil war era mill. The staff is trained to take all dietary restrictions into the care and creation of meals and even the freshly made pasta can be made gluten-free. Because the menu changes all the time due to seasonal availability and ingredient inspiration, you'll be happy to know they work with various farmers, foragers, and fishermen to bring you the very best of Maine.
Natalie's
Natalie's overlooks the harbor and is the perfect location for an upscale fine dining experience. Natalie's is all about sourcing local and fresh ingredients to create a culinary vacation for your tastebuds. Natalie's offers two dining options – an all-senses dining experience, engaging the diner through color, presentation, smell, and definitely, taste, as well as a more casual fireplace lounge where diners are served small plate options.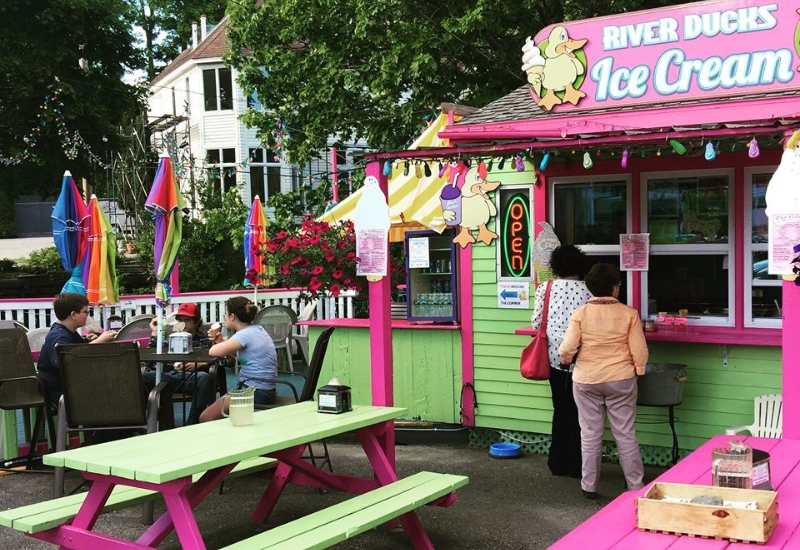 River Ducks Ice Cream
River Ducks Ice Cream offers to bother traditional ice cream as well as soft serve. River Ducks is open seasonally and makes the perfect summer treat. From one of their reviews on Facebook, "We happened along this place on our first trip to Camden. No exaggerating, in all my years of packing away a ton of ice cream, this is my favorite. Maine Moose tracks, omg…heaven…." With an endorsement like that, you can't go wrong!
Cuzzy's
Cuzzy's is serving traditional American bar-and-grill food in a fun and friendly atmosphere. You'll love the food and the dining room atmosphere as you gather around some delicious apps and beer on tap. Being a traditional American bar and grill doesn't stop the seafood which is a part of all Maine coast dining experiences.
Request our full vacation guide to Mid-Coast Maine. All the amazing things to do in Mid-Coast Maine in one free guide.
Get the Vacation Guide
Zoot Cafe
Zoot Cafe is a Camden Maine coffeehouse. With the goal of bringing delicious coffee and espresso to the greater Camden area, Zoot is fun, happy, and cool, but not pretentious. Zoot works with local vendors to source their menu items. Many menu items are vegetarian, including vegan options, gluten-free, and oil-free options.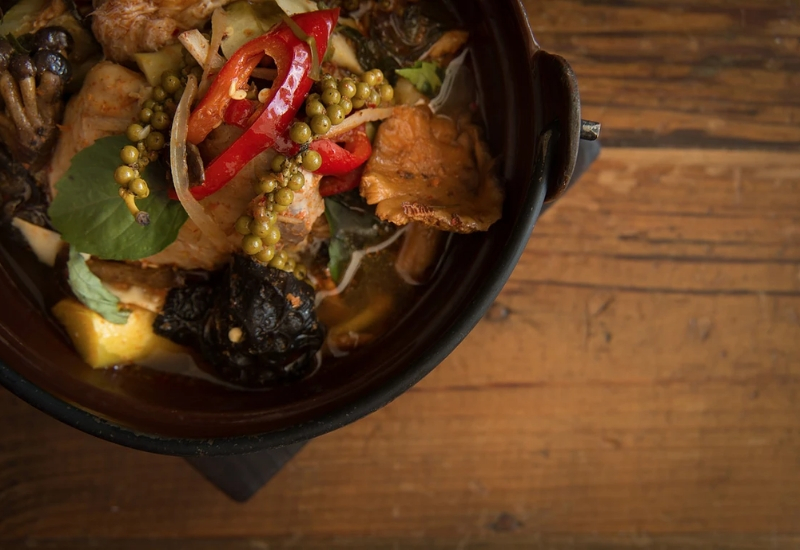 Long Grain is the perfect restaurant for locavores looking for an Asian-inspired twist. Ingredients are locally and seasonally sourced. And meals are inspired from all over Asia – Vietnamese and Thai street food, Indonesian and Japanese family meals, and more. Both wide and ramen noodles are made in-house daily. Daily specials can be found on their Facebook page.
Camden Deli
Camden Deli is a family-owned restaurant that has been serving Camden since 1985. Gourmet sandwiches, homemade soups, and salads wait to greet you along with homemade baked goods and cappuccino. Serving breakfast, lunch, and dinner, you'll love the touches of Maine throughout the menu – like bagels and lox for breakfast and crab salad or omelets.
Marriner's Restaurant
Marirner's Restaurant is a diner-style restaurant serving two foods Maine is famous for – blueberry pancakes and lobster rolls. There is often a line during peak hours and most agree – it's worth the wait! One recent guest said "Today we went in for breakfast. Had the Cinnamon Raisin French Coast Toast, eggs over medium, home fries, and a large bowl of FRESH CUT fruit. Daughter had steak and eggs, her friend had the Eggs Benedict. Food was above par, service was prompt, friendly, with a sweet smiling small town feel."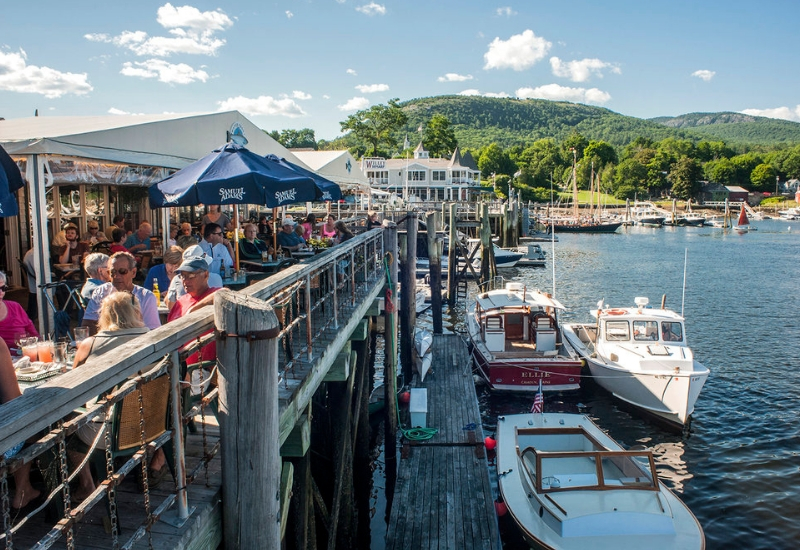 Waterfront is the perfect mid-coast Maine seafood experience – eating delicious and fresh seafood directly on the waterfront! Bread and dessert are made fresh daily and produce is locally sourced whenever possible. A long-time favorite at Waterfront is Suzette's Sin – chicken, honey-cured ham, bacon, swiss cheese, tomato, and avocado, served on whole wheat bread with a mustard sauce.
Camden House of Pizza
Camden House of Pizza has been a part of the Camden community for over 20 years and offers the best in pizza and Greek food. You can enjoy salads, pasta dinners, gyros, sandwiches, and of course, pizza. You can customize a perfect pizza based on your favorite toppings, choose one of our favorites, or grab a quick slice from the warmer.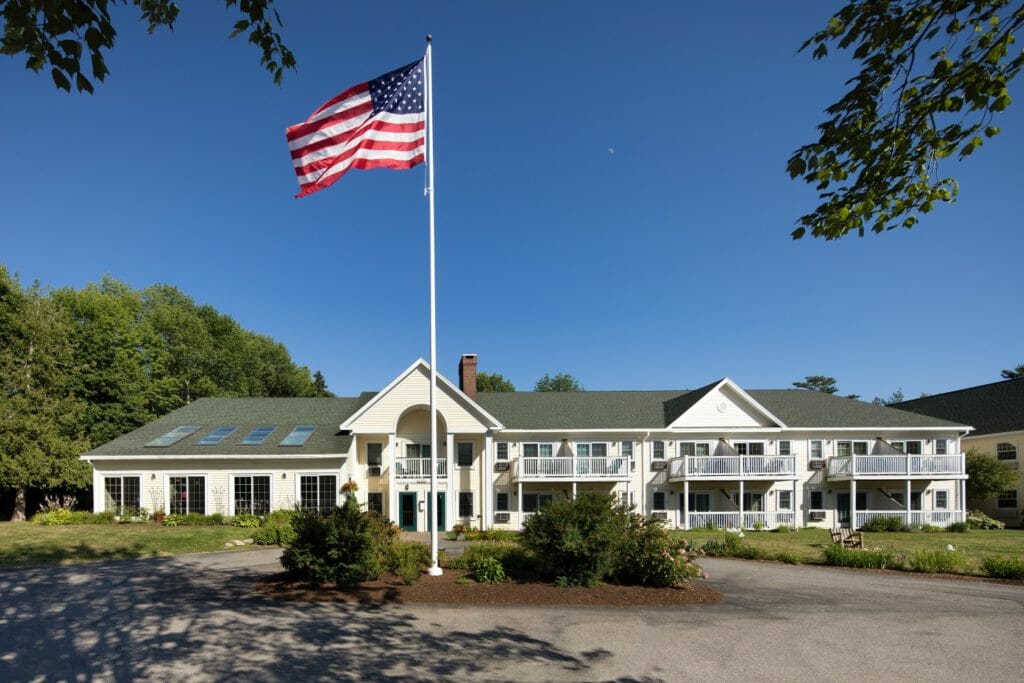 The Country Inn at Camden Rockport – A Camden Maine Hotel
If you love locally-owned restaurants, you'll love experiencing the best things to do in Camden Maine and must-see festivals happening all year round in Camden, Rockland, and Rockport. While you're in town to explore the best of the food scene in Camden Maine or to enjoy the windjammer festival, you'll need a place to serve as your home base.
And more than that – to offer comfort, rest, amazing hospitality, and of course, a better-than-continental breakfast. You'll love our Camden Maine hotel and Bed & Breakfast. Not only are there 22 main-house rooms, but there are also 11 cottages available from May through October. We look forward to serving you during your next stay on the coast of Maine.
Not already planning a trip? Why don't you start planning now?!? And remember, you'll always get the best price and access to all of our specials when you book directly with us at the Country Inn.
Prefer a traditional Maine roadside motel? Book a room at our sister property, Glen Cove Motel, just down the road in Rockport, Maine!
Request our full vacation guide to Mid-Coast Maine. All the amazing things to do in Mid-Coast Maine in one free guide.
Get the Vacation Guide