Maine has a booming beer scene with more than 100 unique beer brands that create mouthwatering brews. If you're looking for craft breweries near me, there are at least 25 Midcoast Maine breweries that you can visit. So, keep reading to find out what to expect at each brewery and taproom as you traverse this Maine beer trail.
Request our full vacation guide to Mid-Coast Maine. All the amazing things to do in Mid-Coast Maine in one free guide.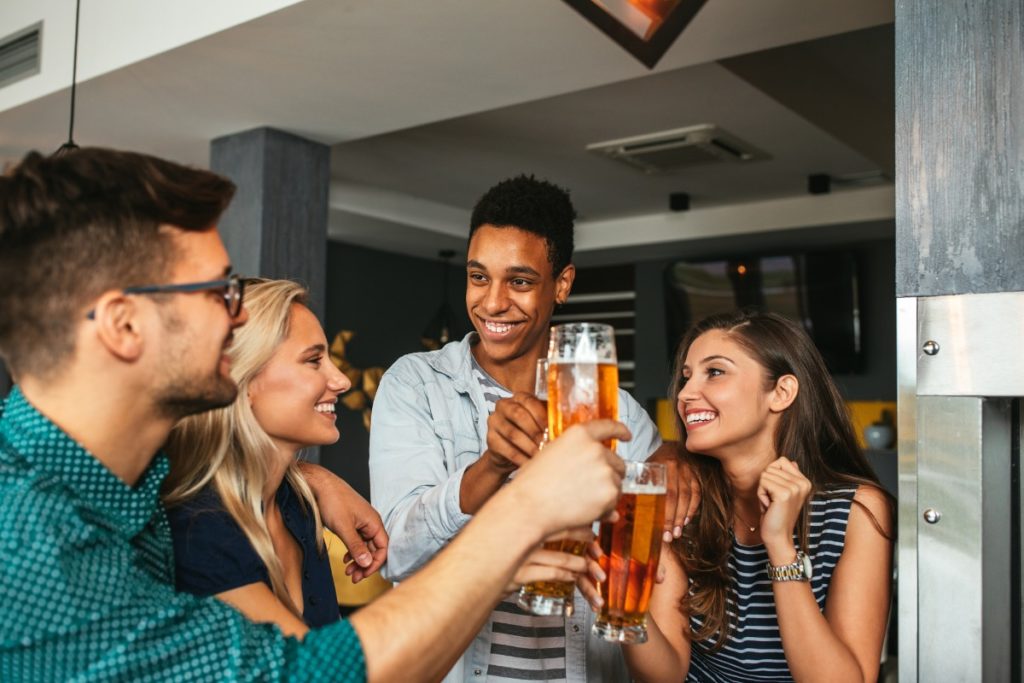 Rockland & Camden Maine Breweries
Blaze Brewing Company
Part of Blaze Restaurant Group, Blaze Brewing Company has multiple locations. Its Camden location, however, is the original. It started out as a restaurant with a four-barrel brewhouse but grew so much that the headquarters was moved to Biddeford Maine.
The Camden brewhouse remains and produces experimental beers. You can try a variety of ales, stouts, sours, and IPAs. The brewhouse serves food as well — small and full plates, salads, sandwiches, and wood-fired pizzas.
Sea Dog Brewing Co.
Brewing a full line of award-winning, English-style ales, Sea Dog Brewing Co. captures the spirit of its seafaring history. The brewery has several locations, including a brewpub in Camden Maine. Here, you'll find a variety of handcrafted ales, wine, cocktails, and mocktails, and a full menu of pub fare.
Liberator Brewing Company
Established in 2018, Liberator Brewing Company is a nanobrewery in Rockland that makes handcrafted ales and lagers. The brewery is committed to using locally sourced ingredients from Maine suppliers and artisans.
Here, you can experience some of the freshest small-batch brews, as well as local wines, hard seltzers, and organic sodas. You can learn about the beer in the relaxed friendly atmosphere too. While you drink, you can munch on light fare from local vendors.
Rock Harbor Brewing Co.
You get more than just beer and food at Rock Harbor Brewing Co. — you get a whole experience. This Rockland brewery has a taproom where you can enjoy a variety of fresh local brews, attend tasting events, listen to music every Friday, and take a brewery tour.
You can enjoy a pint of beer alongside tasty eats in the brewpub. Some popular dishes include sesame-crusted tuna, chipotle fried haddock tacos, Dan's burger, and a cornflake-fried chicken sandwich. Plus, every Monday night is Trivia Night, while every Wednesday night is Open Mic Night!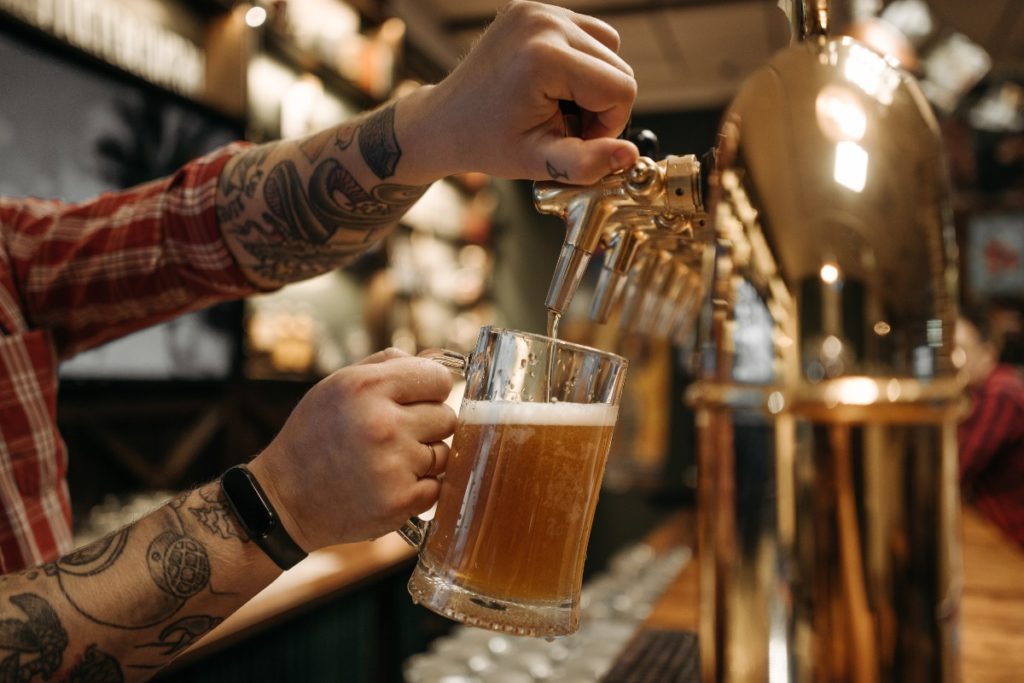 Northern Mid Coast Maine Breweries
Penobscot Bay Brewery
Located in Winterport, Penobscot Bay Brewery has been making small batches of beer, award-winning wine, and cider since 2009. Although the brewery has undergone ownership changes over the years, the quality remains. You can get a taste (or two or more) in its taproom.
Tattooed Dad Brewing Co.
As one of the smallest licensed Mid Coast Maine breweries, Tattooed Dad Brewing Co. in Jackson produces ½-barrel batches of beer. It only has six brews on tap, but it's usually a good variety — IPAs, sours, pale ales, porters, and lagers. Live music plays almost every Saturday through summer, and you can eat complimentary popcorn with your drinks or bring your own food.
Marshall Wharf Brewing Co.
With 30 craft beers to choose from, Marshall Wharf Brewing Co. was established in 2007 in Belfast. The locally owned craft brewpub rests on the waterfront. The brewery produces hundreds of gallons of beer on a direct-fired, seven-barrel system.
For your enjoyment, there's a tasting room and a beautiful, pet-friendly beer garden. You can order flights, pints, and small bites — charcuterie platters, flatbread pizzas, Maine lobster rolls, and more.
Threshers Brewing Co
Located in a repurposed Searsport lumberyard, Threshers Brewing Co is an industrial-style brewery and off-the-beaten-path destination for beer enthusiasts. The brewery reuses various materials from unique sources in Maine, such as dairy farms and potters.
While getting a taste of the ingenuity and creativity, you can nosh on some great food, such as a pizza, oven-toasted grinder, salad, and even dessert!
Lake St. George Brewing Company
As the sixth brewery to open in Maine, Lake St. George Brewing Company in Liberty was founded in 1993 by Danny McGovern and Kellon Thames with a seven-barrel system in McGovern's basement.
After closing for a few years, the brewery reopened as a family business with a changing selection of beers — IPAs, lagers, stouts, sours, ales, and hard seltzers.
McGovern also started Monhegan Brewing Company, which is mainly overseen by his daughter and her husband.

Central Mid-Coast Maine Breweries
North Haven Brewing Co.
On the island of North Haven, North Haven Brewing Co. is a small brewery that serves pints, cans, and growlers. One of these brews will hit the spot after traveling to get here — you need to hop a ferry or boat to reach the island. The taproom is open during the warmer months of July and August.
The Pour Farm
In Union, The Pour Farm is a nanobrewery located on Crawford Stream on land that was known as The Mill Farm in the 1700s. The brewery was established in 2018 and is dedicated to making fresh ales with local ingredients on a three-barrel system.
You can enjoy a flight, pint, growler, or pitcher with fare from an on-site food truck or bar snacks. Or, you can bring your own picnic.
Waterman's Beach Brewery
Located in the old Waterman's Beach Lobster shack in South Thomaston, Waterman's Beach Brewery makes ales with a combination of traditional and modern practices and ingredients. Much of the grain used in the beer-making process is grown and malted in Maine.
In addition to ales, the brewery makes lager and stout. You can enjoy live Maine bands, holiday celebrations, potluck dinners, and more at Waterman's too!
Odd Alewives Farm Brewery
Named Best Tasting Room by Down East Magazine, Odd Alewives Farm Brewery is located in Waldoboro and makes refreshing, farmhouse ales. The tasting room is in a renovated 1820s barn that's surrounded by 22 acres of forest and gardens.
A lot of the fruit, herbs, hops, and vegetables that it uses come from its own gardens. When possible, any other ingredients are locally sourced, so every brew contains at least 95% Maine ingredients.
In addition to ale, the tasting room serves wine and non-alcoholic beverages. You can also order beer snacks, such as charcuterie, roasted chili lime peanuts, and cheese plates.
Oxbow Brewing Company
A rural farmhouse brewery in Newcastle Maine, Oxbow Brewing Company has a rustic tasting room where you can get a taste of a rotating selection of draft, bottled, and canned brews.
You're welcome to walk around the small orchard and farm to see where the brewery grows the fruit that it uses for its beers. The farm also raises pigs for its food partners. On top of that, the property has trails that are great for hiking, biking, cross-country skiing, snowshoeing, and wildlife-watching.
Sheepscot Valley Brewing Company
Another one of the smallest Mid-Coast Maine breweries, Sheepscot BValley Brewing Company is located in Whitefield and produces ales, lagers, and stouts. Food service is available, and there's only outdoor seating. Since the tasting room hours vary, check the brewery's Facebook page for updates before you go.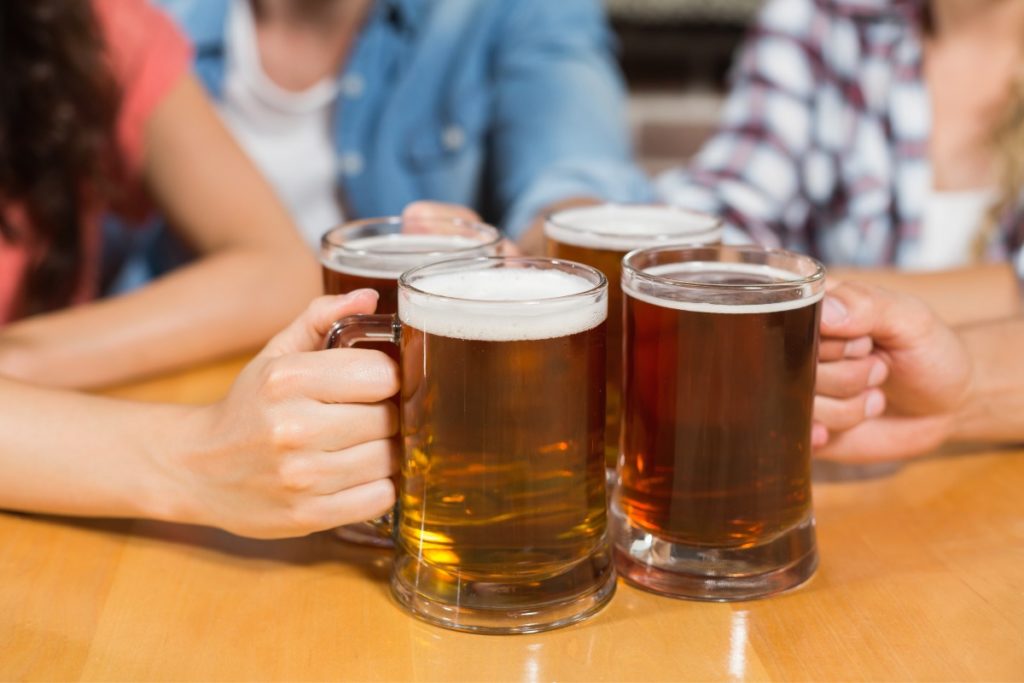 Southern Mid Coast Maine Breweries
Monhegan Brewing Company
Monhegan Brewing Company is a family-owned craft brewery located on Monhegan Island, which is about 10 miles from the Maine coastline. The brewery and taproom is open from April to November, and it's a fantastic place to stop after hiking the island's trails or walking through town.
The taproom offers five beers on tap, bottled and canned brews, hard seltzer, and handcrafted sodas. Also, Maine-made snacks and non-alcoholic beverages are available, and there's a food truck on site for lunchtime. Plenty of tents and umbrellas offer spacious, shaded seating outside.
Co-owners Mary and Matt Weber are also part owners of Lake St. George Brewing Company.
Footbridge Brewery
Nestled in Boothbay Harbor, Footbridge Brewery is a small-batch brewery that focuses on using Maine-sourced ingredients as much as possible. Its family-friendly tasting room offers an array of beer styles and food.
Boothbay Craft Brewery
One of the most unique destination Mid Coast Maine breweries, Boothbay Craft Brewery is a combination brewery, taphouse, and RV resort. The brewery makes award-winning brews and offers daily tours.
In the taphouse, you get a farm-to-table dining experience with wood-fired flaming skillets, fresh barbecue, burgers, flatbreads, the finest craft brews, and signature cocktails. The RV resort has cornhole and a bocce court.
Sasanoa Brewing
Located at Tarbox Farm near the end of the island in Westport, Sasanoa Brewing is a rustic brewery with a variety of beers, including seasonal brews. The farm is incorporated into the beer and the relaxing outdoor tasting room in many ways. It's open from May to October depending on the weather.
Bath Ale Works
A fairly recent addition to the Maine brewing scene, Bath Ale Works in Wiscasset is a family and dog-friendly brewery and taproom. Among its craft beers are blonde ale, sour, IPA, brown ale, and scotch ale varieties. The taproom has a snack food menu as well with weekend specials that change regularly.
Bath Brewing Company
On the Kennebec River, Bath Brewing Company is located in downtown Bath Maine. The 3.5-barrel brewhouse uses traditional brewing techniques and high-quality ingredients to produce American, German, and English-style beers — including ales and IPAs.
The main floor of the brewhouse features a cozy taproom setting where you can drink and enjoy delicious pub fare. A lounge area and more traditional dining options are on the upper floor.
Trinken Brewing Co.
Everything at Trinken Brewing Co. in Bath is inspired by German culture. In fact, "trinken" means "to drink" in German. This approach was chosen because the owner's family lives in Germany, and he wanted to follow those tried-and-true traditions. From NEIPA to Kölsch to Dunkel, a variety of brews are available for every palate.
Flight Deck Brewing
Opened in early 2017, Flight Deck Brewing in Brunswick Maine is located in Brunswick Landing and aims to provide a casual, family-friendly gathering place. And, it has been named Best Tasting Room by Down East Magazine.
The tap list is always changing, and the taproom serves cider, wine, local soda, and more. The food options change throughout the week between barbecue and wood-fired pizza. The venue features live music too.
Black Pug Brewing
In Brunswick, Black Pug Brewing is a small-batch brewery with a big personality — just like its namesake black pugs Gir and Mochi. This brewery has been open since late 2018 and offers an engaging and welcoming experience to everyone. New brews are available regularly!
Moderation Brewing
Inspired by pre-Prohibition when small breweries were gathering spots among locals, Moderation Brewing in downtown Brunswick is a place where people can go after a long day and enjoy fresh brews and lively conversation.
Along with a taproom, the brewery has a beer garden with outdoor seating. All of the beer is made with local, seasonal ingredients. You can bring your own picnic or takeout food, but cheeses and snacks are available along with a rotation of food trucks and pop-up shops.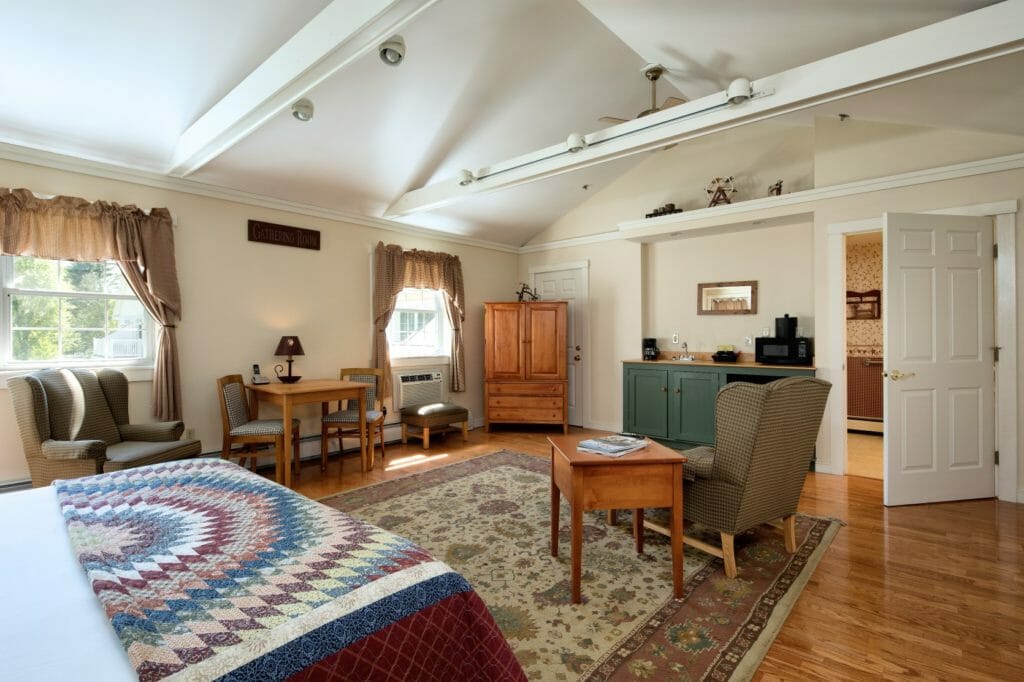 Best Place to Stay While Touring Midcoast Maine Breweries
If you're on a mission to tour this list of Mid Coast Maine breweries, The Country Inn at Camden Rockport is in a convenient location. We have a handful of midcoast craft breweries within a 15-minute drive of our inn.
Plus, the farthest breweries are only about a 1-hour drive from Camden and Rockland, making for fantastic day trips. Of course, it may take a bit longer to get to North Haven Brewing Co. and Monhegan Brewing Company because you have to catch a boat ride to get there.
While you're at it, check out Camden and Midcoast Maine wineries and enjoy wine tasting and more!
When you stay at The Country Inn, you can expect comfortable accommodations, including 11 separate cottages that are available from late spring to mid-fall. We offer a range of amenities as well, including a homemade breakfast, hot tub, and indoor heated pool. Check our availability for your travel dates.
Also, our sister location — Glen Cove Inn & Suites — is open seasonally with cozy accommodations. You can check our availability at this inn if you prefer.
Request our full vacation guide to Mid-Coast Maine. All the amazing things to do in Mid-Coast Maine in one free guide.