Artists from around the country are drawn to Camden for the scenic views of Penobscot Bay from Camden Hills State Park. Inspired by this and other beautiful vistas along MidCoast Maine, photographers, painters, sculptors, and others create an assortment of handcrafted items that rival those from other regions of the country. Whether you're looking for a souvenir of your visit or a gift for any occasion, you'll find something perfect while shopping in Camden Maine.
Camden Specialty and Gift Shops
Camden certainly has plenty of shops within the downtown area and along the outskirts. These are some of the best places to find specialty items and gifts.
The Smiling Cow
Open for more than 75 years, The Smiling Cow is a family-owned, one-of-a-kind gift shop in downtown Camden. Its selection of unique items ranges from books and clothes to gifts and collectibles. You can even find homemade fudge and Maine maple syrup. Located atop the Megunticook River, you can step onto its back porch for a great view of Camden Harbor and Penobscot Bay too.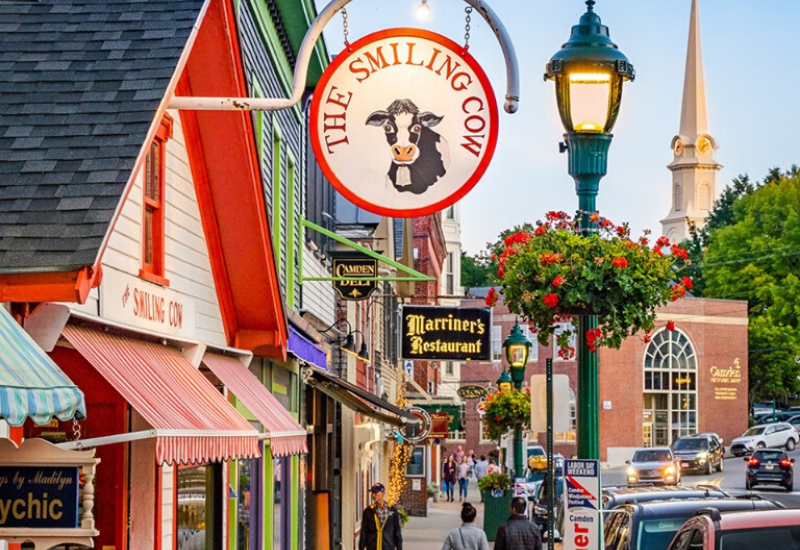 Request our full vacation guide to Mid-Coast Maine. All the amazing things to do in Mid-Coast Maine in one free guide.
Get the Vacation Guide
Uncle Willy's Candy Shoppe
Since November 2008, Uncle Willy's Candy Shoppe has taken shoppers back in time with old-fashioned specialty candies. The store is full of sweets that you've never heard of or that you haven't seen since you were a kid. There are a lot of classics too: fudge, brittle, licorice, gourmet chocolate and more.
The Cashmere Goat
In downtown Camden, The Cashmere Goat is a yarn shop for all levels of crocheting and knitting enthusiasts. Along with local cashmere yarn, the store sells a large selection of local alpaca, cotton, local wool, and blended yarns.
Once a Tree
For more than 35 years, Once a Tree has been one of the best gift shops in the area. Although it moved from Bay View Street to Main Street, it continues to showcase a variety of unusual and functional handcrafted wood and other items. You can find everything from kitchen necessities and home accessories to candles, soaps, jewelry and more.
Owl & Turtle Bookshop Cafe
Since 1970, the Owl & Turtle Bookshop Cafe has been a part of downtown Camden's vibrant community. This independent bookstore has an ever-expanding selection of books, and its cozy neighborhood cafe features locally sourced coffee and bakery treats.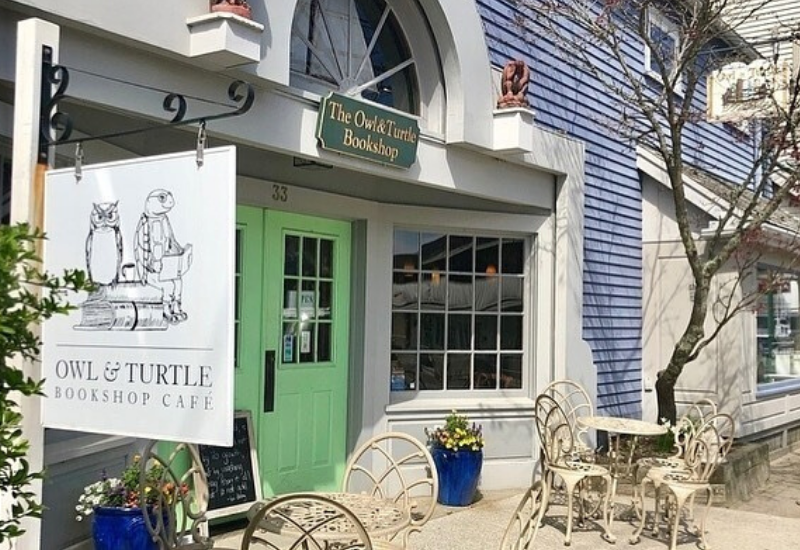 The Leather Bench
On Main Street, The Leather Bench has carried quality leather goods since 1971. It has handbags, belts, jackets, hats, wallets and much more from local, American and top name brands.
Jo Ellen Designs
Featured on the "Today" show and in several magazines, Jo Ellen Designs has fresh, unique home accents, gifts, and personal accessories from across the globe. In particular, its hand-hooked rugs and pillows are made of wool and designed by Jo Ellen Stammen, who has illustrated children's books.
Sea Bags
Since Camden Harbor is active, it's only fitting for Sea Bags to have a shop in the town. This East Coast retailer sells nautically inspired totes and accessories. The products are made from old boat sails, which makes them truly unique.
Starbird
If you're looking for fine decor, Starbird is the place to go. It's been selling an innovative and classical blend of American-made and crafted items for more than 40 years. The large selection includes art decorative accents, linens, furniture, rugs, and pillows.
Request our full vacation guide to Mid-Coast Maine. All the amazing things to do in Mid-Coast Maine in one free guide.
Get the Vacation Guide
Art Galleries in Camden Maine
Since Camden is an art community, it's no surprise that it has several art galleries. Check out why they make shopping in Camden Maine feel like a cultural experience.
Ironbound Gallery
Situated on Bay View Street, Ironbound Gallery showcases original art pieces from local artists. The diverse collection includes paintings, ceramics, sculptures, jewelry, stone carvings and more.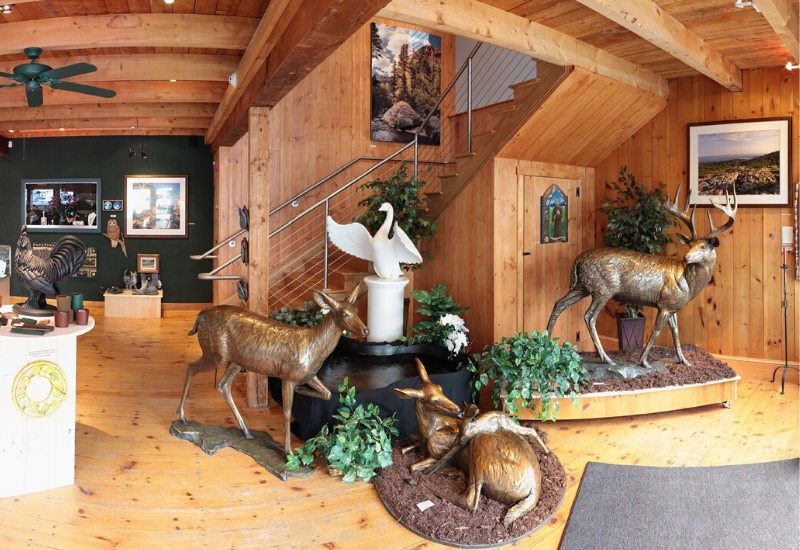 Small Wonder Gallery
With a spot at the Public Landing, Small Wonder Gallery has a great view of Camden Harbor and Penobscot Bay as you browse the work of local artists. Since 1984, it has featured decorative and fine artwork, such as hand-colored etchings, limited-edition prints, oils and watercolors, stained-glass and sculptures.
Page Gallery
As an American contemporary art gallery, Page Gallery exhibits a variety of drawings, paintings, and sculptures from leading contemporary artists in Maine. You can view new exhibitions regularly.
Camden Falls Gallery
Also at the Public Landing on Camden Harbor, Camden Falls Gallery showcases furniture, fine art, and sculptures from artists across New England. The shows celebrate coastal Maine's traditional watercraft, architecture, and landscape.
DAAC Designs
With a curated collection of antiques, art, and vintage garden and home decor, DAAC Designs embraces the combination of coastal elegance and rustic decor. It offers modern art and vintage and handcrafted items.
Antique Shops in and Near Camden Maine
Antiquing is a popular hobby in Maine because plenty of shops sell old items. Take a look at these antique shops in Camden and the surrounding area.
Donnie B's
Although it's a small shop, Donnie B's has a big personality that will leave a lasting impression. It has antique knickknacks, toys, and items from overseas that you can't find anywhere else. On top of that, the owner can probably tell you the stories behind the antiques that you buy.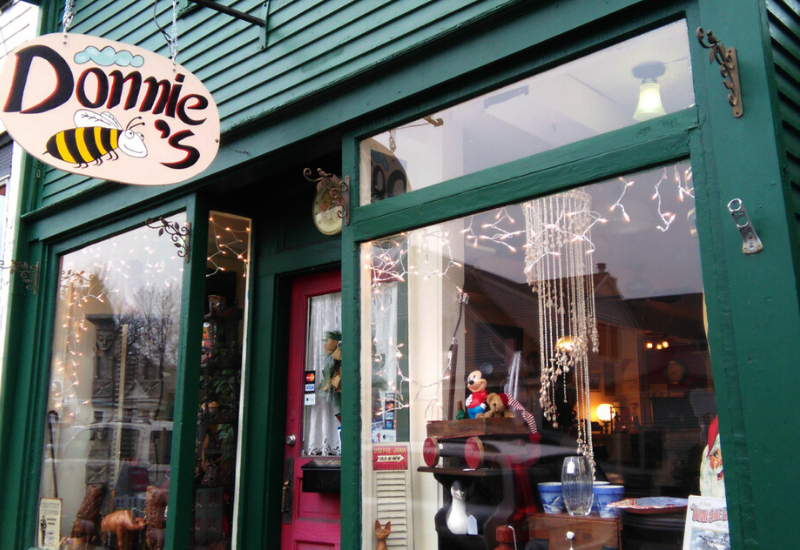 The Shop Next Door
At the center of Camden, The Shop Next Door combines the new and shiny with the old and weathered. It has a great selection of antique and vintage items: garden and home decor, glassware, artwork, lighting, jewelry, and French linens. In fact, the shop owners search far and wide for one-of-a-kind products.
Antiques at 10 Mechanic
At Antiques at 10 Mechanic, the main focus is antiques. The shop gets items from more than 20 local vendors who deal in collectibles, furniture, clothing, and accessories. There's a huge selection of vinyl records that you can sift through too.
Rockport Estate Liquidation
Just outside of Camden, Rockport Estate Liquidation has more than 45 years of experience with auctioning valuables and antiques. As a matter of fact, the owner has a degree in fine art. The auctions are entertaining and fun experiences where you could find rare items.
Request our full vacation guide to Mid-Coast Maine. All the amazing things to do in Mid-Coast Maine in one free guide.
Get the Vacation Guide
The Best Hotel Near Shopping in Camden Maine
In order to hit the best shopping spots in Camden, choose a hotel that's close by. Then, you don't have to fit all of your shopping into a single trip.
Our inn has 36 rooms and suites designed with country simplicity and your comfort in mind. All of our guests have access to our health club, which features exercise equipment and an on-site spa. Our inn is even near some of the best restaurants with quality foods and the best things to do in Camden.