Lined by quaint coastal towns and spotted with hundreds of islands, Penobscot Bay stretches south from the mouth of the Penobscot River for 35 miles. And, it's 27 miles wide — touching the shorelines of Mid Coast Maine and Downeast Maine.
Penobscot Bay has a long history and is a popular destination all year, especially during the peak of autumn. Since the towns along its shorelines are full of activities, here are some fall things to do on Penobscot Bay to add to your getaway itinerary.
Request our full vacation guide to Mid-Coast Maine. All the amazing things to do in Mid-Coast Maine in one free guide.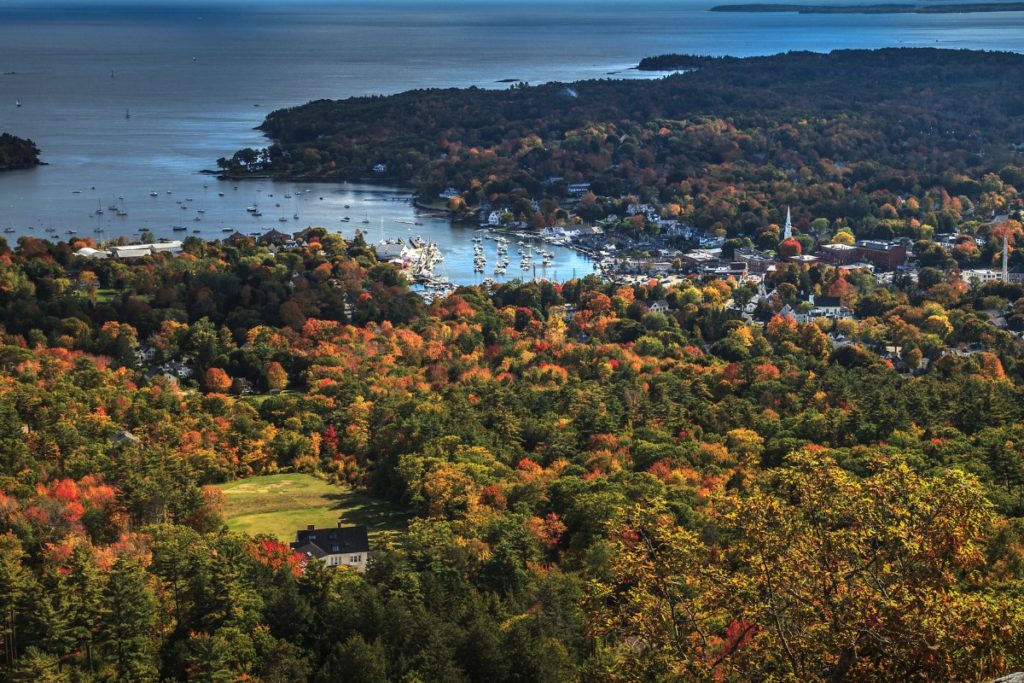 Set Sail on a Schooner
Sailing is one of the most prominent activities on Penobscot Bay, and schooner cruises and boat tours are available until at least mid-October. The day cruises, sunset sails, fall color tours, and more are ideal for seeing the beauty of Maine's coastline.
The Schooner Olad and Cutter Owl and the Schooner Appledore are top-rated options that depart from Camden Maine. The Cutter Owl is good for small groups, while the Schooner Olad can accommodate up to 22 passengers.
On the Schooner Appledore, you can participate in hoisting the sails and turning the wheel to navigate the schooner past local landmarks. Drinks are available during these trips.
Take a Day Trip to Vinalhaven
Vinalhaven Maine is just one of the islands in Penobscot Bay, and it's also Maine's largest offshore island — about 12 miles from the Mid Coast mainland.
This 23-square-mile island was the leading producer of granite in the country between the 1820s and early 1900s before it became a fishing powerhouse — it has one of the world's biggest lobster fishing fleets.
After you arrive on the island via ferry or plane, you'll have plenty of things to see and do — swim in the quarry ponds, play at one of the many town parks, hike at a nature preserve or sanctuary, shop at unique stores, and taste culinary delights at the island's restaurants.
You can even take a boat tour around Vinalhaven, capturing photos of the three lighthouses along the way. If you want to find out more about the island, the Vinalhaven Historical Society is open until late September with artifacts to explore.
Learn About Penobscot Bay & the Area
With such an interesting history around Penobscot Bay, several museums are worth visiting to learn about the area. Here are some of the best museums that are open through at least part of the fall.
Owls Head Transportation Museum
Open all year except holidays, the Owls Head Transportation Museum in Owls Head is a nonprofit educational organization with an unparalleled collection of over 150 rare and restored aircraft, automobiles, bicycles, carriages, engines, motorcycles, and related artifacts.
Maine Lighthouse Museum
In Rockland, the Maine Lighthouse Museum is open daily to teach visitors about the heroism, long-standing traditions, and advancements of the U.S. Life-Saving Service and the Coast Guard. It has the biggest collection of related artifacts and mementos in the country.
Penobscot Marine Museum
The Penobscot Marine Museum in Searsport has a campus of historic buildings that bring maritime history to life with stories about Penobscot Bay industries, ship captains, fisheries, and more. Among the nine permanent exhibits that are open until mid-October are more than 300,000 historic photos and maritime archives and artifacts.
In addition, you can see new exhibits every season and traveling exhibits from across Maine. There are even child-friendly exhibits, which include fun items that kids can touch and interact with. The museum has a lot of room for children to play and run as well, and you can have a picnic for the whole family on campus.
Fort Knox Historic Site & Penobscot Narrows Observatory
Take a walk through history at the Fort Knox Historic Site in Prospect — one of the best examples of coastal defenses constructed in the mid-19th century. Free guided tours are provided by volunteers through the end of October, giving you all the details about the rich history of the fort and Penobscot Narrows.
You can see the Penobscot Narrows Bridge & Observatory Tower from the fort. Considered the crown jewel of Maine, it's the tallest bridge observatory in the world that's open to the public. At 420 feet, you get an impressive 360-degree view of Penobscot Bay and the surrounding area. The bridge stretches across the bay, connecting Prospect with Verona Island.
Wilson Museum
Founded in 1921, the Wilson Museum in Castine is a true blast from the past. See a 460-million-year-old trilobite, early Indigenous tools from the local area, and artifacts from cultures around the world. Plus, experience hands-on learning and watch artisans and craftsmen demonstrate traditional skills and tools through the end of September.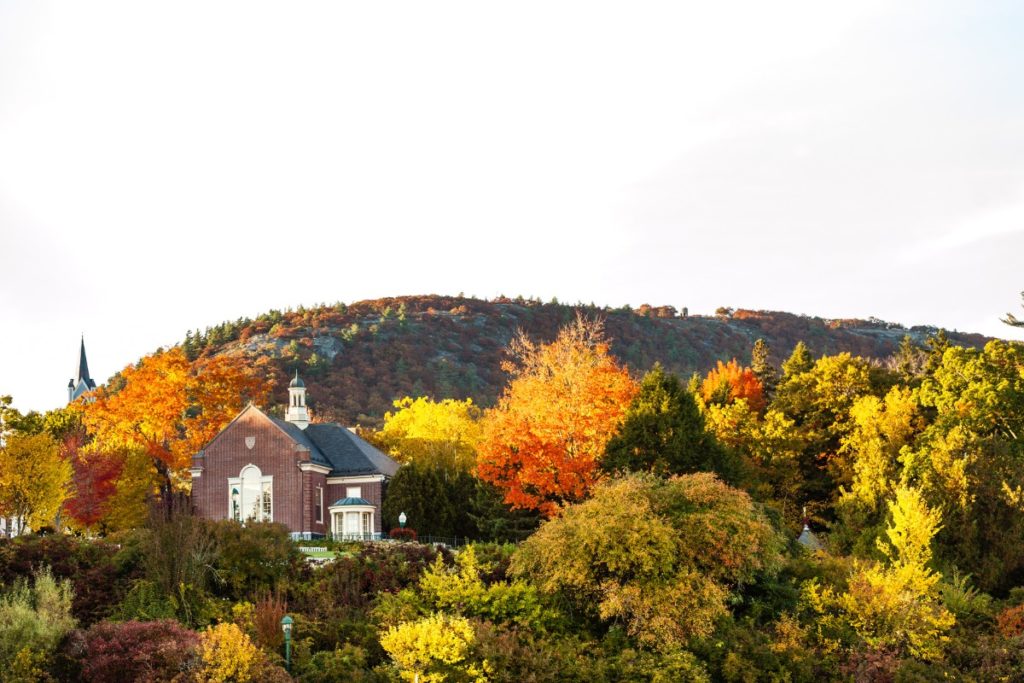 Take in the Fall Color Views at a State Park
One of the best fall things to do on Penobscot Bay is observe the peak fall colors, and some of the top places to do that are nearby state parks. There are at least six state parks near the bay.
Owls Head State Park
Home to an 1852 lighthouse, Owls Head State Park in Owls Head is a beautiful property where you can walk to a small rocky beach, picnic in the grove, and watch the wildlife.
Birch Point State Park
Also in Owls Head, Birch Point State Park is known for its crescent-shaped beach, which is sandy and has a gentle surf for swimming. It's also a great place for going swimming, having a picnic, and watching the wildlife.
Camden Hills State Park
The scenic Mt. Battie is a signature location in Mid Coast Maine, and you can make your way to the top at Camden Hills State Park in Camden. That's where you'll get one of the most picturesque views of Penobscot Bay in the region.
Another major attraction for this state park is the 20 multi-use trails, amounting to 30 miles of hiking across varied terrain. Some of the trails are open for biking, horseback riding, cross-country skiing, snowmobiling, and snowshoeing. Also at the park, you can watch the birds and other wildlife.
Moose Point State Park
With beautiful views of Penobscot Bay, Moose Point State Park in Searsport is an excellent spot to enjoy an afternoon picnic in the evergreen grove and walk the park trails. You can investigate the tidal pools while you're here as well.
Fort Point State Park
There are several reasons why visitors are attracted to Fort Point State Park in Stockton Springs. Located just off Route 1 on a long peninsula, the park offers access to picnic tables, a pier for boating and fishing, and paths for cycling, hiking, and sightseeing. Additionally, you can explore the Fort Point State Historic Site and the Fort Point Light Station.
Warren Island State Park
Since Warren Island State Park is located on an island in Penobscot Bay, it's only accessible by private boat. The island that's home to the park is part of the Iselboro cluster, but no ferry service is available to the park itself. Once you arrive, you can go hiking, fishing, sea kayaking, wildlife-watching, and camping.
Capture the Numerous Maine Lighthouses
There are almost 20 Maine lighthouses in Penobscot Bay alone, and each marks an entrance to a harbor or thoroughfare. While you can see most of them from shore, you'll have to hop on a windjammer to see some of them. Of these several lighthouses, here are eight that you should capture with your camera:
Owls Head Lighthouse at the entrance to Rockland Harbor was built in 1852 and stands 100 feet above Penobscot Bay.
Rockland Breakwater Lighthouse rests at the end of a breakwater that juts into Rockland Harbor.
Indian Island Light marks the entrance to Rockport Harbor and is viewable from a boat tour.
Curtis Island Lighthouse sits at the southeastern end of its namesake island, overlooking Camden Harbor, and it's surrounded by a town park that's accessible by boat.
Grindle Point Lighthouse was built in 1851 on the island of Isleboro, and it's located at the town ferry landing, overlooking Gilkey Harbor.
Dice (also spelled Dyce) Head Light is owned and restored by the Town of Castine, and the grounds around it are open to the public.
Eagle Island Lighthouse is an active light located on the cliffs of Deer Isle that overlook East Penobscot Bay.
Mark Island Light is officially known as Deer Island Thorofare Lighthouse on nautical charts and is located nearly 2 nautical miles west-southwest of Stonington.

Attend a Fall Festival
Nothing says community more than a festival, and there are several seasonal events to attend throughout Maine. Here are more than a handful of festivals and events that you can enjoy along Penobscot Bay during the fall.
Camden Windjammer Festival
Every Labor Day weekend, the Camden Windjammer Festival is held on the Camden waterfront to celebrate the schooner and windjammer heritage of the state. Some of the sailboats that parade into the harbor are more than 100 years old.
Maine Open Lighthouse Day
For a chance to climb lighthouses — some of which aren't usually open to the public — visit the state during Maine Open Lighthouse Day in early September. More than two dozen towers across the state participate.
Camden International Film Festival
In mid-September, the Camden International Film Festival debuts nonfiction films by filmmakers from around the world. You can watch screenings in Camden, Rockport, and Rockland.
Vintage Motorcycle Festival
Head to the Owls Head Transportation Museum in mid-September for the Vintage Motorcycle Festival. This event is one of the biggest motorcycle meets in Maine and features an exhibitor show, access to the museum, aircraft and vehicle demonstrations, vintage car rides, and more.
Manhattan Short Film Festival
If you're on the east side of Penobscot Bay, check out the Stonington Opera House in late September for its Manhattan Short Film Festival. This celebration occurs simultaneously around the world — including all 50 states and global cities such as Cape Town, Moscow, Mumbai, Sydney, and Vienna — and allows viewers to choose their favorites.
Maine Craft Weekend
In early October, Maine Craft Weekend is an annual statewide tour of craft businesses, events, and studios. Even craft breweries participate. The event gives visitors the opportunity to explore artists' work, while the artists get to connect with collectors, enthusiasts, and more.
Festival of Lights
The Festival of Lights is held in Rockland every November, celebrating the end of fall and the upcoming holiday season. The festival lasts for a couple of weeks and includes a shopping event, a tree-lighting ceremony, a parade of lights, breakfast with Santa, and more.
Pick Your Own Apples & Grab Some Pumpkins
Apple-picking is a fall tradition in Maine, and you can enjoy this fun activity near Penobscot Bay at Hope Orchards. From early September to early November, you can bring your own bag, or we can provide one for you. There might even be some apple varieties that you've never tasted before.
While you're here, you can enjoy family-friendly fall activities and get a taste of freshly made apple cider. At the farm stand, you can grab already-picked apples and other homemade apple products, as well as pumpkins.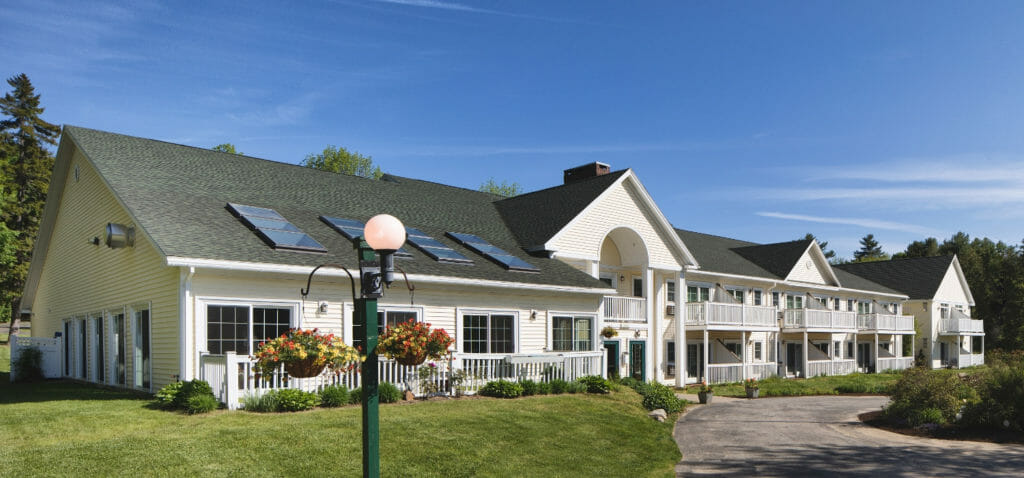 Get Comfortable While Exploring Fall Things to Do on Penobscot Bay
If you plan to stay in Mid Coast Maine while you experience all of these fall things to do on Penobscot Bay, consider staying at The Country Inn at Camden Rockport. Our bed and breakfast offers quaint accommodations — including pet-friendly rooms — near the best attractions and restaurants in Camden.
When you stay with us, you can expect top-notch amenities, including a homemade and locally sourced breakfast and a heated indoor pool and hot tub. So when you're ready to book a room, check our availability for your Maine getaway dates.