Midcoast Maine is full of historic cities and towns that love to share their pasts with you. Tucked away on a peninsula just south of Rockland, Owls Head Maine may get overlooked. However, it's home to a world-class collection of working antique vehicles at the Owls Head Transportation Museum.
Request our full vacation guide to Mid-Coast Maine. All the amazing things to do in Mid-Coast Maine in one free guide.
Get the Vacation Guide
Getting to Know the Owls Head Transportation Museum
Founded in 1974, the OHTM collects, preserves, exhibits, and operates ground vehicles, aircraft, engines, and other significant technologies dating from before 1940.
There are more than 150 antiques in the collection, from rare originals to historical replicas. In New England, it's the biggest operational fleet!
In addition to the collection and exhibits, this classic car museum hosts events in the spring and summer months and has a winter holiday event. With all of these options, you get an experience unlike any other.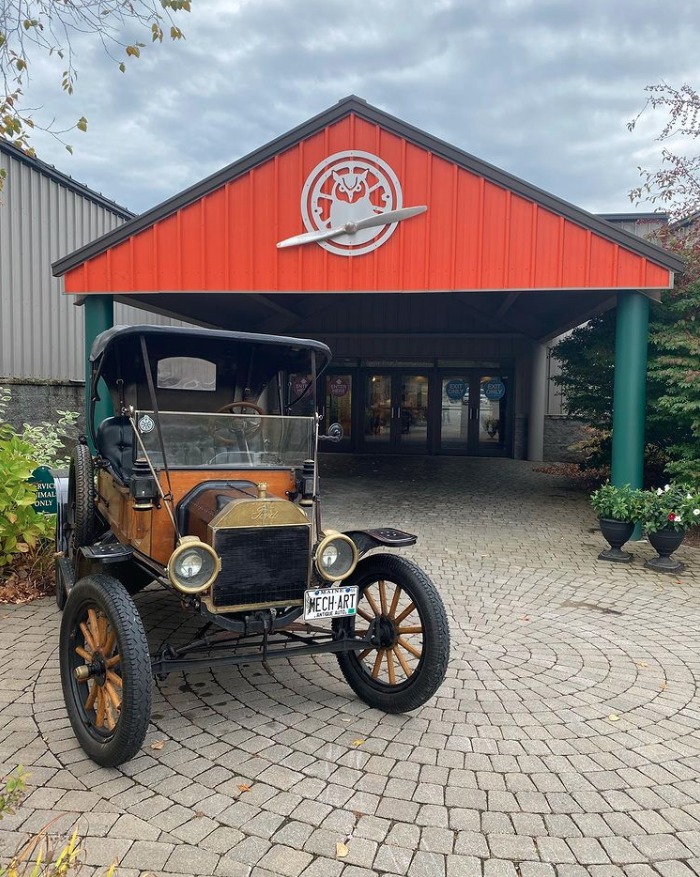 The Museum's History
The idea for the Owls Head Transportation Museum was concocted by Tom Watson, head of IBM at the time, and Jim Rockefeller, an aircraft and ship builder who owned a grass airstrip on a Camden mountainside. Their only intention at the time was to fly old planes around Owls Head Maine.
After obtaining land at the end of Rockland Airport's Runway 17, Watson, Rockefeller, and Steve Lang (Rockefeller's friend) put in a dirt road and drew up plans to build a nonprofit museum that would demonstrate the flying of old planes.
Then, Rockefeller and Lang had the idea to feature old aircraft, airplane engines, and vintage vehicles in a rally to spark interest in their project. The first official museum rally was held in 1975, and people of all backgrounds attended. The museum grew from then.
In 1976, the museum of transportation housed two cars and two planes before adding a 100-ton steam engine and a high-wheel bicycle. Now, it's home to an internationally recognized collection of historical vehicles and related technology.
Owls Head Transportation Museum Exhibits
The OHTM has several displays throughout its facility. The antique auto museum changes the exhibits each year, so there's something new to see every time you visit this Mid-Coast Maine gem.
Women Who Dare — A look at the women who pushed the limits of wheels and wings through the evolution of transportation.
Faster: The Quest for Speed — The story behind the quest for speed and an enduring passion for speed, performance, and agility.
Fads & Failures: Vehicles "Lost" to Progress — A collection of popular but often misunderstood contraptions and motorized machines.
The Great War — An educational exhibit about the mechanization of warfare between 1914 and 1918.
More Than a Century Ago — The Wright brothers' success of making the first powered, controlled flight in 1903.
Pedaling to Progress: Bicycles from 1800s-1920s — A glimpse into the evolution of cycling culture over the centuries.
Road to Vacationland — Discover more than two centuries of practical and popular travel that shaped Maine's tourism industry and influenced the term "vacationland."
Melbourne Brindle: The Artist's Passion for the Automobile — Original artworks by Ewart Melbourne Brindle, an Australian-American illustrator and painter, that chronicle his passion for Rolls-Royce vehicles.
Iconic Engines — Stories about the earliest engines of the Industrial Revolution.
Lang Education Center at the OHTM
The Lang Education Center was opened in 1997, and the Lang family donated more than 5,000 art pieces, books, and photos. Now, the research library houses more than 3,000 periodicals, prints, paintings, and ephemera, as well as 8,000 books, 10,000 photos and negatives, living history manuscripts and recordings, and a video and film collection. You can only visit by appointment.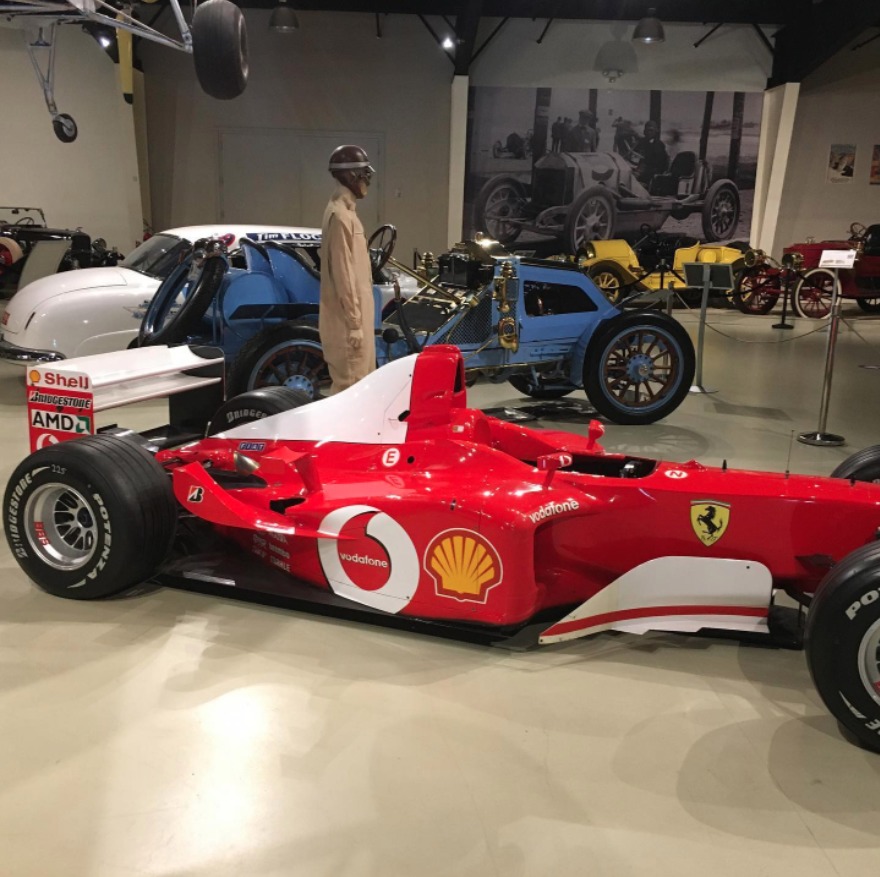 Events at the Owls Head Transportation Museum
Through spring and summer, the OHTM celebrates vehicles of all kinds with events and educational programs. Many of the events feature exhibitor car shows, live demos, aircraft demonstrations, vintage car rides, and 20-minute biplane rides. The museum cafe offers refreshments too.
Please note: the museum may not hold all of the events listed below every year, and it could have new ones to offer fresh activities for all visitors.
Celebrate Maine Museum Day
One day in mid-March is designated Maine Museum Day, and everyone gets free admission to the OHTM. It gives all ages the chance to explore the magnificent collection and history of transportation around the world.
Spring Auto Tour
Held in May, the Spring Auto Tour is a kickoff for the summer season. You get to cruise through the scenic countryside in an antique, classic, or special interest vehicle — such as a historic steam engine. The destinations change every year.
Spring Roll-Out
Also celebrating the beginning of summer, the Spring Roll-Out event is held in June with fun activities on the museum grounds.
All American Meet
In early July, the OHTM hosts the All American Meet, a showcase of classic, American-made automobiles with big engines and bold styles.
Truck Show
In mid-July, the Truck Show is a display of antique trucks, tractors, and commercial and military vehicles. This long-standing event features blind-spot demonstrations, a tractor parade, and synchronized horn-blowing.
Wings & Wheels Spectacular
Another long-standing event, the Wings & Wheels Spectacular is a two-day airshow in August. Iconic aerobatic acts from around the nation join the museum fleet to provide sky-high entertainment.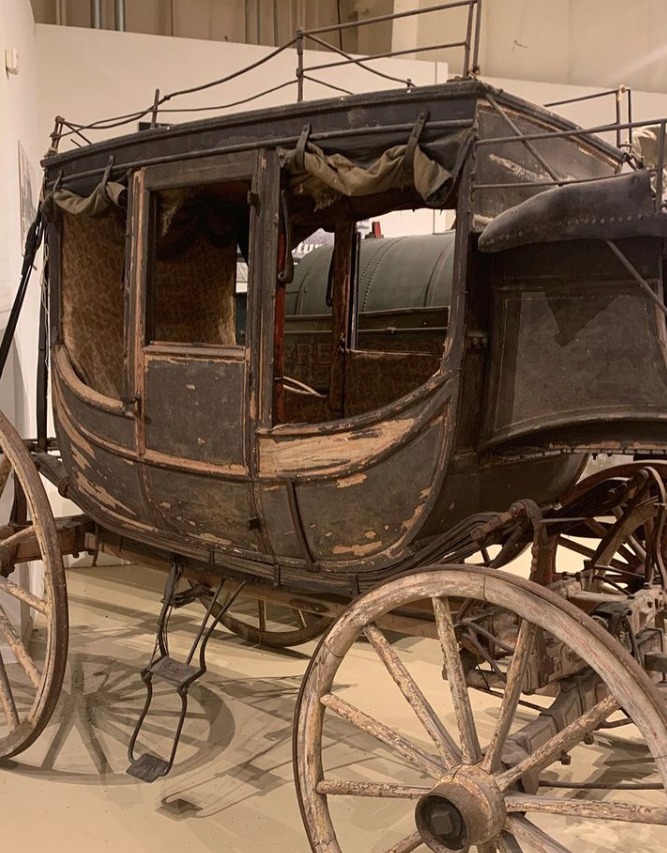 New England Auto Auction
Every August, the Owls Head Transportation Museum hosts the New England Auto Auction, which has been going on since 1977. The auction connects vehicle sellers and buyers from around the world. Even if you don't intend to bid, this event is an unforgettable experience.
The auction kicks off with two preview days — one ends with a barbecue. Then, there's an exciting warmup auction — the Automobilia+Collectibles Auction, which features rare automobile collectibles, ephemera, and other memorabilia. The primary auction is held on Saturday.
Motorcycle Festival
The Motorcycle Festival serves as one of the biggest motorcycle meets in the Pine Tree State. It's held in September.
Foreign Auto Festival
In mid-September, the Foreign Auto Festival is a celebration of the diverse world of automobiles. It features rare imports and is loads of fun.
Holidays at the Museum
Spreading joy during the holiday season, the OHTM hosts an outdoor event in early December. Holidays at the Museum includes free entry to the museum. Santa Claus arrives on Runway 17 via aircraft, and kids can tell him their Christmas wishes in the gazebo.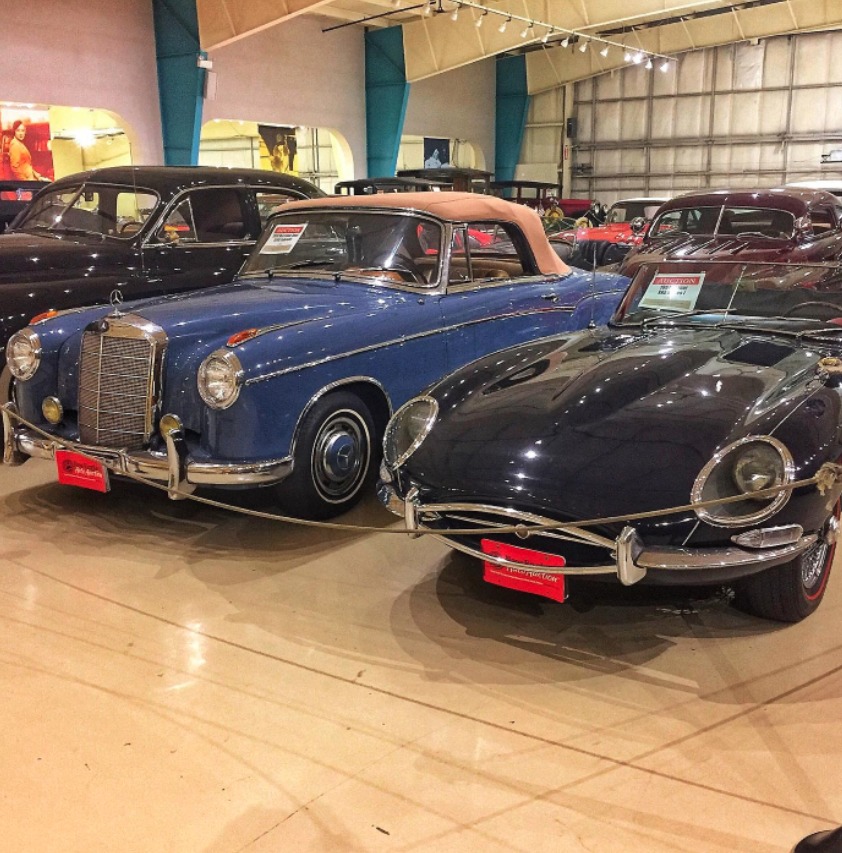 OHTM Hours, Ticket Information, & Visitor Tips
The Owls Head Transportation Museum is open all year from 10 a.m. to 4 p.m., except for select holidays and unplanned closures. Tickets are reasonably priced — seniors get a discount, and free admission is available for kids under 18, active military members, and veterans.
Museum Accessibility
The museum provides some walkers and wheelchairs for guests to use for free, and adaptive equipment is available upon request. Also, trained service dogs and miniature horses are welcome in all public areas.
Visitor Tips
We recommend allotting two hours to see all of the OHTM exhibits. Expect to spend more time here if you attend a festival, though.
You're welcome to bring a camera to capture your experience and share it with others. Monopods, tripods, and selfie sticks are prohibited.
Any outside food must remain in sealed containers while exploring the museum. But, you can use the patio furniture in Millstone Park for a picnic between May and October.
Request our full vacation guide to Mid-Coast Maine. All the amazing things to do in Mid-Coast Maine in one free guide.
Get the Vacation Guide
Places to Eat Near the Owls Head Transportation Museum
It's easy to work up an appetite after exploring the OHTM. Since the cafe is only open during events, we've put together some of our favorite places to eat in the area.
Ship to Shore Lobster Co.
The Ship to Shore Lobster Co. is located on the oldest working wharf on the peninsula. Here, you can see a variety of fisherman's tools — such as lobster traps and colorful buoys — and plenty of lobster. The staff will gladly steam a lobster for you, and you can enjoy it on the nearby beach.
Owls Head General Store
The Owls Head General Store is a family-owned and operated shop where you can get a quick bite and fudge. The Food Network has called its burgers the best in Maine. The kitchen also makes breakfast items, pizza, sandwiches, and more.
Primo Restaurant
Serving farm-to-table dishes since 2000, Primo in Rockland uses ingredients from its working farm, two greenhouses, and 3 acres of gardens. The high-quality menu is fantastic, and there are multiple dining rooms and a bar.
Long Grain
In Camden, Long Grain has been serving Asian fusion cuisine since 2009. All of the dishes are made with locally sourced and seasonal ingredients and include a combination of Thai, Japanese, Singaporean, Indonesian, and Vietnamese flavors.
You can find even more delectable, local restaurants in Rockland, Rockport, and Camden.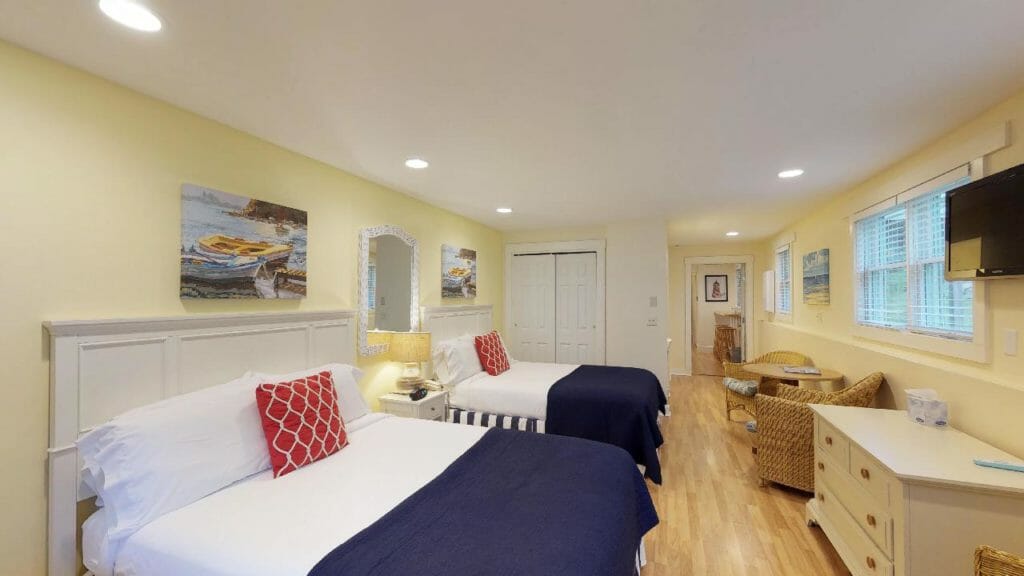 Stay at a Comfortable Inn Near Owls Head Transportation Museum
If you're visiting the Owls Head Transportation Museum during the summer, Glen Cove Inn & Suites is less than a 15-minute drive away along the scenic coastal roads. Our Rockland inn features 36 guest rooms and suites, a garden and outdoor heated pool, and direct access to the Penobscot Bay Walking Trail.
Less than 20 minutes from the OHTM, The Country Inn at Camden Rockport is our year-round inn property. It has 36 guest rooms and suites and 11 seasonal cottages. You can take advantage of our indoor heated pool and hot tub and convenient proximity to downtown Camden.
When you're planning your Mid-Coast Maine trip, check our availability at Glen Cove and The Country Inn!
Request our full vacation guide to Mid-Coast Maine. All the amazing things to do in Mid-Coast Maine in one free guide.
Get the Vacation Guide