About 12 miles from the Mid-Coast Maine mainland, Vinalhaven is the largest offshore island in the state. From hiking, swimming, and boat tours to photo ops, shops, and restaurants, there is plenty to see and things to do on Vinalhaven Maine.
Request our full vacation guide to Mid-Coast Maine. All the amazing things to do in Mid-Coast Maine in one free guide.
Get the Vacation Guide
Getting to Know Vinalhaven Maine
At 23 square miles large, Vinalhaven lies in the center of Penobscot Bay and is part of the Fox Islands — which also consists of North Haven.
From the 1820s until the early 1900s, the community was a leading producer of high-quality granite in the United States. The island became a powerhouse in the fishing industry as well. Today, the island town is known for having one of the biggest lobster fishing fleets in the world.
The island has many modern conveniences, most of which center around its southern shore on Carvers Harbor. Beyond that, much of the land is untouched, providing the natural beauty and outdoor recreation for which it's popular.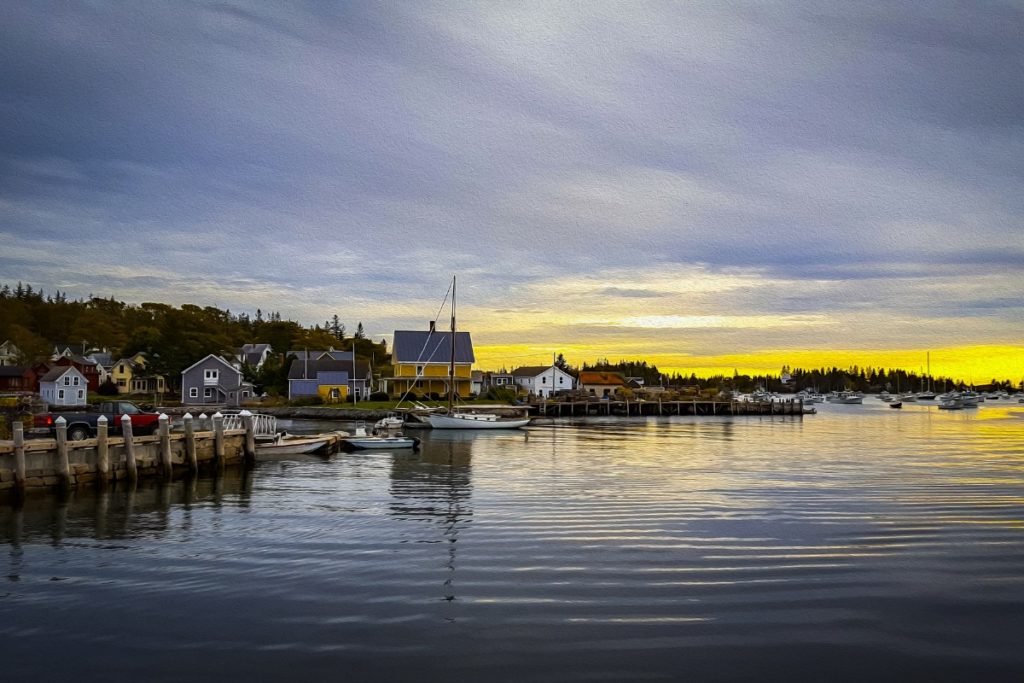 Best Things to Do on Vinalhaven Maine
Swim in the Quarry Ponds
There are two really great swimming spots on Vinalhaven Maine. Lawson's Quarry is just 1.2 miles from the ferry terminal, and Booth's Quarry at Narrows Town Park is just 2 miles from the ferries. Both are filled with fresh, crystal-clear water and feature flat, broad rocks.
Play at a Town Park
Throughout Vinalhaven are more than a handful of parks to explore. Below, we've put together some highlights about each.
Grimes Park
Next to the ferry landing, Grimes Park is 2.5 acres and juts into Sand Cove. It has short trails with fantastic views of the cove and Carvers Harbor. There's a great space for having a picnic as well.
Skoog Park
Encompassing 1.3 acres on Sand Cove, Skoog Park is the home of the Vinalhaven Land Trust's office. It's open during the day for meandering, picnicking, and watching the lobster boats in the harbor. It's within walking distance of the ferry terminal too.
You can look at ecological maps of the island in the office when the flag is flying.
Armbrust Hill Town Park
On a 30-acre abandoned quarry site, Armbrust Hill Town Park has several short trails that lead up to Trolley Cliff with gorgeous harbor views and through a natural amphitheater. Additionally, there's a playground with a jungle gym, slide, and swings.
Boy Scout Point Town Park
The 4-acre Boy Scout Point Town Park is about a 25-minute walk from downtown and across Lane's Island bridge. There are a few trails to explore and a good view of Hen Island.
Arey's Neck Woods & Geary's Beach Town Park
On the southeast side of Vinalhaven Maine, Arey's Neck Woods & Geary's Beach Town Park are treasured spaces. At low tide, the beach island becomes a peninsula.
Sunset Rock Town Park
For one of the best sunset views, head to Sunset Rock Town Park. You'll just need to climb the hill for a good view of Hurricane Sound and the White Islands.
Isle Au Haut Town Park
Just before you get to Lawson's Quarry is the 17-acre Isle Au Haut Town Park. It features pitch pine, a granite outcrop, crowberry plants, and water views.
Middle Mountain Town Park
On the northwest side of Vinalhaven, Middle Mountain Town Park features 75 acres of land. There are two trails here — 0.5-mile Middle Mountain Trail and 0.75-mile Long Cove Loop Trails. In addition, you get an impressive view of the mainland and North Haven from the summit.
Tip Toe Mountain Town Park & Preserve
For a spectacular view of Crockett Cove, climb to the summit of Big Tip Toe Mountain. The preserve and town park stretches for 40 acres and features a walkable shoreline and a few trails — 0.3-mile Loop Trail, 0.3-mile Shore Trail, and 0.5-mile Middle Tip Toe Loop.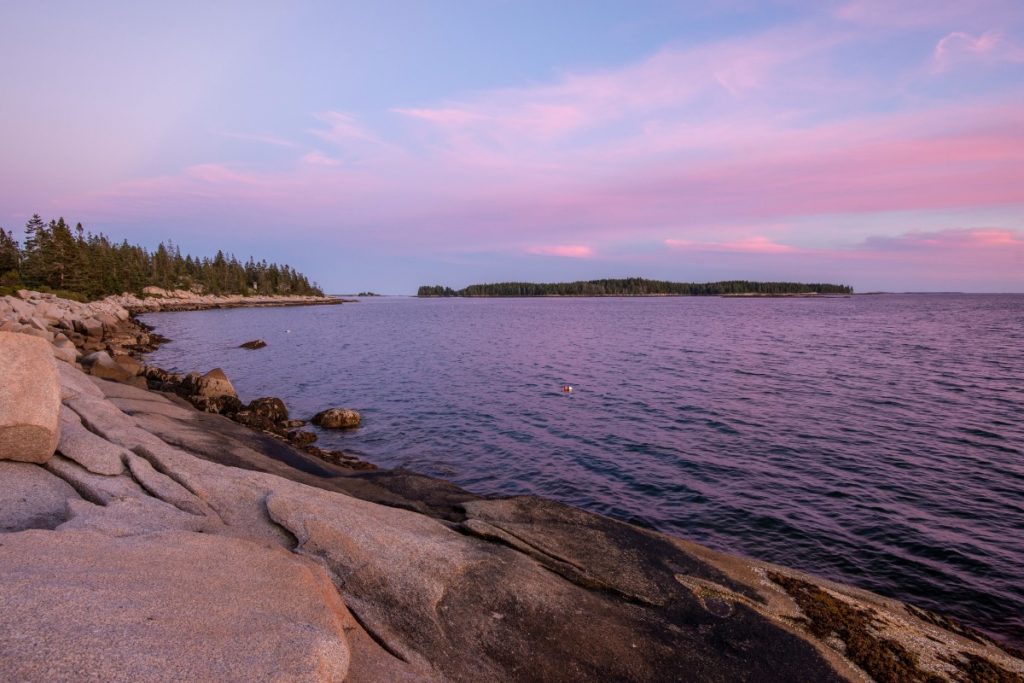 Hike the Nature Preserves & Sanctuaries
While many of the town parks have trails, there are even more hiking trails in Vinalhaven's nature preserves and sanctuaries. Here are some highlights of each.
Huber Preserve
The Huber Preserve features a 0.45-mile trail that's lined with wildflowers. It winds through a dense forest and leads to the Seal Bay shoreline with picnic spots.
The Basin Preserve
The Basin Preserve on Vinalhaven Maine consists of four trails. On the 1-mile Granite Island and Story Trail loop, you can follow a few side paths to scenic overlooks. The Watershed Trail is a 1.5-mile loop through four types of forest.
The 1.8-mile Ralph and Peggy Williams Preserve trail loop has a few spur trails, leading you under a cliff and up to an open ledge with a view of the bay. On the 2.1-mile Platform Loop Trail, you see a diverse habitat, a view between the trees, and a little waterfall via a short side trail.
Lower Mill River Preserve
Also featuring multiple trails is Lower Mill River Preserve. Its Fish Hook Trail is really short at 0.3 miles but moderately difficult. The 1-mile Overlook Trail loop is also moderately difficult.
Another really short trail, the Carrying Place Bridge trail is just 0.15 miles through mixed woods and a popular kayaking access point on Winter Harbor. The longest path in this preserve is the 1.2-mile Round Pond Trail, which follows an old town road through granite outcrops and spruces.
Eleanor L. Campbell Preserve
Within the 32-acre Eleanor L. Campbell Preserve is a 0.5-mile trail. This easy walk passes through a high biodiversity area to a scenic overlook and seaside gravel beach on Polly's Cove.
Starboard Rock Sanctuary
Consisting of 18 acres, Starboard Rock Sanctuary has a 0.75-mile hiking trail from the parking lot to the rock summit. Take care while hiking because there's a short, steep section over moss and rocks.
Marcuse Wetlands Preserve
The Marcuse Wetlands Preserve has a 0.6-mile loop trail that winds through forest and part of the wetland. You can rest and take in the scenic view from benches along this beautiful trail.
Whitmore Pond Sanctuary
Compared to some of the other protected lands on Vinalhaven Maine, Whitmore Pond Sanctuary is small at 8 acres. But, it has about 1.1 miles of trail with views of Crockett Cove, Whitmore Pond, a waterfall, and various wildlife habitats.
Perry Creek Conservation Area
The Perry Creek Conservation area consists of two preserves with 12 trails. Andrew W. Smith Preserve has four trails totaling 2.75 miles, and they pass through privately owned land. The other eight trails are in North Perry Creek Preserve, which features 150 acres of wetlands and woods.
Request our full vacation guide to Mid-Coast Maine. All the amazing things to do in Mid-Coast Maine in one free guide.
Get the Vacation Guide
Tour Vinalhaven & Penobscot Bay by Boat
While hiking is fun, you get a whole different view of Vinalhaven from the water. You can rent canoes and kayaks to explore at your own pace.
Or, you could book a boat tour. John Drury, for instance, offers sightseeing and wildlife tours of Penobscot Bay on his charter boat. You could even book Vinalhaven boat tours in Rockland.
Capture Photos of Lighthouses
Vinalhaven Maine is home to three lighthouses that are beautiful to photograph. You can drive to Browns Head Light Station on the northwest corner of the island and walk around the grounds. However, the best way to see Heron Neck Lighthouse and Saddleback Ledge Light is from a boat.
Learn About Vinalhaven's History
The Vinalhaven Historical Society is open from late June until late September to teach you about the island's history. Housed in an 1836 church, it has an extensive collection of genealogical records, photos, and other artifacts.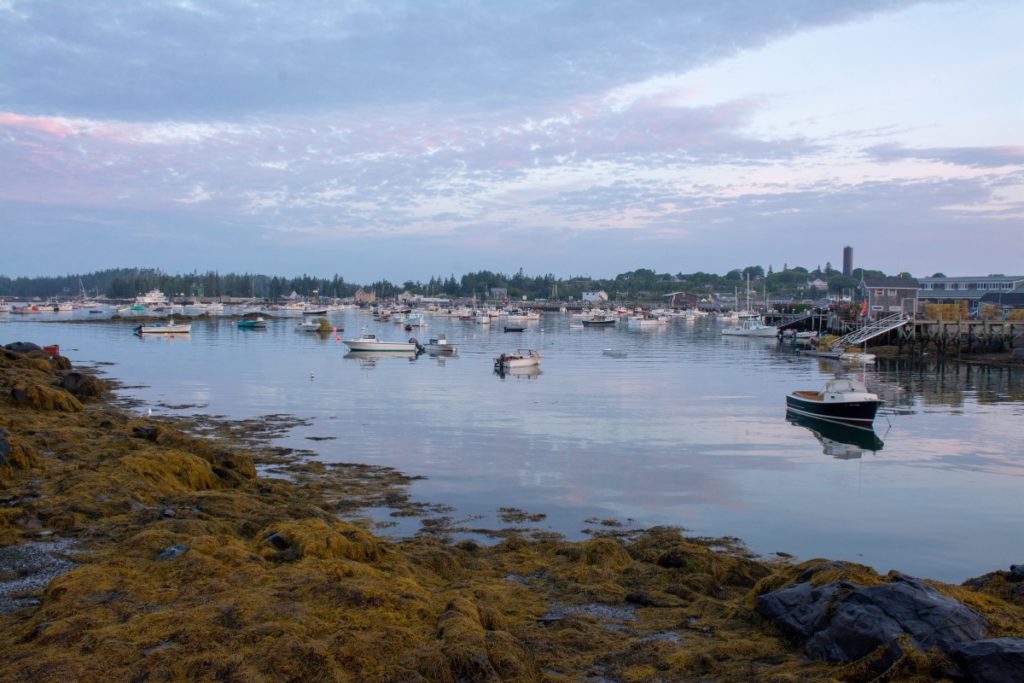 Unique Shopping Spots on Vinalhaven Maine
Exploring nature might be the most popular thing to do on Vinalhaven during the summer months, but it's certainly fun to explore the shops too. This list includes some really unique places to go shopping:
Delicious Vinalhaven Restaurants for Lunch & Dinner
Whether you need a pick-me-up, lunch, or dinner, you won't have trouble finding somewhere to eat on Vinalhaven. These are some restaurants that stand out to us:
How to Get to Vinalhaven Island
Since Vinalhaven Maine is located in Penobscot Bay several miles from the mainland, you can only get there by ferry or plane.
Ferries
The Maine State Ferry Service terminals are in Rockland and Vinalhaven's Carvers Harbor. Two ferries — Captain Charles Philbrook and Captain E. Frank Thompson — make the 1-hour, 15-minute trip several times a day. They carry passengers, vehicles, bicycles, and cargo trucks.
Flights
If you choose to fly, Penobscot Island Air provides charter services to Vinalhaven. You can arrange flights from Knox County Regional Airport in Owl's Head to Mary Talbot Memorial Airfield, which is the island's private airport.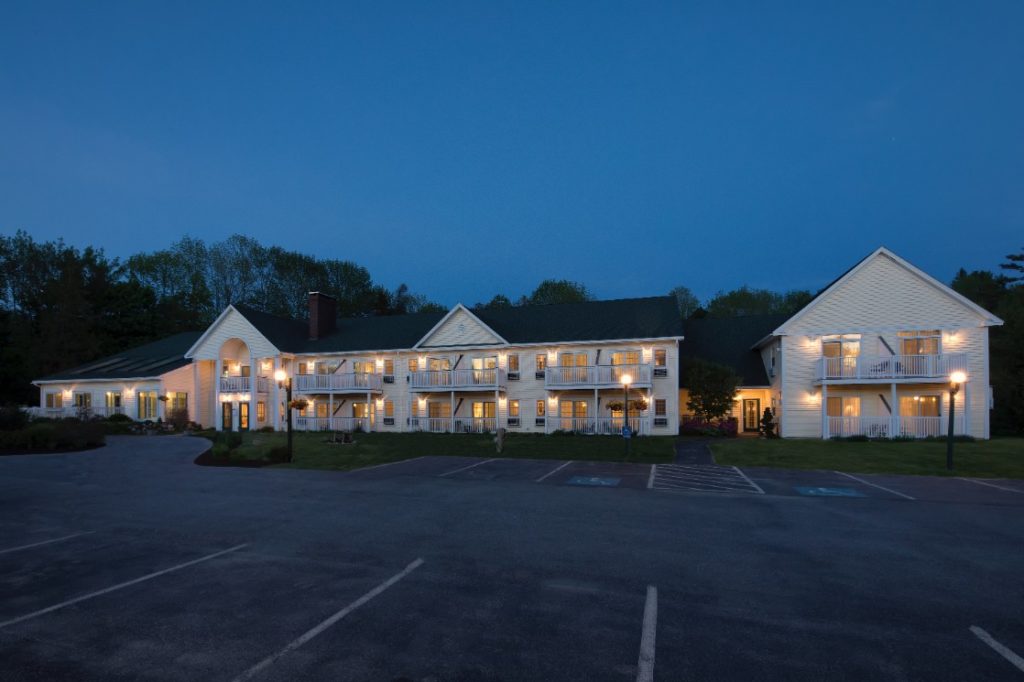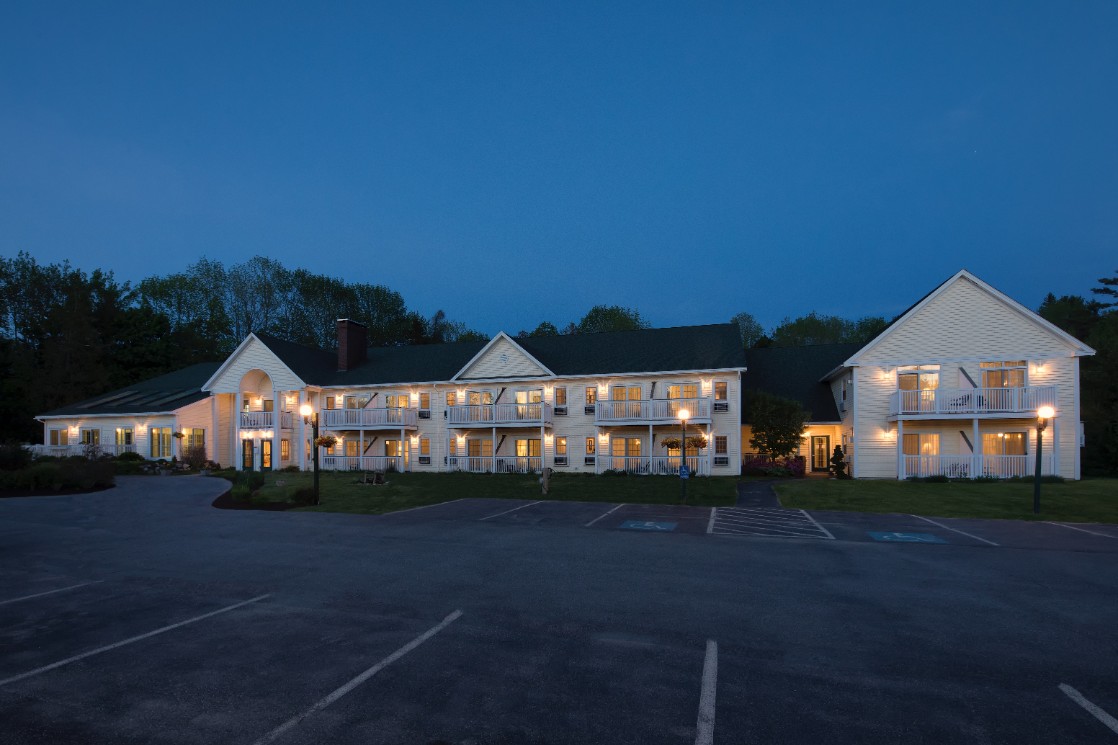 Where to Stay Near Vinalhaven Maine
When you're planning to visit Vinalhaven Maine, the best place to stay is in Mid-Coast's Rockland because that's where you'll find the ferry terminal. Glen Cove Inn & Suites is less than a 10-minute drive from the ferry dock.
Our inn is open from May through October, offering 36 comfortable rooms. We have some unique amenities as well — a 1.5-mile trail loop with ocean views and pet-friendly features. We serve a homemade breakfast every morning as well. Check our availability for your travel dates.
If you don't mind a 15-minute drive to the ferry terminal, The Country Inn is our year-round bed-and-breakfast-style inn. We have rooms, suites, and cottages, as well as a deluxe breakfast and luxury amenities. Find a room for your next getaway.
Request our full vacation guide to Mid-Coast Maine. All the amazing things to do in Mid-Coast Maine in one free guide.
Get the Vacation Guide