When you're visiting MidCoast Maine, you'll find more than just charming, coastal towns — like our very own Camden. You'll also find numerous islands in Mid-Coast Maine that are worthy of day trip excursions.
Whether you want to experience natural beauty, historic sites, arts and culture, local shopping, or culinary delights, each of these islands off the coast of Maine has unique offerings.
Request our full vacation guide to Mid-Coast Maine. All the amazing things to do in Mid-Coast Maine in one free guide.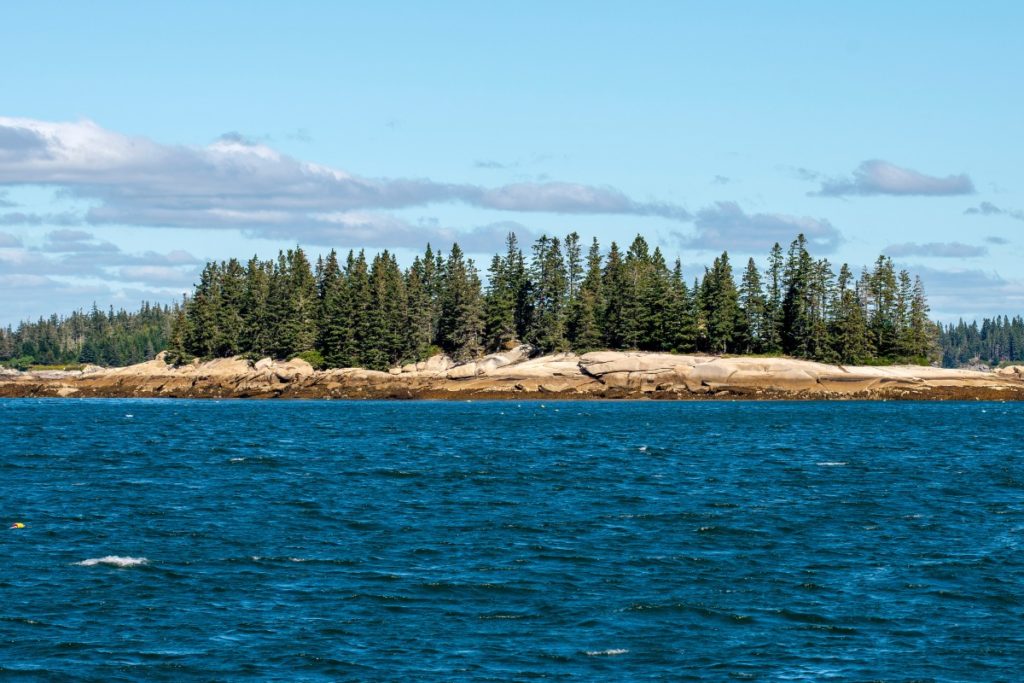 FAQs About Islands in Penobscot Bay
Q: Where is Penobscot Bay?
A: Penobscot Bay is located in south central Maine, along the MidCoast Region. It originates from the mouth of the Penobscot River and runs from Muscongus Bay to Blue Hill Bay.
Q: How many islands are in Penobscot Bay?
A: There are more than 200 islands in Penobscot Bay, some of which are home to some of the most well-known summer colonies in the U.S.
Q: How big is Penobscot Bay?
A: Penobscot Bay stretches 40 miles long and 15 miles wide along the Midcoast region of Maine.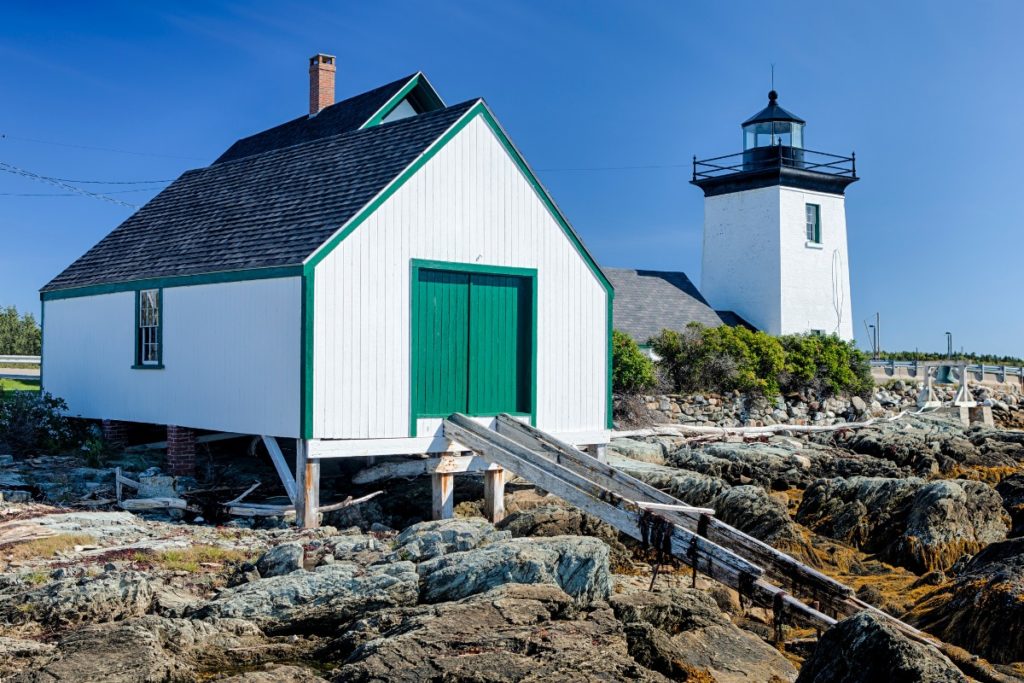 Here are our five favorite MidCoast Maine islands in Penobscot Bay…
Things to Do on Islesboro Maine
Incorporated in the late 18th century, Islesboro Maine is a narrow, long island that became a summer colony between the late 19th century and early 20th century. The main attraction on this midcoast island is its natural beauty, so there are plenty of outdoor things to do with a sprinkle of history and shopping.
Getting to the Island
You can access the island via the Islesboro Ferry in Lincolnville Maine, less than a 15-minute drive north of Camden. Or, you could use the Quicksilver water taxi service, book a seasonal flight, or sail in your own boat to Islesboro's public dock.
Hiking Trails & Beaches
Much of Islesboro Maine has remained untouched, so there are a lot of incredible places to go hiking and walk along the shore. Here's a quick list of where you can find trails:
Turtle Head Preserve
Hutchins Island and Marsh Preserve
Broad Point Preserve
Lily Guest Memorial Trail
Several of these hiking trails offer access to beaches or the shoreline. In addition to those, the north side of Islesboro has Spragues Beach on Turtle Head Cove, while the south side has Islesboro Town Beach.
Museums & a Lighthouse
There are two great places to learn more about Islesboro Maine and its maritime history — the Islesboro Historical Society's museum and the Grindle Point Sailor's Museum and Lighthouse.
The historical society's museum features artifacts and photos of the island. Next to the ferry docks, the sailor's museum features nautical antiques, paintings, and photos. You can also climb the light tower for a scenic view.
Islesboro Shops
There are a few shops on the island that offer unique products. The Summer Shop has gifts, home decor, and accessories. You can also purchase jewelry at After Dark or look through the shelves at Artisan Books & Bindery.
Good Eats on Islesboro
Grilling at the beach is a popular activity, and you can get groceries and other supplies at Durkee's General Store, the Islesboro Farmer's Market, and The Island Market. If you're looking for a restaurant, Two Canary Cafe in the Islesboro Community Center and The Dark Harbor Shop are two fantastic options.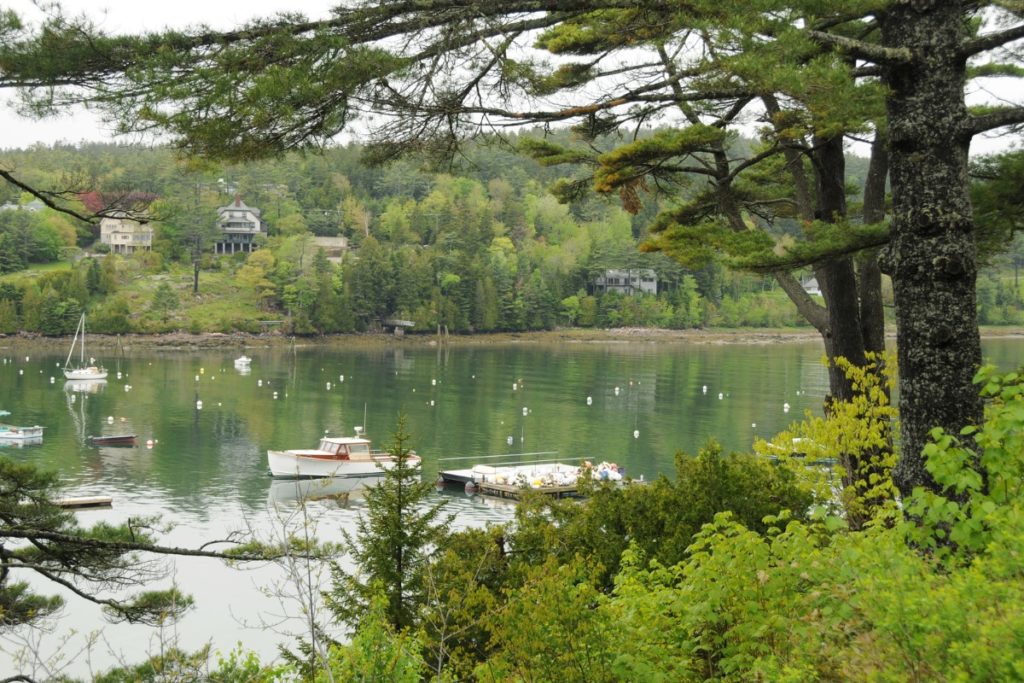 Deer Isle Maine Activities & Attractions
Best known for Stonington Maine (the main village), Deer Isle is well worth a day trip. Accessible via bridges, you can drive to the island from Camden in about 1.5 hours. During the long detour south from Route 1, you're rewarded with scenes of farmland, forest, and hidden coves.
Despite an influx of businesses and galleries over the years, Deer Island has managed to maintain its island atmosphere. Since it doesn't cater to tourists, there are numerous opportunities for outdoor adventures. Although, there are still exciting indoor adventures to be had.
Hiking Trails & Beaches
The Island Heritage Trust maintains several preserves on Deer Isle that have excellent hiking trails. The Barred Island Preserve has a 1.5-mile path with views of Barred Island (which you walk to at low tide) and Crockett Cove. There's a sandy beach as well.
The Edgar M. Tennis Preserve has short and long paths that hug the shoreline and meander through the center of the preserve. Plus, Shore Acres Preserve has two trails through the woods that connect to a third path along the coastline.
Museums & Lighthouses
If you're interested in island and maritime history, Deer Isle and Stonington Maine are home to several options. Here are the museums that we recommend you check out:
Additionally, you can tour the Lighthouse Trail to see eight lighthouses in the area. Three of these towers are visible from the shoreline — Pumpkin Island Light from Eggemoggin Rd, Eagle Island Light from Dunham Point Rd, and Mark Island Light from Sand Beach Rd. The other five towers are best viewed by boat or plane.
Nervous Nellie's Jams & Jellies
Sure, there are many antique shops, general and gift stores, galleries, and more to peruse during your day trip to Deer Isle and Stonington. But if you go shopping while you're here, you have to stop at Nervous Nellie's Jams & Jellies.
This eclectic campus encompasses several acres with a white Cape cottage where about 300 jars of jam are made by hand every day. Also, an old general store has been turned into a sculpture workshop. The store is full of gifts, housewares, shelf goods, and other wares made by Maine artisans.
Deer Isle & Stonington Restaurants
When it's time to eat, there are more than a few options. You can get all things coffee and baked goods at 44 North Coffee, while Harbor Cafe is a delicious diner for breakfast and lunch. For dinner, farm-to-table dining at Aragosta at Goose Cove really hits the spot.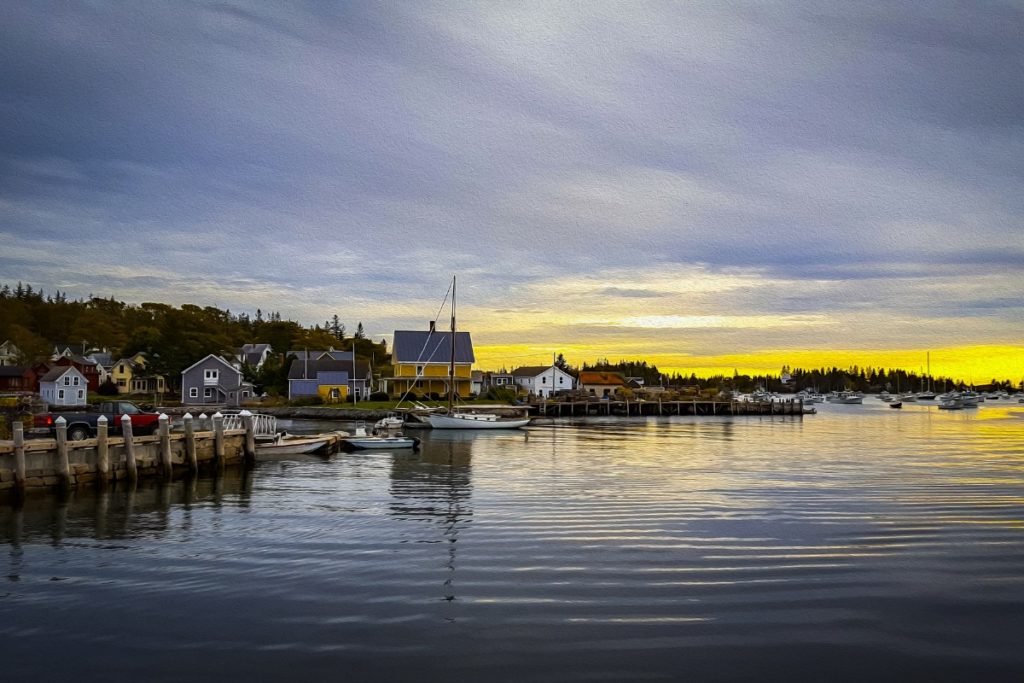 A Day Trip to the Island of Vinalhaven Maine
Despite being the largest offshore island, Vinalhaven Maine remains largely untouched. Most of the modern conveniences and attractions are located on the southern shore, while the rest of the island is wide open for playing in nature. Here's an overview of what you can expect!
Getting to Vinalhaven
The main form of transport to Vinalhaven Maine is the Vinalhaven Ferry from Rockland, which is just a 15-minute drive south of Camden. However, you can fly to the island with Penobscot Island Air too.
Hiking Trails & Parks
If you plan to explore preserves and parks on day trips to islands in MidCoast Maine, Vinalhaven is the place to visit. There are at least eight preserves and sanctuaries with hiking trails through diverse habitats. The island has at least nine parks with hiking trails, playgrounds, and swimming areas as well.
A Museum & Lighthouses
To learn more about the island's history, head to the Vinalhaven Historical Society, which is located in an 1836 church. It has a huge selection of artifacts, genealogical records, and photos that you can look at during the summer.
Also, Vinalhaven Maine has three historic lighthouses. You can only get to Browns Head Light Station by driving. Heron Neck Lighthouse and Saddleback Ledge Light are only viewable by boat. In any case, the towers make for spectacular photos!
Shops on Vinalhaven Island
It's always fun to find one-of-a-kind items when you're shopping in a new place, and there's plenty of that on Vinalhaven Maine. Two of our favorites are WindHorse Arts for jewelry and Go Fish for a little bit of everything else, including penny candy!
Vinalhaven Restaurants
Even though most of Vinalhaven Maine is untouched, there are more than a handful of places to grab a bite to eat. Greet's Eats is our top pick for lunch — the lobster rolls are like-your-fingers delicious! And, you can have dinner at The Sand Bar before enjoying cocktails and music at SKAL.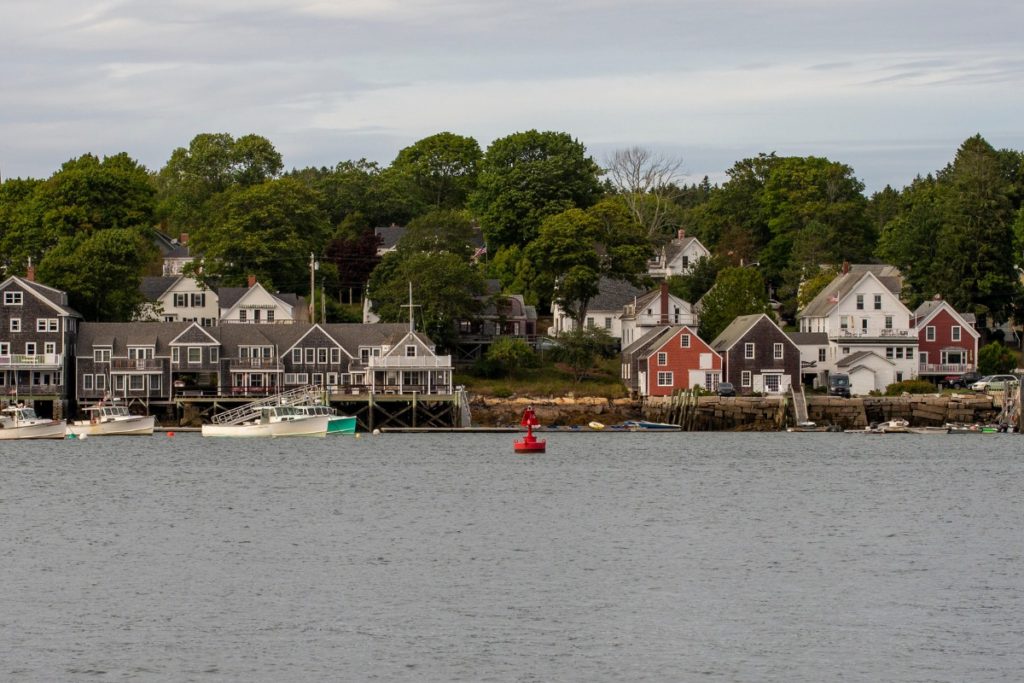 North Haven Maine Things to Do
North Haven Maine is located just to the northwest of Vinalhaven. Known as North Haven since 1847, this island was once a center for boat building, farming, and fishing. Since the late 1800s, though, it has been a prominent summer colony.
Getting to North Haven
Like the other unbridged islands in MidCoast Maine, the best way to get here is via the North Haven Ferry from Rockland, which is about a 15-minute drive south of Camden. When you arrive, you might be surprised about how much there is to do on such a small island.
Hiking Trails & a Beach
North Haven Conservation Partners protects about 200 acres of land and miles of shoreline, and two of its properties offer miles of trails. Sage Woods has more than 10 miles of trails, while Burnt Island is a park with a path that circles the whole island.
For breathtaking views of Penobscot Bay, follow the trail from the main village to Ames Knob, North Haven's highest point. If you're looking for a beach, Mullen Head Park has a sandy shoreline on the east side of the island.
North Haven Historical Society
To see an extensive collection of historical photos, documents, and more related to North Haven Maine, check out the North Haven Historical Society. The museum includes a barn, boat shed, general store, kitchen, parlor, post office, school room, and workshop. Admission is free, and the exhibits are open for viewing in July and August.
North Haven Shopping
If you would like to do a little shopping before you leave, head to the North Haven Gift Shop. This multi-generational family business showcases the work of local artisans and artists. You can purchase Maine-made candy and syrup, balsam pillows, soaps, jewelry, T-shirts, books, and more. For more unique artwork by local artists, go to the Hopkins Wharf Gallery.
Good Eats on North Haven
There may only be a few North Haven restaurants, but they won't leave you hungry (or thirsty). The restaurant at Nebo Lodge offers an elevated, elegant dining experience. Its menu includes locally-sourced meat, produce, and seafood.
Calderwood Hall is a restaurant and bakery that's usually open from late May through October. The restaurant serves made-to-order pizza and homemade desserts. Downstairs from the restaurant is North Haven Brewing Co., a small brewery that makes a variety of ales — brown, Indian pale, and red.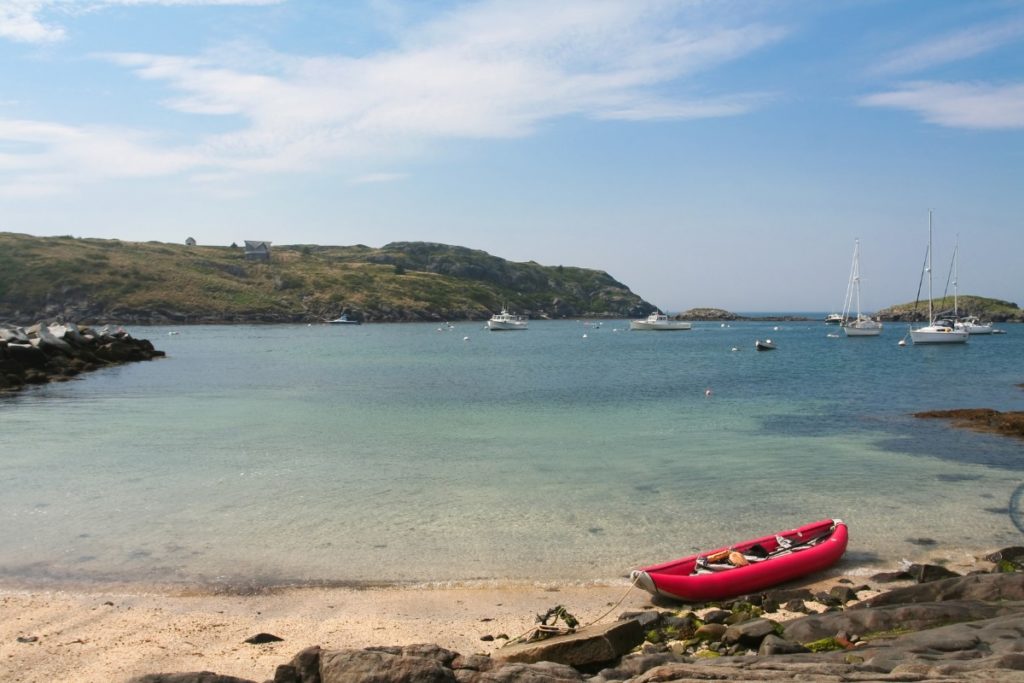 Activities & Attractions on Monhegan Island
For a truly unspoiled island day trip, you can't go wrong with a visit to Monhegan Island Maine. There are no paved roads or shopping malls on this rocky island — Just the sounds of nature and the smell of fresh air.
Getting to Monhegan Maine
A few different ferry services operate from the Maine mainland to the island. The closest one to Camden Maine is the Monhegan Boat Line in Port Clyde, which is about 40 minutes south. Upon arrival, you're greeted by a charming, quaint village next to the harbor.
Walking Main Street
Fishing has always been prominent on Monhegan Maine, and that's evident in the harbor and fishing gear next to buildings. The unpaved Main St leads through the small village. While just walking among the historic buildings is relaxing, you can peruse the shops and art galleries along the road.
Monhegan Museum & Lighthouse
Hosting art exhibits since 1974, Monhegan Museum of Art & History features collections by American artists, including Andrew Wyeth. It's located in the keeper's house for Monhegan Lighthouse. This 47-foot granite tower was built in 1850.
You can explore the other historic buildings on the property too. Actually, we like to spend at least a half-hour here. Since it's on a hill, the view of the village and the water below is absolutely amazing. You'll have tons of opportunities to capture lasting memories of your visit.
Hiking Trails & Beaches
Monhegan Maine has 12 miles of trails through wooded areas and along cliffs above the Atlantic Ocean. We recommend that you get a map (for a nominal fee) from one of the shops or trail boxes in the village. Trail 4 to Burnthead offers an easy trek, while Trail 7 to Whitehead is more moderate.
When it comes to beaches, there are a couple of options on Monhegan Island. The best one for swimming is Swim Beach — appropriately named — although the water may be chilly. Surrounded by fish houses, Fish Beach is another option.
Monhegan Maine Restaurants
There are a few tasty restaurants on the island. The Novelty is fantastic for sandwiches, wraps, and pizza during lunchtime. For dinner, we favor Monhegan Fish House for fresh fish, clams, shrimp, scallops, oysters, and of course, lobster.
Request our full vacation guide to Mid-Coast Maine. All the amazing things to do in Mid-Coast Maine in one free guide.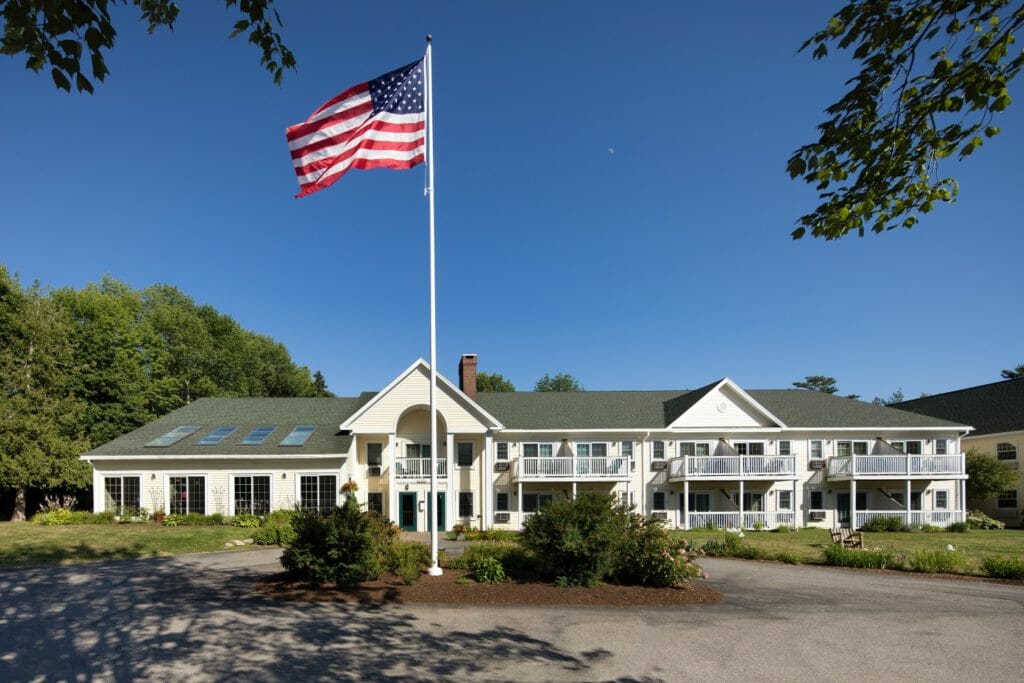 Staying at The Country Inn While Visiting the Islands in Mid-Coast Maine
No matter which island you plan a day trip to, The Country Inn is in a convenient location. Our bed-and-breakfast-style inn is in a central location to most of the islands in MidCoast Maine. In particular, we're the best place to stay if you plan to visit Islesboro or Deer Isle.
Near the south side of Camden, our inn has 36 rooms and suites in the main house, as well as 11 seasonal cottages with private entrances. All of our guests get a better-than-continental breakfast every morning and access to several other awesome amenities. While planning your next getaway in MidCoast Maine, check our availability.
Or, you could stay at our seasonal, sister location — Glen Cove Inn & Suites, which is closer to Rockland and the ferry services to Vinalhaven, North Haven, and Monhegan islands. See if we have rooms available for your next trip!