Are you ready for a day trip or vacation to a destination that allows you to unplug from modern life? That's exactly what you'll get on Monhegan Island, Maine. This small, rocky island in Mid-Coast Maine has no shopping malls or paved roads. Just crisp air and the sounds of singing birds and waves crashing against the shoreline. Keep reading to learn more about the island and start planning your visit to this unspoiled hideaway.
Request our full vacation guide to Mid-Coast Maine. All the amazing things to do in Mid-Coast Maine in one free guide.
Get the Vacation Guide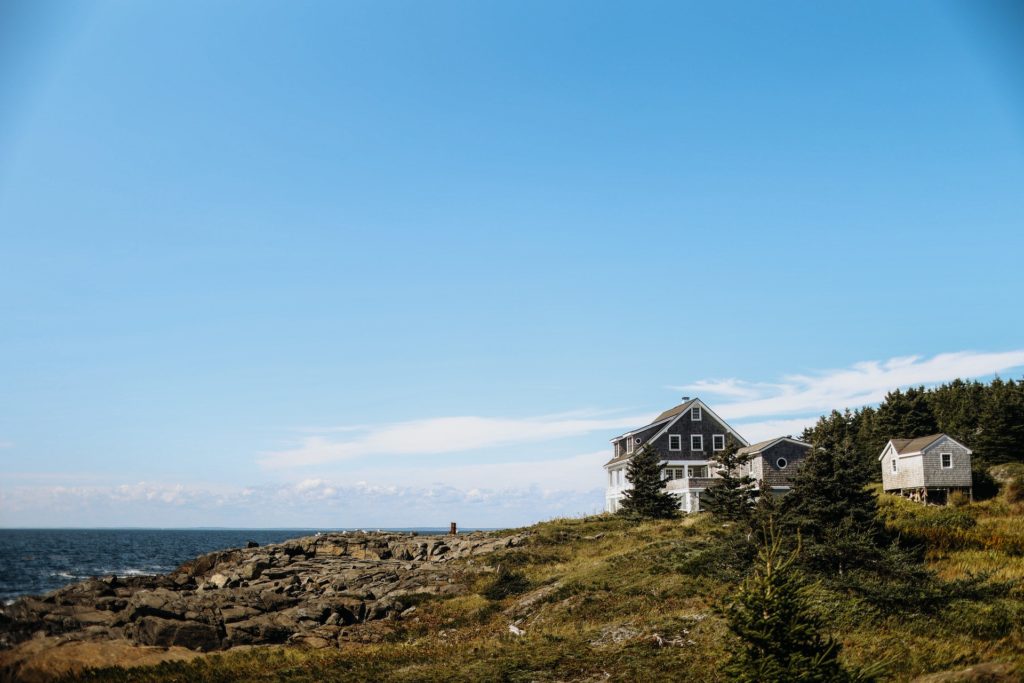 Getting to Know Monhegan Island
European explorers first visited Monhegan Island in the early 1600s, including Captain John Smith in 1614. It started as a British fishing camp before the Plymouth Colony was settled, and a trading post was established to trade fur with local Native American Tribes.
The island was successful in the fishing and fur trades but was caught up in a few conflicts between New England and New France. Many buildings and the fishing fleet were destroyed, leading the residents to flee. When peace was struck in 1839, it was incorporated as an island plantation.
Monhegan Island is known for thriving as a fishing village and historic artists' colony throughout the 1800s, which attracted thousands of tourists. Fishing continues to dominate its economy.
The Artists' Colony
The artists' colony on Monhegan Island started in the mid-1800s and was firmly established by 1890. Many artists took inspiration from the 150-foot Blackhead cliffs on the north side of the island. The artists' colony is still going strong today with some artists displaying their works in the village.
Who Owns Monhegan Island?
Monhegan Associates is a private nonprofit organization that owns and maintains more than 300 acres — a majority of the island's wild lands, including 9 miles of hiking trails. The group was the brainchild of Theodore Edison (Thomas Edison's son), who spent many summers there as a child and became concerned about modern developments taking over the land. It was established in 1954.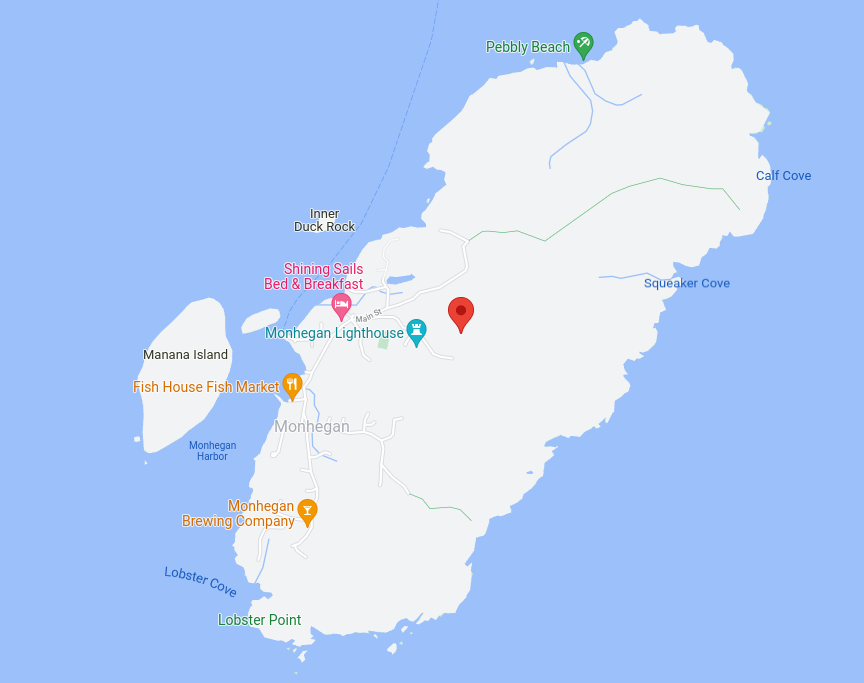 How Do You Get to Monhegan Island?
You don't need a car on Monhegan Island. In fact, no cars are allowed. The only way to get around is on foot via the many dirt roads and trails. However, how do you even get there? The island is located about 10 miles from the mainland, and a few companies offer boat rides to Monhegan Harbor:
Monhegan Boat Line offers round trips from Port Clyde — three times a day in summer, once a day in spring and fall, and three times a week in winter.
Hardy Boat Cruises operates round trips from New Harbor twice a day between mid-May and mid-October. The ride takes about 50 minutes one way, and there's a five-hour layover.
The Balmy Days II runs daily round trips from Boothbay Harbor and offers an optional half-hour cruise around the island, which departs from Monhegan Wharf.
Of course, taking your own boat is an option too. You just need to contact the harbormaster beforehand.
Tip: The boat ride can be challenging. If you have a sensitive stomach, we recommend taking something for nausea ahead of time.
Request our full vacation guide to Mid-Coast Maine. All the amazing things to do in Mid-Coast Maine in one free guide.
Get the Vacation Guide
Things to Do on Monhegan Island
Since Monhegan Island is generally a summer destination, most of the things to do open around mid-May and close around mid-October. Despite that, it's a popular spot for people who want to see seals, whales, and migrating birds as well as rare wildflowers. Other visitors like to paint and capture photos of the coastal scenery or just escape from their busy lives for a few hours. And although the island is just 1 square mile, there's plenty to do.
Explore Main Street
Upon arrival, you'll come across Main Street. This unpaved road leads you through the developed part of town and has numerous art galleries and shops to explore. Simply walking among the historic buildings is fun. You can find town announcements, event details, and restaurant menus on the community bulletin board.
Visit the Monhegan Lighthouse
The next thing that you might notice on the island is the Monhegan Lighthouse. Originally built in 1824, the current 47-foot granite tower was built in 1850. The reconstructed 1851 keeper's house, 1874 keeper's house, 1893 oil house, and more buildings are still standing. The lighthouse remains an active navigational aid for the U.S. Coast Guard, so only the grounds are open to the public.
Tour the Monhegan Museum of Art & History
The Monhegan Museum of Art & History has been hosting art exhibitions since 1974. It's located in the keeper's house of the Monhegan Lighthouse. The current art collections include works by American artists who have been inspired by the island, such as Andrew Wyeth, one of the most well-known artists of the mid-1900s. You can visit the museum from late June through September.
Take Photos of the Amazing View
While you're at the lighthouse and museum, you can't pass on the opportunity to take in the view and grab some pictures. There are a few benches where you can just sit and absorb the relaxing scene — the village buildings below, uninhabited Manana Island to one side, and a horizon filled with the Atlantic Ocean.
Hike the Miles of Dirt Trails
There's nothing like hiking the 12 miles of trails around Monhegan Island's wooded areas and ocean cliffs, which offer superior views of the ocean. There are no crowds. Only fresh air and pure nature. Just wear appropriate shoes because the paths can be steep and strenuous in places.
The island might be only 1 square mile large, but it's not possible to explore every corner in one day. Instead, we suggest hiking easy Trail 4 to Burnthead or moderate Trail 7 to Whitehead. Maps are available from the ferry companies and in the village to help navigate the island.
Relax at the Beach
If you're wondering whether there's a beach on Monhegan Island, there is. Swim Beach is a favorite for swimming, but the water is cold. It's best for walking or sitting in the sand with a picnic. Another option is Fish Beach, which is nearly surrounded by fish houses.
Go Kayaking in Monhegan Harbor
Although sea kayaking has become popular, it can be hazardous around Monhegan Island. Surface waves can develop without warning and capsize the most experienced paddlers. Additionally, the water is still cold in the summer, which could cause hypothermia quickly.
Despite all that, kayaking isn't totally out of the question within Monhegan Harbor. Just don't paddle alone, and brush up on your self-rescue skills beforehand. Rentals are available on the island at Monhegan Kayak Rentals.
Explore Other Areas of the Coastline
At the southern tip of the island are Lobster Cove and its meadow. Bird watching is excellent here, and it's a fantastic place for a picnic. Photographers of all skill levels will like snapping shots of the D.T. Sheridan shipwreck, a diesel-propelled tug boat that ran aground in 1948 during dense fog. Other spots to visit on the island are the Headlands and Gull Cove, both of which are on the backside.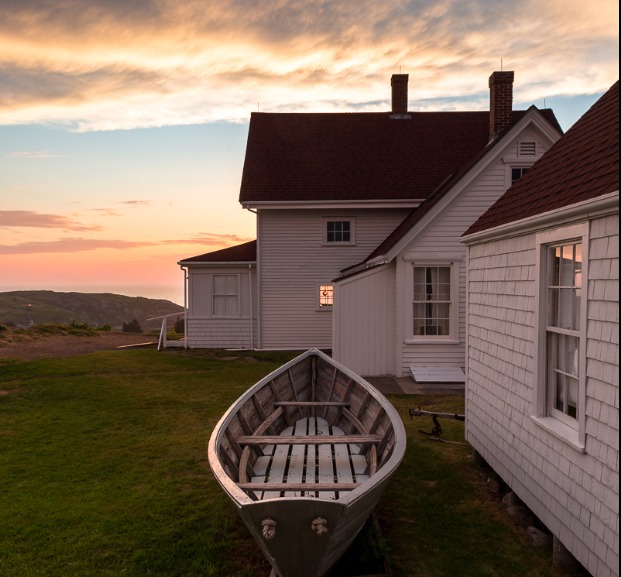 Where to Eat & Have a Drink
The village on Monhegan Island may be small, but it has several places to grab a bite or refreshing beer after exploring. Here are a few of our favorites.
The Novelty
Behind the Monhegan House, The Novelty is an awesome spot to get pizzas, sandwiches, and wraps. The menu includes salads as well, and it carries a wide selection of wine and beer from Maine brewing companies. On top of that, the eatery serves hand-dipped ice cream and Wicked Whoopies.
Monhegan Fish House
For fresh seafood, we love Monhegan Fish House. It's located on Fish Beach alongside the Monhegan Fish Market. The lunch and dinner menus feature live lobster, fresh fish, shrimp, clams, scallops, mussels, and oysters.
Monhegan Brewing Company
A small family-owned and operated brewery, Monhegan Brewing Company has a famous taproom with five beers on tap and handcrafted sodas. The Quadricentennial Pale Ale commemorates the arrival of Captain John Smith in 1614, but we recommend that you try all of them. Also, you can order from a selection of Maine-made snacks or the on-site food truck.
Things to Consider When Planning Your Trip
When you visit Monhegan Island, there are a few things that you should consider and prepare for:
The island has some internet, but the connections are unreliable.
Without reliable internet service, most restaurants and shops can't accept credit cards, so cash is preferred — particularly bills of $10 and lower.
Monhegan Island has cell service near the village but not across the whole island.
Insects can be relentless in the wooded areas, so take bug repellent.
There aren't many public restrooms, so take advantage of the ferry restrooms before you disembark.
The public restrooms that are available don't have sinks but do have hand sanitizer dispensers.
The island doesn't have public trash cans, so plan to take your trash with you when you leave.
If you're curious about electricity on Monhegan Island, it exists but is scarce because it's very expensive. As a result, there are no streetlights, so take a flashlight just in case.
Request our full vacation guide to Mid-Coast Maine. All the amazing things to do in Mid-Coast Maine in one free guide.
Get the Vacation Guide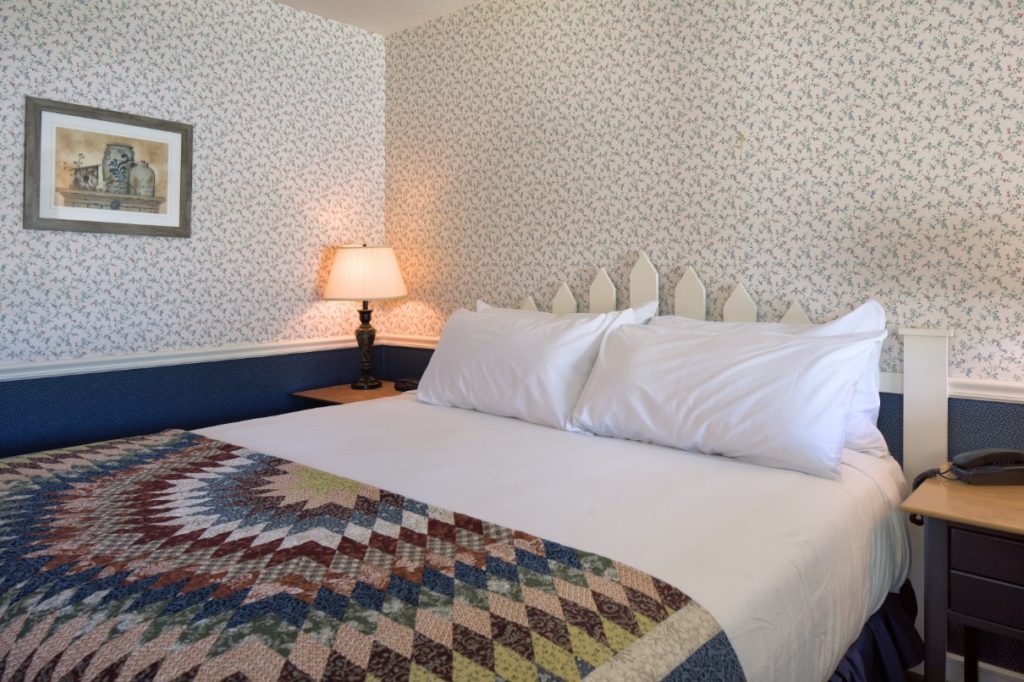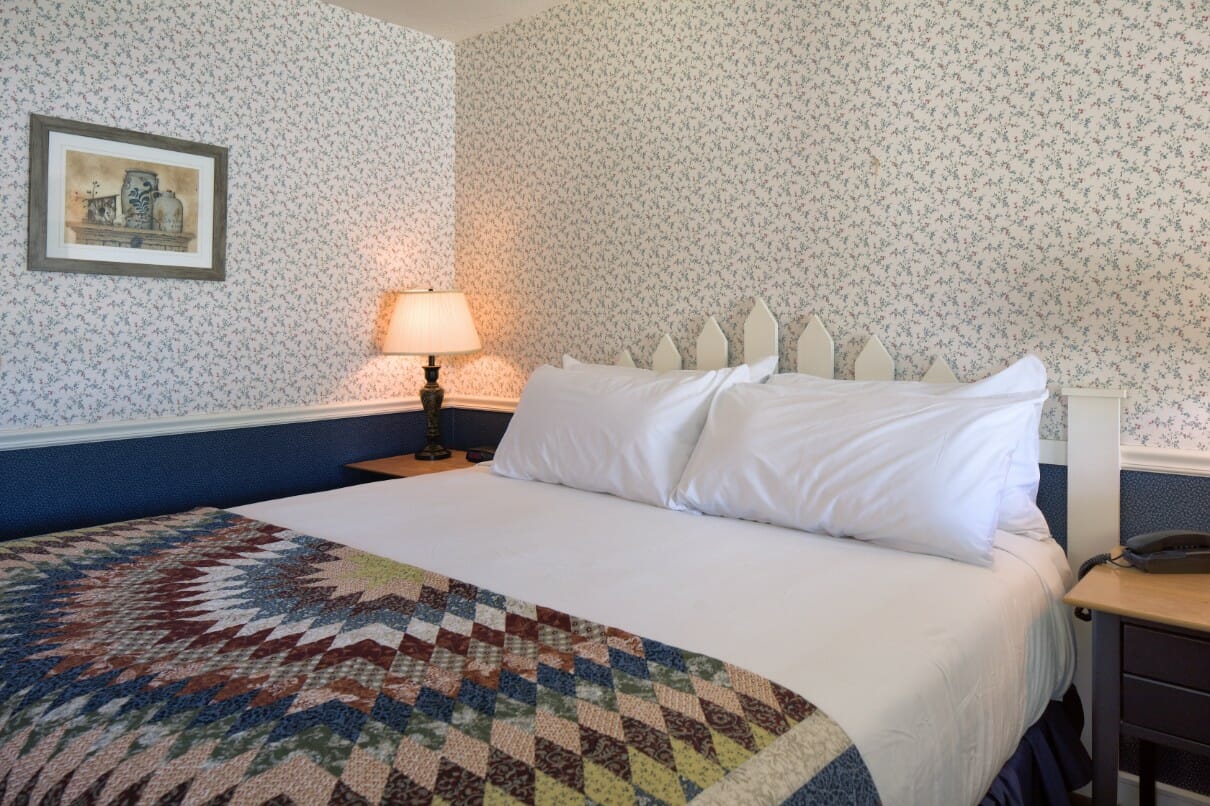 Best Mid-Coast Lodging for a Day Trip to Monhegan Island
To get the full Mid-Coast Maine experience, stay at The Country Inn at Camden Rockport on the mainland. We have 47 comfortable, quaint rooms and cottages, and we're not too far from the Monhegan Boat Line ferry in Port Clyde. You can easily make a day trip from our hotel while still exploring everything that Mid-Coast Maine has to offer during your visit. Check our availability here.
Our sister hotel — Glen Cove Inn & Suites — is even closer to the ferry. You can check their availability here.