When winter comes around, cold temperatures and snow keep most people indoors and businesses closed. However, there are plenty of winter things to do in Camden Maine and the surrounding area. In particular, Camden, Rockport, and Rockland don't shut down like other cities around the county. The majority of businesses stay open and busy, so there are numerous outdoor and indoor winter activities for everyone to enjoy.
Outdoor and Indoor Winter Things to Do in Camden and Rockport Maine
The Camden and Rockport areas are most popular for moderate summer weather, windjammer celebrations, and lobster dinners. However, the snow-laden mountains and frozen ponds make the region a beautiful and fun destination in the winter.
Whether you're a local looking for something to do or a visitor in search of flurries, grab your scarf and mittens for fun adventures in the winter months.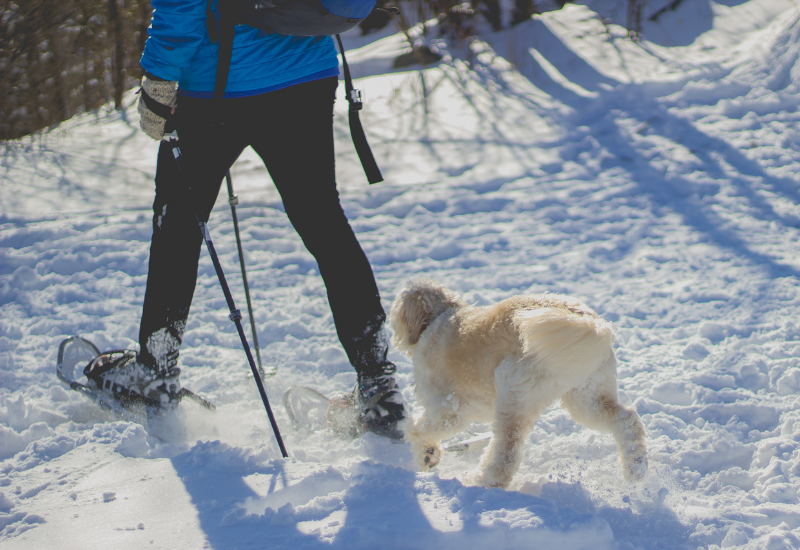 Request our full vacation guide to Mid-Coast Maine. All the amazing things to do in Mid-Coast Maine in one free guide.
Get the Vacation Guide
Cross-Country Skiing, Snowboarding, and Snowshoeing
With a 4,000-foot triple lift and 20 runs, skiing, snowboarding and snowshoeing are popular winter activities at the Camden Snow Bowl. In fact, it's the only place on the East Coast where you get a stunning view of the ocean while you ski. Camden Hills State Park is another great spot for snowshoeing and cross-country skiing.
Biking and Hiking
Although it gets colder during the winter, these places are still open for biking and hiking. The Ragged Mountain Recreation Area at the Camden Snow Bowl features a network of mountain biking and hiking trails. At Camden Hills State Park, you can hike up to Mount Battie for a breathtaking view of Penobscot Bay.
Beaches and Lighthouses
While you won't want to go swimming, there are several great beaches on the bay that you can walk along to enjoy looking at some of the best lighthouses in the area. Popular beaches include Laite Beach, Barrett's Cove Beach Park, Shirttail Point Park, Hodson Park, and Harbor Park. Hosmer Pond at the Ragged Mountain Recreation Area is also a popular winter destination in midcoast Maine.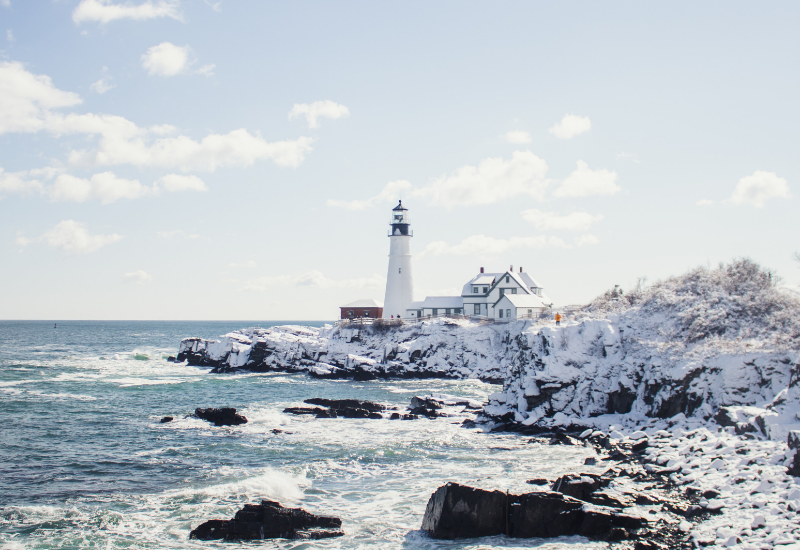 Walking Through a Nature Center
The Merryspring Nature Center is a stunning place to walk around during the winter months. You can hike the trail or just watch the birds and other wildlife. Believe it or not, this 66-acre woodland is open year-round from sunrise to sunset. Best of all, there's no fee for admission.
Ice Skating
Alongside skiing and snowboarding, ice skating is one of the most popular winter activities everywhere. Fortunately, you don't have to go to a frozen pond to ice skate. Midcoast Recreation Center offers public skate times for beginners to professionals in its indoor rink. It also designates times for Stick & Puck, a program for playing hockey.
Bowling
If you want a warmer indoor winter adventure, check out Oakland Park Bowling. This candlepin bowling alley has been open for more than 55 years in Rockport and remains locally owned.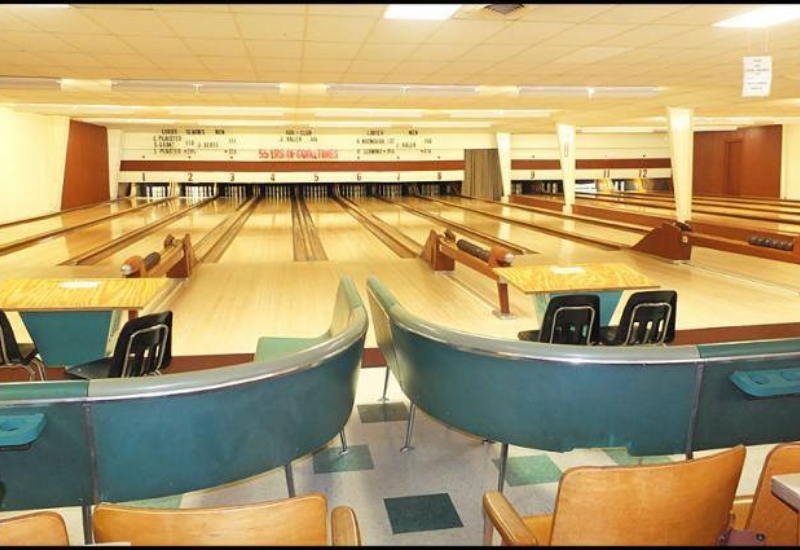 Museums Near Camden and Rockport
There are several museums in the Camden-Rockport-Rockland region. All are great options when you're looking for great winter things to do in Camden and Rockport. Each museum immerses you into a different regional interest, so there's something for everyone.
Farnsworth Art Museum
Sculptors and painters have been inspired by Maine's vistas, and Farnsworth Art Museum showcases their artwork. The collection includes more than 15,000 pieces. The property also features the Farnsworth Homestead and Olson House, which are historic landmarks.
Maine Lighthouse Museum
For the biggest collection of lighthouse artifacts and lenses in the country, visit the Maine Lighthouse Museum. Aside from viewing rare lenses, you can learn about area lighthouses and their keepers. After Columbus Day, it's open with limited hours until Christmas.
Rockland Historical Society
If you're interested in the Civil War, the Rockland Historical Society houses a large collection of memorabilia in the lower level of the Public Library. It also features artifacts from the area's fishing, shipbuilding, and lime industries.
Project Puffin Visitor Center
Offering live video and information about puffins, the Project Puffin Visitor Center is a fun place for families. You can watch the scientists at work and see puffin chicks. The center is open through December 21, after which it closes until May.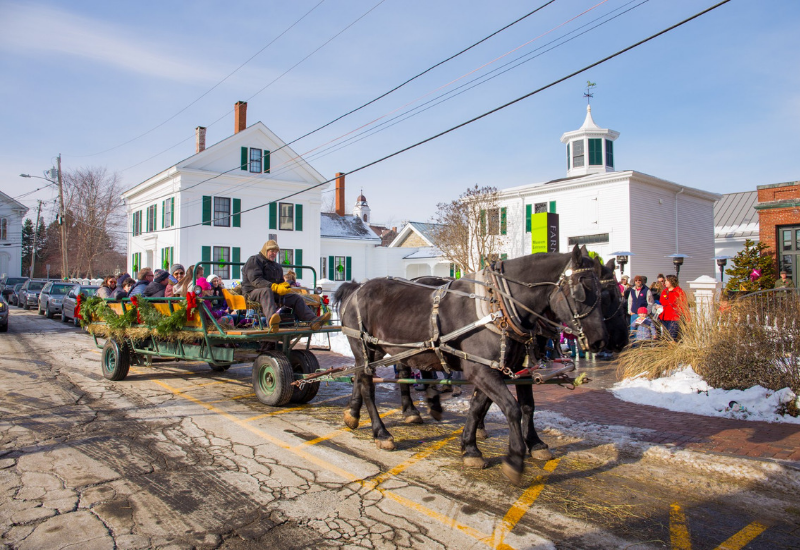 Camden-Rockport-Rockland Entertainment and Events
When it comes to entertainment and events, there's always something going on in Camden, Rockport or Rockland. Even during the winter, there are a few must-see events and festivals.
Camden Opera House
World-renowned performers hold concerts, dances, and shows at Camden Opera House throughout the year. This venue hosts film viewings, conferences, and other events too. Since its initial opening in 1894, it has become a national historic landmark.
Bay Chamber Concerts
Similarly, Bay Chamber Concerts organizes internationally renowned artists to present the best in performing arts. From September to June, its Performing Arts Series offers a variety of classical, dance, jazz and world music events.
Gardens Aglow
If you're in the winter holiday spirit, Gardens Aglow has a spectacular display of more than 650,000 Christmas lights. The event is held from mid-November through December in the central gardens of the Coastal Maine Botanical Gardens in Boothbay. You can even do some unique holiday shopping at the Gardenshop.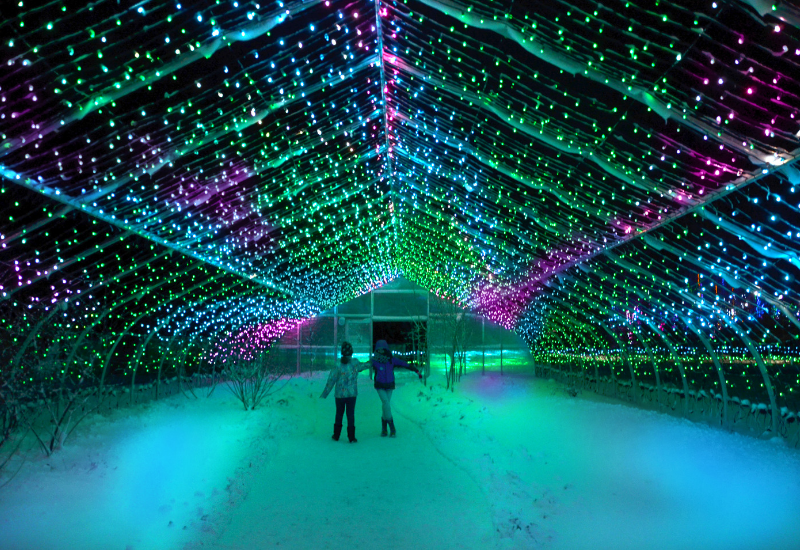 Plan a full getaway to Garden's Aglow in Boothbay with our new special!
Get the Special
Christmas by the Sea
Celebrating Christmas in Camden, Rockport, and Lincolnville, Christmas by the Sea is a must-see weekend festival in early December. The event includes an array of activities:
Holiday music concert
Santa arriving by boat
Storytime and free photos with Santa
Holiday craft fairs and cookie-decorating activities
Parade and carriage rides
Community tree lighting ceremony
Caroling and a walk through Bethlehem
Holiday shopping
Holiday wine and food pairings
U.S. National Toboggan Championships
Every second weekend of February, the Camden Snow Bowl hosts the U.S. National Toboggan Championships. It's the only organized wooden toboggan race in the nation. The 400-foot-long chute runs onto frozen Hosmer Pond, and some sleds get enough speed to slide across its quarter-mile width.
Camden and Rockport Maine Restaurants
Aside from the beauty of Camden and Rockport, the area is also known for its great food. Here's a peek at some of the best restaurants to visit in Camden and here's some of the best restaurants in Rockport.
Bagel Cafe
Serving breakfast and lunch in Camden, Bagel Cafe boils and bakes fresh bagels every day. It has a very large selection from poppy and sesame to sweet and savory. There are gluten-free options and plenty of spreads too. Bagel Cafe also serves breakfast and specialty sandwiches, salads and seasonal soups, and organic oatmeal.
Boynton-McKay Food Co.
For great food and coffee in a relaxing Camden atmosphere, Boynton-McKay Food Co. serves breakfast and lunch. Along with Rock City Roasters coffee, it has a selection of housemade kombucha, hot tea, lattes, espresso, and other coffee drinks. The kitchen makes its own cookies and pastries, and the American menu includes pancakes, quesadillas, soups, salads and more.
Long Grain
Since 2009, Long Grain Camden has served only seasonal and locally sourced ingredients in its Asian-fusion dishes. The owners use fresh greens, meats, and seafood to create a combination of Japanese, Indonesian, Singaporean, Thai and Vietnamese cuisines.
Nīna June
For Mediterranean-inspired dishes, check out Nīna June in Rockport. The chef only uses local, fresh ingredients, so the menu changes every day. She makes gluten-free and vegetarian dishes as well.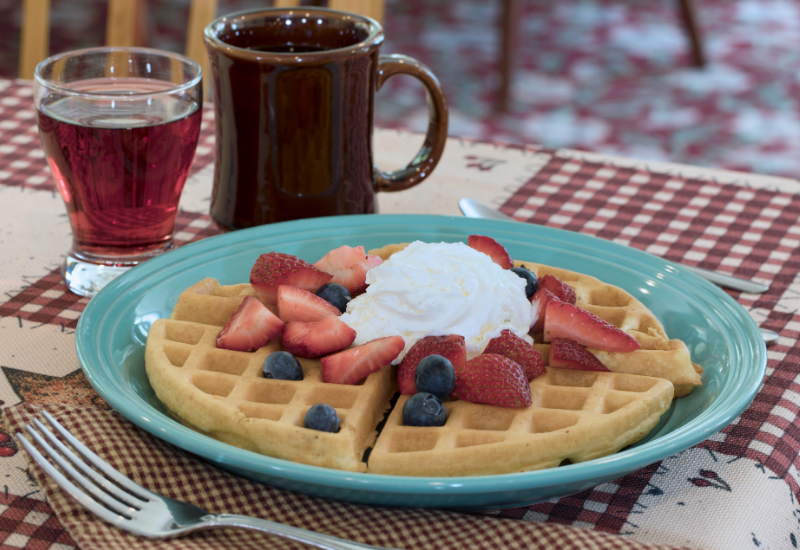 Where to Stay in Camden Maine and Rockport During the Winter
While enjoying the many winter things to do in Camden Maine and the surrounding area, be sure to book accommodations at The Country Inn.
We've designed our guest rooms with your comfort in mind. Our guests also have access to a range of amenities, including an indoor heated pool and spa and a complimentary better-than-continental breakfast to warm you up on a cold winter day.
Request our full vacation guide to Mid-Coast Maine. All the amazing things to do in Mid-Coast Maine in one free guide.
Get the Vacation Guide