MidCoast Maine is full of small towns to visit, but it's exciting to explore beyond the region too. On the southern tip of Deer Isle, Stonington Maine is a gorgeous and interesting place to explore. Here are all the best things to do and places to eat in this Downeast treasure.
Request our full vacation guide to Mid-Coast Maine. All the amazing things to do in Mid-Coast Maine in one free guide.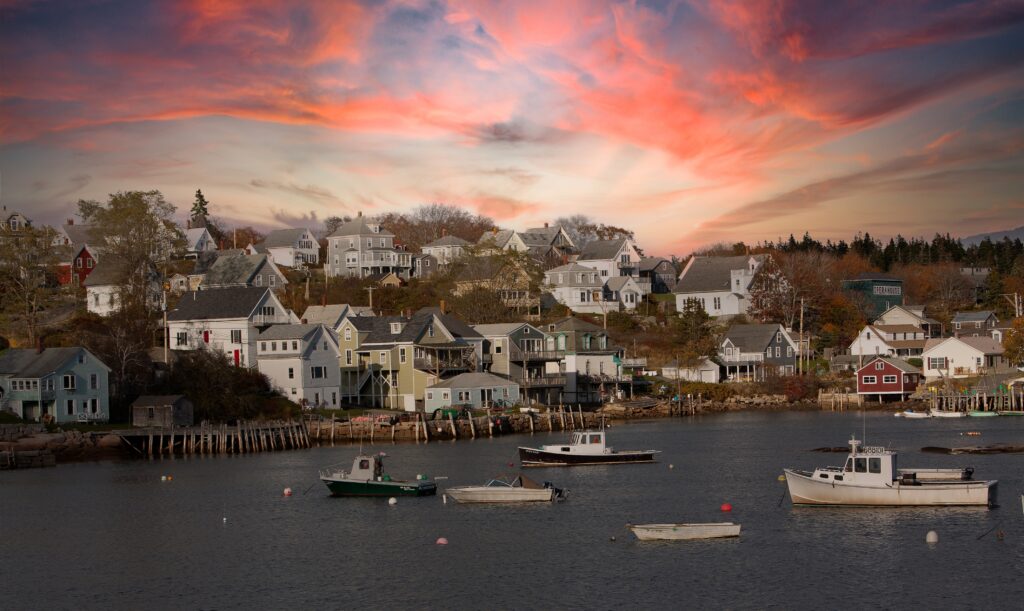 Learning About Stonington Maine
Although known as a fishing town, there's more to Stonington Maine than that. It's a paradise for nature lovers and artists who are attracted to its traditional, well-preserved way of life.
Native Americans settled in the area known now as Stonington Maine about 5,000 years ago. In the 1600s, European settlers began to arrive. No matter who has lived here, they've always had a strong connection to the environment, making their living off the land and sea.
Because of its location on the southern end of an island between Penobscot Bay and Jericho Bay, the town is referred to as the gateway to Merchant's Row, one of the biggest archipelagos in the country.
Much of Stonington is undeveloped, which makes it feel like a secret garden with hiking trails along the shoreline. This beauty is combined with a creative community and downtown full of 19th-century buildings that create an enchanting atmosphere.
Getting to Stonington Maine
While Stonington is located on an island, you can drive to the town in less than two hours. From Camden Maine, you'll follow Route 1 north for about 40 miles — crossing the Penobscot River via the Penobscot Narrows Bridge along the way. Then, you'll follow State Route 15 south for about 35 miles until you reach Stonington — crossing Deer Isle Bridge to reach the island along the way.
Outdoor Things to Do in Stonington Maine
On the map, there might not look like many things to do in Stonington Maine, but that's contrary to reality. Let's check out all the outdoor recreational activities that the town offers.
Boat Tours & Kayaking
With so many islands around Stonington, it's no surprise that kayaking and boat tours are popular activities. Here are a few options to whet your appetite for exploring the islands and water.
Sea Kayak​ Stonington
With a fleet of single and tandem kayaks to rent, Sea Kayak Stonington is a great watercraft rental company in town. You can paddle on your own or book a guided trip — either private or with other paddlers.
Short and evening paddles that last about 2.5 hours are available. If you want to spend more time on the water, though, you can choose from half-day and full-day trips that last four to seven hours.
Osprey's Echo Sea Kayaking
Offering a range of sea kayaking tour options, Osprey's Echo Sea Kayaking is a family-owned business with a mission to introduce archipelago adventures to locals and visitors alike.
You can choose from sunset, half-day, and full-day tours — lasting from two to eight hours — and each one is structured around your interests and skills. You can even sign up for private kayaking lessons.
Isle au Haut Boat Services
Providing year-round freight, mail, and passenger services between Stonington and Isle au Haut, Isle au Haut Boat Services has been a not-for-profit since 2002 but has been operating for about 60 years.
Alongside its daily services, the company offers Seal Island puffin and scenic harbor tours during the summer. Plus, the company operates lighthouse cruises for a weekend in September in celebration of Open Lighthouse Day.
Sand Beach
About a five-minute drive from downtown Stonington Maine, Sand Beach is a lovely stretch of sand with large boulders jutting out of it. It's a calm spot for a picnic, and you have a chance to see bald eagles overhead and ospreys riding along the water's edge.
Island Heritage Trust Trails & Lighthouse
Established in 1987, the Island Heritage Trust oversees several protected lands with trails across Stonington, Deer Isle, and the islands. It oversees Mark Island Lighthouse too.
Settlement Quarry
Settlement Quarry has several trails that are marked on tree trunks with blue and orange paint. There are directional signs and small rock piles where there are no trees on the trails. Hiking around the granite here is rewarded with a panoramic view of Webb Cove, the islands, and Camden Hills State Park in the western distance.
Crockett Cove Woods Preserve
The 98-acre Crockett Cove Woods Preserve is covered with a dense fir and spruce forest. The quarter-mile nature trail here is part of a more extensive system of trails that you can also hike. Numbered markers provide info and guidance through the small bog and forest.
Mark Island Lighthouse
Officially called Deer Island Thorofare Lighthouse, this tower was built in 1858 and remains an active navigational aid for the U.S. Coast Guard and seafarers. It's not open for tours, but you can get some amazing photos from a boat.
Rabbit Hill Farm
Resting 80 feet above East Penobscot Bay, Rabbit Hill Farm is nestled among the treetops adjacent to the Crockett Cove Woods Preserve. The certified organic farm and rabbitry are accompanied by a self-sustainable homestead and Deer Isle Cider Company, which produces sparkling hard cider using hand-picked heirloom and wild apples.

Request our full vacation guide to Mid-Coast Maine. All the amazing things to do in Mid-Coast Maine in one free guide.
Indoor Things to Do in Stonington Maine
While Stonington Maine is full of outdoor activities, you might consider doing some indoor activities as well. Here's a sampling of some of the best things to do indoors when you visit for your day trip.
Discovery Wharf at MCCF
At the Maine Center for Coastal Fisheries in the heart of Stonington Harbor, Discovery Wharf is an interpretive center where you can get your hands wet while engaging with and learning about the Gulf of Maine marine ecosystem and local fisheries.
The interactive experiences include a Marine Touch Tank full of sea creatures, a 15-foot Interactive Touch Wall with "lively" fisheries, and a Virtual Reality Station with a collection of 360-degree videos.
Deer Isle-Stonington Historical Society
During the summer, you can explore the Deer Isle-Stonington Historical Society campus. Formed in 1959, the historical society collects and preserves facts, records, and relics regarding the surrounding area.
Tours of the museum buildings — Sellers House, Marine Hall, Exhibit Barn, and Boat Shed — are available. And although it's not indoors, you can explore the Heritage Gardens and Orchards too.
Deer Isle Granite Museum
Located in Stonington, the Deer Isle Granite Museum features a 3D model of the nearby Crotch Island granite quarry as it was in the early 1900s. The exhibits celebrate the area's granite industry and the bravery and skill of the town's quarrymen.
The unique pink granite quarried from the area was used in the Rockefeller Center in New York, the John F. Kennedy Memorial in Arlington National Cemetery, and other high-profile structures.
Opera House Arts
Located in the historic Stonington Opera House with over 100 years of community events, history, and restoration behind it, Opera House Arts offers community events, movies, and stage performances of all kinds throughout the year.
The lobby is the perfect place to take in a view of Stonington Harbor while enjoying classic candy, homemade flatbread, organic popcorn, and more from the concession. You can even pair beer, canned cocktails, and wine with your snacks.
Galleries & Shops
In downtown Stonington and the outskirts are several interesting galleries and shops to peruse. For instance, Dockside Books & Gifts is a tiny spot that's full of fiction and nonfiction books, handcrafted and nautical gifts, postcards, and more.
At The Dry Dock, you'll walk through a colorful, light-filled store with a wide array of creative gifts, clothing, accessories, toys, pottery, and more. The Marlinespike Chandlery is a general store that specializes in fancy marlinespike ropework but also features antiques and other interesting objects.
For innovative furniture designs and skilled craftsmanship, check out Owl Furniture. You can get benches, chairs, functional sculpture-like cabinets, desks, stools of all kinds, and tables. And, view more classic forms of art at Watson Gallery, which presents art by dozens of established artists.
Restaurants in Stonington Maine
As you're experiencing all that Stonington Maine has to offer, you'll need some sustenance to keep going all day. Below are a handful of recommendations.
44 North Coffee
Founded in 2010, 44 North Coffee custom roasts organic Arabica coffee beans for the best-tasting coffee. It's a great spot for a midday pick-me-up.
The shop has a colorful custom wooden drip bar rather than espresso machines. Tea drinks, beer, and wine are also on the menu. Additionally, you can order from a selection of baked goods that are made daily by area bakers with locally sourced ingredients.
TIP: The 44 North Coffee location in Stonington is only open from Memorial Day to Indigenous People's Day. For the rest of the year, you could stop at the Deer Isle location.
Fin & Fern
If you decide to go sightseeing on the water, Fin & Fern is a delicious place to get dinner afterward. It's located right on the water next to Isle au Haut Boat Services and serves home-cooked meals every evening.
The menu includes local clams, crab, halibut, mussels, oysters, scallops, tuna, and much more — such as sandwiches and pasta with homemade sauces. You can dine in the main dining room downstairs or at the upstairs bar.
The Cockatoo Portuguese Restaurant
Open for lunch and dinner, The Cockatoo Portuguese Restaurant is a great place to stop before or after exploring Settlement Quarry. It's located on the hillside of Webb Cove, serving what patrons describe as some of "the best food ever."
Some recommended dishes include coconut shrimp, shrimp Mozambique, Portuguese steak, and freshly cut fries. The restaurant serves some awesome desserts as well, such as flan and handcrafted cherry cheesecake.
Stonington Ice Cream Company
Near the harbor, Stonington Ice Cream Company is the place to go for ice cream in the afternoon or evening. The small shop serves 16 flavors in cones and cups, but that's not all.
The menu also features the Stonington lobster roll and an assortment of sandwiches — including beef tenderloin, pork tenderloin, roasted chicken breast, smoked haddock, and smoked salmon — alongside a variety of drink options.
Picnic tables are available on the deck, or you can order takeout for a picnic.
Request our full vacation guide to Mid-Coast Maine. All the amazing things to do in Mid-Coast Maine in one free guide.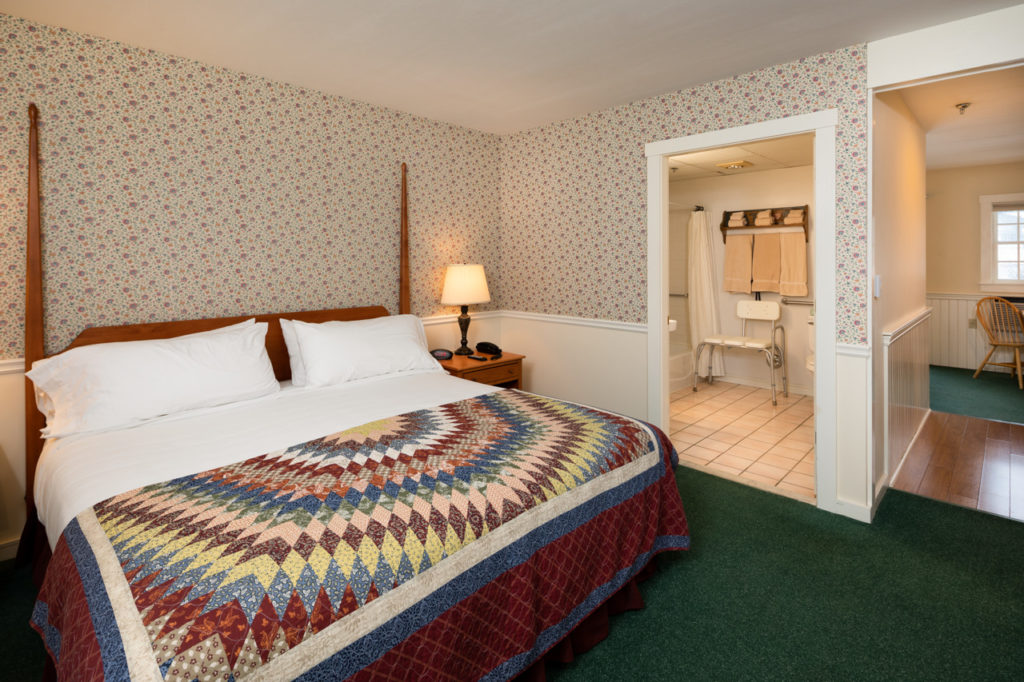 Convenient & Comfortable Lodging in MidCoast Maine
When you're planning a day trip to Stonington Maine from the MidCoast, The Country Inn at Camden Rockport offers convenient rooms and cottages.
Every morning, we serve a delightful breakfast of freshly baked goods from local bakeries, seasonal fruits, waffles with Maine maple syrup, gourmet coffee, and more. It's the perfect start for a day trip.
As you plan your MidCoast getaway, book your lodging at The Country Inn!