There's something that's equal parts fascinating and spectacular about having a bird's eye view. It's the reason why places like Chicago's Willis Tour and New York's Empire State Building are popular tourist spots.
What you may not know, is that Maine has a spectacular 42-story view of its own: The Penobscot Narrows Bridge Observatory.
The Observatory offers 360-degree views and is even taller than the Statue of Liberty.
It's no secret that Maine is beautiful, but the Penobscot Narrows Bridge Observatory offers one of the best observation points in New England if not all of the United States. It is the first bridge observation tower in the nation and the tallest public bridge observatory in the entire world.
Whether you're looking for a new place to explore in Maine or you're looking for the perfect spot for a family day trip, a trip to the Penobscot Narrows Bridge is an amazing experience you need to see for yourself.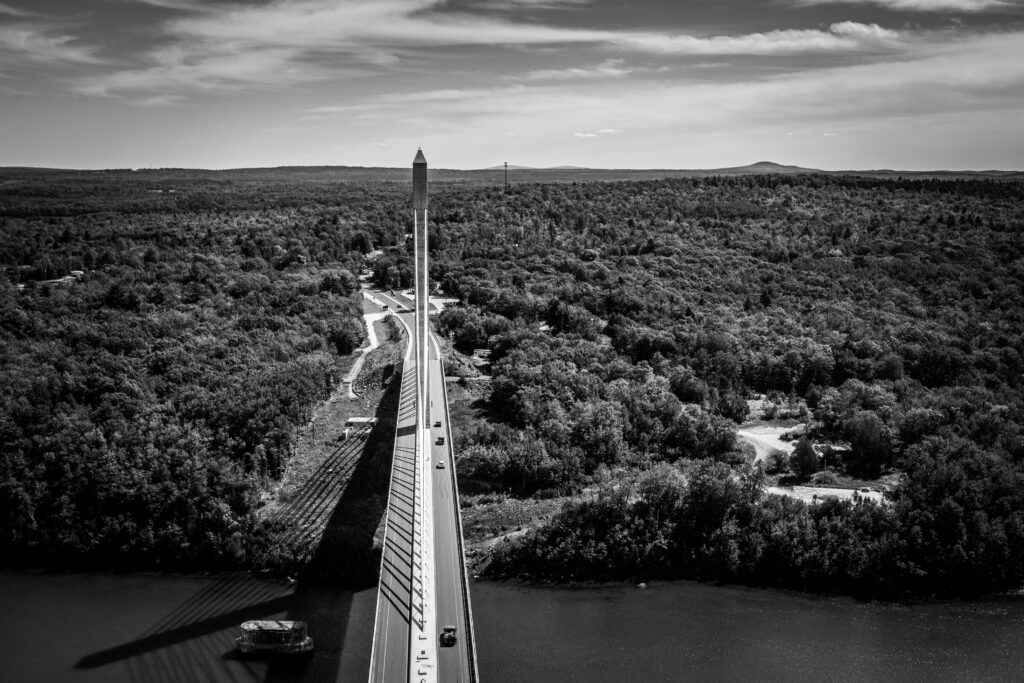 Request our full vacation guide to Mid-Coast Maine. All the amazing things to do in Mid-Coast Maine in one free guide.
Getting to know The Penobscot Narrows Bridge and Narrows Observatory
The Penobscot Narrows Bridge is a cable-stayed bridge that spans more than 2,100 feet. It connects the towns of Verona and Prospect in midcoast Maine, about a half hour south of Bangor. It serves both U.S. Route 1 and State Route 3.
The bridge opened in 2006 and is one of the three U.S. bridges built using the cradle system. It was built for $85 million to replace the Waldo-Hancock Bridge, which was ceremoniously closed and later demolished.
Believe it or not, the bridge is actually an award-winning structure and stands as an example of strong civil engineering.
A One-of-a-Kind Observatory Opens
The observatory opened to the public in 2007 and is generally open seasonally from May through October. This observatory is only one of 4 such observatories in the world and only one in the United States.
When plans were originally made to build the bridge, the state as well as residents wanted to stimulate the local economy. The idea for the bridge observatory was born as a result and was designed to mirror the Washington Monument.
One notable feature in the observatory itself is the granite floor, which is inlaid with a bronze compass rose. The compass is designed to orient the public with all four directions and is a sort of homage to Samuel de Champlain, a French explorer whose travels took him up the Penobscot River.
What You'll See From the Observatory
What can you see from the Penobscot Narrows Observatory? In a word, a lot. Take a quick elevator ride up to the top and see how wondrous it really is.
If you love taking nature photos, you're looking for a cool panoramic views, or you're just looking for a great spot for a selfie, this spot is perfect.
The observatory rises 420 feet in elevation — a whopping 42 stories — and you can see in all directions. The view is truly magnificent and it's little wonder that tourists of all ages, writers and so many others have been captivated upon their visit here.
As you take in the unforgettable views around you, you'll not only be able to view the Penobscot Narrows Bridge, but you'll also see Penobscot Bay, the Penobscot River, and the Fort Knox State Historic Site.
On the ground floor, you can enter the observatory, which is surrounded by an iron gate as a nod to neighboring Fort Knox.
In addition to the incredible views, visitors can learn more about the history and natural resources of the area through interpretive panels on the ground floor and at the top of the observatory tower.
The Fort Knox State Historic Site is located in Prospect, Maine, less than 10 minutes from the Penobscot Narrows Bridge.
Unlike the more famous Fort Knox in Kentucky, Maine's Fort Knox was Maine's first fort made entirely of granite and was built between 1844 and 1869. It's named for Major General Henry Knox, who served as the nation's first Secretary of War under George Washington.
Today, it stands as the entry site of Penobscot Narrows Bridge's observation tower and remains an example of coastal fortification from an older time. It was designated as a National Historic Landmark in 1970.
Though it was never directly involved in some of the country's biggest wars of the 19th century (including the Civil War and Spanish-American War), it was nonetheless overseen by soldiers, and visitors today can still see some of the period weapons used there, including howitzers and smoothbore cannons.
Special Events at Fort Knox and the Observatory
Because the Penobscot Narrows Bridge Observatory complex offers a one-of-a-kind view, it's a popular spot among some visitors for birthdays, retreats, and family get-togethers. It's also a great spot if you just want to have a family picnic on a day trip.
Fort Knox also holds several special events ahead of and during opening day.
Friends of Fort Knox, a committee dedicated to the upkeep and preservation of the site, holds a Park Day cleanup and invites scout troops and non-profits to help get the park ready for opening. There's also a Friends of Fort Knox Member Appreciation Day (new members are welcome to sign up), where members gather for a social event at the top of the observatory.
Finally, there's opening day, when the iron gate is finally opened and visitors finally get a chance to take the ride up to the observatory and explore Fort Knox.
Dining Near The Penobscot Narrows Bridge Observatory
After taking the elevator ride all the way up and marveling at the wonderful views, one of the best things to do is treat yourself to a good meal.
Thankfully, there are many great dining options in Bucksport, which is a hop, skip, and a jump from Fort Knox and the Observatory.
MacLeod's Restaurant offers up scrumptious pub fare and seafood favorites, so you can enjoy dishes like Maine salmon, the MacLeod's River Reuben, the baked meatloaf, or MacLeod's BBQ country-style ribs to name a few options.
Friar's Brewhouse Tap Room is the first taproom opened in Bucksport and offers up award-winning beers as well as delights like the 1/3 pound lobster roll, Muriel's meatloaf, and Pescador fish tacos.
The Dairy Port is open seasonally, but it's the perfect spot for a cone topped with your favorite ice cream flavor. There are more than 40 flavors of Gifford's ice cream to choose from, so everyone can get their favorite!

Other Fun Activities Near the Penobscot Narrows Bridge
Stroll Along the Bucksport Waterfront Walkway
If you're looking for a nice leisurely activity before or after your visit to Fort Knox and the Observatory, take a walk along the Bucksport Waterfront Walkway.
The path, which runs right along the Penobscot River, is very tranquil and offers great views of both the bridge and Fort Knox. The path stretches for a little less than a mile and features gardens and water fountains, which are always nice to sit by if you need a rest. The path is also wheelchair assessable and pets are allowed.
Pay a Visit to the Bucksport Historical Society
History buffs will love visiting the Bucksport Historical Society, which is located in an old railway station and offers visitors a look at historical photos and artifacts.
See the Wonders of Verona Island's Unique Rock Shop
Just down the road from Bucksport is Verona Island and the Unique Rock Shop, a one-stop shop for all things dedicated to rocks.
The store is open seasonally and whether you're looking for polished stones, magnificent creations made out of rocks, geodes, and everything in between, it's a safe bet that you can find it here.
Penobscot Narrows Bridge FAQs
How long is the Penobscot Narrows Bridge?
The bridge spans 1,161 feet.
How much did the Penobscot Narrows Bridge cost?
The bridge cost $85 million to design and then build. It was built in about three and a half years.
How high is the Penobscot Observatory?
It rises 135 feet into the air.
What is the tallest bridge observatory in the world?
Why that's the Penobscot Narrows Bridge Observatory of course! It's more than four stories tall, is one of just 4 bridge observatories in the whole world, and it's the tallest public occupied structure in Maine.
When is the Observatory open?
The Observatory is usually open seasonally, starting in May and ending in October.
The observatory hours are as follows:

May 1 to June 30: 9 a.m. to 5 p.m.

July 1 to August 1: 9 a.m. to 6 p.m.

September 1 to October 31: 9 a.m. to 5 p.m.
Is there an admission fee to visit the Penobscot Narrows Bridge and Observatory?
The ticket prices are as follows:

Adults: $7 for Maine residents and $9 for non-residents.

Seniors: $2.50 for Maine residents and $5.50 for non-residents.

Children aged 5-11: $5 for both Maine residents and non-residents.

Plan Your Trip to the Penobscot Narrows Bridge & Observatory Today
To say the view from the top of the Penobscot Narrows Bridge observatory tower is impressive is an understatement.
Close your eyes and just imagine the view from the tower. You're directly over a bridge that spans more than 2,120 feet; you can see more than 100 miles in any direction on a clear day; you can see as far as Camden Hills to Mount Katahdin, and you can get some great photos.
You can see marvels of engineering and nature all at once here. It's a memorable view and a memorable experience that everyone should experience at least once.
If you're planning on staying in the area, the Country Inn offers everything you need for a great stay. Country Inn is close to great attractions in Camden, Rockport, and Rockland, and offers fantastic amenities and comfortable accommodations to make your stay comfortable and memorable.
Request our full vacation guide to Mid-Coast Maine. All the amazing things to do in Mid-Coast Maine in one free guide.