Maine is full of escapes from the hustle and bustle of everyday life, and Coastal Maine Botanical Gardens in Boothbay is one of the best spots. This Mid Coast destination encompasses more than 300 acres of gardens, exhibits, sculptures, and more.
Keep reading to learn all about the CMBG, including what to bring, what not to bring, and more tips for visiting and enjoying the natural beauty of the public gardens.
Request our full vacation guide to Mid-Coast Maine. All the amazing things to do in Mid-Coast Maine in one free guide.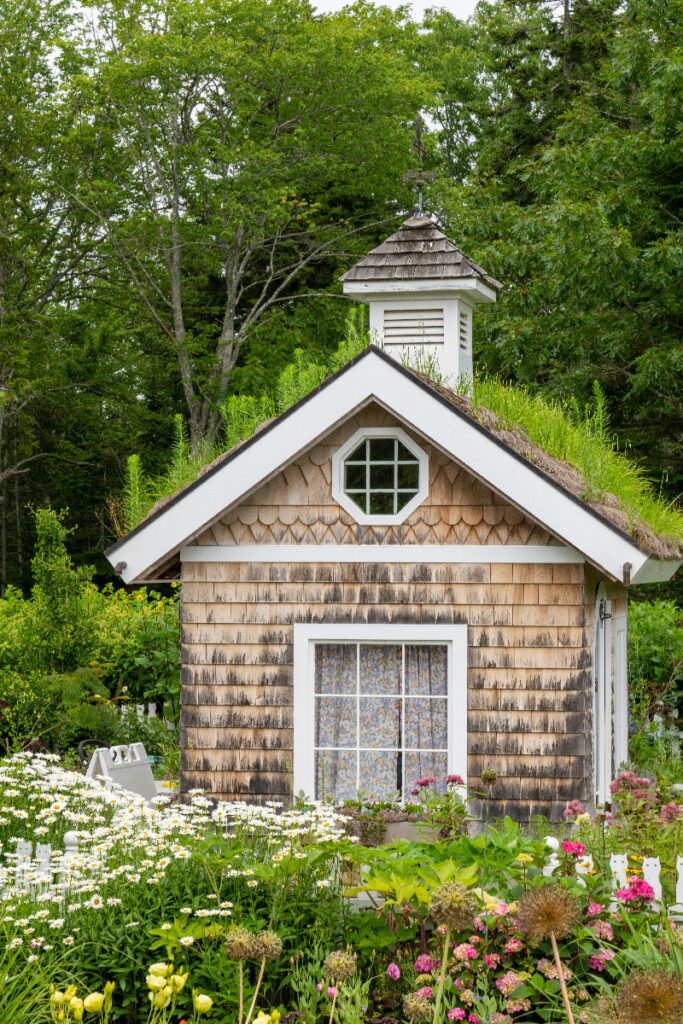 Overview of Coastal Maine Botanical Gardens
Known as the "People's Garden," Coastal Maine Botanical Gardens started as a casual conversation among a small group of friends in 1991. After 16 years of planning, it opened in summer 2007 with 148 acres of rocky forest on the coastline.
Since then, CMBG has become the biggest New England botanical garden, inspiring meaningful connections between the community and nature. Over 200,000 people from across the country and more than 60 foreign nations visit every year to learn about botany, ecological connections, horticulture, and the region's habitats and natural history.
15+ Unique Gardens & Buildings to Explore
Throughout the over 300 acres of CMBG grounds, you have about a dozen gardens to explore:
Arbor Garden inspired by a traditional, formal European rose garden with an informal twist
Bibby and Harold Alfond Children's Garden with themes inspired by children's books
Burpee Kitchen Garden with edible flowers, fruits, herbs, and vegetables used at the Culinary Center
Cleaver Lawn with a focal point of dawn redwood
Dahlia Garden with five dozen varieties of dahlia plants in a spiral shape
Founder's Grove in honor of the CMBG founders
Giles Rhododendron and Perennial Garden with over 1,000 rhododendrons and shrubs
Great Lawn inspired by 19-century landscape parks to create a sense of scale and openness
Haney Hillside Garden with three terraces and 6,000 native plants
Lerner Garden of the Five Senses with flora to stimulate the five senses
Shoreland Trail & The Landing along the waterfront with indigenous plants and a dock
Slater Forest Pond with native plants, aquatic insects, frogs, and minnows
Vayo Meditation Garden designed as a quiet retreat with a central basin carved out of a boulder
In addition to these gardens, CMBG features a few interesting garden structures that you don't want to miss. The Fairy House Village has all the natural materials that children need to build fairy dwellings in a forest clearing that overlooks the shore.
The Learning Apiary and Native Bee Exhibit has 16 honey bee hives and the chance to watch the bees at work. The Native Butterfly and Moth House is a Gothic-style hoop house with plants and shade that support and display the life cycles of native butterflies and moths.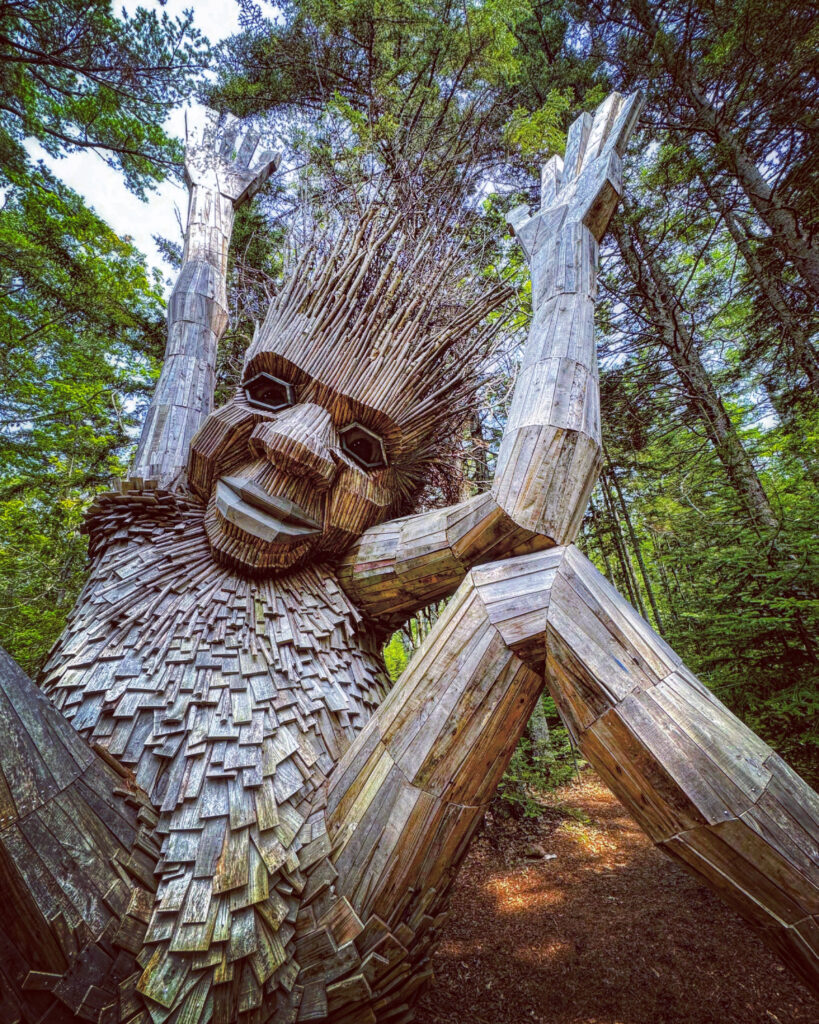 Art, Sculptures, Trolls, & Gardens Aglow
There's more to CMBG than exploring the gardens. The property features all kinds of art, sculptures, experiences, and more.
Art Exhibits & Sculptures
Throughout the regular season — early May to mid-October — CMBG hosts several art and sculpture exhibits. While some of these change every year, many of the sculptures are permanent fixtures through generous donations. Here are a few examples:
Axis Deer and Running Deer made by Windy Klemperer out of steel rebar and located along the entrance
The Codfather made by Steve Lindsay out of bronze cast over wood and located near The Landing
Flock of Birds made by George Sherwood out of stainless steel and located in the Lerner Garden of the Five Senses
Stonewall Dragon made by Carole Hanson out of carved stone and located near the Bibby and Harold Alfond Children's Garden
Guardians of the Seeds
If you love scavenger hunts and puzzles, Guardians of the Seeds is the ultimate two-in-one experience. It features five giant, magical trolls made by a team of worldwide volunteers led by Danish artist and recycling activist Thomas Dambo.
The scavenger hunt part of this experience is finding the trolls, which are hidden deep in the woods that surround Coastal Maine Botanical Gardens. You'll have to hike for about 3 miles to find them all, so make sure that you wear comfortable shoes and bring sunscreen and water.
Every troll represents part of a tree, and the posted sign next to each tells a story about how and why every part is vital to the entire forest. Also, each sign gives you a clue as to where to find the hidden seed that every troll is guarding.
Finding all the seeds will add about 2 miles round-trip to the trek, but it will help you learn the secret of Guardians of the Seeds — that's the puzzle part of this experience.
CMBG plans to have the giant trolls for as long as they will stay. Since they're made of natural, recycled materials, they're subject to the wear and tear of Maine's outdoor elements. To extend their stay as long as possible, visitors are asked to avoid climbing on them. Hugging and taking pictures with them is OK, though.
TIP: Grab a Trolls Map & Guide at the front desk upon arrival to aid your search.
CMBG hosts numerous events throughout the summer season — some for the public and others for members. However, Gardens Aglow is (arguably) the biggest event of the year.
Occurring after the summer season from about mid-November through the end of December, this annual event celebrates the holiday season with over 750,000 lights (about 65 miles worth) across 14 acres of gardens.
It's considered the brightest light display in the Pine Tree State, including themed areas, nature-inspired sculptures, illuminated trails, and more. It takes about 1.5 to 2 hours to explore it all.
Highlights & Specialty Tours of the Gardens
Coastal Maine Botanical Gardens is such an expansive destination to explore that some visitors feel overwhelmed. If that's the case for you, you can join one of the hour-long Highlights Tours through the central gardens. The tours include info about the botanical, design, and historic elements of the grounds.
On the other hand, you could reserve a spot in the Specialty Tours. These provide an in-depth look at specific areas of the grounds, such as the Native Plant Tour and the Wetlands Tour.
Picnics & Snacks at Coastal Maine Botanical Gardens
You're bound to get hungry as you traverse the many acres of CMBG. If you prefer to plan your lunch, snack, or both ahead of arrival, you're welcome to take food and non-alcoholic drinks onto the grounds for picnics. Just make sure that you dispose of your waste to keep the gardens clean.
On the other hand, you can get food and drinks from the Hungry Gardener Food Truck on the Great Lawn in front of the Culinary Center. It makes artisan wraps, salads, hot dogs, and more — including gluten-free, vegan, vegetarian, Halal, and Kosher options.
Coastal Maine Botanical Gardens has The Snack Shack as well. It offers savory and sweet snacks and fresh fruit. Additionally, you can get coffee, hot chocolate, tea, and other beverages.
Request our full vacation guide to Mid-Coast Maine. All the amazing things to do in Mid-Coast Maine in one free guide.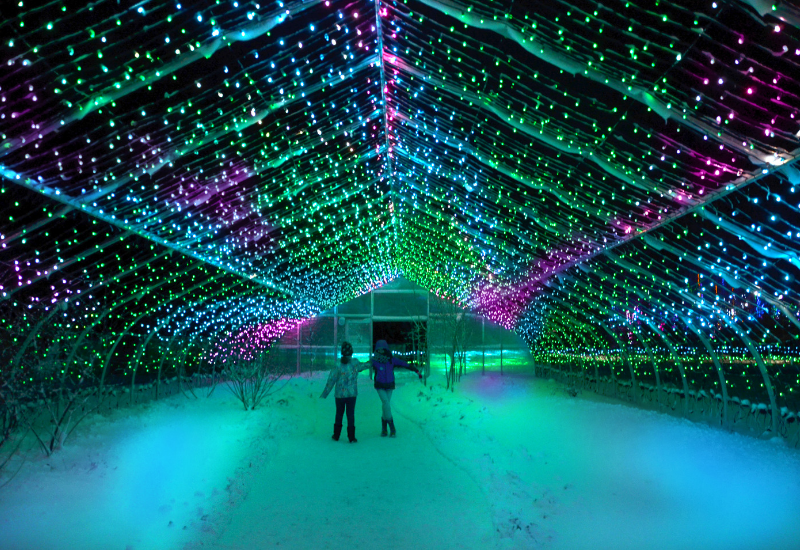 Tips & Things to Know Before Visiting
Every time you visit somewhere new — whether as a local or someone "from away" — it pays to be prepared. So before you head to CMBG, we recommend that you get advanced tickets because admission can sell out on busy days.
Since the grounds are open even when it's raining and the tickets are nonrefundable, you might consider purchasing your tickets a few days before your visit. Then, you'll have the highest chance of good weather as you explore.
Ticket purchasing isn't the only tip we have, though!
What to Bring
Along with wearing comfortable shoes (let's face it, there's a lot of walking), we recommend bringing a hat, sunglasses, and sunscreen to protect your skin. And since mosquitoes and other bugs in the woods can be a nuisance, bug spray can be helpful.
You'll want to stay hydrated while you're walking around too. You can bring refillable water bottles with you (there are multiple filling stations), or get water from the Hungry Gardener Food Truck or The Snack Shack.
Last (but not least), you have to bring a camera. You'll regret not having a way to capture unique memories. Just bear in mind that drones and UAVs aren't permitted.
Gardenshop
If, by chance, you do forget a camera, you can still take some memories home with you. Just stop by Gardenshop to peruse a thoughtfully curated collection of ethically sourced, locally crafted, and sustainably created products. These include Maine-made soaps and candles, locally produced honey, hand-printed hoodies and shirts, and more.
Accessibility
CMBG is committed to having an accessible environment so that everyone can experience the natural beauty of Maine. To accommodate people with disabilities, service animals are always welcome. Visitors must keep their service animals on leashes, clean up after them, and never leave them unattended.
The buildings and central gardens comply with the Americans with Disabilities Act, so they're stroller and wheelchair accessible. Throughout the rest of the grounds are compacted gravel and paved walkways and trails through the wooded areas. Not all of the paths to the Guardians of the Seeds, however, are fully suitable for all strollers and wheelchairs.
If you need assistance getting around, wheelchairs and electric scooters are available on a first-come, first-served basis. There's also a free, 10-passenger shuttle that continuously operates around the perimeter of the grounds, providing hop-on and hop-off opportunities every 20 to 25 minutes.
Plus, hour-long Accessible Cart Tours are available on an electric cart that can carry up to five people. These are a wonderful way for individuals who can't walk to get around the grounds.
Request our full vacation guide to Mid-Coast Maine. All the amazing things to do in Mid-Coast Maine in one free guide.
Convenient Rooms & Cottages Nearby on Route 1
Only about an hour from Coastal Maine Botanical Gardens, The Country Inn at Camden Rockport is the ideal base location for all of your Mid Coast Maine adventures, such as visiting Fort Knox or the islands that dot Penobscot Bay.
We have comfortable rooms, suites, and cottages, including pet-friendly accommodations. On top of that, we serve a more-than-continental breakfast to get your day trips started right. When you start planning your trip, check out our available reservations.