There are certainly plenty of things to do in Mid-Coast Maine, but what if you want to explore more of what Maine has to offer? If you're in the Mid-Coast and are a history buff, we recommend a day trip to Fort Knox Maine and the Penobscot Narrows Bridge & Observatory.
Request our full vacation guide to Mid-Coast Maine. All the amazing things to do in Mid-Coast Maine in one free guide.
Get the Vacation Guide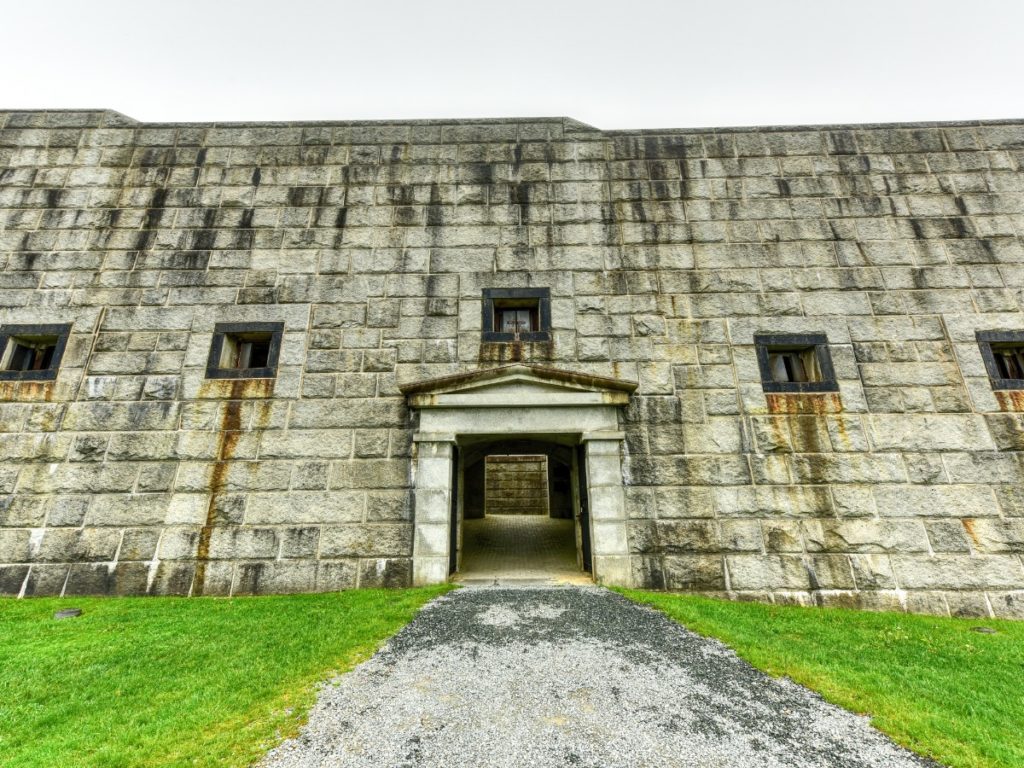 A Fort Knox Maine Overview & History
The Fort Knox State Historic Site at Fort Knox State Park is one of the best-preserved examples of a military fortification built in the mid-19th century. It's situated in Prospect Maine on the west bank of the Penobscot River across from Bucksport and has a lot of distinctive architectural features and a rich history.
The Design
Chief Engineer Joseph Totton designed Fort Knox Maine with the help of several other engineers between 1844 and 1869. The team brought master granite craftsmanship to the design, which you can still revel in today.
The main building is 146 feet by 252 feet, making it the largest fort in Maine. It's also the first granite fort built in Maine and can house more than 130 cannons.
The History
When Fort Knox Maine was built, the state was involved in several border-related conflicts with British Canada. For instance, the area between Bangor and Castine was invaded, so the British occupied the area during the American Revolution and the War of 1812.
The purpose of the fort was to protect the Penobscot River Valley from a potential British naval attack. It was the first in the country to be named after Major General Henry Knox, the first Secretary of War for the United States.
From 1863 to 1866 (during the fort construction), less than 50 Civil War troops were garrisoned at Fort Knox Maine. Most of them were volunteers in training before going on active duty. In 1898, about 500 troops set up around the fort for the Spanish-American War, but they were never sent into combat.
Events at Fort Knox Maine
Now, the Fort Knox historic site is open to visitors who are interested in the military architecture and fascinating history of this National Historic Landmark. Along with walking around the fort and reading posts about it, it's possible to join one of the few special events held at the site.
Shakespeare Under the Stars
During the summer, a theatre group performs Shakespeare for guests. In 2021, Ten Bucks Theatre celebrated 11 years of performing at Fort Knox Maine. While the performers take to the stage, viewers rest on blankets and in camp chairs.
Ghosts of Fort Knox Guided Tour
More than just a tour, this thrilling event includes a guided tour by professional ghost hunters — the 207 Paranormal Ghost Trackers. You can help them investigate dark passages and rooms throughout the fort in search of evidence to explain the unexplained.
The professionals use state-of-the-art techniques and equipment — such as night-vision, high-frequency sound recording, and motion-detection technology. Believers and skeptics alike are invited to be part of the team.
Fort Knox Ghost Camp
If you're interested in spending the night, the 207 Paranormal Ghost Trackers organize a Fort Knox Ghost Camp. You just need sleeping bags and tents to join the overnight paranormal investigation into the legendary ghosts rumored to dwell at the historic fort.
The Paranormal Gathering
Maybe you would prefer to just listen to ghost stories from experts after the Fort Knox entrance closes for the day. During August, the fort becomes a chilling backdrop for such campfire tales.
This Paranormal Gathering event features personal paranormal experiences and true accounts from paranormal experts of all kinds from across Maine. You're welcome to bring a blanket or camp chair to sit around one of several fire pits in the Parade Field open area within the fort.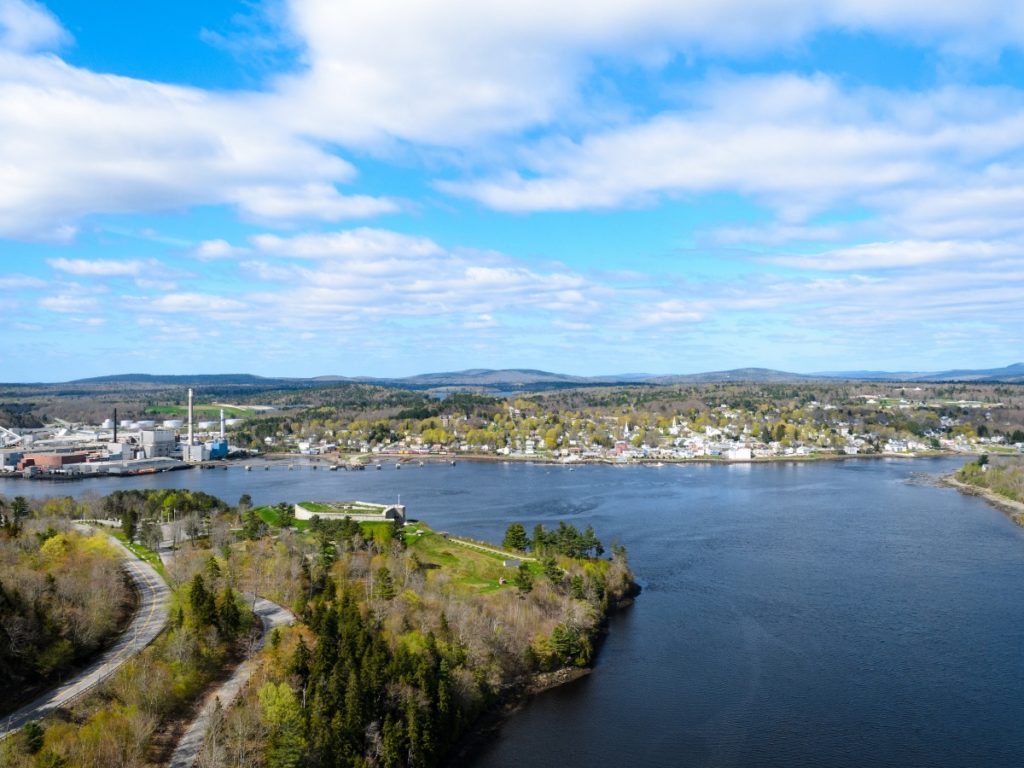 The Penobscot Narrows Bridge & Observatory
Part of the Fort Knox Maine experience, the Penobscot Narrows Bridge & Observatory is a majestic sight. At 140 feet above the Penobscot River during high tide, the cable-stayed bridge took about three years to build and was opened to traffic at the end of 2006.
About five months later, the Penobscot Narrows Observatory opened to visitors. It's the tallest public bridge observatory in the world, standing 420 feet (taller than the Statue of Liberty). You ride the fastest elevator in Maine to reach the observation tower for a spectacular, panoramic view.
In fact, you can see a lot of Maine's countryside and western mountains in the distance from the top — not to mention Fort Knox Maine. On the campus, you can read interpretive panels about the region's history and natural wildlife, as well as make use of picnic tables and grills.
Request our full vacation guide to Mid-Coast Maine. All the amazing things to do in Mid-Coast Maine in one free guide.
Get the Vacation Guide
Fort Knox Info | Hours & Admission Details
The Fort Knox historic site and the Penobscot Narrows Observatory are open from May through October. However, the Maine State Park grounds around these sites are open all year as long as the weather permits.
Entrance Fees
You have the option of entering only Fort Knox Maine or entering the fort and bridge observatory. The admission is rather affordable, costing no more than $40 for a family of four to do both. Of course, Maine residents, children ages 5 to 11, and seniors ages 65 and older pay cheaper entrance fees to explore one of the best-preserved forts in America.
Pets Allowed
You can to bring your dog if you keep it on a leash no longer than 6 feet. You must also clean up after your pet and make sure that it doesn't bother other guests.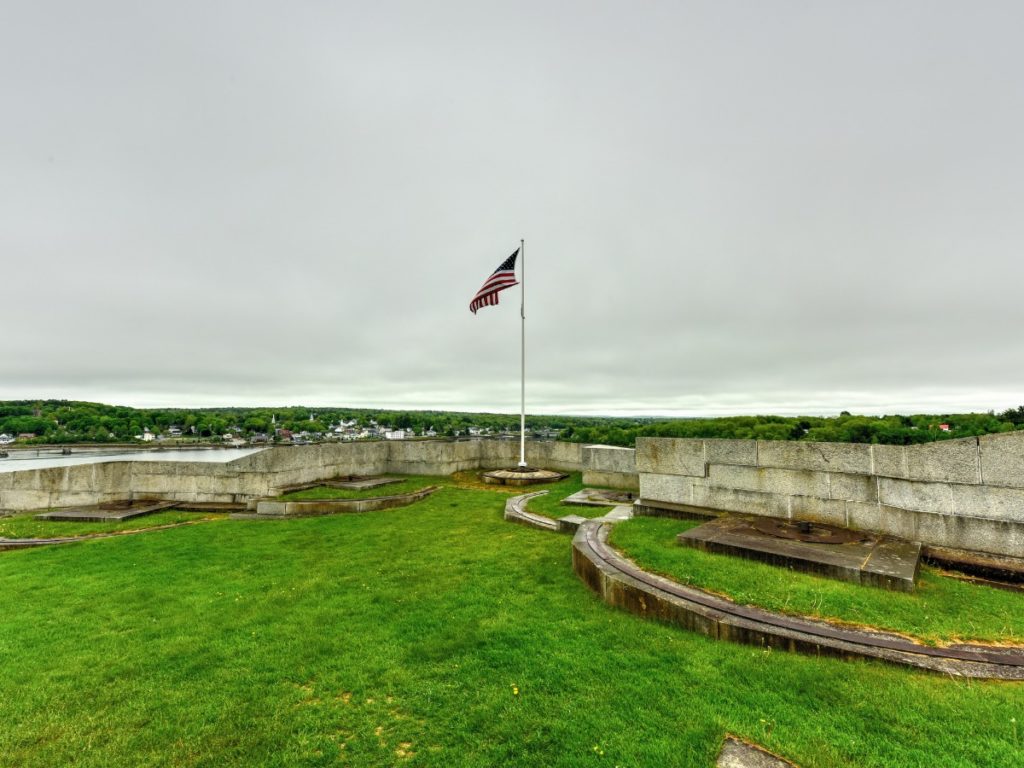 Best Things to Do Along the Fort Knox Maine Route
Since the Fort Knox historic site is located in the Downeast & Acadia region of Maine, you could take the opportunity to visit some other local attractions during your day trip. We recommend visiting these places on your way to the fort or on your way back to Mid-Coast Maine.
Scenic Turnout
On US-1 N, there's a scenic turnout just before you reach the Penobscot Narrows Bridge. You can stop here to get excellent views and photos of the bridge in anticipation of the elevator ride to the observatory.
Penobscot Shore Preserve
With 1,800 feet of forested shoreline on the west bank of Penobscot River, Penobscot Shore Preserve is a beautiful place to explore Prospect. It features 47 acres of land, and shorebirds enjoy the mud flats. From the shore, you can see the old Bucksport mill across the river.
Jonathan Buck Monument
Across the Penobscot River from the fort is Bucksport, where the Buck Cemetery is home to the mysterious Jonathan Buck Monument. It marks the grave of town founder Colonel Jonathan Buck and is said to be cursed with the image of a woman's leg and foot.
Sandy Point Beach
With pretty sand, Sandy Point Beach is a small beach in Stockton Springs with about 2 miles of hiking trails. You can see old pier pilings for an old passenger steamboat and factory. Locals report spotting seals at a mid-river ledge sometimes too.
Fort Point State Park & Lighthouse
Also in Stockton Springs is Fort Point State Park on the tip of a peninsula that juts into Penobscot Bay. It's open from mid-May to mid-October, and there's a small per-person fee to enter through the gate.
The 120 acres features more than 1 mile of shoreline and picturesque views of the water. There's an easy, 7-mile loop for hiking, biking, and walking. In addition, you can go fishing, paddle boating, and picnicking at the state park.
Also on the peninsula tip is the Fort Point Lighthouse, which was built in 1857. The current tower and keeper's house replaced the original light station that was established in 1836 as the first lighthouse on a Maine river.
There are many other lighthouses near Camden, Rockport, and Rockland to explore too!
Sears Island
Visiting Sears Island in Searsport is a unique opportunity to see one of the largest undeveloped areas on the East Coast. Via a causeway, you gain access to miles of shoreline, historic sites, and wildlife watching.
During the summer, recreational activities include trail walking, running, and biking, as well as kayaking. You could even join a guided nature walk, which is always free and available on a regular basis.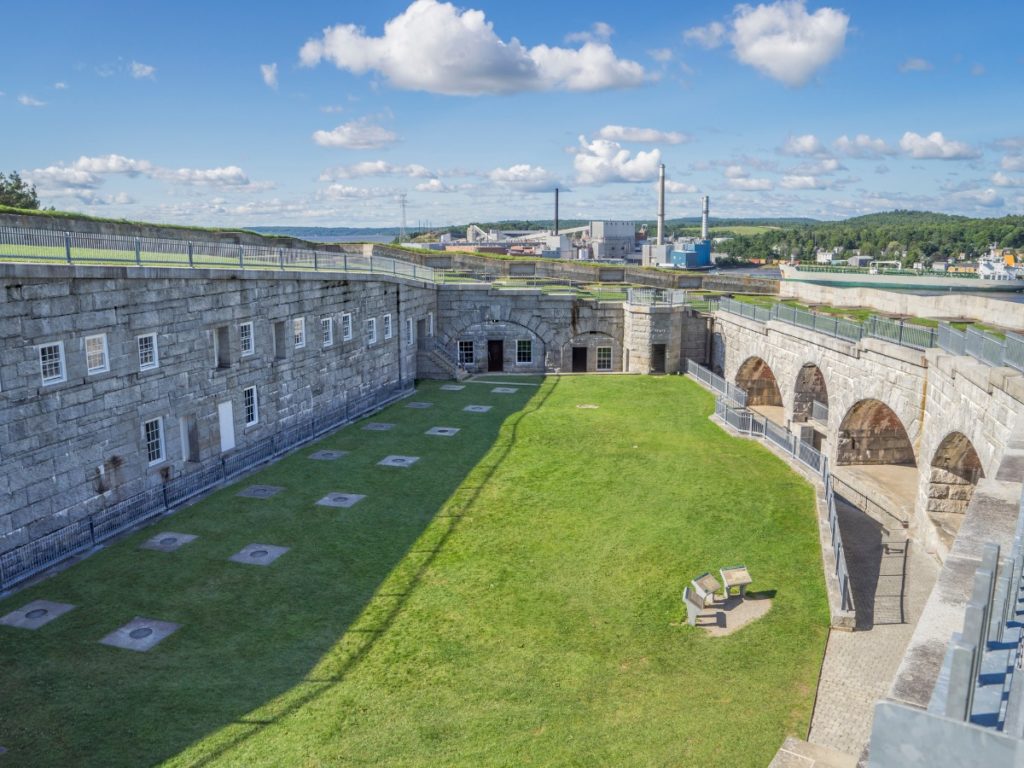 Delicious Places to Eat During a Visit to Fort Knox Maine
After exploring Fort Knox and the Penobscot Narrows Observatory, we recommend heading into Bucksport across the Penobscot River for a bite to eat. A local favorite is Warren's Waterfront Restaurant, where families can enjoy lobster rolls or juicy hamburgers for lunch.
Beer & Wine
If you aren't traveling with kids, consider stopping for a drink. Friars' Brewhouse offers a relaxing lunch of chicken wings, oven-baked flatbreads, and specialty plates. The brewery is run by a ministry of the Franciscan Brothers of St. Elizabeth of Hungary and makes award-winning beer.
Is wine more to your liking? Head to Verona Wine and Design for tapas, sandwiches, flatbread pizza, and surf and turf. Don't forget to pair it with a glass of fantastic wine. Plus, the owners design and create custom products out of wine barrels and wine-related materials for wine enthusiasts.
THE HICHBORN
If you plan to explore Sandy Point Beach and/or Fort Point State Park, consider reserving a fine dinner at THE HICHBORN in Stockton Springs. This small, adults-only restaurant serves five-course meals alongside seasonal surprises and optional wine pairings.
Coastal Cafe & Bakery
No matter which way you're traveling on US-1, the Coastal Cafe & Bakery in Searsport is worthwhile. The bakery strives "to make Simply Good Food" using only quality ingredients. It boasts making scratch pastries every day and having some of the best bagels in the area.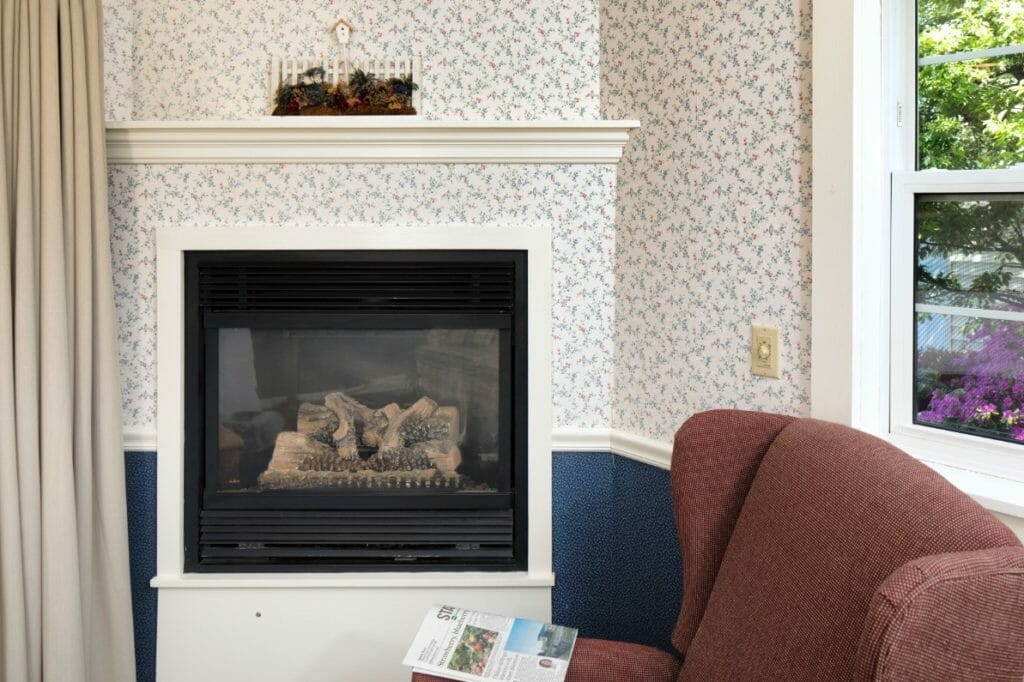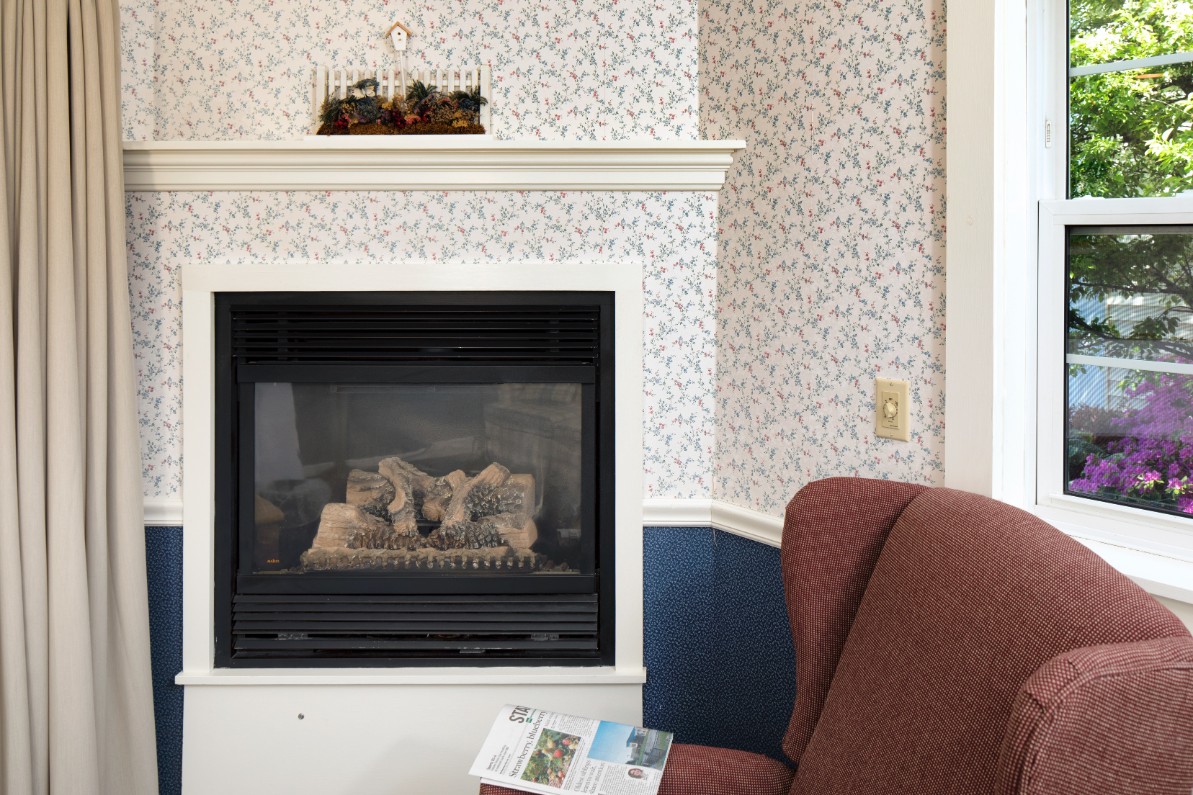 Best Place to Stay for a Fort Knox Maine Day Trip
When you want to explore what the Maine coast has to offer, The Country Inn at Camden Rockport is the best place. Fort Knox Maine is within a one-hour drive via US-1 (Atlantic Hwy/Acadia Hwy), making it the perfect day trip.
Our Mid-Coast Maine property features 47 comfortable rooms and cottages, a daily better-than-continental breakfast buffet, and a host of convenient amenities. Check our availability for your upcoming vacation dates.
Our sister hotel — Glen Cove Inn & Suites — is located on the opposite side of Rockport, next to Rockland. It's also within a one-hour drive of Fort Knox Maine. You can check their availability as well.
Request our full vacation guide to Mid-Coast Maine. All the amazing things to do in Mid-Coast Maine in one free guide.
Get the Vacation Guide