When you're looking for a place to eat in Camden Maine, you have no shortage of options. In fact, there are more than a dozen within the seaside town. One of our favorites, though, is Waterfront — an eatery on the edge of a picturesque harbor. So, let's get to know the Waterfront restaurant in Camden Maine.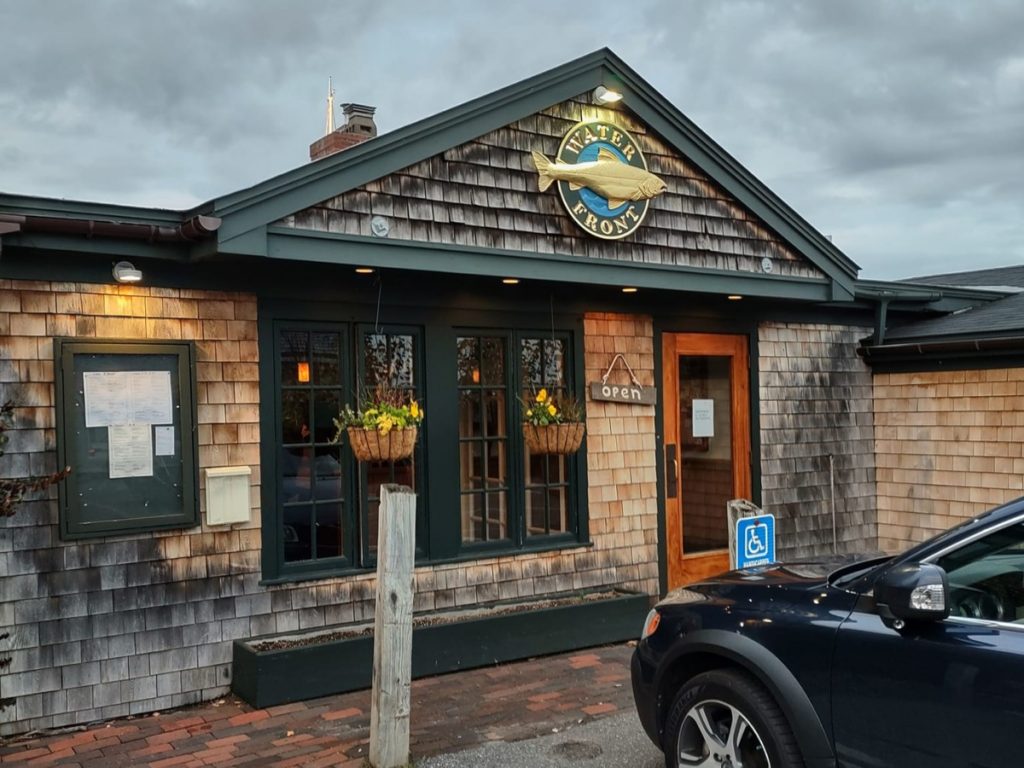 Request our full vacation guide to Mid-Coast Maine. All the amazing things to do in Mid-Coast Maine in one free guide.
Get the Vacation Guide
About the Waterfront Restaurant Camden Maine
Located at 48 Bay View St in Camden, Waterfront is a cozy and friendly spot for lunch and dinner. The kitchen staff combines basic and innovative techniques to prepare some of the most delicious dishes in town. They only use ingredients from local farmers and fishermen, so you know that everything is fresh and of high quality.
The Dining Room & Deck
Serving Mid-Coast Maine for more than 40 years, Waterfront offers a premier experience in an intimate dining room. It accommodates a steady flow of residents and visitors alike. Among the indoor tables and booths is a lengthy bar with stool seating.
As soon as the weather allows in the spring, Waterfront opens the outside deck. From there, you get an amazing view of Camden Harbor and Penobscot Bay. You can watch the boats and wildlife come and go while you eat. The outdoor seating closes when it starts to get too cold in the fall, but the indoor fireplace will keep you warm.
The Waterfront Experience
At the end of the day, the owners and staff at Waterfront are passionate about serving honest food and helping you create a lasting memory. They want you to be smiling for weeks after enjoying your experience.
If you're dining with a group, we recommend that you make a reservation by calling (207) 236-3747. Waterfront accepts reservations for parties of 6-8 people.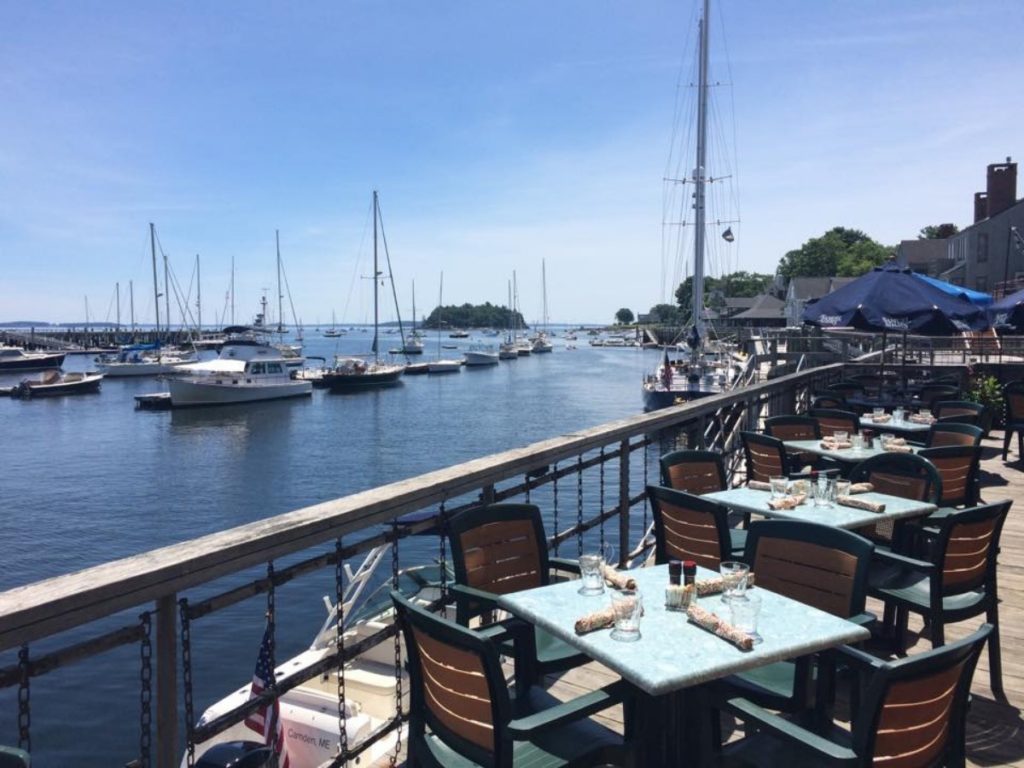 Waterfront Restaurant Camden Maine Hours
All of the staff at Waterfront are locals or live in nearby towns. Because of that, the restaurant can stay open all year. Unlike seasonal restaurants, it's even open in the winter with the fireplace crackling and radiating warmth and cheer.
Other than Tuesdays, Waterfront is open every day from 11:30 a.m. to 8 p.m. The only exceptions are some holidays. It closes for Thanksgiving Day and Christmas Day and is only open until 3 p.m. on Christmas Eve.
Are you visiting during the winter? Check out these winter things to do in Camden Maine.
Excellent Reviews of the Waterfront Restaurant
Practically wherever you look, you're likely to find glowing reviews for the Waterfront restaurant Camden Maine. Most people love the ambiance in the main dining room and bar area. Also, they note the beautiful view of the water and boats while dining outside on the deck.
Another common aspect that reviewers comment on is the friendly wait staff at Waterfront. And, of course, the restaurant gets high marks in regard to the delicious food. Local and out-of-town customers plan to return and recommend that others stop at this eatery for a bite.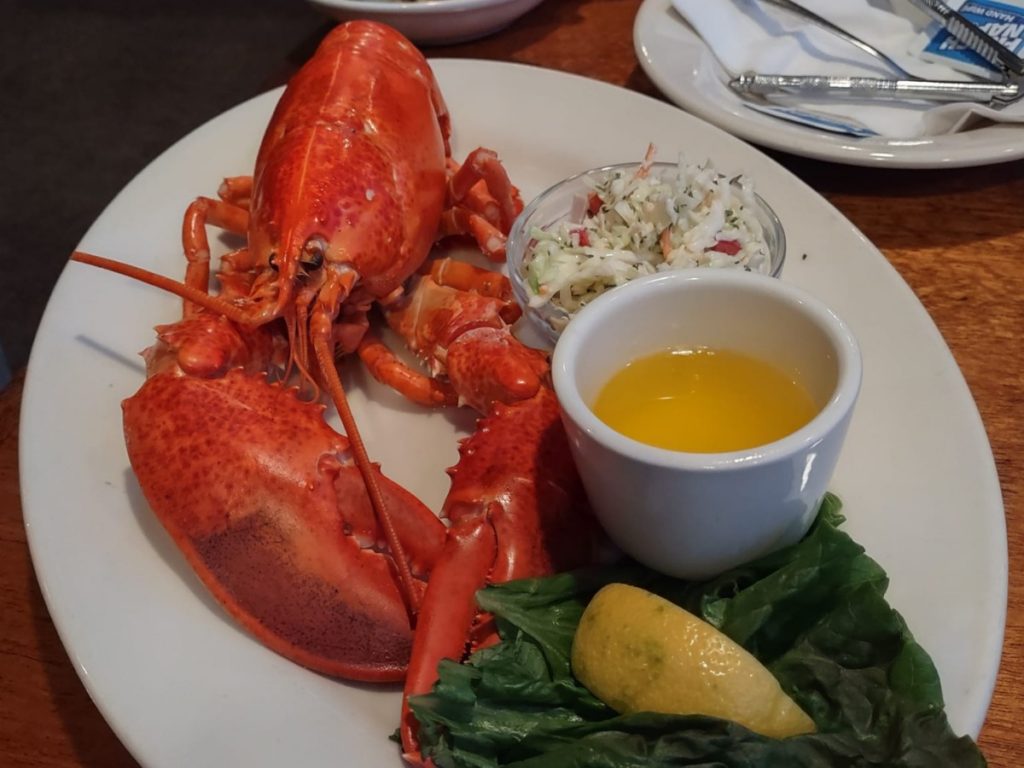 The Waterfront Restaurant Menu
Depending on when you visit the Waterfront restaurant Camden Maine, you'll get either the lunch or dinner menu. Lunch is served from 11:30 a.m. to 4:30 p.m., and dinner is served from 5 p.m. to 8 p.m.
Each menu has a few different items to order — except for the appetizers — and gluten-free, vegan, and vegetarian options are available. All of the bread and desserts are freshly made every day, and anything that's fried gets put into 100% non-hydrogenated canola oil.
The Appetizers
When it comes to appetizers, we recommend the Baked Focaccia, which is served warm with sun-dried tomato pesto and olive oil with garlic and herbs. The Lobster Stew is a fantastic choice as well. It's made with fresh-picked lobster, cream, butter, and parsley. Waterfront doesn't skimp on the lobster either!
Lunch & Dinner Options
Whether you dine for lunch or dinner, the salads are quite large. You have the option to add various proteins to any salad too — grilled chicken, salmon, or sirloin steak; crab cake; and fried or sauteed shrimp.
Some items on the lunch menu include fresh seafood sandwiches, burgers, roast beef dip, blackened haddock tacos, and fish and chips. For dinner, some of the different main dishes include Parmesan walnut penne, bone-in pork loin chop, and pan-seared crab cakes.
Keep in mind that the above menu items may not be available because the Waterfront menu changes with seasonal ingredients.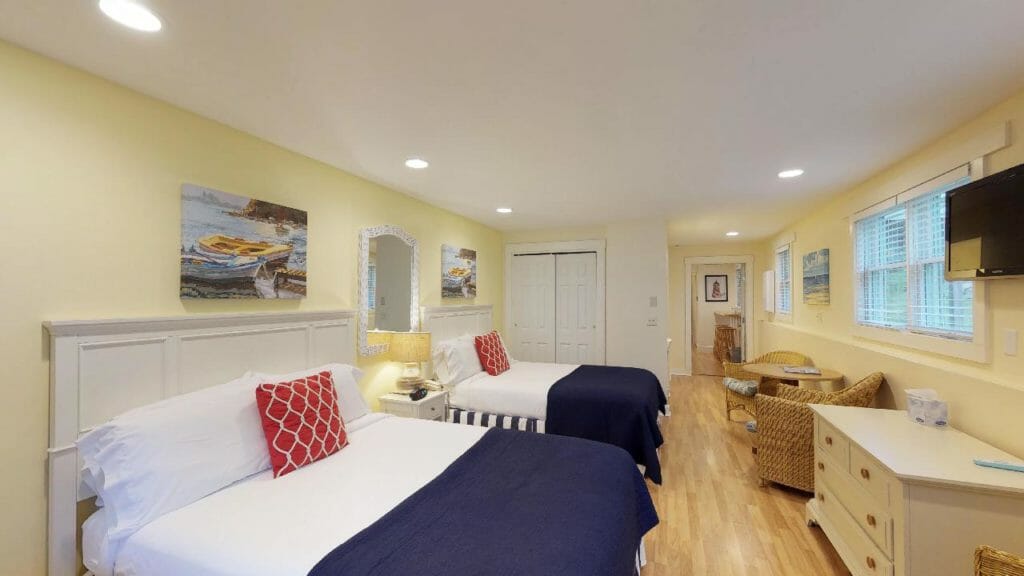 Best Place to Stay Near Waterfront Restaurant Camden Maine
Visitors to Camden Maine will love how close The Country Inn at Camden Rockport is to Waterfront — about 1 mile away, which takes less than 5 minutes to drive. We offer cozy accommodations no matter what time of year you decide to stay.
When you book a room or suite at The Country Inn, you can take advantage of our many amenities, such as the indoor heated pool, hot tub, and electric car charger. Check our availability for your next travel dates to MidCoast Maine.
Are you traveling during the summer? Our sister bed-and-breakfast location — Glen Cove Inn & Suites — is also close to the Waterfront restaurant Camden Maine!
Request our full vacation guide to Mid-Coast Maine. All the amazing things to do in Mid-Coast Maine in one free guide.
Get the Vacation Guide
---
images from Waterfront's Facebook page