Situated in MidCoast Maine along Penobscot Bay, Camden is a quaint, beautiful town. The couples and families who visit throughout the year have the opportunity to do a variety of things. Some of the most popular are the many tours Camden Maine offers. In fact, you can choose from different types of guided and self-guided tours in Camden Maine.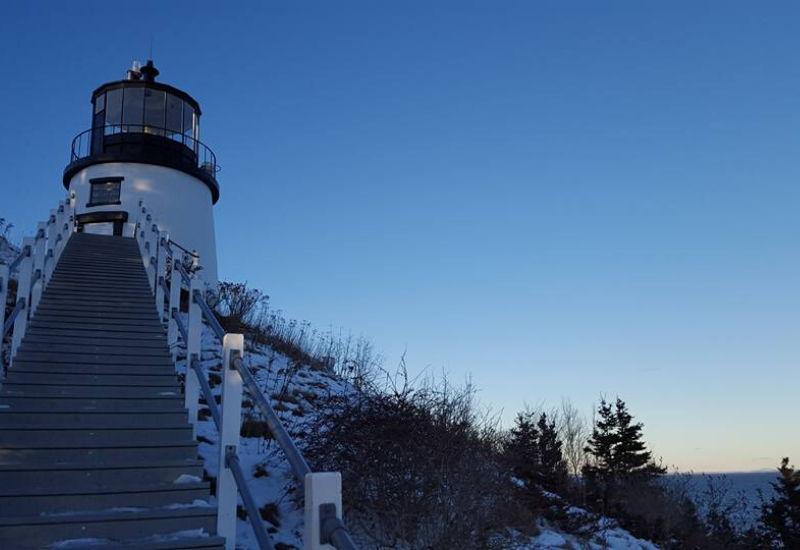 Best Camden Boat Tours
One of the most popular things to do in Camden Maine is tour the open water. Boat tours in Camden give you the opportunity to learn about Maine maritime culture and history. Also, you get to see a range of wildlife, such as whales, seals, porpoises, eagles, ducks, and more.
Check out our guide for the best boat tours and rentals to learn more.
Request our full vacation guide to Mid-Coast Maine. All the amazing things to do in Mid-Coast Maine in one free guide.
Get the Vacation Guide
Best Nature & Eco Tours in Camden Maine Area
Camden Harbor Cruises
If you want to learn about seals, Camden Harbor Cruises offers Eco Tours on the Lively Lady. The 1.5-hour wildlife cruises take you across Penobscot Bay to a remote seal habitat. During the ride, you may see harbor seals, gray seals, porpoises, osprey, sunfish, and other animals. The staff will also pull in a lobster trap to see what they catch.
Schooner Yacht Heron
With an informative narrative, Schooner Yacht Heron performs great Educational Eco Tours. In fact, Captain Bonnie Schmidt is an environmental educator and has been sailing Penobscot Bay for more than 25 years. During the tours, Captain Twig sails the 65-foot schooner across the Rockport and Camden harbors and the bay.
Maine Sport Outfitters
If you want to get closer to nature, Maine Sport Outfitters offers hiking, backpacking, and nature tours. Its Local Guided Hikes explore the trails up Maiden Cliff, Mount Battie, and Mount Megunticook in Camden Hills State Park. The guide can also take you on hikes in the Bald Mountain Preserve and Ragged Mountain Preserve. As a matter of fact, you can book a customized backpacking adventure and learn about the natural history and ecology of the region.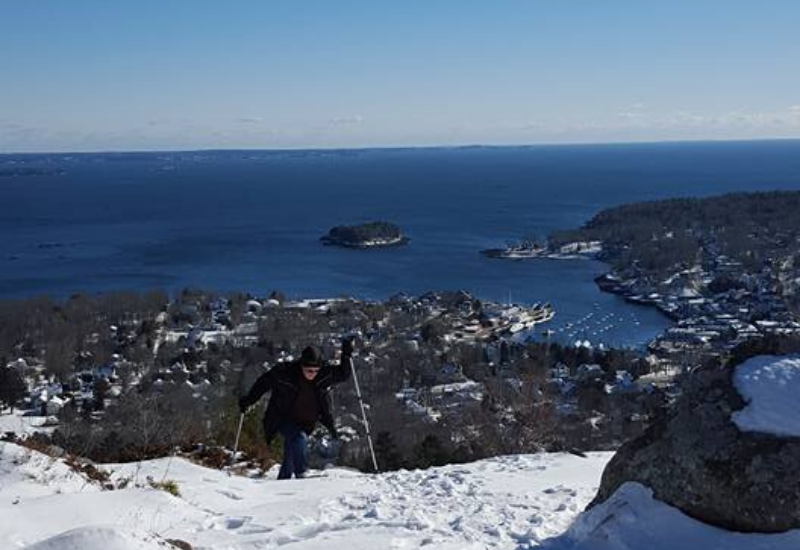 Great Camden-Area Fishing Charters & Tours
Mike Kinney Maine Guide
Offering fishing charters and tours in MidCoast Maine, Mike Kinney Maine Guide takes you on some of the lakes, ponds, and rivers that are easy to access from Camden. For example, you have the option for a Megunticook Lake Tour or Megunticook Lake Fishing adventure. Some of the other options include remote pond fishing, bass fishing, and trout fishing. The half-day trips last about four hours, and the full-day trips last about eight hours.
Ten Mile Guide Service
In Rockport, Ten Mile Guide Service offers fishing charters along with expertise so that you get the most out of your adventure. The expert, Clifton Ames, has been a registered guide for more than 20 years and a master guide for about 20 years. Whether you prefer spin fishing or fly-fishing, he has the gear that you need for an unforgettable trip. Bass fishing is his specialty, but there are opportunities to catch brook trout, perch, salmon, and more.
Maine Outdoors
Located in Union, Maine Outdoors offers half-day and full-day fishing tours on ponds, lakes and the Maine coast. Its master guides are experts on the geography, history, and wildlife of the area. Each excursion includes a boat, guide, fishing rods, bait, lures, rain jackets, fishing licenses, and drinks. For full-day trips, lunch on the shore is included.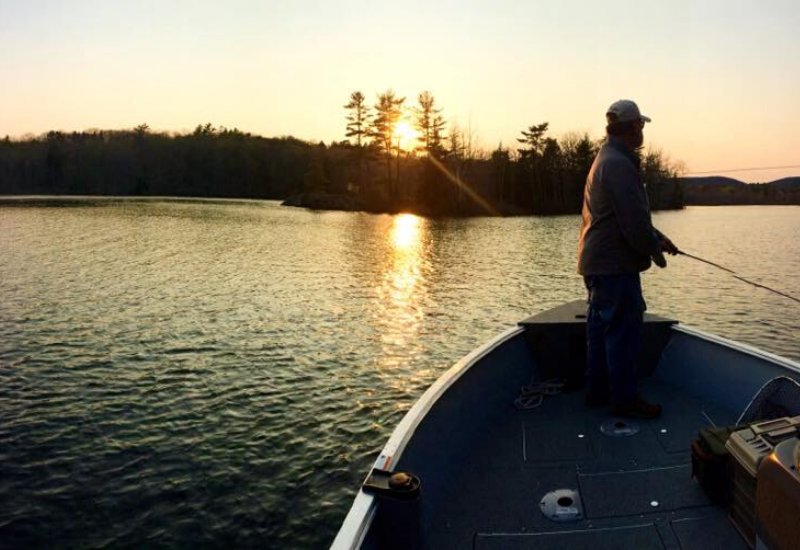 Best Lighthouse Tours Around Camden
Camden Harbor Cruises
Also on this list for when you want to see lighthouses, Camden Harbor Cruises might be one of the best boating companies for tours Camden Maine offers. The reason is that it has three different lighthouse tours.
The one-hour Lobstering and Lighthouse Cruise takes you to two lighthouses while learning about the area's history. The staff also pulls in a lobster trap and explains how fishermen catch lobster along the Maine coast.
The Sunday Morning Lighthouse Cruise takes you to five lighthouses. These are some of the most photographed light towers in the world, and you'll have your chance to get pictures during the tour too.
The Grindle Point Lighthouse Excursion is a special, three-hour tour to the historic lighthouse. It takes you past Curtis Island to Islesboro, teaching you about the wildlife and lighthouse along the way. When you arrive, you'll be able to explore the lighthouse and Sailor's Museum.
Red Cloak Tours
Lighthouse tours are one of the many offerings from Red Cloak Tours. These excursions include legends, histories and more about four lighthouses in the Camden and Rockland areas. They last for two to four hours depending on where they start and end, and land transportation is included.
Coastal Helicopters
Next to Belfast Municipal Airport, Coastal Helicopters can give you an aerial view of the lighthouses in MidCoast Maine. This company has been providing efficient, safe sightseeing services since 1990, and was listed as one of the top 10 helicopter tours in the nation by The Travel Channel. You can book lighthouse tours during which you'll also see a variety of wildlife and sailing windjammers.
Other Unique Camden-Area Tours
Red Cloak Tours
Making this list again, you can't go wrong with Red Cloak Tours when you want truly unique tours in Camden. During its 1.5-hour walking Haunted History Tour, The Lady in the Red Cloak tells you about the haunts and mysteries of the town's backstreets.
During the one-hour Historic Cemeteries tour, you learn the histories of the people who are buried or entombed in the graveyards and cemeteries. Also, you learn about the graveyards and cemeteries themselves.
Maine Wine Trail
For an experience like never before, check out the self-guided Maine Wine Trail. As members of the Maine Winery Guild, 21 wineries and vineyards across the state produce fruit wines, meads, ciders, and distilled spirits. When you visit at least 10 of them, you can request a Winery Guild T-shirt.
Learn more about some of the vineyards and wineries near Camden here.
Camden Snow Bowl
Whether you visit Camden during the summer or winter, the Snow Bowl is open for a range of activities. During the summer, you can go on self-guided tours of its hiking and biking trails. During the winter, you can go on self-guided ski and snowboard tours. Maps are available to help you find your way, including this one.
Learn more about what to expect at Camden Snow Bowl here.
Equinox Guiding Service
If you like rock climbing or ice climbing, Equinox Guiding Service offers genuinely adventurous tours. No matter your ability level, the professional climbers can provide instruction and take you on guided rock and ice climbing trips in Camden Hills State Park.
Request our full vacation guide to Mid-Coast Maine. All the amazing things to do in Mid-Coast Maine in one free guide.
Get the Vacation Guide
Best Hotel Near Great Tours Camden Maine Offers
When you're looking for a place to stay in Camden that's conveniently located to the top tours Camden Maine has to offer, The Country Inn is the best bed-and-breakfast in the area. Along with comfortable rooms and seasonal cottages, we offer great amenities. After the tours, you can take advantage of our Health Club, which features an indoor heated pool and workout room.