If you're planning a Midcoast Maine fall trip, don't miss the best fall things to do in Camden Maine!
For many people, fall is one of the best times of the year. The weather is the perfect mix of warmth and cold, the leaves change colors, and there are always plenty of fun things to do.
If you enjoy fall, one of the best places to make the most of the fall season is Camden Maine. Camden sits on the Maine coastline and is well-known for its beautiful harbor, historic areas, and natural beauty. It has a population of a bit less than 5,000, but it's popular with tourists, especially in the fall.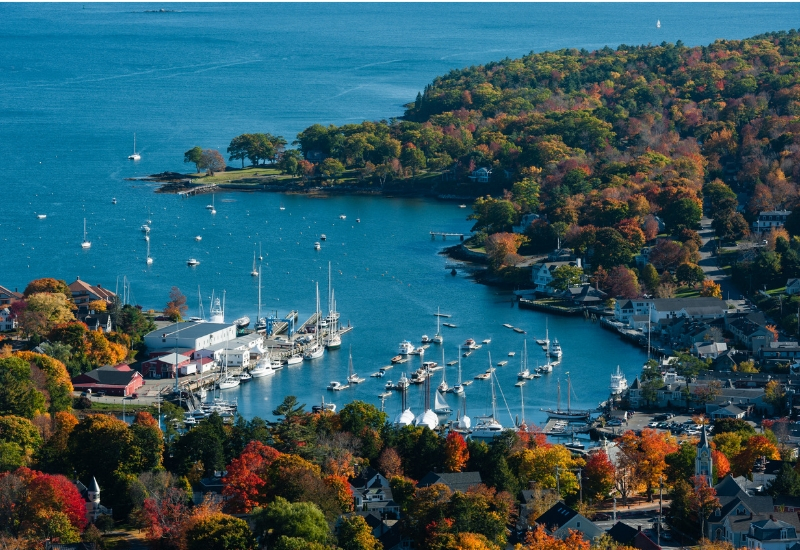 Best Things To Do in Camden Maine in September
Discover the Natural Wonders of Leaf Peeping
If you're wondering, when is the best time to see fall leaves in Maine, the answer is generally late September to mid-October. Temperatures usually range from 40 to 50 degrees, making it perfect weather for being outside.
In Camden, the leaves typically run down toward Penobscot Bay, creating a wonderous backdrop behind the town. There are numerous spots around Camden that offer beautiful views of fall in Midcoast Maine, so you can take your time exploring the town and seeing the wonderful colors.
Visit Camden Hills State Park
Camden Hills State Park is another great spot to see the leaves. Not only can you see the colors, but you can hike on miles of trails (there are 20 of them and they're well-mapped!), go camping, and go bird-watching to name a few things. The Mount Battie Trail is a popular hiking choice and just a little over a mile while offering beautiful panoramic views.
Gaze Out Over the Camden Harbor
The world-famous Camden Harbor offers some of the most spectacular views of autumn color in town. While you marvel at the colors, take a walk along the waterfront and watch the boats out in the bay. The harbor also offers cruises where you can take a ride in the bay and get some truly unique views of the town and the coast.
Spend Time at Barrett's Cove
If you like being by the water, Camden Maine is great because you can hang out by the sea or by the lake. Barrett's Cove on Megunticook Lake is a great spot to enjoy Maine's natural beauty. Most of the time it's not too crowded, so it's perfect for picnicking, sunbathing, and swimming.
Have Fun at the Camden International Film Festival
The Camden International Film Festival occurs in mid-September with venues in Camden, Rockport, and Rockland. Film lovers from across the globe are welcomed for an entertaining mix of films and an immersive in-person experience.
See Iconic Maine Lighthouses
Being right on the coast, lighthouses are an important part of Maine's maritime culture and they are several located within an hour of Camden.
Curtis Island Lighthouse is right in the entrance of Camden Harbor and is accessible by boat only, but still makes for a great view from the shoreline.
To the south of Camden, you can travel to see Owls Head Lighthouse in Owls head. A short trail takes you from a parking lot right up to the lighthouse. Also to the south is Marshall Point Lighthouse in Port Clyde. It offers a unique view and is famous for its appearance in Forrest Gump.
Also to the south just about eight miles is Breakwater Lighthouse in Rockland. You can reach the lighthouse after a short walk on the breakwater. While you're in Rockland, you can also visit the Maine Lighthouse Museum, where you can learn all about Maine's many lighthouses and their importance.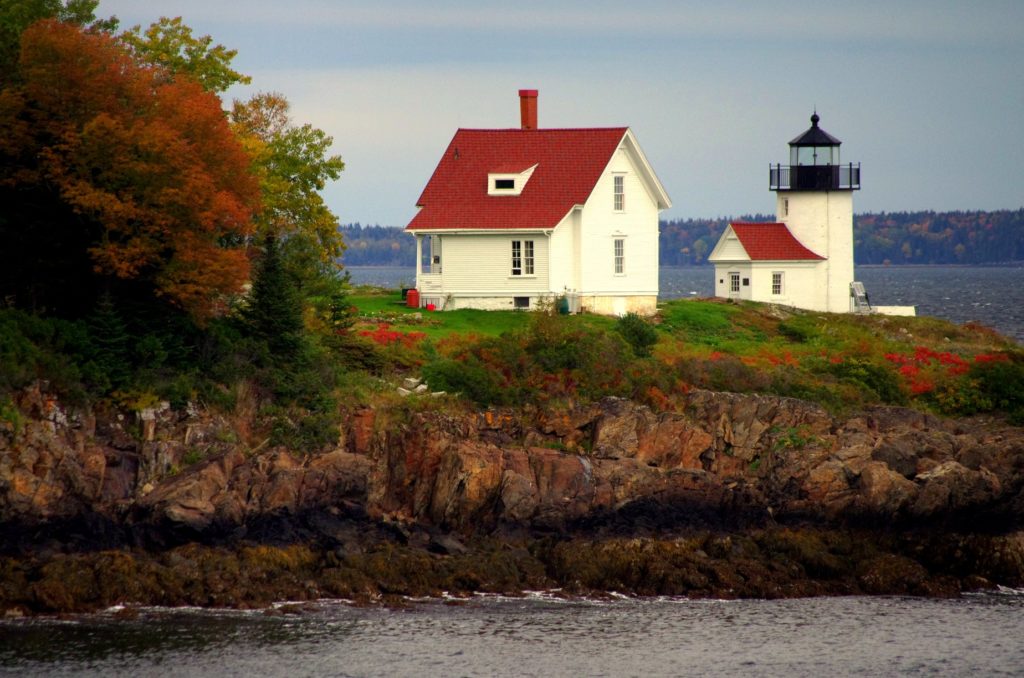 Best Things To Do in Camden Maine in October
Ride the Lift at the Camden Snow Bowl
The Camden Snow Bowl is one of, if not the premier attraction, in Camden Maine. This rec area offers ski runs across Ragged Mountain, but it's also a great spot to see the fall colors. A ride on the lift gives you access to amazing aerial views over the tops of trees, which really makes Camden a special place to be in the fall.
Drive Along Route 1 For a Scenic Color Tour
One of the best ways to view the fall colors in Maine is by taking a driving fall color tour. You can start around the loop at Camden Hills State Park and then head to Route 1, which runs along Camden, Rockport, and Rockland and offers numerous spots to see the fall colors.
Brave a Rock Climbing Tour
If you want to get up close and personal with the mountains along the Camden coastline, check out Equinox Climbing Service. These experienced guides offer first-rate instruction for climbers of all levels. The view from atop the mountains is really quite something, so let the pros guide you on one of the most unique journeys you'll ever take.
Experience the Wonders of a Camden Boat Tour
One of the coolest fall things to do in Camden Maine is to take a boat tour. If you think the views of the town are great during a hike, wait until you get out on the water!
Maine boat touring companies such as Schooner Surprise offer rides and you can see lighthouses, prominent residences, and wildlife like seals. Lobster fishing is one of Maine's biggest industries, so you may even see lobster boats.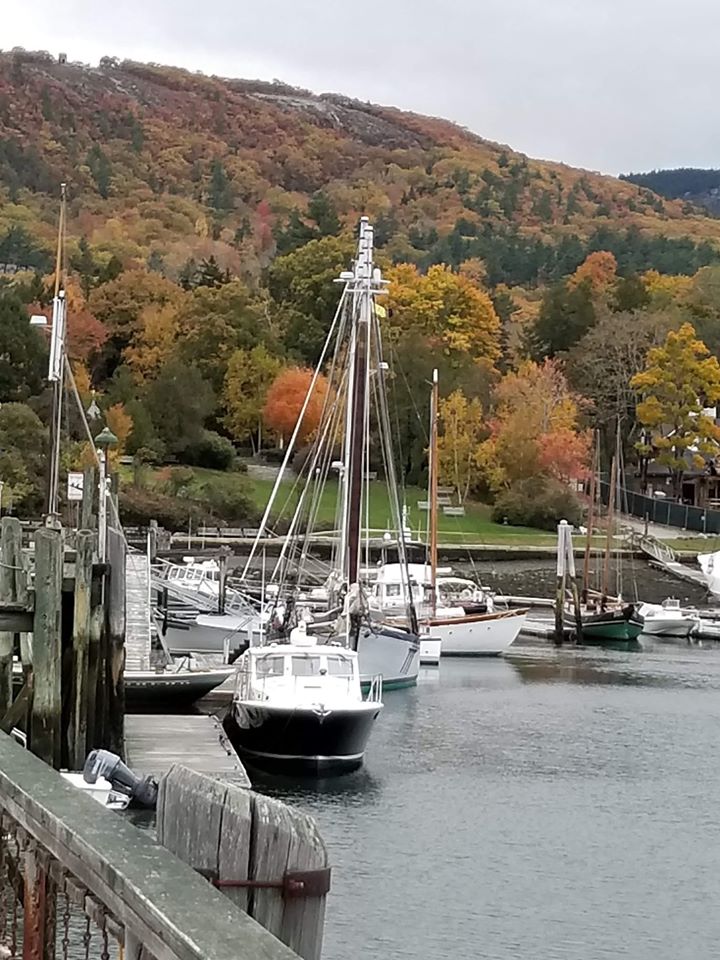 Get Lost in a Corn Maze
Nothing says fall like a winding, challenging corn maze. Fortunately, Beth's Farm isn't too far from downtown Camden and offers a little bit of everything. You can get lost in their magnificent corn maze, visit their farmer's market, and enjoy everything you love about fall.
My Mom and I visited on Sunday morning to participate in our first ever hayride and corn maze. We were amazed at the large farm and the variety of produce that was offered. I would guess there were at least 20 different types of pumpkins. The market offered free apple samples and I am so sorry I waited to eat mine in the car. this was the best dang apple I have ever had. I would have bought a huge bag to take home. The market also offered baked goods (bread, pies, donuts), jams, pickles, honey, Green peppers, onions, cabbage, tomatoes, potatoes, even grapes!

We next took a hay ride to the 9-acre corn maze. The Owners had set up a HUGE hay pile with bales and bales of hay for the children to climb and slide on. They were having a blast. We entered the corn maze and wandered around for about an hour before calling it a daze in the maze. We returned to the market, via the hay ride, and purchased some goodies before heading home – relaxed and having had a great time at Beth's!

– TMBNewCastleMaine via TripAdvisor
Experience the Wonder of Camden Harbor Park and Amphitheatre
One thing you'll notice when you visit Camden is its unique public landscape design. This is especially seen at Camden Harbor Park and Ampitheatre. These are actually two separate parks, but they offer all the trappings of a picturesque New England village. You can spend hours gazing at the tall sailboats, white steeples, wildlife, and more and you'll feel like you've dropped into a place right out of a painting.
The parks are the perfect place for so many events, including theater productions, picnics, festivals, walks, concerts, and so much more.  The parks are located just off of Route 1 and the entertainment possibilities there are endless.
Savor Flavor and Tradition During Great Maine Apple Day
Maine Apple Day is traditionally held in October and offers a wide variety of activities, including orchard tours, workshops, cider pressings, educational seminars about free trees, food vendors, and so much more.
Dine on Some Delicious Seafood
If you're visiting Camden, you absolutely have to try some seafood. You're unlikely to find anything fresher than what Camden eateries offer.
Boynton-McKay Food Company has been in Camden since 1893 and offers an all-day breakfast menu as well as American classics.
Hartstone Inn & Hideaway offers elegant dinners in a well-maintained Victorian home. The menu features a la carte dishes or a chef's tasting menu and both options are made with seasonal, local ingredients.
Peter Ott's On the Water offers intense local flavors in the form of yummy lobster rolls or market-fresh seafood dinners.
40Paper specializes in pasta dishes, which are homemade, but infuses its menu with some of the signature flavors of Maine.
Natalie's is a go-to place for fine dining and includes a chef's tasting menu, a lobster tasting menu, a big wine list, and fully immersive dining experiences.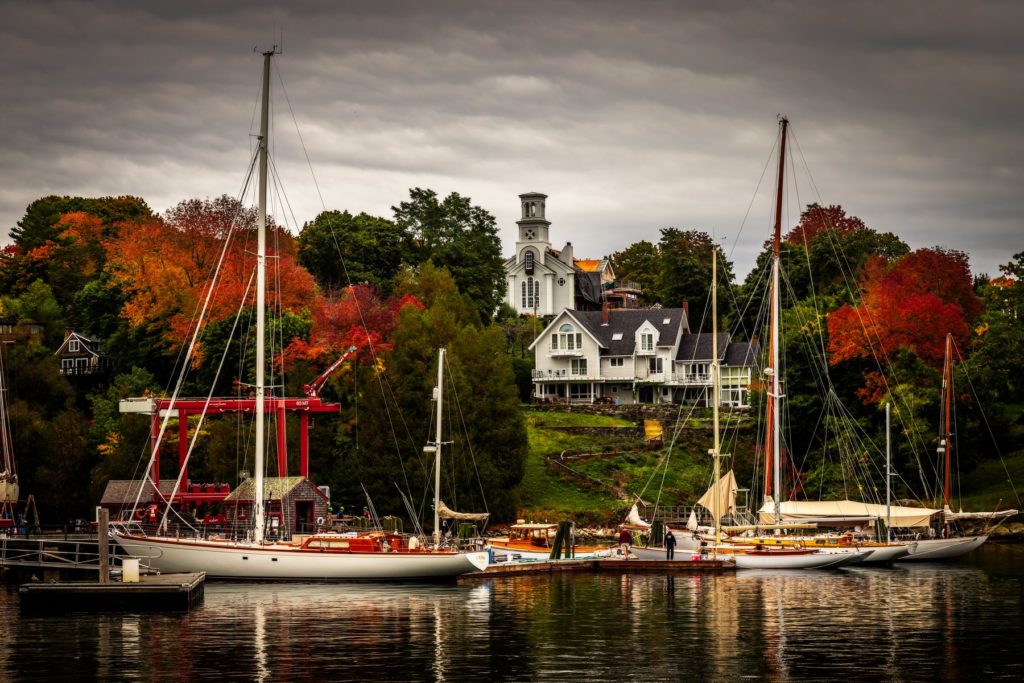 Best Things To Do in Camden Maine in November
Explore Camden's Top Hikes and Overlooks
When you visit Camden, you'll wonder if the vibrant foliage along Maine's coast is endless. It certainly seems that way when you're looking at it from ocean overlooks, hiking trails, and beautiful vistas.
Maiden Cliff Trail
This 1.7-mile hike offers a scenic look of Megunticook Lake once you get to Maiden Cliff, which is an 800-foot tall outlook located in Camden Hills State Park. Most hikers take about an hour to make the club, but it's worth it for the awesome views of the valley below.
Mount Battie Trail
This 1.1-mile hike is a must-do on your Camden Maine bucket list. Mount Battie is arguably the most scenic overlook in Maine, so if you go, it may be busy. It's the perfect spot for fall views and a family picnic.
Bald Mountain Trail
This 2.4-mile trail is one of the most underrated hikes in the area. Once you reach the peak, you can look out at the Atlantic Ocean and you can also see a backcountry lack. The mountaintop is a great spot to listen to the birds, have a picnic, and enjoy nature.
Visit the Camden Opera House
If you love the arts, Camden Opera House is a great venue to visit. The opera house hosts many events, including live music, dance shows, and theater shows. It was built in 1894, so if you visit, you'll get a bit of culture and a bit of Camden's history.
We went there to see "A Day in the Life"…a tribute to the Beatles…got to say that they covered a massive amount of Beatles music, including some of the more difficult songs. The venue is a perfect place to view a show…small with no bad seats, excellent acoustics…decent prices…and friendly staff

– Wilbur S. via TripAdvisor
Stock Up on Sweets
If you're still looking for a candy fix after Halloween, head to Uncle Willey's Candy Shop. Nestled in downtown Camden, you can find all your sweet favorites, including penny candy, licorice, gummies, and all your favorite candy brands. You'll literally feel like a kid in a candy store, no matter how old you are.
Stroll Along the High Street Historic District
The official historic district of Camden is made up of nearly five dozen buildings on High Street, stretching between Main Street and Sherman Point Road. As times have changed, the district has retained its character and is a unique piece of history from the late 19th and early 20th centuries. It was added to the National Register of Historic Places in 1989.
This is the place to stay. High Street is just beautiful. The historic homes are from the 19th century and have a date plaque on each building. The range was approximately 1810-1865. The street is lined with B&Bs and it is an easy walk to the center of Camden.

– Lisa D, via TripAdvisor
Check out the Owls Head Transportation Museum
A quick trip on Route 1 will take you to the Owls Head Transportation Museum, which is open year-round. The museum is dedicated to collecting and preserving significant pieces that show the evolution of transportation, including engines, early aircraft, and vehicles. It's a great way to spend a day and learn some of the rich history of travel.
Behold Natural Beauty at Merryspring Nature Center
If you're looking to soak all of the outdoor goodness Camden has to offer in the fall, a visit to Merryspring Nature Center is a must.
This 66-acre park is free and open to the public and offers many classes, workshops, and seminars during the year. If you're up for a stroll, there are four miles of trails to explore and lots to see. You can keep an eye out for birds and marvel at the many gardens on the property. It's the perfect spot for a nature walk just before the weather turns too cold.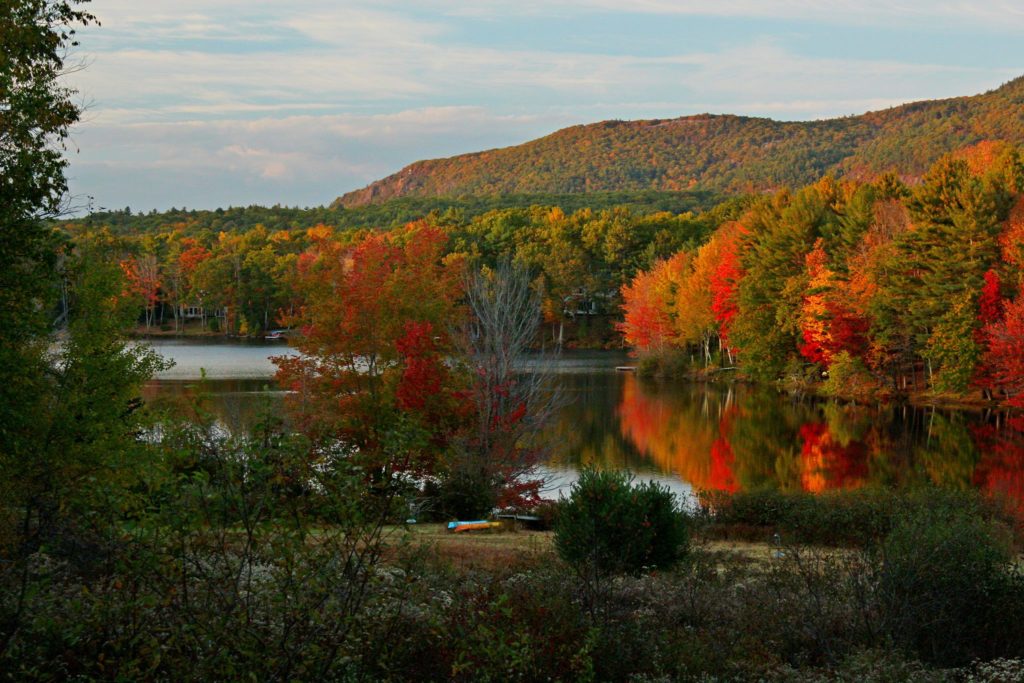 Plan Your Trip to Camden Maine Today!
With stunning views of the fall colors, history, small-town charm and so much more, Camden is the perfect seaside town to visit in the fall. Whether you want to explore the natural beauty of Camden and the surrounding area on miles of hiking trails, sit and gaze at the beautiful fall foliage, or eat the freshest seafood, Camden offers something for everyone. There's no doubt that New England is beautiful in the fall and if you want to see that beauty, now is the time to start planning your fall trip to Camden.
As a small country inn, dedicated to prioritizing our guests' safety and comfort, guests can relax knowing our professional staff is going above and beyond to provide a safe and clean environment for their stay. Close to many outdoor recreation areas in MidCoast Maine, our small Camden inn is an easy drive away from the area's biggest attractions.
Check our availability and make a reservation today!