Fall is certainly one of the most beautiful times to visit Mid-Coast Maine. The vibrant orange, red, and yellow leaves and the crisp air create the perfect conditions for your favorite outdoor activities and the beautiful views during the fall foliage season. Plus, you still have time to experience boat tours and lobster rolls before it gets too cold.
From sailing and apple-picking to ghost tours and festivals of all kinds, check out these fantastic things to do in Rockland Maine in the fall.
Request our full vacation guide to Mid-Coast Maine. All the amazing things to do in Mid-Coast Maine in one free guide.

Best Things to Do in September in Rockland Maine
Book a Lobstering or Whale Watching Tour
Camden Harbor Cruises
Lobster fishing is a big part of Maine's economy, and you can learn all about it with Camden Harbor Cruises.
If you're solely interested in lobster, you can book the Morning Lobster Haul experience, which involves spending an hour-and-a-half fishing for lobster. You can see how the lobster traps are baited, set, and hauled in.
For more than hauling lobster, consider the 2-hour Eco-Tour. In addition to hauling in a lobster trap, it takes you across the bay to a remote seal habitat where you'll see all kinds of marine life and birds.
Plus, Camden Harbor Cruises offers a Lobstering & Lighthouse Cruise. The trip lasts about 1 hour and 15 minutes and includes learning about the history of Camden Bay and seeing two lighthouses.
Cap'n Fish's Cruises
Just an hour or so away in Boothbay, Cap'n Fish's Cruises has been offering one of the best whale-watching experiences in the state for more than 80 years. Its whale cruise takes you to prime whale feeding grounds where you'll see whales, as well as dolphins, sharks, seabirds, seals, and other wildlife.
Each tour is narrated by a top marine biologist who's knowledgeable about whale movement throughout the season and where to get the best experience possible. Don't forget your camera!
Additionally, Cap'n Fish's Cruises has a cruise that includes hauling in a lobster trap and passing by a seal habitat and two lighthouses. A few other tour options are available too.
Sail Penobscot Bay on a Windjammer
Schooner American Eagle
The Schooner American Eagle puts together a few special fall experiences every season. Its Autumn Weekend sail includes breathtaking views of the changing leaves against the blues of the bay.
There's also a Fall Colors & Watercolor Workshop that includes an art workshop while taking in the panoramic views. Then, its Cool Days and Cozy Nights cruise takes you onto the water during a quieter time of day to see the landscape change.
A Morning in Maine
Offering a premier sailing experience in Rockland Maine, A Morning in Maine gives you the chance to see the beauty of the colorful coastline from the deck of this 1970 Concordia ketch. Each day sail lasts for two hours and passes two lighthouses and a variety of wildlife.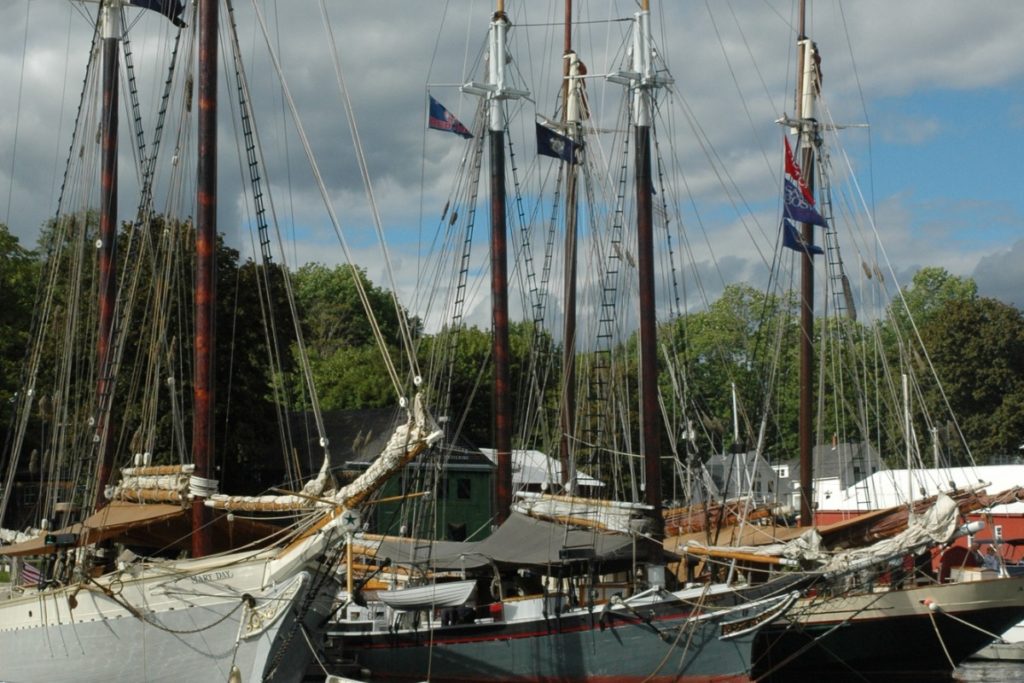 Attend a Fall Festival in September
Camden Windjammer Festival
One of the biggest festivals in the area during the fall, the Camden Windjammer Festival is held every Labor Day weekend on the Camden waterfront. This event celebrates the heritage of schooners and windjammers in Maine.
The founder of the Sail, Power and Steam Museum, nautical historian Capt. Jim Sharp, takes over the harbor to announce and narrate the arrival of a ship fleet into the harbor. Some of the ships are more than 100 years old!
The festival includes some fun activities as well — such as building your own miniature boats and going on a treasure hunt.
Maine Open Lighthouse Day
Attracting tens of thousands of visitors every year, Maine Open Lighthouse Day gives you the chance to climb and learn about historic light towers across the state. More than two dozen on-shore and off-shore lighthouses will be open to the public, but not all of them participate.
Rockland Breakwater Lighthouse in Rockland and Owls Head Lighthouse in Owls Head are two awesome towers that you can explore. You can walk through the keeper's house at both locations.
And, if you want to learn more about lighthouses, check out the Maine Lighthouse Museum in Rockland, which has the most Fresnel lenses on display in the United States.
Camden International Film Festival
You can see nonfiction films debut at the Camden International Film Festival in mid-September. The number of storytellers seems to increase every year, and you can see screenings in Rockland, Rockport, and  Camden. The festival hosts documentary filmmakers and movie lovers from across the globe as well.
Pick Your Own Apples at a Local Orchard
Hope Orchards
In Hope Maine, Hope Orchards grows three varieties of pears and 20 varieties of apples. Starting in mid-September, you can go to pick your own apples, some of which you may have never eaten before. Or, you can stop at the farm stand to get already-picked apples.
If you wait to visit the orchard in October, you can taste unpasteurized cider, which it only makes if enough cider apples grow during the season.
Rocky Ridge Orchard
From September through the end of October, you can visit Rocky Ridge Orchard in Bowdoin Maine to pick from its varieties of apples. It has a selection of already bagged apples in its store, as well as cornstalks, gourds, hay, and pumpkins.
The farm is handicap accessible and has something for everybody in the family. You can even get homemade breads and pastries, deli sandwiches, ice cream, and fresh apple cider donuts from the on-site bakery. There's a selection of Maine gifts and antiques to look through too.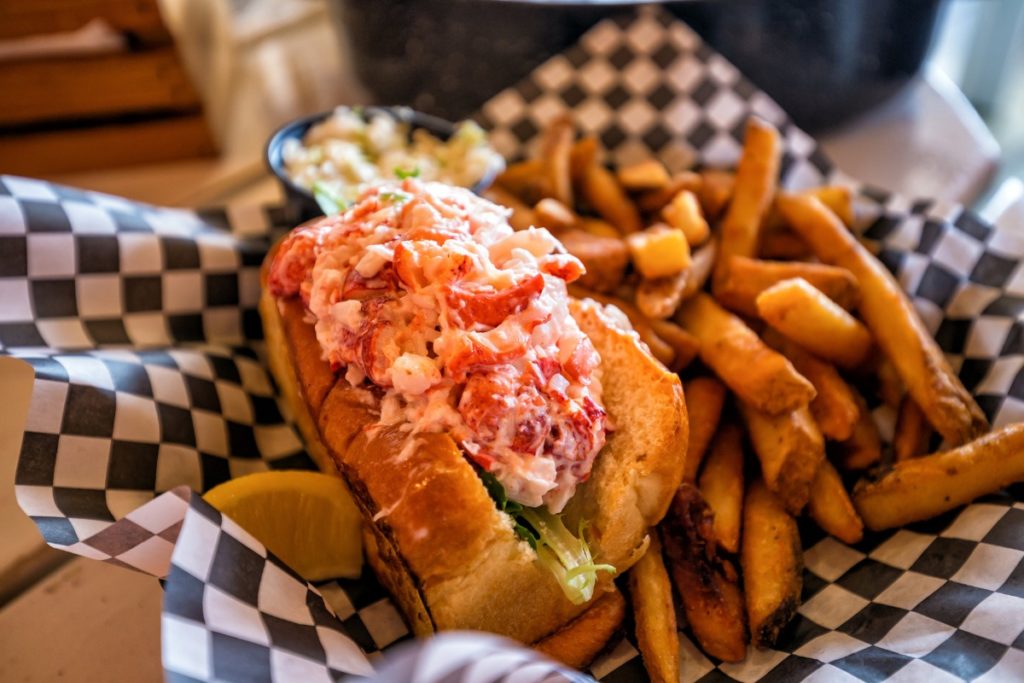 Best Things to Do in October in Rockland Maine
Grab a Fresh Lobster Roll Before the Season Ends
If your mouth is watering just thinking about lobster rolls, you need to get one before the season ends in October. Three of the top places for lobster rolls in Rockland Maine are Hazel's Take-Out, Hill's Seafood Co, and Claws.
Hazel's menu also includes a lobster melt, crab roll, and crab melt. At Hill's Seafood, you get lobster grilled cheese on Texas toast, a clam roll, or a fried clam strip roll. The menu at Claws features lobster bisque, poached lobster tacos, and lobster mac 'n cheese.
Hike Through the Fall Colors
Erickson Fields Preserve Trail
At the Erickson Fields Preserve, you have the chance to learn about sustainable agriculture. However, this former dairy farm in Rockport is worth visiting in the fall to walk the 1.4-mile trail that winds through a field and forest.
Georges Highland Path
Providing some of the best and most challenging hiking trails in Rockport, head to Georges Highland Path. It has a network of more than 70 miles of low-impact footpaths throughout Mid-Coast Maine. The trails range in length from less than 1 mile to nearly 10 miles long.
Coastal Mountains Land Trust Hiking Trails
Three preserves in Rockport Maine are managed by the Coastal Mountains Land Trust and feature a few miles of trails through the beautiful fall foliage. These include Sides Preserve with a 0.4-mile loop, and Beech Hill Preserve with 0.6-mile and 0.9-mile trails through nature. The third option is Harkness Preserve, which has a 1-mile loop that crosses two hand-built footbridges.
Plan a Scenic Drive Along the MidCoast Maine Shoreline
If you'd like to explore more of MidCoast Maine while taking in the peak fall colors, plan a scenic road trip along the coastline. From Rockland Maine, Route 1 offers fantastic possibilities in both directions.
Scenic Drive to Brunswick
If you head south to Brunswick, you'll travel through Damariscotta, Bath, and other towns before reaching your destination. When you arrive, there are tons of attractions to explore.
We recommend visiting the Bowdoin College Museum of Art and walking Main Street, which is a vibrant center for entertainment and shopping. You can also look for antiques at Cabot Mill Antiques and taste some local beers at Flight Deck Brewing.
Scenic Drive to Prospect
If you head north to Prospect, you'll travel through Camden, Lincolnville, Belfast, and Stockton Springs. When you arrive, you don't want to miss visiting the Fort Knox Historic Site and the Penobscot Narrows Observatory. It features a preserved, mid-1800s coastal defense fortress and the tallest bridge observatory in the world.
When you head back to Rockland, you can stop at Fort Point State Park in Stockton Springs, which is home to Fort Point Light. Before you leave, grab a meal at Just Barb's, a family-style restaurant that serves delicious fried clams. Then, check out Sears Island in Searsport before finishing the return journey.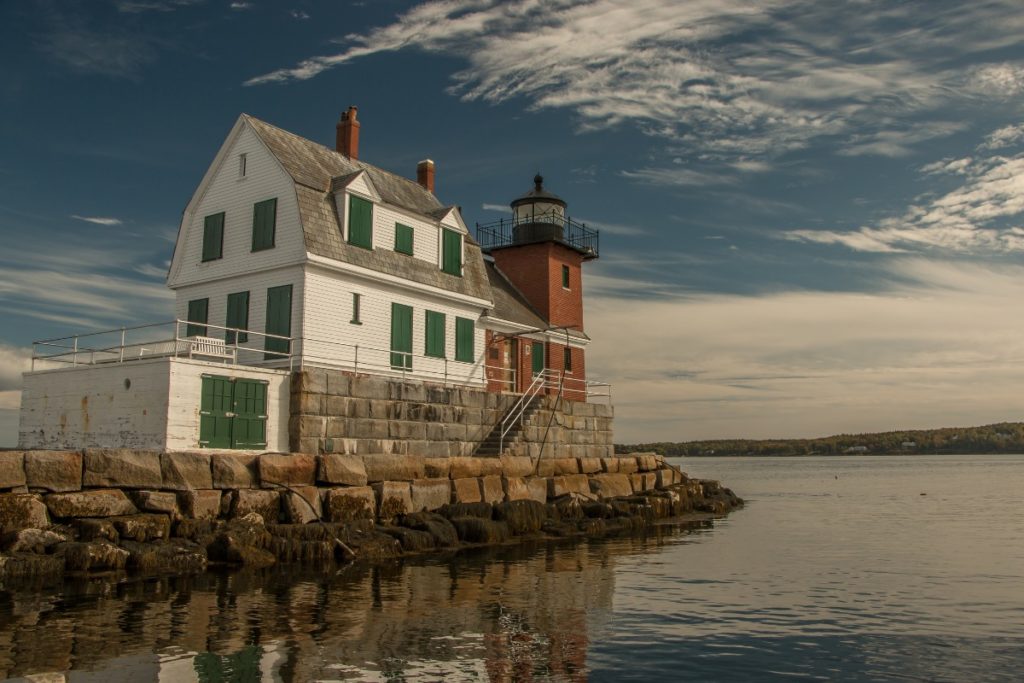 Check Out October Fall Festivals
Damariscotta Pumpkinfest & Regatta
To get into the harvest season, take a day trip to Damariscotta for the Damariscotta Pumpkinfest & Regatta. Since the first event in 2007, this family-oriented festival has continued to grow and now includes a long list of activities:
Pumpkin Boat Regatta — a race of 400 to 700-pound hollowed pumpkins equipped with paddles or motors
Carved and decorated giant pumpkin display downtown
Pumpkin derby
Pumpkin dessert contest
Pumpkin pie-eating contests
180-foot pumpkin drop
Giant pumpkin parade
Pumpkin Catapult
Fall Foliage Festival
At the Boothbay Railway Village Museum, you can dance to live music, eat fall-themed foods, and enjoy other entertainment at the Fall Foliage Festival. In addition, you can explore the historic buildings and antique car museum, as well as ride the train through the changing leaves.
Don't miss exploring more of the best places to see Midcoast Maine Fall Foliage, including Rockland Harbor!
Guild Fine Craft Show
If you're an artist or art lover, attend the Guild Fine Craft Show in Brunswick in late October. The show gives you the chance to learn about crafts and collect supplies for crafting at home. You can also purchase fine craft gifts from more than 35 exhibitors.
Take a Ghost Walk Through Boothbay Harbor
With Halloween at the end of October, you can book a spooky experience with American Ghost Walks. The tour company offers a ghost walk opportunity in Boothbay. It includes stories about haunted inns and ghosts guarding buried treasure, as well as the chance to learn about poltergeists, intelligent hauntings, and residual manifestations.
Request our full vacation guide to Mid-Coast Maine. All the amazing things to do in Mid-Coast Maine in one free guide.

Best Things to Do in November in Rockland Maine
Shop at a Farm Market
Fresh Off the Farm
In Rockport, Fresh Off the Farm is a full-service grocer that sells Maine produce straight from local and organic farmers. It's open all year and stocks items for every season, so you're sure to find something for a homemade meal or even decorations during the fall.
The store has coolers and freezers that are stocked with local dairy products and meats, including ice cream. It has a big selection of gluten-free foods as well.
River Road Farm
At River Road Farm in Cushing Maine, you can choose from a selection of fresh produce, eggs, and flowers. The farm stand has baked goods for sale, and its custom wood products make nice gifts.
Beth's Farm Market
Farther from Rockland Maine but worth the drive, Beth's Farm Market in Warren is one of the finest farm markets in the state. The farm grows a variety of fruits and vegetables, so you can get apples and the like during the fall.
You'll want to stop by the bakery for homemade breads, doughnuts, cookies, muffins, whoopie pies, cinnamon rolls, and more. Plus, its partnership with a local lobsterman means that you can get seafood fresh off the boat.
County Fair Farm
If you venture out to Jefferson Maine, stop at County Fair Farm for farm-raised meats, maple syrup, fresh produce, and other Maine products. Additionally, you can pick your own apples and pumpkins, catch a wagon ride, and test your navigation skills in the corn maze.
Even after the farm closes, you can call to arrange to purchase maple syrup or meat.
Get Into the Spirit at a Holiday Festival
Festival of Lights
After celebrating the harvest season, it's time to get into the holiday spirit with the Festival of Lights in Rockland Maine. At the end of November, the city gathers at the harbor to welcome the arrival of Santa Claus in a U.S. Coast Guard vessel. There's a Christmas tree auction, horse-drawn carriage rides, and more.
Boothbay Lights
In Boothbay, you can attend Boothbay Lights, a series of holiday events for the whole family. The main attraction, though, is Gardens Aglow at the Coastal Maine Botanical Gardens. It features more than 750,000 holiday lights!
Start Your Holiday Shopping in Downtown Rockland
If you haven't started your Christmas shopping by November, Rockland Maine is a fantastic place to do it. There are a variety of specialty and gift shops, as well as a great antique shop, with items for all of your loved ones. These are a few of our favorites:
For even more shopping, check out the unique spots in Camden Maine too.

Stay in a Cozy Hotel & Inn Near Rockland Maine
For a comfortable stay during your Mid-Coast Maine getaway, book a room at The Country Inn at Camden Rockport. We have cozy accommodations, a delicious breakfast every morning, and a host of relaxing amenities, including a pool and hot tub. Check for an available room now before they're gone.
On the other hand, you could stay at our sister inn — Glen Cove Inn & Suites. It's open through October, so you'll have plenty of time to see the fall foliage. Reserve a room for your travel dates today!
Request our full vacation guide to Mid-Coast Maine. All the amazing things to do in Mid-Coast Maine in one free guide.