When the nights get chilly and pumpkin spice flavors return, you know that autumn is just around the corner. Along with hot apple cider and sweater weather comes the eye-catching phenomenon of fall colors. Camden, Rockland, and Rockport are particularly good spots to enjoy the changing leaves in Maine. As one of the most beautiful regions to visit, you can make the most of the coastal Maine fall foliage with a few tips.
Request our full vacation guide to Mid-Coast Maine. All the amazing things to do in Mid-Coast Maine in one free guide.
Get the Vacation Guide
About Midcoast Maine Fall Foliage
There's a lot of science behind the fall colors that millions of people flock to see every year. However, having at least a little understanding of why and how tree leaves change color can help you plan for your trip.
All leaves contain pigments of green, yellow, red, and orange. During the summer, the green pigment is the most dominant because there's an abundance of chlorophyll. As summer ends and autumn begins, chlorophyll production declines, allowing the other pigments to emerge.
However, several other factors affect the pigments that pop out. Sunlight, rainfall, sugar accumulation, and wind all impact the color change. Having bright but cool days without a frost has the biggest impact and produces the most brilliant colors. When you plan a trip to see the colorful Maine foliage, you can expect a lot of reds, scarlets, yellows, purples, and browns.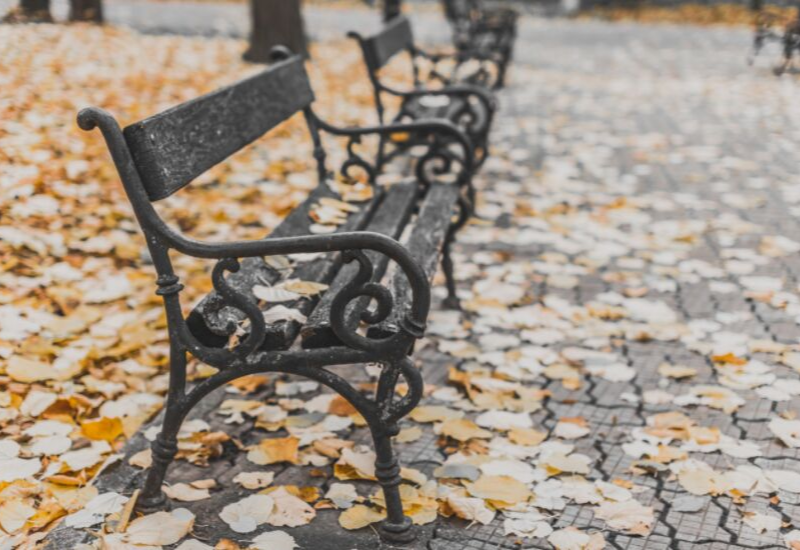 Choose the Best Time to Visit Rockport, Rockland, and Camden Maine for Fall Colors at Their Peak
Perhaps you're wondering, "When is the best time to see fall leaves in Maine?" Since the peak fall colors occur as the weather gets cooler, tree leaves in the northern regions of Maine turn color first. The best time to visit in those regions is from late September to mid-October.
For the best leaf-peeping spots in coastal and southern Maine (including Camden, Rockland, and Rockport), you should plan a visit during the last two weeks of October.
Although the best week for peak conditions of midcoast Maine fall foliage is generally the third week of October, you may catch a glimpse of the color slightly before and after those dates. The reason is that the weather has a significant effect on when and how brightly the colors emerge. Since this area is located along the coastline, the warm air from the ocean delays the process of shedding leaves. As a result, the area tends to have fall foliage for longer than areas that are further inland.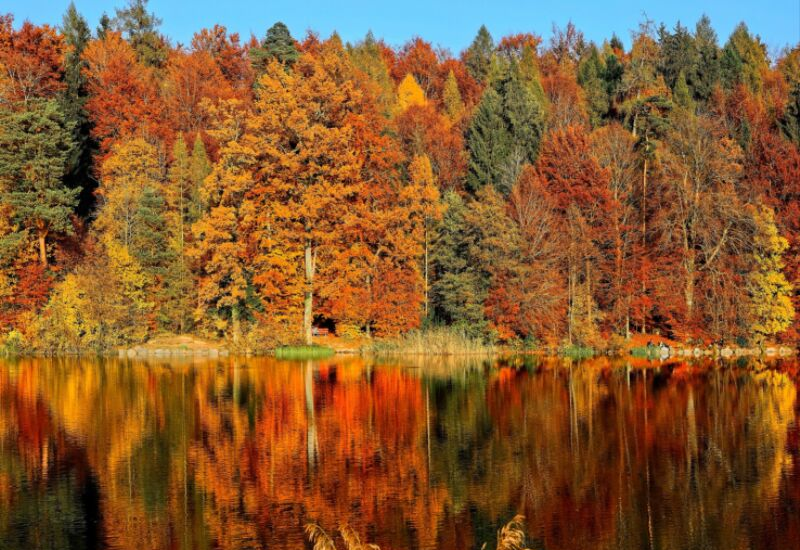 Check the Coastal Maine Fall Foliage Report and Maine Fall Color Map
Maine is a happening state for viewing autumn leaves. To provide information about the leaves changing and dropping, the government updates a dedicated website when fall begins. You can read information about peak foliage times and use the Maine foliage map to get a better idea of where to go for the best view.
Explore the Best Places for Seeing Fall Colors in Camden, Rockland, and Rockport
Maine's deep woodland turns an awe-inspiring blend of amber, marigold, and kelly green in mid-October, making it the perfect time to visit in the fall. Along the coastline, there are several ways to enhance your enjoyment of colorful foliage and leaf-peeping in Camden, Rockland, and Rockport.
Plan a Midcoast Maine Fall Color Tour Along Route 1
Taking a road trip is one of the most popular ways to view the Maine foliage. Route 1 offers a lot of excellent places to stop along the way to Rockland, Rockport, and Camden. From Brunswick, there are numerous "fingers" for you to explore on the coastline.
Boothbay Harbor , Pemaquid Point, and its lighthouse , and the scenic harbor in Friendship are a few examples. Once you get to Camden, the fall leaves run down the hills toward Penobscot Bay to create a picturesque backdrop behind the town.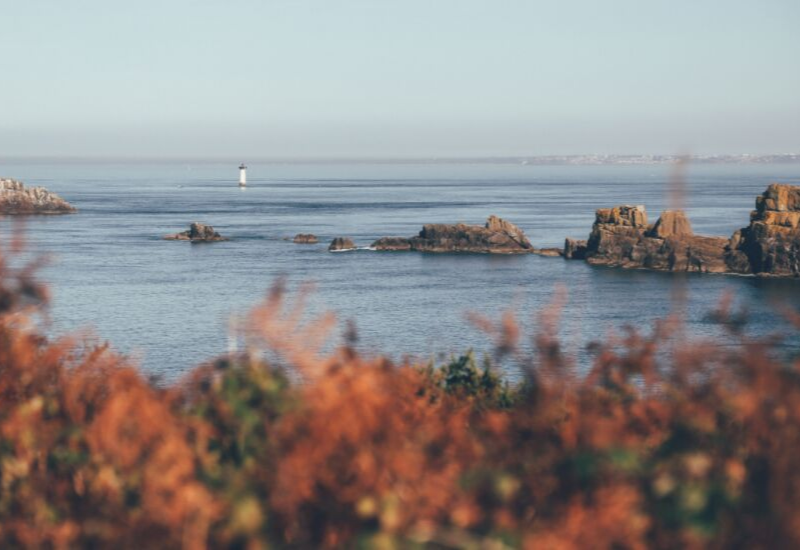 Enjoy Beautiful Maine Fall Colors at Camden Hills State Park
While driving through coastal Maine is a great way to see the changing autumn leaves, you can immerse yourself in the color of the forest instead. There are a lot of parks across the MidCoast to visit. In particular, you can explore the spectacular cover of the hills behind Camden at Camden Hills State Park.
Sitting atop Mount Battie, the park offers a scenic vista. You can see Camden and the harbor below and Penobscot Bay sprinkled with islands in the distance. If it's a clear day, you may see Acadia National Park and Cadillac Mountain from the hilltop.
However, Mount Battie isn't the tallest hill. That designation goes to Mount Megunticook, and you can climb to the top via the nearly 4-mile Megunticook Trail. If you want to go on a shorter hike, Camden Hills State Park is filled with other hiking opportunities. The well-mapped trails range from 0.3 miles to 5 miles long.
In addition, there are plenty of other activities that you can do at the state park. Camping, bird-watching, horseback riding, off-road biking, and wildlife watching are a few of them. All of these allow you to enjoy the colorful Maine foliage.
Experience Maine Fall Colors Overlooking Camden Harbor
Fall in midcoast Maine boasts peak conditions for outdoor activities, beautiful fall foliage, and more. The harbor in Camden, Maine, offers some of the best views of autumnal color in town. Take a stroll along the waterfront or take an evening boat tour around the bay. You can even take a sightseeing tour with Camden Harbor Cruises through mid-October.
Enjoy a the Colors from Above on a Fall Camden Snow Bowl Lift Ride
The Camden Snowbowl has two lifts: an alpine lift and a chairlift. Both offer breathtaking views of the surrounding mountains and forests. During autumn, this ski resort features some of the best views of midcoast Maine's colorful leaves.
During the month of October, the Camden Snow Bowl offers triple chairlift rides up Ragged Mountain. You can ride the chairlift or take a walk back down.
Enjoy the Midcoast Maine Fall Festivals
There are many events and festivals in and around Camden, Rockport, and Rockland throughout the year. During the fall, though, there's no better way to celebrate the season and autumn leaves than with pumpkins and apples.
Damariscotta Pumpkinfest & Regatta
Just a short drive down Route 1 is Damariscotta, the host of the Damariscotta Pumpkinfest & Regatta. This innovative event promotes horticulture education in an unusual but imaginative way. It runs for more than a week every October, but the biggest festivities occur during Columbus Day weekend, Oct. 12-14, 2019. This makes the festival a great way to view the early fall colors in MidCoast Maine.
There are different events every day. Some of these include a giant pumpkin parade, 180-foot pumpkin drop, pumpkin dessert contest, pumpkin pie eating contests, and pumpkin derby. One of the most exciting events, though, is the pumpkin regatta. It involves captains racing hollowed-out pumpkins with paddles or motors attached in Damariscotta Harbor.
Great Maine Apple Day
With a short drive north of Camden, you'll come to Unity, which hosts Great Maine Apple Day. On Oct. 13, 2019, the city celebrates the history and flavor of Maine apples. The event features educational fruit displays, cider pressing, cider tasting, an apple dessert contest, and apple variety tastings. There are several workshops too, including cider making. Because of its timing, this event is a great beginning to the fall leaves changing.
Camden International Film Festival
The Camden International Film Festival is an annual documentary film festival held on the last weekend of September in Camden, Rockport, and Rockland, Maine.
Know Where to Stay in Camden Maine this Fall
Your coastal Maine fall foliage trip is only complete with a comfortable, affordable, and convenient place to stay. Fortunately, both our Camden hotel and our sister motel in Rockland are conveniently and centrally located near many parks, lighthouses, and festivals in midcoast Maine. We aim to be your home away from home with comfortable accommodations and amenities.
P.S. If you decide to bring your dog with you, we offer pet-friendly accommodations as well.
Request our full vacation guide to Mid-Coast Maine. All the amazing things to do in Mid-Coast Maine in one free guide.
Get the Vacation Guide