Fresh, flavorful lobster meat, a New England-style split-top hot dog bun, the perfect amount of butter, mayonnaise, and seasoning. Added all together it adds up to the perfect, most delicious lobster roll you've ever tasted and Camden Maine is the best place to find it.
No matter if you've never had a lobster roll or they're one of your favorite dishes, the best places to get a lobster roll in Camden Maine offer up some of the tastiest twists on the originals.
In Maine's mid-coast, Camden's lobster rolls are some of the best and there are numerous places you can get them. Try one or try them all and find your new favorite lobster roll spot.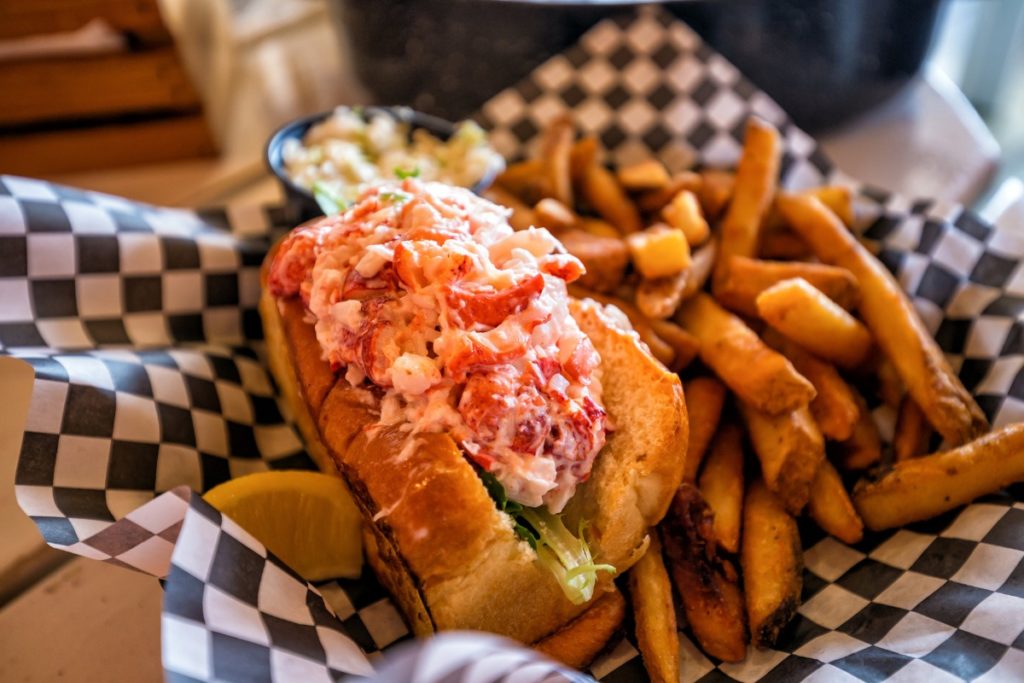 Request our full vacation guide to Mid-Coast Maine. All the amazing things to do in Mid-Coast Maine in one free guide.
21 Bay View Street, Camden
Located just a stone's throw from beautiful Camden Harbor, Cuzzy's is the perfect spot for a true Maine dining experience.
Enjoy playing some pool or ping-pong, order your favorite beer, and pair it with a tasty lobster roll.
Locals say the lobster roll here is quite delicious and served up on a brioche roll with a dab of mayo and a crispy bed of lettuce. It's fresh, it's simple and it really lets you appreciate the fresh lobster meat.
1 Public Lndg, Camden
Harbor Dogs is open seasonally from May-October
For more than 50 years, Harbor Dogs has served up excellent, mouth-watering hot dogs and sandwiches from its takeout food stand.
Hungry customers can chow down on specialty hot dogs, bratwurst, sandwiches, and tacos, including the downeast taco, a combo of haddock or shrimp, downeast sauce, tomato, lettuce, and apple chutney.
But Harbor Dogs also sells lobster rolls. Their classic roll features claw and tail lobster meat, a touch of lettuce, and a touch of mayo on a grilled roll. It's pretty big, so you may want to ask for a fork before you dig in.
35 Main St., Camden
If you're looking for a family-friendly dining establishment to enjoy a lobster roll, Marriner's is the place.
Marriner's offers both indoor and outdoor seating, so you can enjoy your meal outside when the weather is warm enough.
At Marriner's you can get a single lobster roll or order them by the platter!
The lobster roll here is served with big chunks of lobster stuffed into a bulkie roll with a little mayo and served up with chips and a pickle. If you've got a family or you're dining with friends, the rolls are served up with fries and coleslaw.
The lobster roll and clam chowder were excellent. The food portions were generous and reasonably priced. They are a popular place for lunch and definitely worth the wait. – Kevin M. via TripAdvisor 
48 Bay View St., Camden
Simply put, this may be the best place to enjoy a meal in Camden — right on Camden Harbor!
And what better way to enjoy the great views — we recommend sitting on the deck overlooking the water — than with great food.
That's what you'll get in Waterfront's lobster roll. The lobster is hand-delivered from local boats right in Camden Harbor and then transformed into a delicious offering that includes chunks of lobster in a split-tp roll with lettuce, parsley, and mayo.
16 Bay Vw Lndg, Camden
Not only can customers get a great view of the water here, but they can also get some great grub.
If you're craving a classic lobster roll, Peter Ott's has you covered and offers its take on the classic roll with fresh lobster, a toasted roll, and lemon aioli with your choice of fries.
But if you want something a little different, try one of the restaurant's twists on the lobster roll. Try the lobster BLT — it features everything you love about a BLT, but with chunks of lobster and lemon aioli and a toasted ciabatta bun.
The opportunity to sit outdoors if the weather is cooperating or indoors in the sunroom that offers a view of the harbor gives visitors excellent options. The interior of the restaurant is bright and airy with a good amount of seating.

The menu has enough options and variety to meet the needs of most guests. We selected the lobster quesadilla and lobster roll for our lunch. Be warned. the lobster roll is packed with lobster — not like most offerings that you'll find outside of coastal Maine that only have a hint of lobster. This lobster roll sets a standard for others to follow. – Dianne W. via TripAdvisor
Or you can try the lobster quesadilla, which features chunks of lobster combined with cheese, cilantro sour cream, and pico de gallo.
If you're craving a lobster dinner, you can get that too with a 1 1/2-pound lobster served with lemon and hot butter.
37 Main St., Camden
Camden Deli offers a multitude of hearty sandwiches, including the Reuben, the Pastrami Special, and the Selectman, a turkey, havarti, and pesto grilled on rye.
The deli offers the lobster roll too of course. The deli's roll is served with lobster, light mayo, and lettuce on a toasted roll, a classic serving for a classic New England staple.
If you're looking for another option, there's also the lobster salad with takes everything you love about the lobster roll served on mixed greens.
Camden Deli also serves breakfast, but the view of Harbor Falls and Camden Harbor and a lobster roll in hand are hard to beat.
Scott's Place
85 Elm St., Camden
This simple takeout spot has a simple menu, but plenty of good food and has been a Camden favorite since 1974.
Scott's may just serve up one of the most affordable lobster rolls in town at just $10.99. The lobster roll is tossed with a healthy helping of mayo and served on a split-top roll with lettuce.
This long time local favorite haunt never lets me down. Their lobster and crab rolls are terrific and an excellent bargain. Service is fast, friendly, and often funny. I like to grab lunch and then drive to Rockport harbor to enjoy the food with a view. – Daryl C. via TripAdvisor
1 Main St., Camden
Sea Dog Brewing Company is a Maine favorite with multiple locations, including six in Maine.
Come for the delicious beer, but save room for a lobster roll. The roll is a lobster salad served on a grilled roll and served with a pickle, a salad, or your favorite potato side. The lobster roll here is stuffed with fresh meat, so come prepared with a big appetite.
If you're looking for other lobster options, Sea Dog also offers steamed lobster and lobster feasts on Friday and Saturday.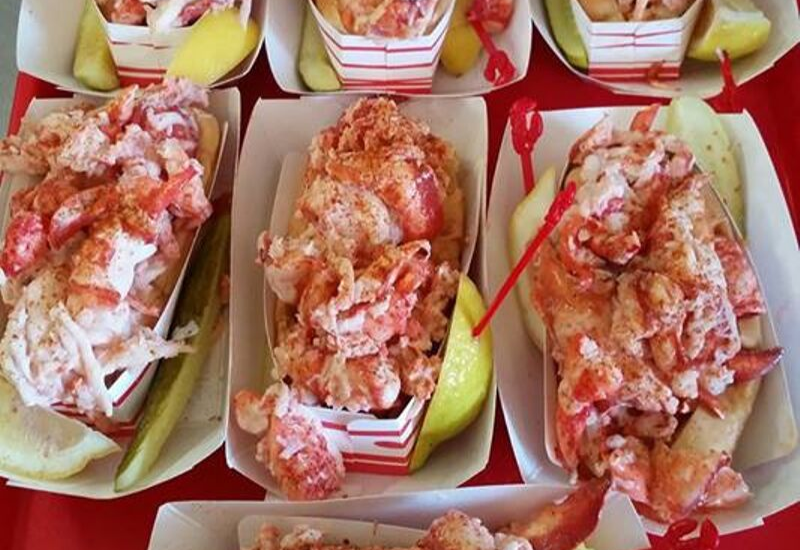 Enjoy a Lobster Roll in Camden Maine Today
Whether you're from out of town or you're a native Mainer, there's no doubt that the lobster roll is the perfect taste of Maine.
When that first bite of lobster hits your lips, you'll taste the high quality and freshness that goes into every lobster roll in Camden. It's the perfect food for a Maine visit, whether you want to enjoy a sit-down meal or you're looking for a filling on-the-go meal.
If you're planning a trip to Camden, the Country Inn is the perfect place to stay. Country Inn offers easy access to Maine's mid-coast and all the comforts visitors want in a New England stay.
Country Inn offers a variety of cozy accommodations including cottages as well as great amenities like a pool and hot tub, breakfast, and even an electric car charger.
There's no doubt you'll be comfortable here, so book your stay today!
Request our full vacation guide to Mid-Coast Maine. All the amazing things to do in Mid-Coast Maine in one free guide.