As a jewel in Mid-Coast Maine, Camden is known for having miles of scenic coastline where windjammers and schooners come and go all day via Penobscot Bay. Along the waterfront are an abundance of lodging options — cozy bed and breakfasts, boutique hotels, and a luxury resort. The result is a beautiful and historical getaway setting that accommodates couples and families alike.
Request our full vacation guide to Mid-Coast Maine. All the amazing things to do in Mid-Coast Maine in one free guide.
Get the Vacation Guide
Let's take a look at the best Camden Maine hotels, B&Bs, and more.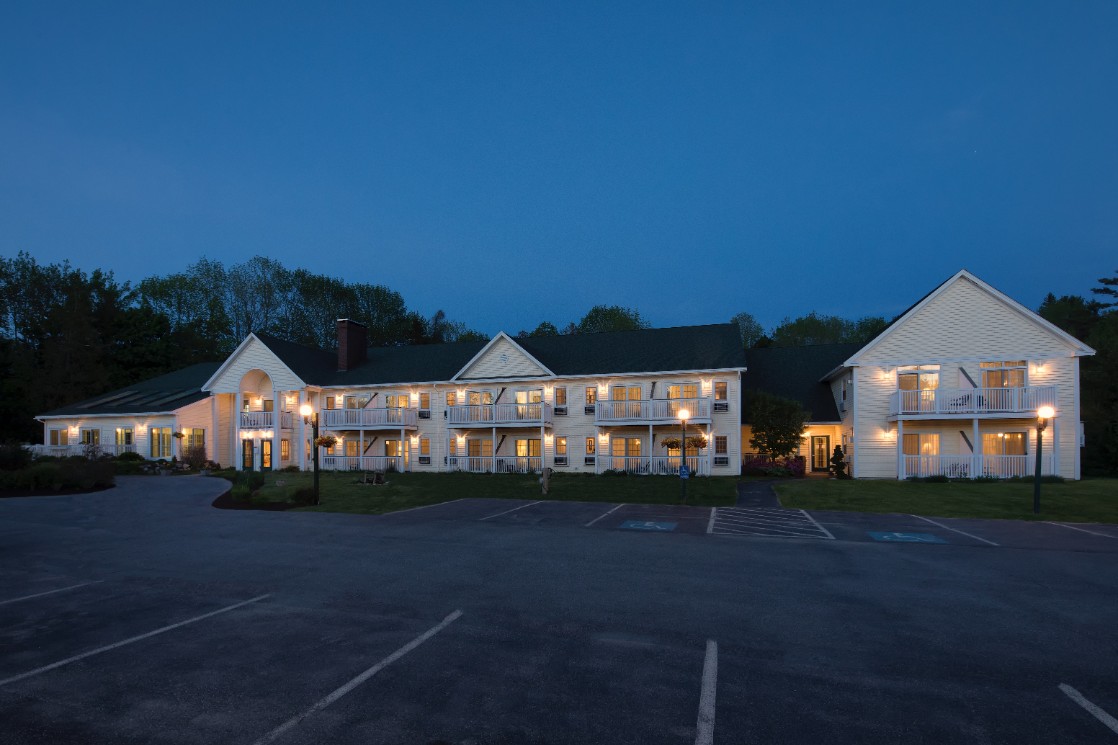 Best Camden Maine Lodging: Inns & Bed and Breakfasts
The Country Inn at Camden Rockport
Located just outside of Camden in Rockport, The Country Inn has been making visitors cozy and comfortable for more than 60 years. The central location is ideal for enjoying everything that the Mid-Coast has to offer — nature trails, mountain recreation, swimming at the beach, historic attractions, art galleries.
The 36 guest rooms and suites in the main house are open all year, giving you the opportunity to visit Camden any time. Offering the comforts of home, every room is decorated with an emphasis on country simplicity. The Country Inn also has 11 cottages available from May to October, and they feature fireplaces and Jacuzzis. On top of that, one of the suites and two of the cottages are pet-friendly if you plan to travel with a furry family member. A pet bed, food bowls, special treats, and more are included.
In addition, every booking includes a better-than-continental breakfast buffet, for which everything is homemade with locally sourced ingredients, when possible. The B&B has an indoor heated pool and hot tub. Ensuring that your stay in Camden Maine is safe, The Country Inn is dedicated to maintaining a clean environment. For a more secluded stay, you can choose one of the cottages, each of which has a separate outdoor entrance.
Check their availability for your travel dates.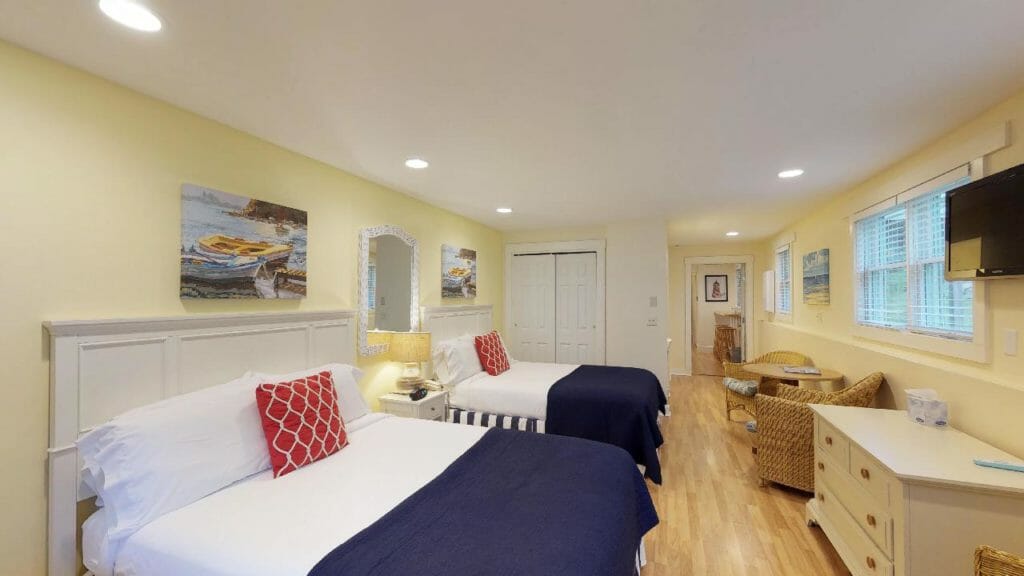 Glen Cove Inn & Suites
Also featuring quaint guest accommodations, Glen Cove Inn & Suites is located on the opposite side of Rockport from The Country Inn. It's still in a central location for exploring nature, attractions, and more throughout Mid-Coast Maine. This bed-and-breakfast-style inn has 36 rooms available from May through October, and the owners are dedicated to maintaining the best cleaning practices for your safety.
Glen Cove even has a pet-friendly king room that includes a pet bed for your four-legged family member. Along with there being many pet-friendly activities in the area, the Ocean View Walking Trail is located right on the property. This 1.5-mile trail is a loop with views of the ocean and a great place for your dog and yourself to stretch your legs.
Additionally, every booking at Glen Cove includes a homemade deluxe breakfast buffet. Choose from freshly made cinnamon rolls, muffins, and scones, or make your own waffles. You can eat on the covered, open-air terrace. The property has a garden, an outdoor heated pool, and a sun deck too.
Boutique Camden Maine Hotels
16 Bay View
The 16 Bay View hotel is the newest and most anticipated contemporary and luxury property in downtown Camden. Launched in 2015, it's located on Bay View St. in a 1905 industrial Colonial-style building that's been transformed into a unique 21-room hotel. The breathtaking decor and ornamental iron balconies in every room are combined with luxurious bedding, spacious bathrooms, and gas fireplaces to make this boutique lodging a town treasure. A host of amenities await too, such as a deluxe continental breakfast buffet and 24-hour coffee and tea service.
Grand Harbor Inn
As the only 4-Diamond waterfront boutique hotel in Camden, the Grand Harbor Inn is the perfect example of high-end luxury. The inn features 10 intimate, Tuscan villa-style guest rooms and suites with custom marble and glass-enclosed rain showers, luxurious bedding, Jacuzzi tubs, gas fireplaces, and private balconies. Every morning, the staff delivers a continental breakfast to your room, and coffee and tea service are available 24 hours a day. You also receive local YMCA day passes for access to the indoor pool, fitness center, and other amenities.
Whitehall
Another great hotel in Camden Maine is Whitehall on High St. Previously a sea captain's house that was built in 1834, this sophisticated hotel is one of the oldest in the town. The 36 bright, polished rooms and suites feature a mixture of classic and modern furniture. This historic property has many refined amenities to complement the updated, luxury decor — a lounge and bar, formal restaurant, furnished porch, and complimentary breakfast.
Fun Facts: Whitehall has been host to poet Edna St. Vincent Millay and other famous people. It was also featured in the films "Peyton Place" in 1957 and "Thinner" based on the Steven King novel in 1996.
250 Main Hotel
If you're trying to decide whether to stay in Camden or Rockland during your Mid-Coast Maine trip, Rockland is another fantastic choice. In this town, the boutique 250 Main Hotel is located on Main St. overlooking Rockland Harbor. The 26 rooms have been renovated with a modern design that includes industrial, reclaimed, and unique decor, and most of them have views of the water.
Luxury Inns & Bed and Breakfasts
The Inn at Camden Place
For a luxury stay with more character than Camden Maine hotels, an opulent bed and breakfast is the way to go. The Inn at Camden Place fits the bill with historic charm and modern amenities. Each of the six rooms has a private en suite bathroom and high-quality toiletries. One of the most luxurious amenities is the Green with Envy Spa & Salon on the property. It offers first-class services and uses products with organic ingredients.
Berry Manor Inn
In Rockland, Berry Manor Inn is one of the area's premier luxury bed and breakfasts. The Victorian home is located in the historic district of town and offers the modern conveniences that you would expect. The 12 posh guest rooms are decorated with Victorian-era furnishings and feature queen and king beds, two-person jetted showers, whirlpool tubs, and fireplaces. A full breakfast is served every morning, and homemade pies are served every evening.
Other Camden Maine Hotels & Resorts
Samoset Resort
Located in Rockport, Samoset Resort is a luxurious, historic resort located on 230 acres that overlook Penobscot Bay. This place has amenities to the nines! — an 18-hole championship golf course, a 200,000-gallon pool, spa and salon, lawn games, disc golf, and basketball and tennis courts. The 178 guest rooms are elegantly renovated in a relaxed seaside design and feature luxurious bedding and either private balconies or terraces. The resort has four private cottages and timeshare condos with the full comforts of home too.
Rockland Harbor Hotel
As a 3-Diamond property, Rockland Harbor Hotel is a luxury lodging option in the heart of Rockland. You can walk to many of the town's attractions, restaurants, and shops. On top of that, downtown Camden is a short drive north. All of the rooms have been renovated, and many of them offer views of Rockland Harbor. A complimentary hot breakfast is available every morning, and the property has a fitness center, guest laundry, patio with a fire pit, and a market with snacks and other provisions.
Hampton Inn & Suites
Just 2 miles from Penobscot Bay, the Hampton Inn & Suites in Rockland provides a traditional hotel stay near Camden. Within a 10-minute drive are all the amenities of Rockland — shops, restaurants, historic sites, and the harbor — while Camden is about a 20-minute drive north. The property features free hot breakfast, fitness center, and indoor pool.
Do you agree with our list of the best Camden Maine hotels, inns, and resorts? Tell us below where you like to stay when you're in the Mid-Coast.
Request our full vacation guide to Mid-Coast Maine. All the amazing things to do in Mid-Coast Maine in one free guide.
Get the Vacation Guide