The quaint Town of Camden boasts itself as the Jewel of the Maine Coast, and it's easy to see why. It has everything you could want — outdoor attractions, unique shopping opportunities, entertainment, and great food. So let's explore some of the best things to do in downtown Camden Maine.
Request our full vacation guide to Mid-Coast Maine. All the amazing things to do in Mid-Coast Maine in one free guide.
Get the Vacation Guide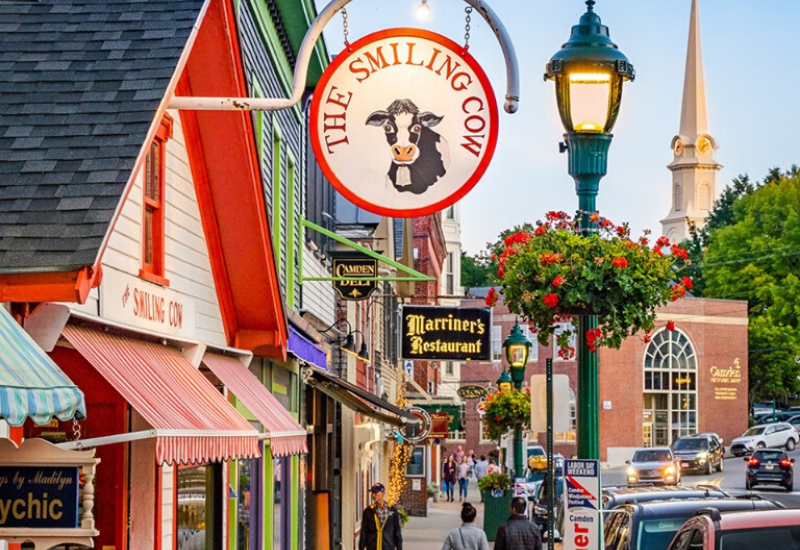 Camden Maine Downtown Outdoor Attractions
There are a lot of outdoor things to do in Camden Maine — such as hiking and recreational activities at Camden Hills State Park, the Camden Snow Bowl, and the Merryspring Nature Center. However, you can enjoy fun Camden Maine downtown outdoor activities too.
Harbor Park & Amphitheatre
With an interesting history, Harbor Park and the Amphitheatre are beautiful public places that can be rented for gatherings of all kinds. And, some community events are held at these locations throughout the year. The Camden Public Library, which was built in 1928, manages the properties.
The Property Design
The Camden Public Library features Colonial Revival architecture, and the long rectangular building runs parallel to Main Street. In 2013, the library and amphitheatre were designated National Historic Landmarks.
The grounds was one of the few public projects overseen by Fletcher Steele, a leader in 20th-century landscape design. It creates a unique landscape experience with the outdoor garden amphitheatre at the center.
The design blends traditional Neoclassical elements with fresh Art Deco style and the rich native landscape of Maine with the idea behind Renaissance Italian garden theatres.
Harbor Park Design
Designed by the Olmstead Brothers, the 2-acre Harbor Park is across Atlantic Ave, extending the views from the amphitheatre to Camden Harbor's working waterfront. Although the grassy park is separate from the other properties, it's an intimate companion. It's listed on the National Register of Historic Places.
Boat Tours
Mid-Coast boat tours are a popular attraction, and several Camden Maine downtown tour operators depart from the harbor. They give you the chance to learn about local maritime culture and history, as well as see a variety of wildlife.
Camden Harbor Cruises offers daily charters on the 1971 Lively Lady boat, Schooner Lazy Jack II operates a 58-foot schooner on two-hour sailing tours, and Maine Windjammer Cruises sails the original windjammer fleet while allowing you to participate in the sailing duties.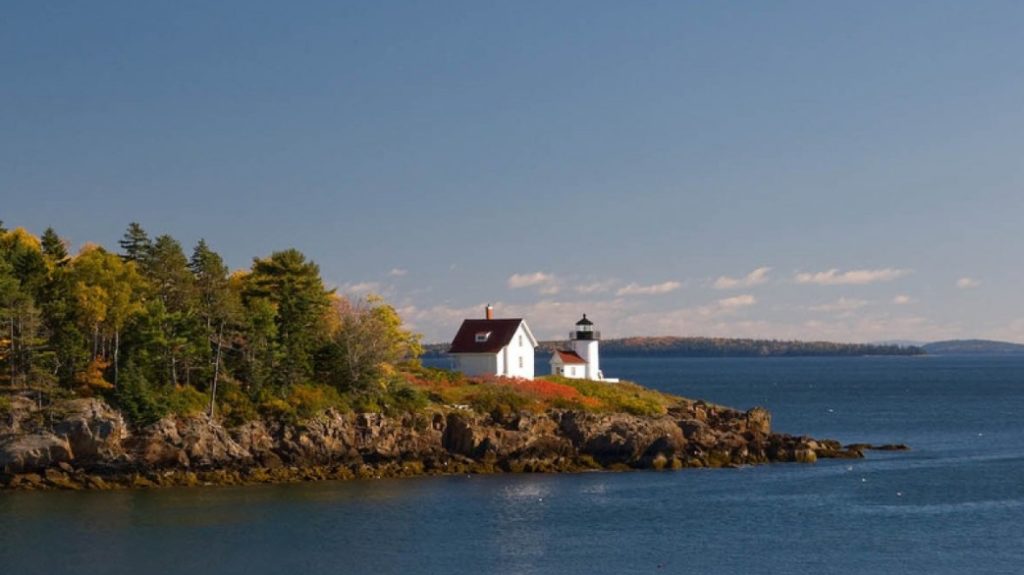 Lighthouse Tours
Did you know that there are 65 historic lighthouses along the coastline and islands of Maine? That's why Maine lighthouse tours are a common option among locals and visitors.
In particular, Curtis Island Lighthouse is located in Camden Harbor. It's difficult to see the tower from Camden Maine downtown, but you can go to the nearby Curtis Island Lighthouse Overlook.
On the other hand, you could hop onto a boat tour to get a closer look. The island is basically a public town park. Even though you can't climb the tower, you can explore several walking trails around the lighthouse station grounds.
Unique Shopping Camden Maine in Downtown
From general stores to antique shops to upscale boutiques — it's heaven to shop in downtown Camden Maine! These unique shopping spots are within walking distance of each other and are full of handcrafted items inspired by Camden and Mid-Coast Maine.
Galleries
Artists from across the United States visit the town for the panoramic view of Penobscot Bay from Mount Battie in Camden Hills State Park. Because of that, you can find an assortment of paintings, photographs, sculptures, and more in the downtown Camden galleries.
Boutiques & Antiques
You can find a lot of specialty items and one-of-a-kind gifts in the boutiques. The antique stores are sure to please as well. So whether you want an extraordinary souvenir to remember your visit or a birthday gift, you can find something in Camden.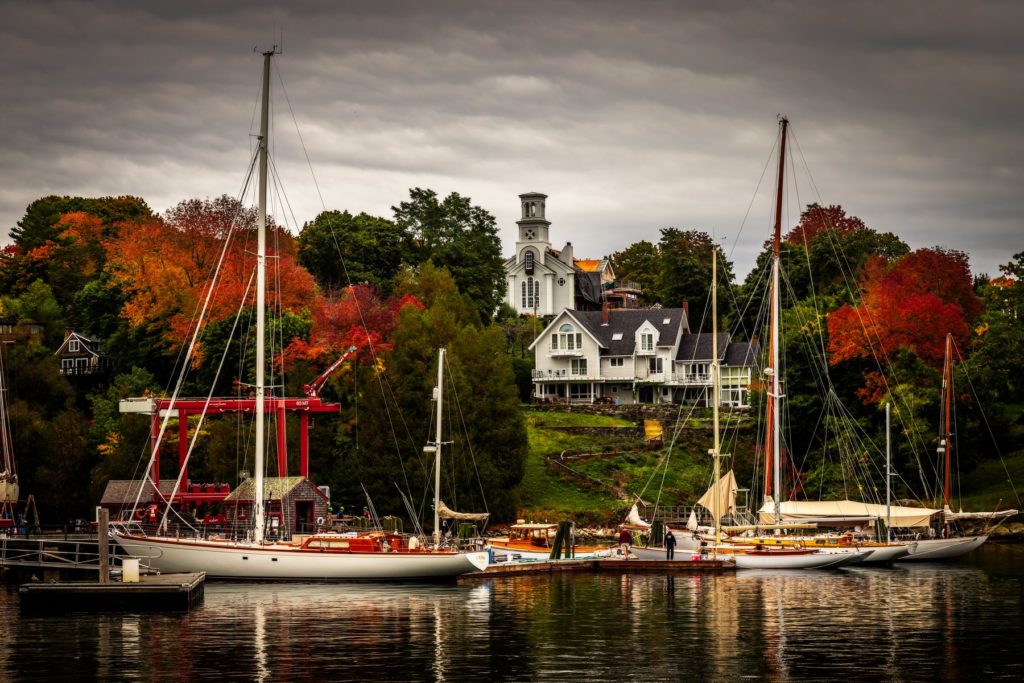 Indoor Entertainment in Downtown Camden Maine
Since the town is relatively small, there are only a couple of Camden Maine downtown entertainment venues that are worth visiting. Nonetheless, you can expect a fun and enlightening experience at each.
Camden Public Library
You wouldn't normally think of going to a library for entertainment, but Camden Public Library stimulates your imagination. As an anchor for the community, it brings everyone together for opportunities to connect and discover.
For instance, the library features several interesting treasures — a collection of Edna St. Vincent Millay's early poems and letters; photos of community buildings from 1937; and a collection of posters from the WWII era. There's so much to explore in this world of imagination and history!
Camden Opera House
Located in the heart of downtown Camden Maine, the Camden Opera House hosts an array of events throughout the year — concerts, theatrical performances, conferences, and more. Over 28,000 people attend these events each year.
On the National Register of Historic Places, the opera house opened in the late 1800s. It features a mini-theater, lounge, and 489-seat auditorium. The best part is that ticket prices are affordably priced for many of the shows.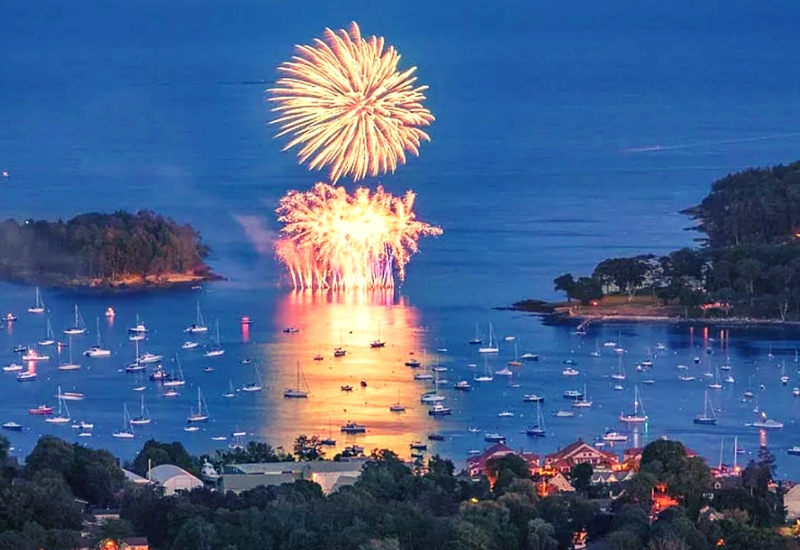 Camden Maine Downtown Festivals & Events
No matter the season, Mid-Coast Maine is an exciting place to go for festivals and events. Below, we've highlighted a few Camden festivals that are held downtown.
Jazz in June
For three days in the summer months, you can get into the groove during Jazz in June. This event doesn't occur in just one place. You can listen to jazz musicians perform at the Camden Opera House, Public Landing, and other spots around town, including the streets.
Camden Arts and Book Fair
Twice a year — in July and October — the Camden Arts and Book Fair is held at the Camden Public Library. You can find every kind of art and book imaginable, giving you the chance to take home artistic treasures that last a lifetime. At the same time, the library holds its annual book sale!
Camden Windjammer Festival
One of the biggest Camden Maine downtown events, the Camden Windjammer Festival celebrates the area's maritime heritage. It's the largest gathering of sailboats in the Northeast, attracting visitors from all over the country who want to see nautical exhibits and windjammers.
The festival features numerous activities, most of which are held at Harbor Park. For example, there's a treasure hunt, windjammer dinner auction, talent show, ensemble concert, and fireworks.
Additionally, you can watch a nautical dog show, meet the Pirates of the Dark Rose, participate in a fish relay and lobster crate race, and dance to live music. There's even a boat parade!
Christmas by the Sea
Every December, Camden gets into the holiday spirit with its Christmas by the Sea event. It starts with a downtown street parade and is followed by three days of Christmas carols, a live nativity, shopping, and more.
Request our full vacation guide to Mid-Coast Maine. All the amazing things to do in Mid-Coast Maine in one free guide.
Get the Vacation Guide
Delicious Restaurants in Downtown Camden
If there's one thing that stands out in downtown Camden Maine, it's the awesome food! Whether you want seafood, upscale dining, farm-to-table fare, or a quick bite at a cafe, the variety of restaurants in Camden won't disappoint. Here are a couple that we highly recommend during your visit.
Waterfront Restaurant
Serving Camden for more than 40 years, Waterfront Restaurant is a cozy spot for lunch or dinner on Bay View Street. It has an intimate dining room with spectacular views of Camden Harbor, but you can get an even better view when you eat on the deck.
The Waterfront lunch and dinner menus have a few differences between them, but both feature fresh seafood, chicken, beef, and other entrees. One thing that you can always count on, though, is gluten-free, vegetarian, and vegan options. Also, the desserts and bread are made fresh daily.
Long Grain Restaurant
Since 2009, Long Grain Restaurant has been pleasing customers with Asian cuisine using seasonal, locally sourced ingredients. The dishes are a combination of Indonesian, Japanese, Singaporean, Thai, and Vietnamese flavors, intertwined with Maine foods.
The menu features an assortment of comfort foods similar to those sold in Bangkok markets. Some popular items include pan-fried garlic chive rice cakes, kimchi ramen soup, and stir-fried spicy Thai basil minced chicken. The restaurant features daily specials and has a small list of wines as well.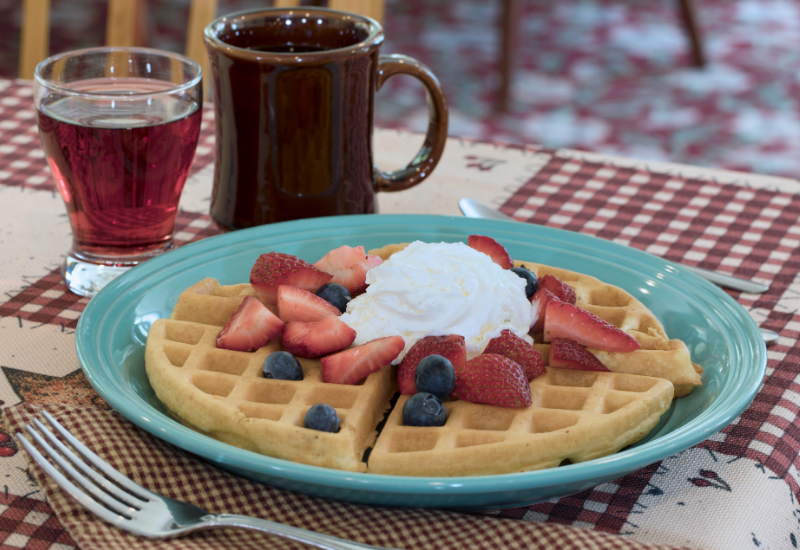 Best Hotels in Downtown Camden Maine
While there are several hotels in downtown Camden Maine, we offer a quieter and more affordable hotel option at The Country Inn at Camden Rockport. Situated on the north side of Rockport, we're close enough for you to enjoy a day in downtown Camden without being in the middle of town.
Our cozy guest rooms and suites are available all year, and we have quaint cottages available for stays between May and October. During your stay, you can fill up on our homemade, better-than-continental breakfast every morning and relax in our hot tub and indoor heated pool.
The next time you visit Mid-Coast Maine, check our room availability for your travel dates.
Request our full vacation guide to Mid-Coast Maine. All the amazing things to do in Mid-Coast Maine in one free guide.
Get the Vacation Guide