Maine is home to dozens of historic sites and state parks, so there are always new things to see and do when you visit. In the MidCoast region, Birch Point State Park is a beautiful place to explore. Offering the chance to spend time outdoors, this park has more to offer than you might see at first glance.
Request our full vacation guide to Mid-Coast Maine. All the amazing things to do in Mid-Coast Maine in one free guide.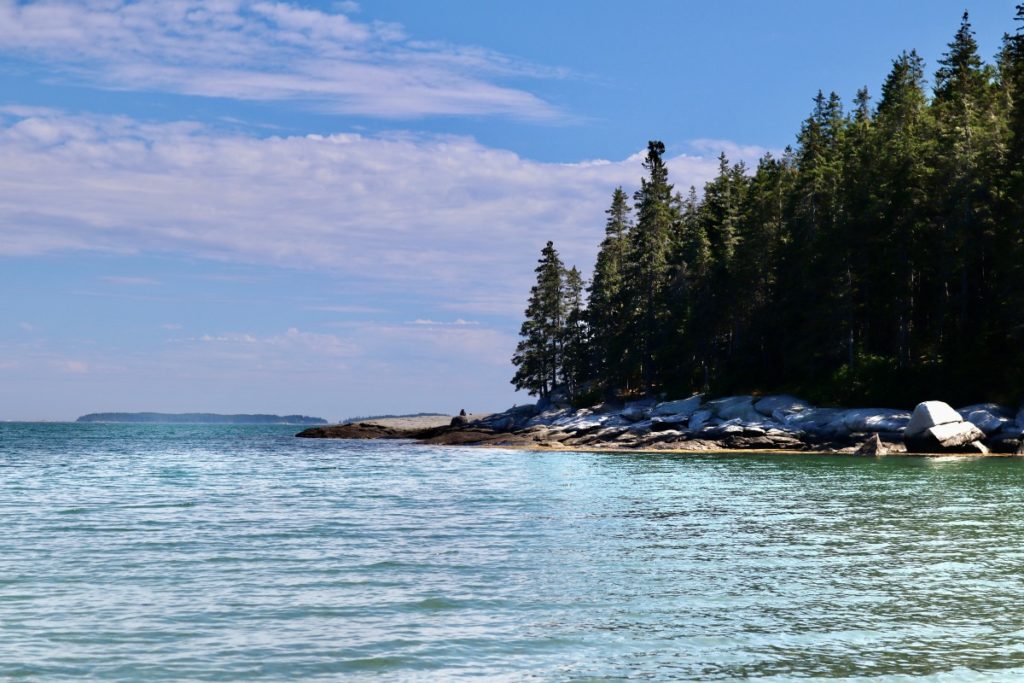 About Birch Point State Park
Located in Owls Head Maine, Birch Point State Park is a 62-acre recreation area that rests along Penobscot Bay. The Maine Department of Agriculture, Conservation and Forestry acquired the land in 1999. Some of the funds used for the acquisition came from the Land for Maine's Future program. This program is the state's main funding channel for land conservation.
Things to Do at Birch Point State Park
Despite the relatively small size of Birch Point State Park compared to other state parks in Maine, you can spend several hours to a full day here depending on the activities that you're interested in. No matter the season, it's a worthwhile stop to put on your MidCoast getaway itinerary. Here's everything that you can do while you're here!
Keep in mind that weekends can be more crowded, especially during the summer. We recommend visiting on a weekday if you prefer a quiet day out.
Have a Picnic
Whether you plan to visit this state park during the afternoon or evening (or both), you can have a picnic. There are a few great picnic tables in a grassy space to one side of the coastline. They're spread out well so that you can dine in nature without others being on top of you.
Go for a Swim
The half-moon-shaped shoreline of Birch Point Beach State Park makes a fantastic "pocket beach" on Penobscot Bay. Just standing on the beach makes you feel like you're exploring Maine like a local. The first thing that you'll notice is the scenic view of the Muscle Ridge Islands.
When the weather and water are warm enough, the sandy beach is a good place for swimming in a gentle, clear surf. If you're traveling with kids, just be aware that there are no lifeguards on duty. You can even play in the tide pools.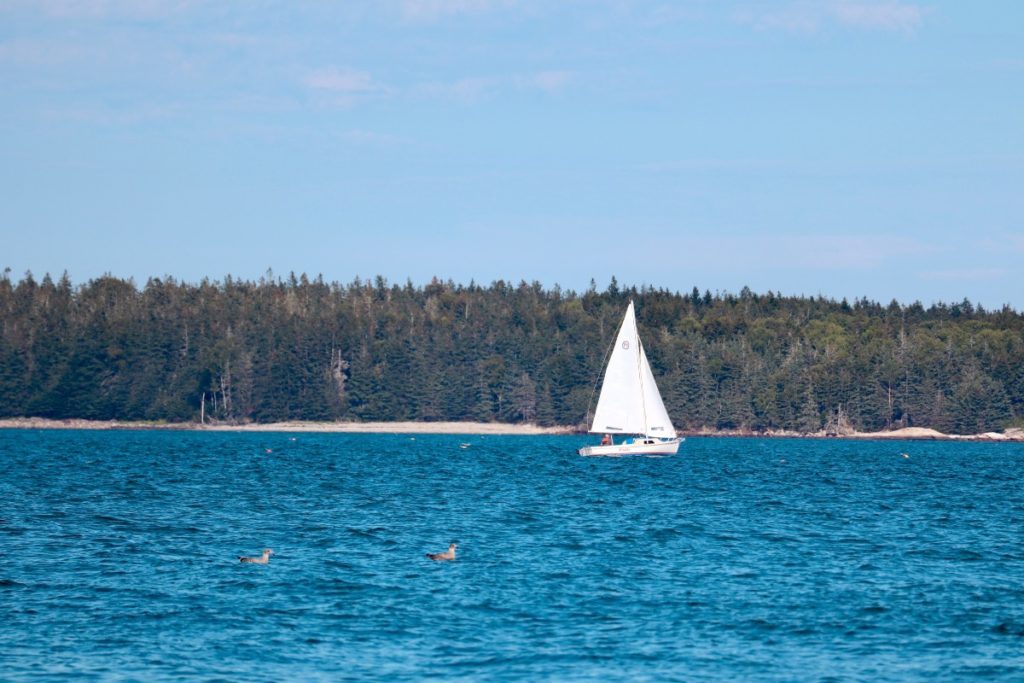 Walk a Trail
On each end of the beach, there are short trails that lead to the enclaves and rocks of the headlands. Each trail is only about one-tenth of a mile. Along with spectacular views, you can explore the rocky outcroppings.
Play With Your Dog
Birch Point State Park is a dog-friendly state park, so you're welcome to bring your furry family member with you. Just make sure that you keep your pet on a leash that's no more than 6 feet long, and clean up any waste that your dog creates. While you can't take your dog onto the beach, there's plenty more of the park for you to discover together.
Cast a Line & Watch the Wildlife
Novice and experienced fishermen and women will enjoy the angling opportunities at this Maine state park. There's no designated fishing area, but you can fish from anywhere along Birch Point.
Additionally, plenty of wildlife call this park home, including deer and raccoons. And, the variety of bird species makes it an excellent place for bird-watching.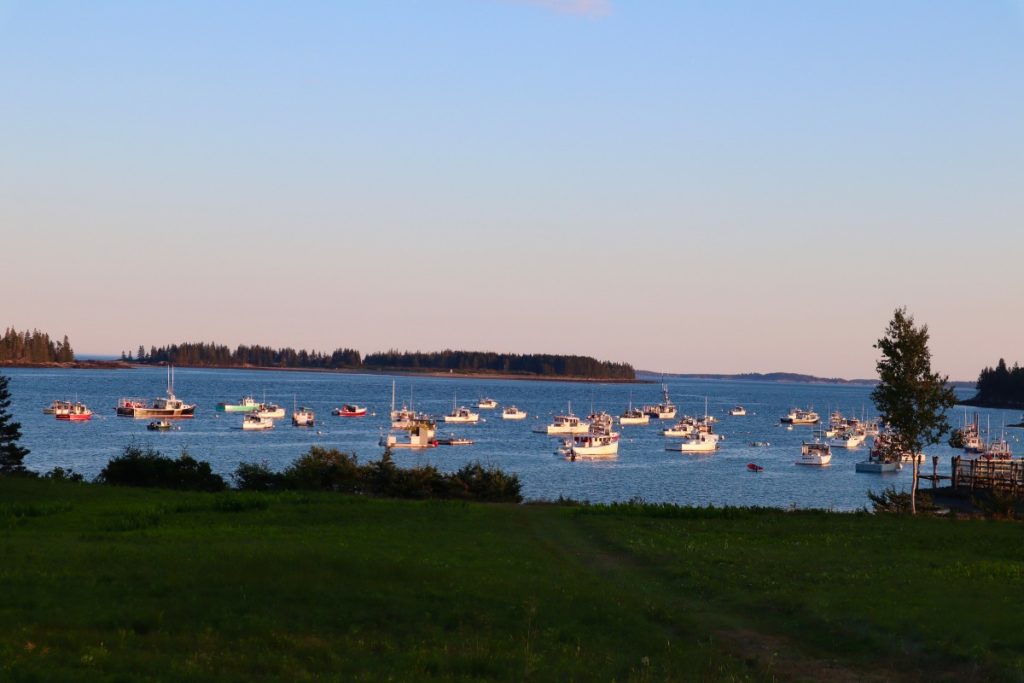 Photograph the View
Whether you plan a quick or all-day visit to Birch Point State Park, there are tons of photo opportunities. Just about everywhere you stand along the coastline is an outstanding view of the water and nearby islands. The flowering plants during spring and changing leaves during fall make the view colorful. Plus, taking pictures will create lasting memories of your time in MidCoast Maine.
Snowshoe During Winter
During the winter, snow covers the state park in a white blanket, making it even more lovely. The layer of snow adds to the adventure too. You can sled into the park from the gate, or give your snowshoes some exercise.
Birch Point State Park Hours & Fees
Birch Point State Park is located in Owls Head off Ballyhac Road. The gate to the park is open from Memorial Day until Labor Day, 9 a.m. to sunset. However, you can park outside of the gate and walk into the park using the access road during the same hours any other time of the year.
Also, you'll need to pay a small admission fee to enter. During the off-season, you can put the fee in the self-service collection box.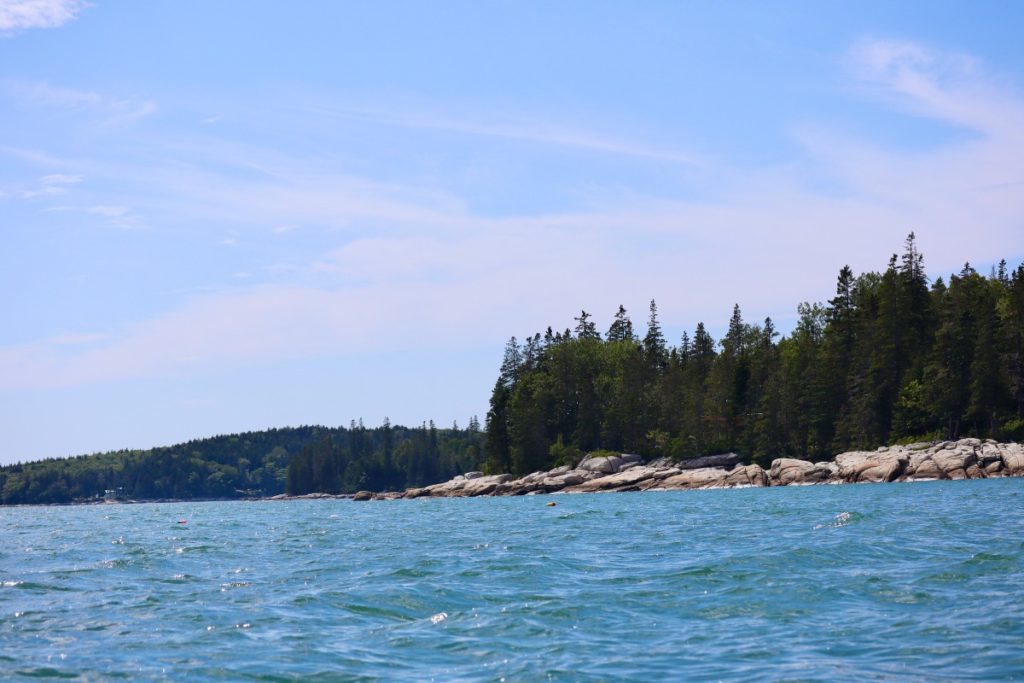 More Attractions in Owls Head Maine
If you want to discover more near Birch Point, there are many other things to do in Owls Head Maine. Below are just a few of our favorite attractions.
Ash Point Preserve
For hiking in nature, head to the Ash Point Preserve. This coastal spruce forest has a 1.3-mile trail loop. And, the 2,140 feet of granite coastline offer beautiful views of Ash Island and Penobscot Bay.
Owls Head Transportation Museum
The Owls Head Transportation Museum is open for those who are interested in pre-1940s aircraft, bicycles, motorcycles, engines, other vehicles, and significant technologies from the transportation industry.
Founded in 1974, it's home to more than 150 antiques, from historical replicas to rare originals, including the biggest operational fleet in New England. The museum is open every day — except holidays — and hosts various events throughout the year.
Plaisted Preserve
Another place for a hike, the 10-acre Plaisted Preserve has an easy loop trail that leads you through ferns, moss, and spruce trees. The nature trail takes you to a bluff with awesome views and to Broad Cove, which has a beach.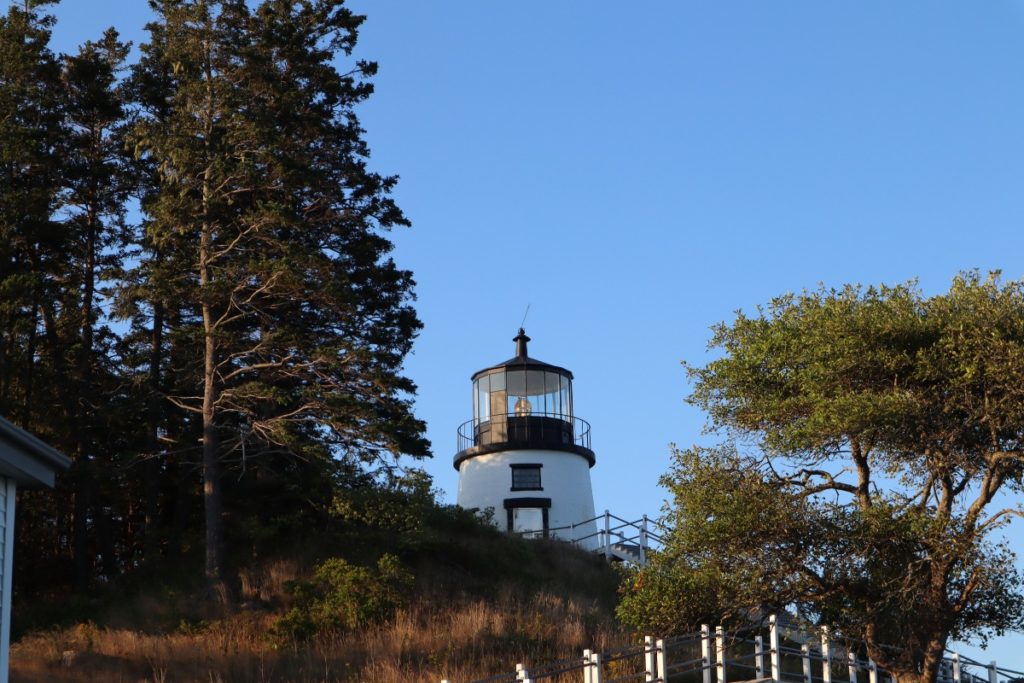 Owls Head State Park
Encompassing the tip of the Owls Head Maine peninsula, Owls Head State Park is open all year for you to explore. It has a small, rocky beach where you can pick up some natural souvenirs. There are picnic tables and lots of wildlife to watch as well. From the cliffs at the tip, you get an amazing view of Penobscot Bay.
Owls Head Lighthouse & Museum
The main attraction at Owls Head State Park is the lighthouse and museum. Standing 30 feet tall on the granite headland, this 1852 conical tower rises 100 feet above Penobscot Bay. You can climb to the top during the summer for a panoramic view of the islands and water below.
Also on the property, the historic keeper's house is home to a small museum and gift shop. This American Lighthouse Foundation Interpretive Center and store are open from spring to fall.
Monroe Island
To the east of Owls Head Harbor, the 225-acre Monroe Island preserve features cliffs of bold bedrock where you can get impressive views of Penobscot Bay. There's a 1.5-mile network of trails that wind along the coastline, through ferns and evergreen trees, and passed ponds.
Along with walking the trails, you can have a picnic, swim, and go canoeing or kayaking while you're on the island. You can even bring your leashed pet onto this dog-friendly island preserve.
Request our full vacation guide to Mid-Coast Maine. All the amazing things to do in Mid-Coast Maine in one free guide.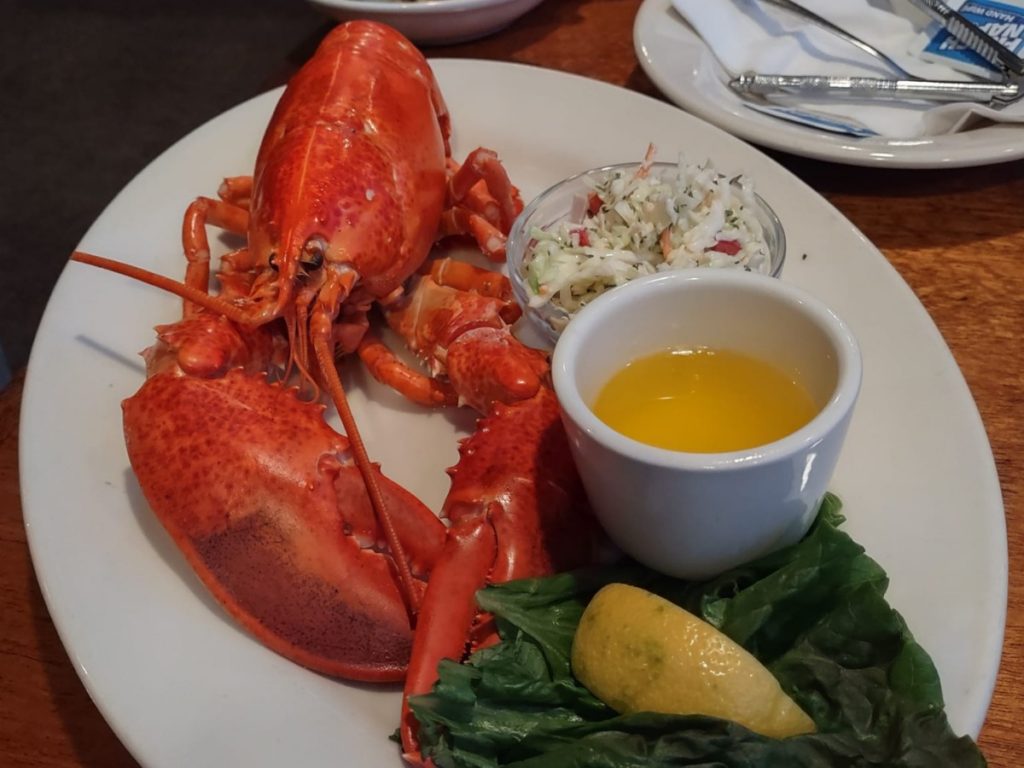 Places to Eat Near Birch Point State Park
No matter your preference for a picnic or sit-down restaurant, there are numerous places to get a bite to eat near Birch Point State Park. Although you'll find most of them in Rockland Maine, there are a couple of noteworthy spots in Owls Head.
Ship to Shore Lobster Co.
The Ship to Shore Lobster Co. is Owls Head's oldest working wharf. Since the 1860s, the wharf has been bustling with lobster fishermen and their traps, colorful buoys, and other tools. It's the best place to pick out your lobster for a picnic on the beach at Birch Point State Park.
Owls Head General Store
If you want to grab some groceries for a picnic, the Owls Head General Store has everything that you need. According to the Food Network, the store's kitchen makes the state's best burgers too. On top of that, you can get sandwiches, pizza, fudge, and more.
In Good Company
Taking pride in its old-world environment and leisure dining experience, In Good Company in Rockland offers a seasonal menu. From tapas to entrees, the food is nothing short of exceptional. And, you can pair your meal with signature cocktails and mocktails, spirits, beer, cider, and a slew of wines.
The Landings Restaurant
Located next to Rockland Harbor, The Landings Restaurant is a two-story building with great views of the waterfront. The menu includes fried seafood dinners, burgers, sandwiches, lobster dinners, and other delicious entrees. Everything is infused with Maine flavor!
Waterworks Restaurant
If you're craving fish and chips, no restaurant makes it better than Waterworks Restaurant in Rockland. But, the restaurant menu has something for everyone else too — flatbread pizza, specialty burgers, sandwiches and wraps, and entrees with seafood, chicken, steak, pasta, and more.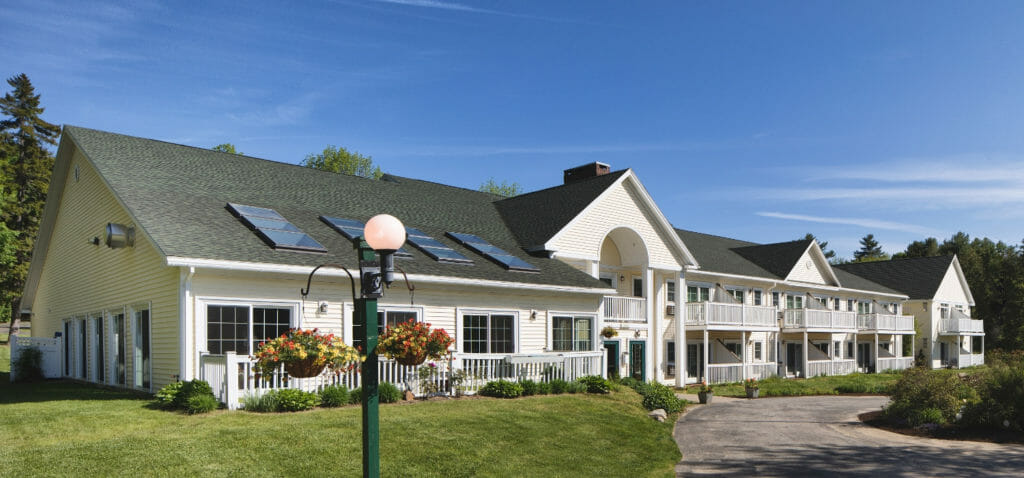 Best Place to Stay Near Birch Point State Park
You'll need plenty of rest before and after your outdoor adventures at Birch Point State Park, and The Country Inn at Camden Rockport is conveniently located about 25 minutes away. In fact, you can experience many more things to do nearby, including MidCoast Maine island day trips.
We have comfortable guest rooms and suites and quaint cottages to be your home away from home. You can even fuel up on our breakfast buffet before you head out for the day. Choose a room for your next MidCoast Maine getaway today!
Request our full vacation guide to Mid-Coast Maine. All the amazing things to do in Mid-Coast Maine in one free guide.